Certainly looks that way!
It was bound to happen, and he always quoted Jonathan Dorn who said:
"DEATH BE NOT BORING–I'VE LIVED WELL, I'VE ADVENTURED WIDELY, I WILL NOT DIE POORLY!"
His dreams listed his #1 option as
Backpacking in the Uintas!
His ashes to be spread between Kings Peak and Guatemala.
***************
In recent years many he met on the trail learned about his:
BOOK–of all High Uintas books
They all advised him:
"GET TO IT BEFORE IT'S TOO LATE!"
Did he pay attention to the advise?
We are happy to announce that he did, and
the e-book is now finished, except for the index, and updating the information on all the 650+ lakes with the Division of Wildlife Resources–both of which will be accomplished in January 2019.
THE BOOK WILL BE AVAILABLE BY SPRING.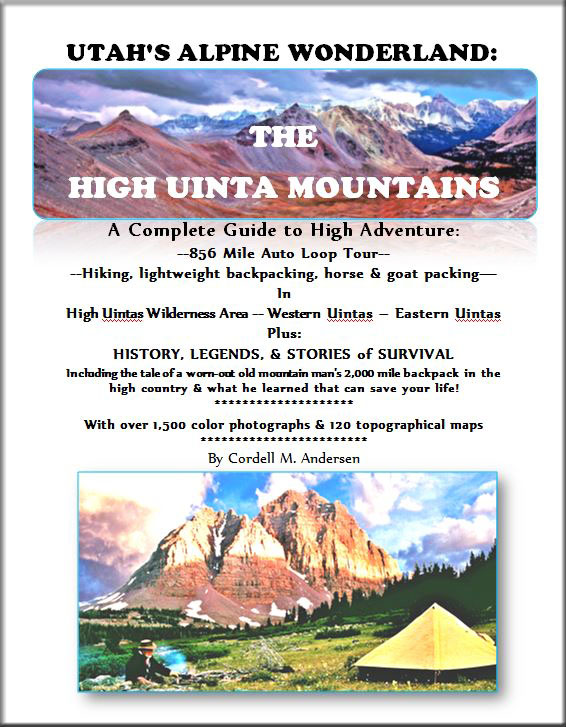 The E=BOOK is a literal
Encyclopedia of the Uinta Mountains,
677 pages long, but won't fill-up the shelf in your library rather just occupy a little space on your computer–unless you decide to print it yourself which you can easily do–and to save printer ink, just do it in black & white and see the colors on your computer, or just print those pages of most interest, like for an adventure you are planning in the Uintas–especially important the topographical maps with routes plotted and distances inserted.
The 93 articles covering History, Legends, & Survival Stories, with others in the Appendix–will sometimes have you smile, sometimes give you a good laugh, sometimes have tears fill your eyes, but will always inspire and fill your heart with gratitude to the Creator for having given us this magnificent swath of beauty we call THE UINTAS.
***********************************
The easily understood
Rules to Avoid Tragedy & Enjoy Safely your adventures,
are worth their weight in gold and will have your
ADVENTURES COME ALIVE & WILL SAVE LIVES--MAYBE YOUR LIFE!
*************************************
Oh, and by the way, Little Andy, hasn't expired……yet!
So, I'm still alive and doing my darndest to
NEVER GIVE IN, NOR GIVE UP…. ……Easily!
I've had one heck of a time with a bit of lower back-left buttock pain, but mostly solved increasing my intake of cod liver oil, plus gradually strengthening the right muscles with special sit-ups daily with an 8 lb. barbell in each hand, plus of course flexibility exercises, 40-50 complete push ups–rather than the tons of phony ones I used to do, and my daily hikes with a 35 lb. backpack–now, with the cold, done at the Fitness Center in American Fork.
I am having one difficult time overcoming chronic bronquitis that hit me last winter, and persisted through the summer making high altitude a special problem–as explained in previous posts, but gradually being overcome — once again I'm helped with increased intake of cod liver oil, plus an extreme version of my Wellness Formula explained in the Anti-Aging Challenge article––with an updated version, now with photographs in the Appendix of the book.
Signs of progress are positive, even though the Dr. says there is no cure, rather just ways of managing it–but one way or another I will be backpacking during the 2019 season, after the book is published, and, being en e-book–I will be able to update it with a couple of three explorations in the Uintas that are pretty ambitious. DON'T COUNT ME OUT YET!
I'll say no more for right now, but updates will first be posted this summer on this website.
HOPE TO SEE YOU ON THE TRAIL IN 2019
IN MY 84th YEAR.
******************