FOR A COMPLETE HISTORY OF WHAT THE PROJECT HAS TAKEN…from BACK SURGERIES TO NOT BEING ABLE TO WALK, LEARNING WITH BABY STEPS…ALL THE WAY TO DOING A HALF MARATHON, HIKING IN THE UINTAS AGAIN & HOW TO GET THE BOOKS, SCROLL DOWN–but first SOMETHING FREE!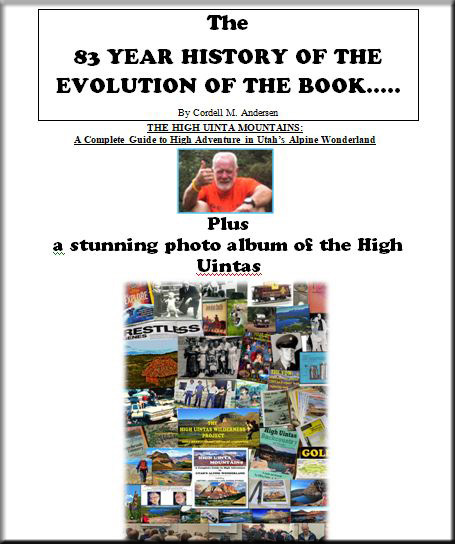 To download to your computer this FREE 27 PAGE BOOKLET, click on that link & familiarize yourself with the 730 page BOOK-described by some as THE ENCYCLOPEDIA OF THE HIGH UINTA MOUNTAINS, described further along in this post.
TODAY, November 17th the 15th surgery was done–since 2003, when the UINTAS PROJECT BEGAN: "NOSE TERMINATE REDUCTION SURGERY." BELOW IS SEEN A PICTURE OF ONE OF MY ENLARGED NASAL TERMINATES, making breathing difficult, and secreting mucus that would cause congestion and coughing and of course making hiking in the Uintas more difficult.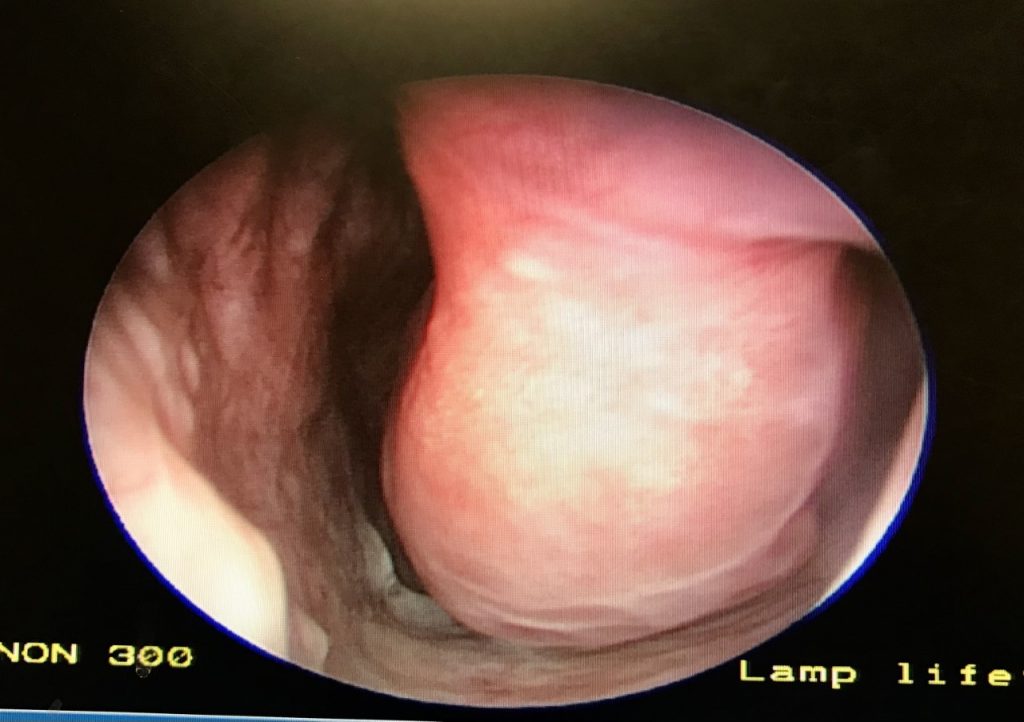 Next we see that nostril with the terminate REDUCED, making breathing easier and reducing secretions of mucus.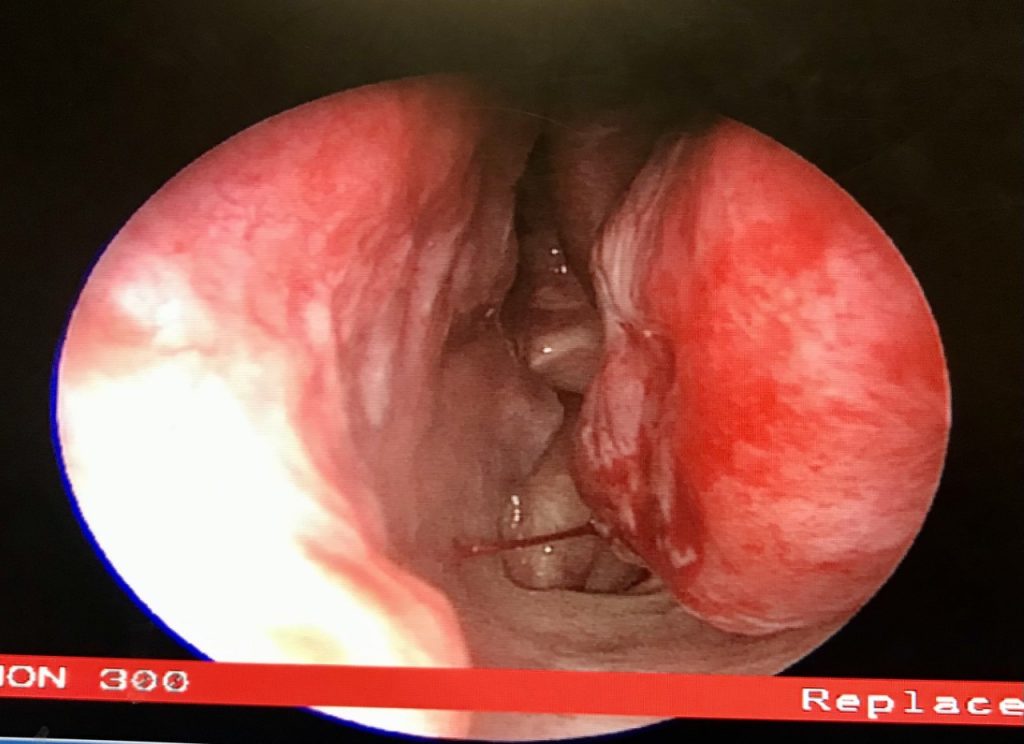 Of course both terminates were reduced that will give me a few more years of better breathing.
TWO OTHER SURGERIES DURING THE LAST MONTH: EYE CATARACT REMOVAL & LENS REPLACEMENT. The incredible surgeries are still in recovery–with bags under my eyes, etc., but for normal eye sight I don't need glasses anymore, can see crystal clear with normal vibrant colors, can now use dark glasses as both eyes are the same, and only will need glasses for reading small print.
CONCERNING THE LIFE & DEATH PROBLEM OF SPINE MISALIGNMENT, SEEN AGAIN BELOW IN THE X-RAY: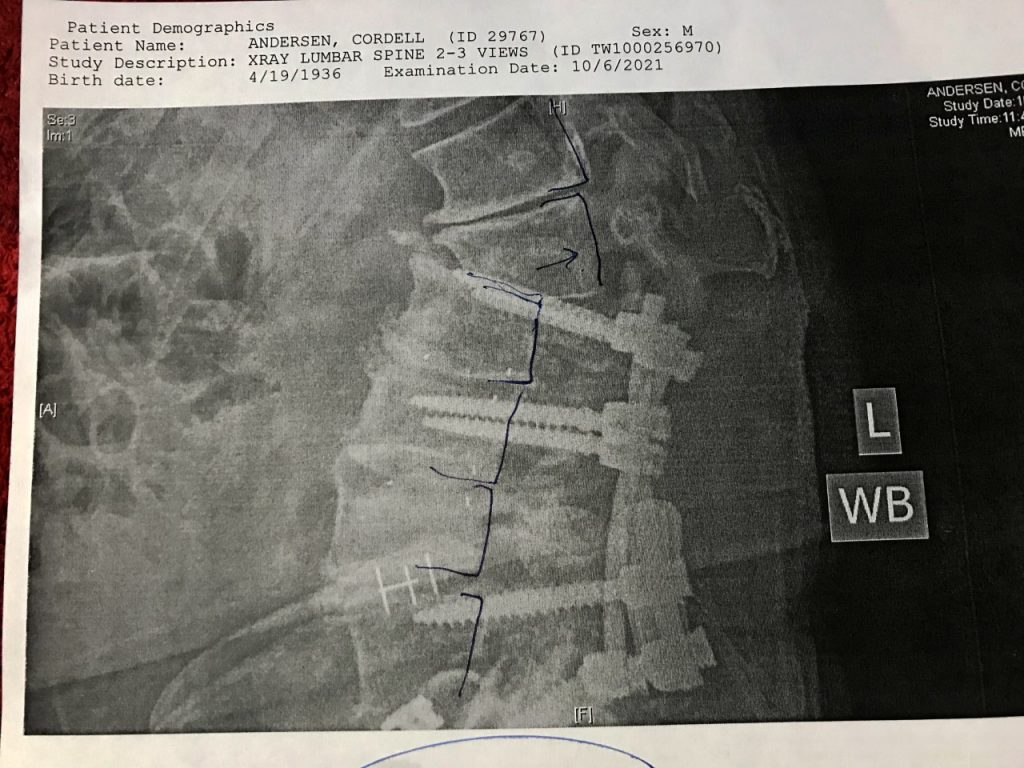 Yesterday, November 16th, my spine surgeon, after taking x-rays, concluded no worsening of my condition since the previous visit 1 month ago…….I have been very careful during that month to avoid any fall or movement that could cause more misalignment and paralyze, or kill me. He described the surgery he could do to correct the condition: "IT WOULD BE A SURGERY MUCH MORE COMPLICATED AND SERIOUS THAN ANYTHING YOU HAVE EVER EXPERIENCED. I WOULDN'T DO IT, NOR WOULD YOU WANT IT, UNLESS YOU WERE IN SO MUCH PAIN AND DANGER THAT YOU DIDN'T WANT TO LIVE ANY LONGER!" So, I'll carefully persist in carefully working out, on cold days at the American Fork Fitness Center to get stronger– learning to use the apparatuses and still work towards…….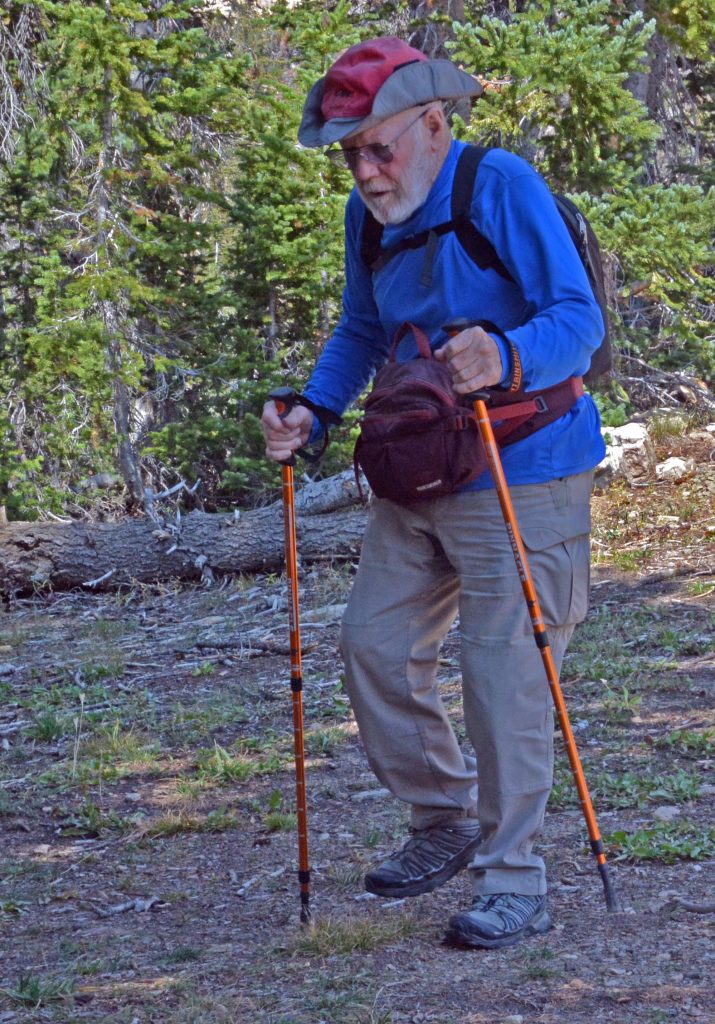 MEETING YOU ON A HIGH UINTA TRAIL IN 2022 IN MY 87th YEAR!
NOW I'LL REPEAT THE INFORMATION ON THE TWO BOOKS THAT TELL THE STORY OF HOW MY LIFE WAS SAVED & MADE PRODUCTIVE WITH A COUPLE OF
"IMPOSSIBLE DREAMS!"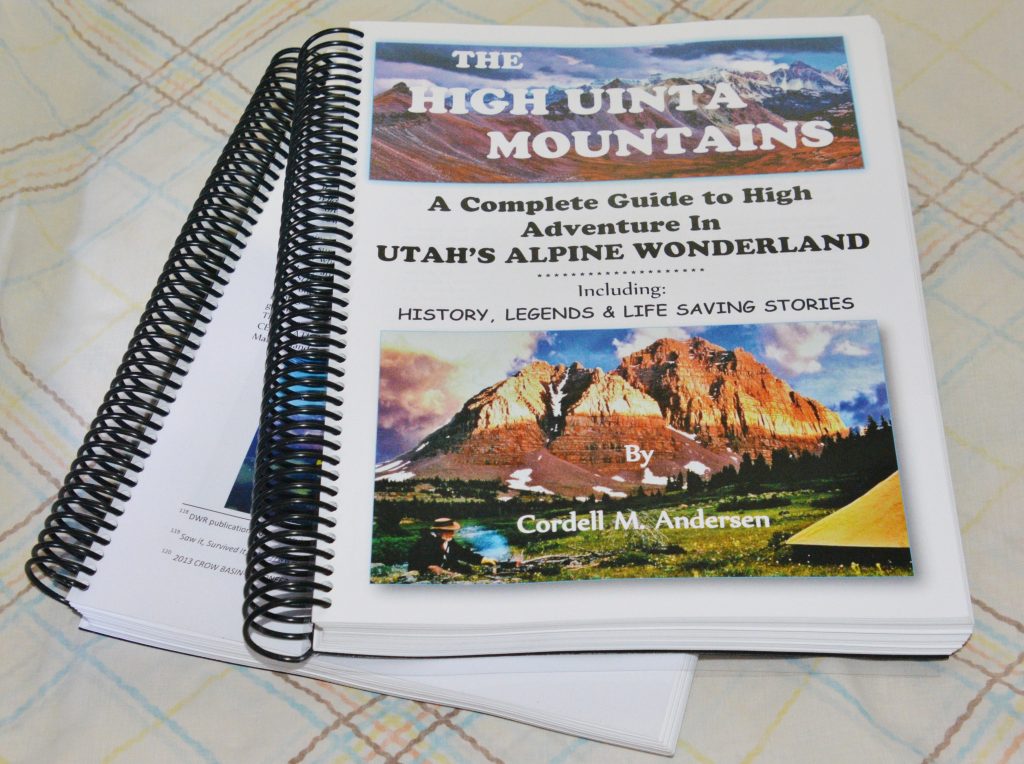 IT'S THE ONLY HIGH UINTA BOOK WITH: BEAUTIFUL COLOR PHOTOGRAPHS–1,600 of them; THE FASCINATING HISTORY–like about the first explorers to see the Uintas; the story of my American hero, Jedediah Smith and his team–the first to trap on the North Slope, and the mountain I've named in his honor; "The Tie hackers," unsung American heroes & their Ghost towns, including the story of "The liveliest if not the most wicked town in America" and President Eisenhower's hero, "the Bare Knuckle Marshal," who tried to pacify it; the UNBELIEVABLE LEGENDS, and the stories of gold in the Uintas, & more; plus 120 TOPOGRAPHICAL MAPS with trails, and distances covering every Trailhead area including updated information on the lakes to guide you in planning your adventures; and critically THE SURVIVAL STORIES that have already saved many lives, INCLUDING MY LAST BACKPACK WHEN 80 YEARS OLD TO GET TO THE LAKE THAT HAS MY NAME, "LITTLE ANDY LAKE," in the eastern shadow of Kings Peak, and the highest lake in Utah at 12,302 feet.
To get the BOOK: Send a check for $20 or a $20 bill, to Cordell Andersen, 444 Elm St., American Fork, Utah 84003, along with your email and I'll email you the link to download the 730 Page eBook to your computer. With that, if you want, as 50+ Uinta lovers have, take it on a thumb drive to your favorite printer to get a printed copy. Scroll down to learn about my printer whose the best.
****************************
THE UPDATED 567 page STORY OF MY LIFE AMONG THE MAYA, downloadable FREE, entitled: (the title is the link to download)
A FIFTY YEAR "IMPOSSIBLE DREAM" AMONG MY PEOPLE IN THE MOUNTAINS OF THE MAYA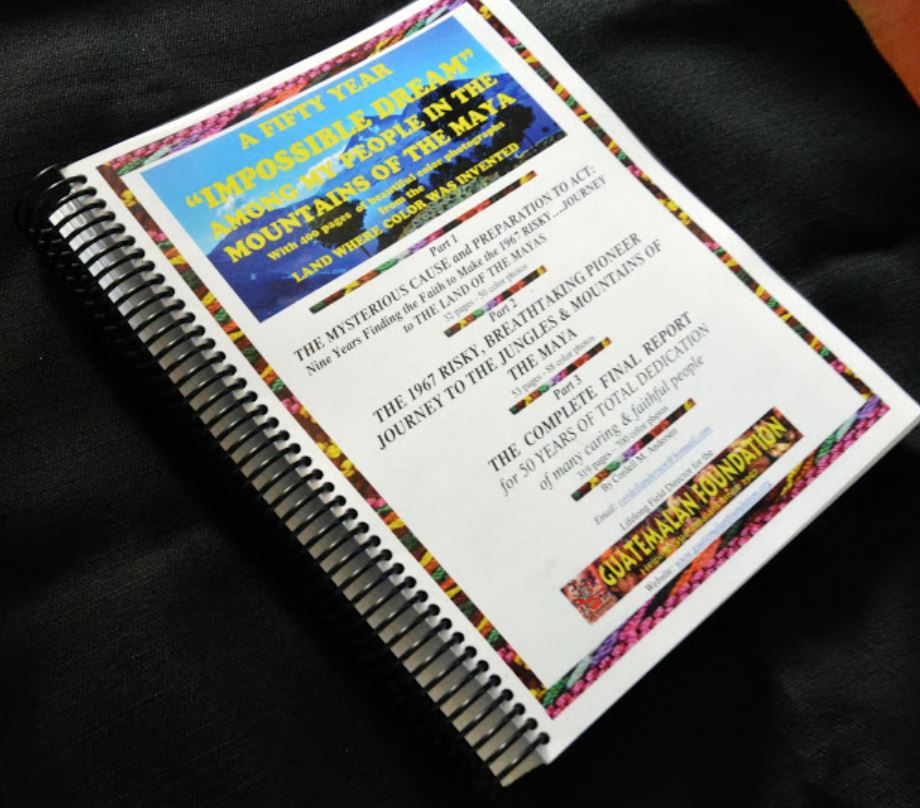 It has many hundreds of color photos from what they say is:
"THE LAND WHERE COLOR WAS INVENTED!"
**********************************