AMAZING & BEAUTIFUL "HIGH UINTAS FLYOVER" YouTube video by Kenneth Swenson — Thanks Ken
WONDERFUL CHRISTMAS GIFTS
If you are interested in the digital BOOK for $19.95 click on the above link in the MENU, or this one>PURCHASE BOOK
If your interest is having a PRINTED COPY OF THE BOOK with spiral binding, cost is $140. Prices include sales tax, and shipping. Email me at: cordellandersen@hotmail.com. When we have accumulated a list of 10 or more interested I will advise you so you can send me a check, and I will place the order with the printer — and in short order ship your book via UPS.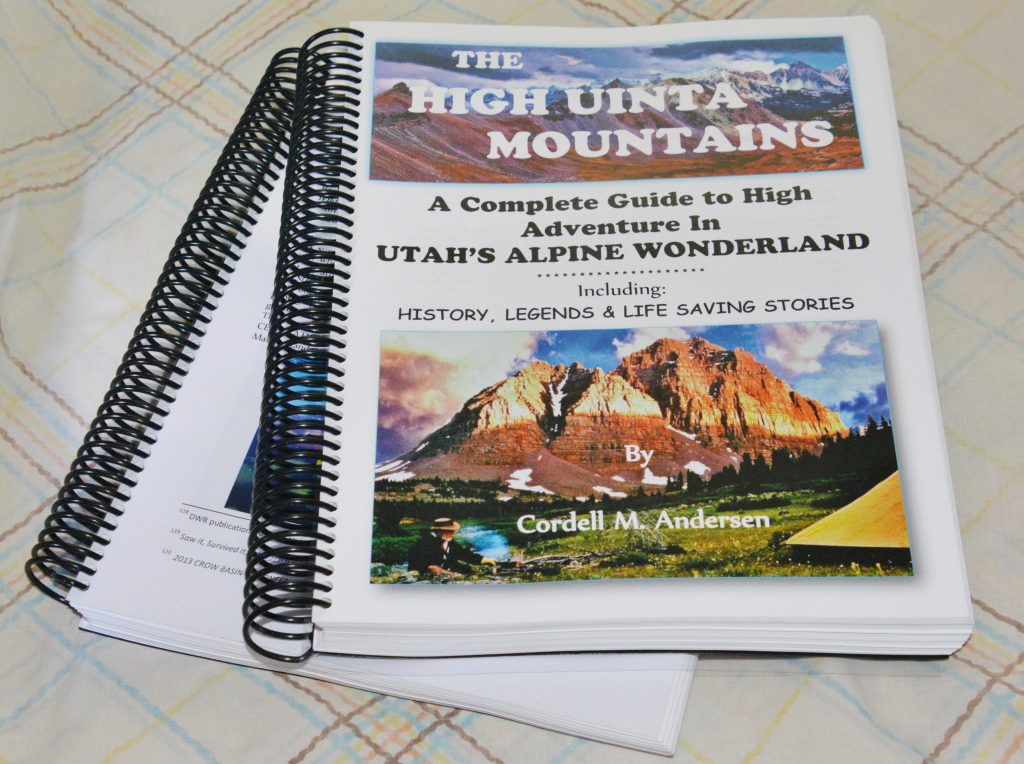 IF ITS FOR CHRISTMAS — FOR YOURSELF OR ANOTHER – EMAIL ME QUICKLY TO GET ON THE LIST & ORDER IN TIME FOR CHRISTMAS
If for gifts send me the addresses if you want me to ship directly with a note saying it's a gift from you. I can also include a Christmas card if you send to me the cards.
***************************
Concerning printing yourself, or having a digital copy printed at the printer of your choice, scroll down to the previous post for details.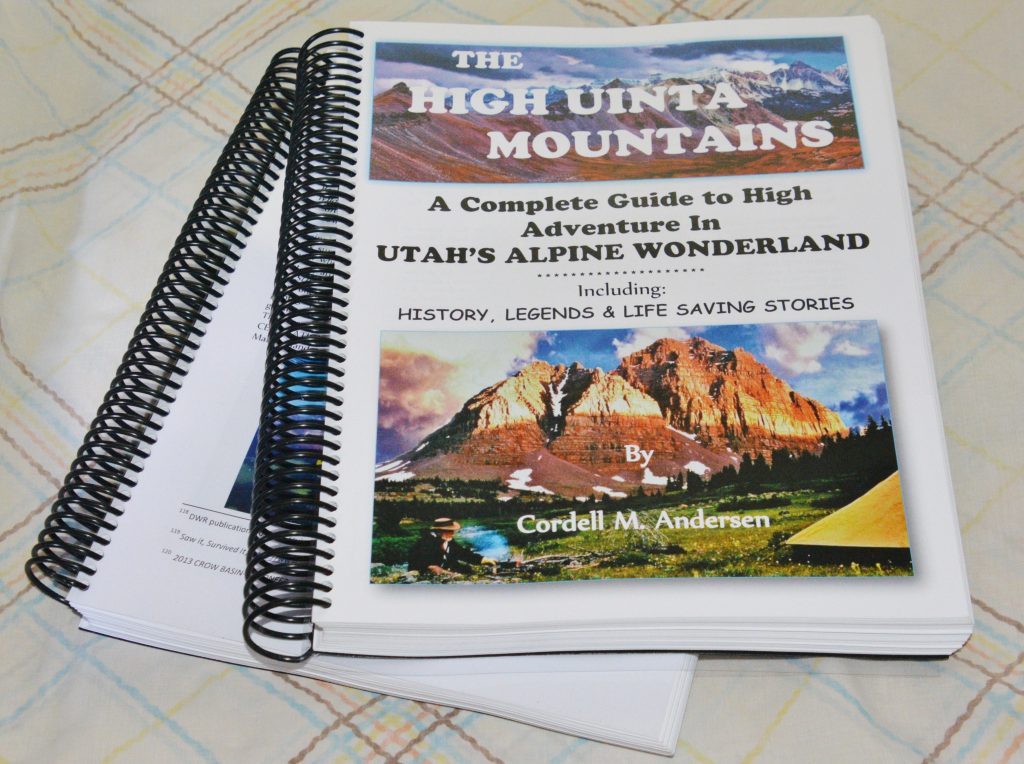 The SPIRAL BINDING is best for individuals as it will stay open to the page of your choice. The DIGITAL VERSION also facilitates printing the pages of your choice or the entire book.
THE FIRST TWO ORDERS OF 10 MADE, DELIVERED & SHIPPED INCLUDING FOR OUR FIRST MUSEUM & FOR A LIBRARY THAT ORDERED TWO and for a bunch of HIGH UINTA FRIENDS!
A NEW LIST HAS BEEN STARTED with several on it.
*******************************
The first to get the book printed–on his own, was one of my Explorer-Scouts from 1962, Merrill Finlayson, who said:
"I have mine and am loving it! Nothing like holding a good book in your hands. Thanks, Cordell!"
****************
ANOTHER HIGH UINTA FRIEND — just emailed me the following:
"Hello, Cordell!
"It was such a pleasure to meet you this morning! I enjoyed our conversation. Thanks for your kindness, and thanks for the devotion getting your book put together! It is a treasure of information, and now that I have a paper copy, I am very impressed with the color and beauty of the pictures and maps you have created! The paper quality makes it even better! The online version looks great, but I am an old man and I just love paper. This copy is magnificent! I have been poring over it today for hours, and it is such a great amount of knowledge and practicality, wrapped into 700 pages! Thanks Again,
Lon W. Sorensen, RETIRED"
GREAT FOR GIFTS!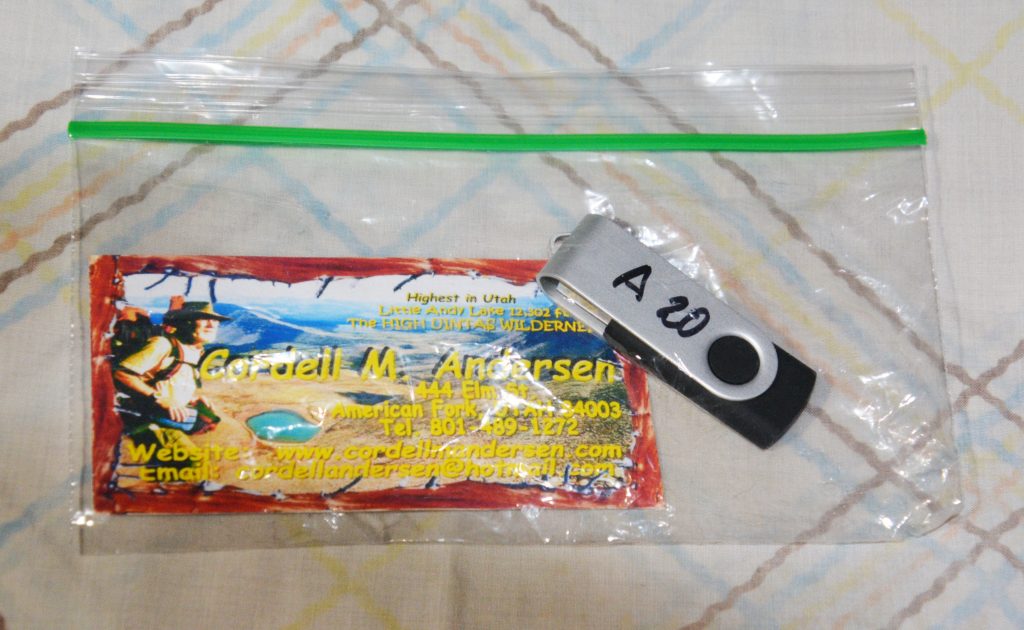 You can purchase THUMB DRIVES— with the book, as seen above, for $20 each at one of my presentations–or picked up at my place, or by sending me a check for $25 each: Cordell Andersen, 444 Elm St., American Fork, Utah 84003, sales tax, handling & shipping included. If thumb drives ordered are for gifts I can send directly to each but you'll have to send me the names and addresses. As with the printe version, I can also include a card if you send them to me–otherwise I'll just enclose a note saying it's a gift from you.
ADDED TO THE THUMB DRIVE ……. FREE! —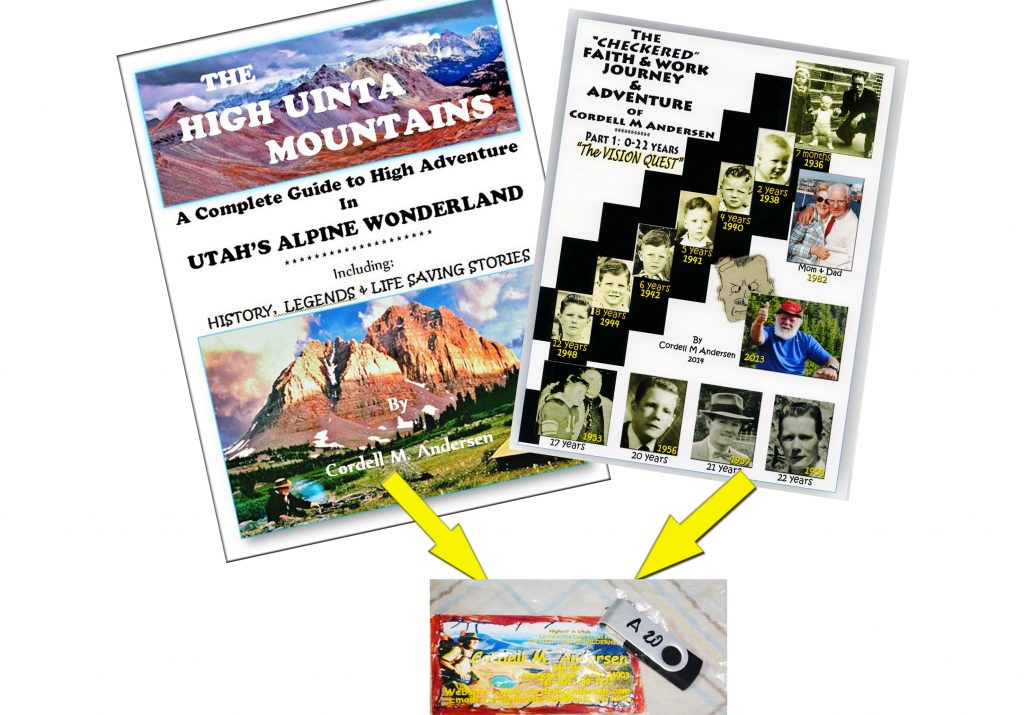 Part 1 of my "Checkered" autobiography–0 to 22 years old — that sets the stage for my whole life, including my 35-year long GUATEMALAN ADVENTURE AMONG THE MAYANS, and for the HIGH UINTAS WILDERNESS PROJECT. It is 65 pages with many photos.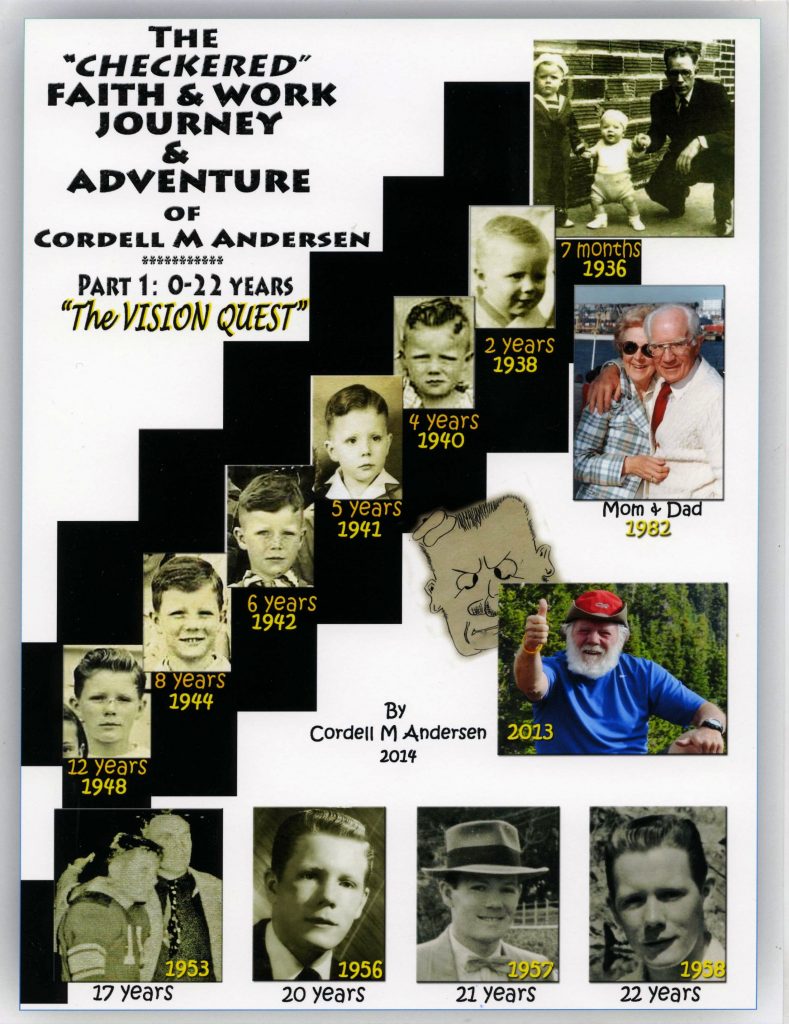 *****************************
THE LIBRARY FRIENDLY VERSION WITH REGULAR BINDING–Seen below IS AVAILABLE FOR $150 EACH. You should advise your Public Library and encourage them to order the book, advising first via email of their sure interest–and then wait for the list to grow so I can make an order with the printer.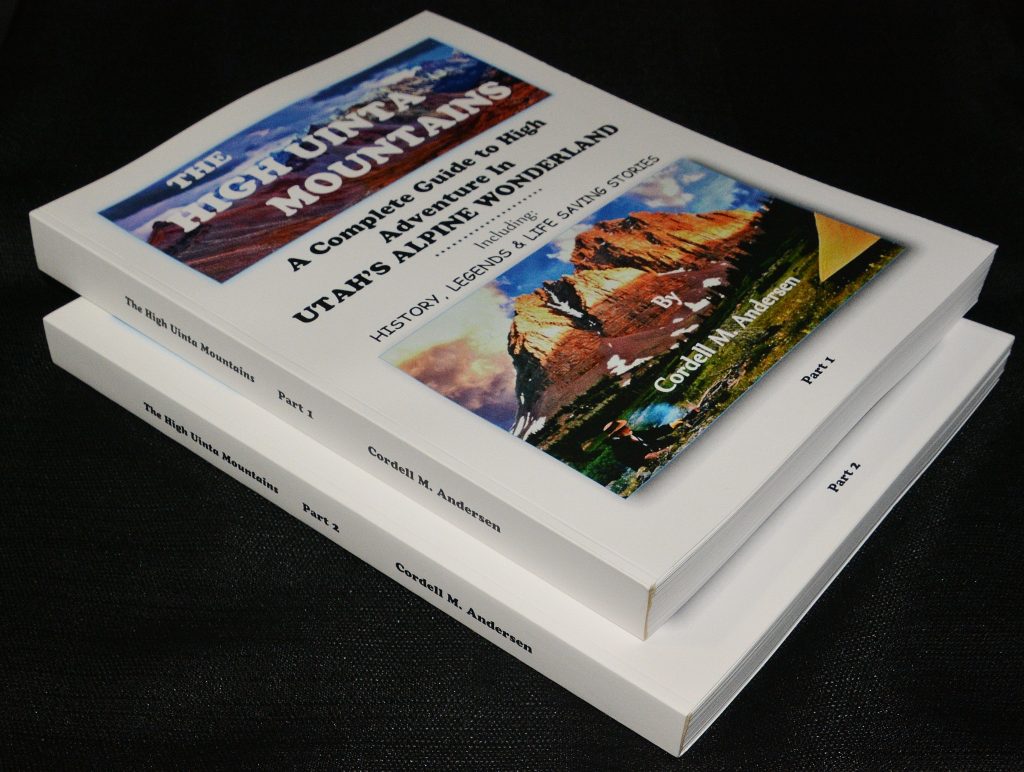 SCROLL DOWN FOR THE
REPORT ON REI Salt Lake City PRESENTATION on Oct. 15th
*************************************
NEXT
Lecture/presentation –December 10 – Tuesday 7:00 PM — FREE for the public at the monthly meeting of the UTAH VALLEY HISTORICAL SOCIETY at the Provo City Public Library, Room 201, 550 N. University Avenue
The presentation will be an updated history-oriented description–with artifacts, of the 67-year creation of THE HIGH UINTAS BOOK– and a visual presentation showing the magnificent UINTAS in full color as you've never seen them before, including a whirlwind 856-mile historical auto-loop tour of the Uinta Mountains and of the entire book demonstrating the mountains equal to or better than many National Parks.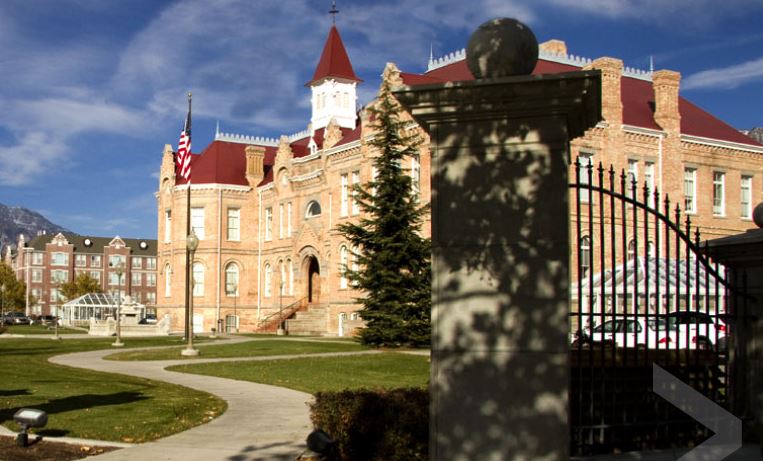 *****************************
HIGH UINTAS NEWSLETTERS – beginning 04/19/19