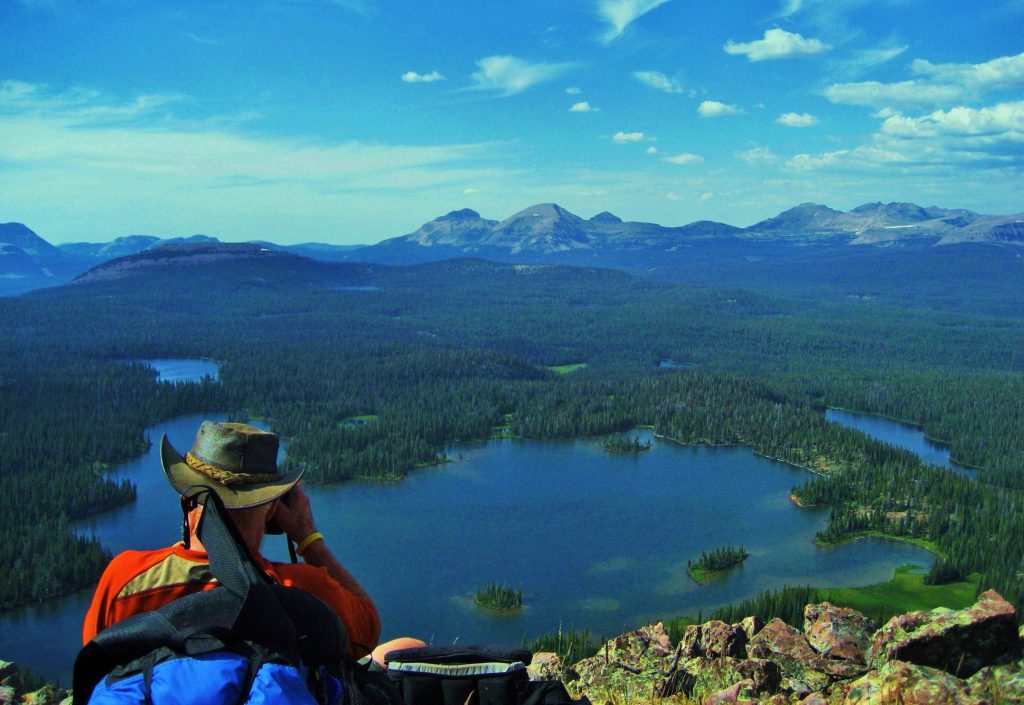 From last season–2020 not being able to hike, much less backpack, then following two back surgeries that didn't work too good with me degenerating to NOT EVEN BEING ABLE TO WALK ANYMORE–WHICH SCARED THE HECK OUT OF ME–scaring me into pushing myself to the point of learning to walk all over again with BABY STEPS!
I then graduated to walking more and more to keep my good left leg alive and force my dead right leg to wake up and build again muscle–all with the wonderful walker my friend Paul gave me, stretching out my walks from American Fork all the way to Lone Peak High School in Highland!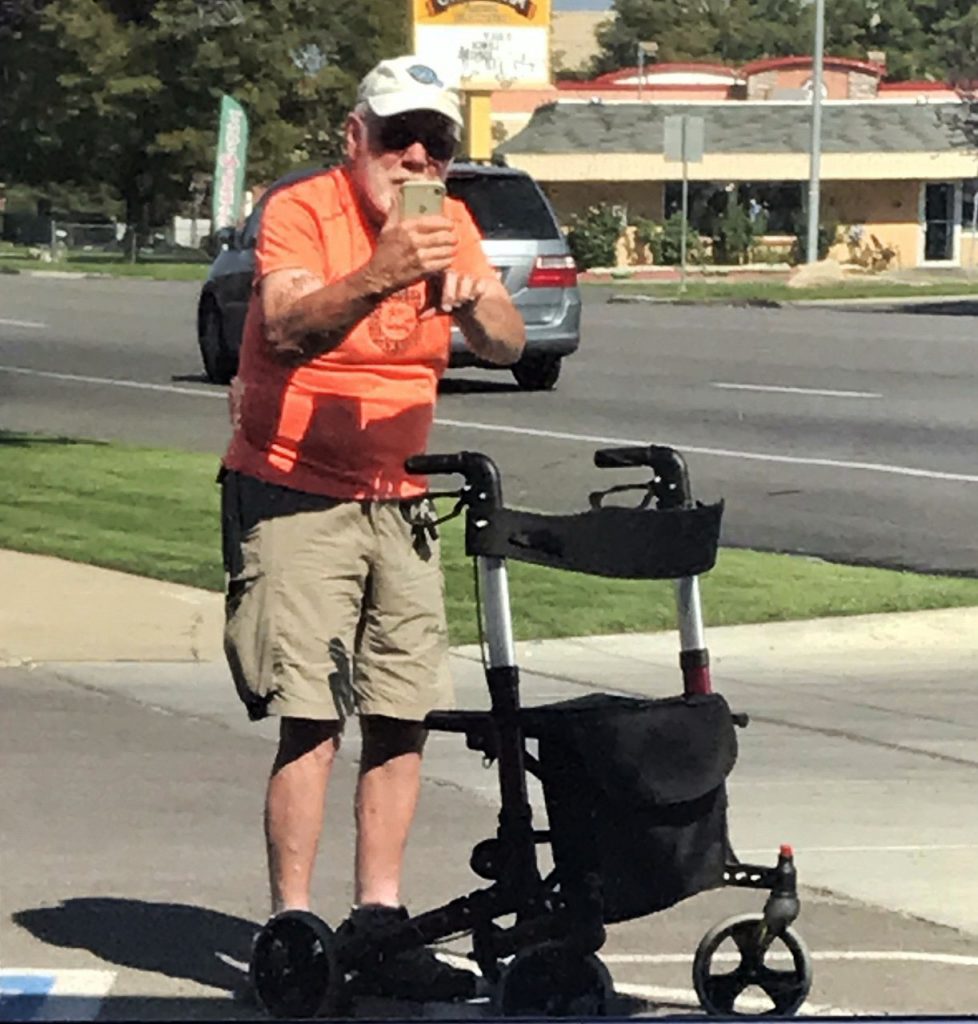 Then, as reported in the previous post I stretched my walking to successfully doing the half-marathon distance (13.2 miles) with my walker–all the way to Alpine and back. NOTE: You will notice that there is now muscle AGAIN in my right basically dead leg, so all the walking has worked!
I then decided there was need of NEW PROGRESS, A NEW CHALLENGE–actually doing some kind of hike in the High Uintas to end the season. So, I humbled myself and got a pair of previously hated TREKKING POLES–before I always had more important things to do with my hands, like always having my camera at ready get that once in a life-time shot, carrying my fishing rod, or munchies, etc.
I headed for the High Uintas, up the Mirror Lake Scenic Byway–now finally back to driving with my right leg, and intending to find a 1/4 mile hike to some lake, and return for a 1/2 mile goal. I referred to my BOOK to find the right hike.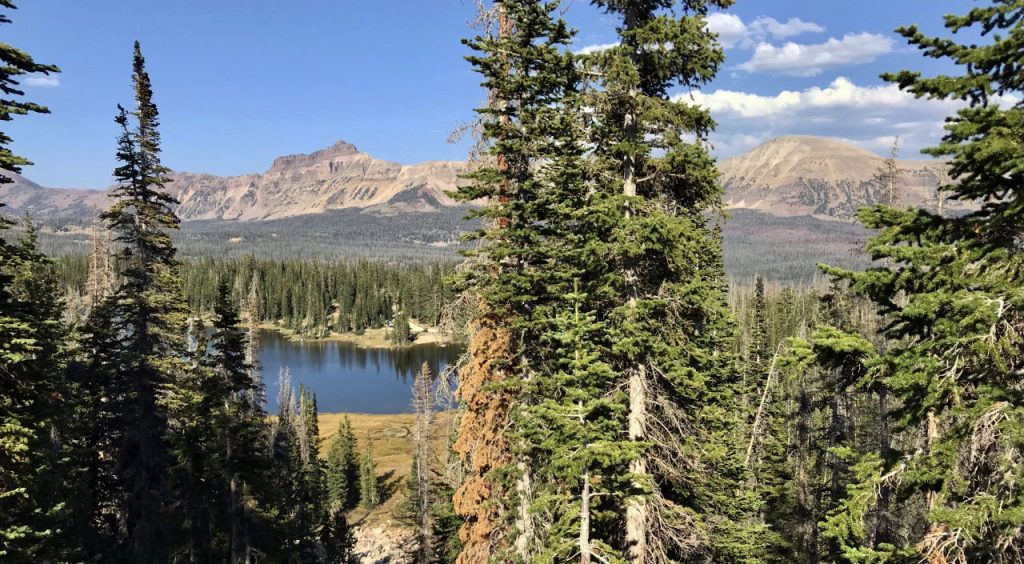 SOUNDS PRETTY WIMPY, RIGHT? But graduating from NOT BEING ABLE TO WALK all the way to A SEMI-STEEP, ROCKY TRAIL with only trekking poles–would be A VERY BIG DEAL FOR FOR THIS 85 YEAR OLD & HIS BABY STEPS! Around the bend from the Hayden Peak Overlook, a 1/2 mile from the Mirror Lake turn-off, I found what I was looking for at the FEHR LAKE TRAILHEAD–it was twice the distance I was looking for, but would have to do.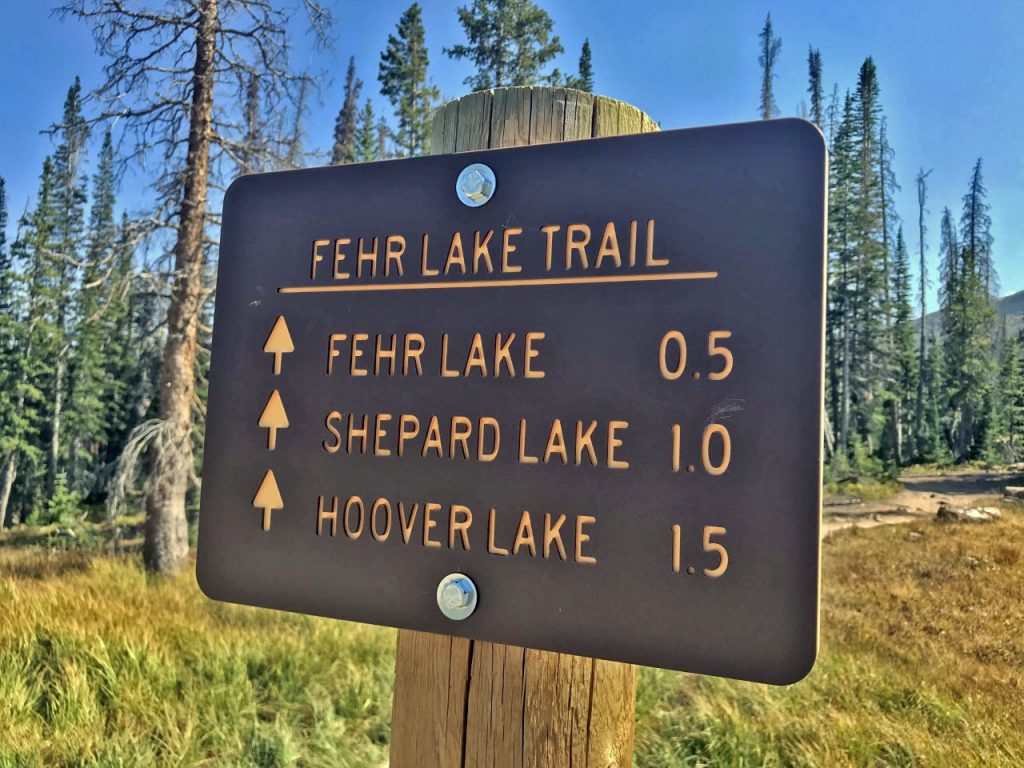 I have always advised everyone to go prepared even on a short day-hike-–which is what Carole Wetherton and daughter Kim were doing from the Crystal Lake Trailhead on September 13, 2003. They disappeared and were never found that fall in a massive search. Their bones were found in 2004. They had not gone prepared for any trouble–no rain gear, not warm enough clothing, had matches–but not waterproof ones so what they had were useless as it rained and then snowed, etc.
That tragic case is described on pages 347-348 of my BOOK. Other "SURVIVAL STORIES" are told in the book, as well as my "Survival stories" and why I'm still alive, when others in like experiences died.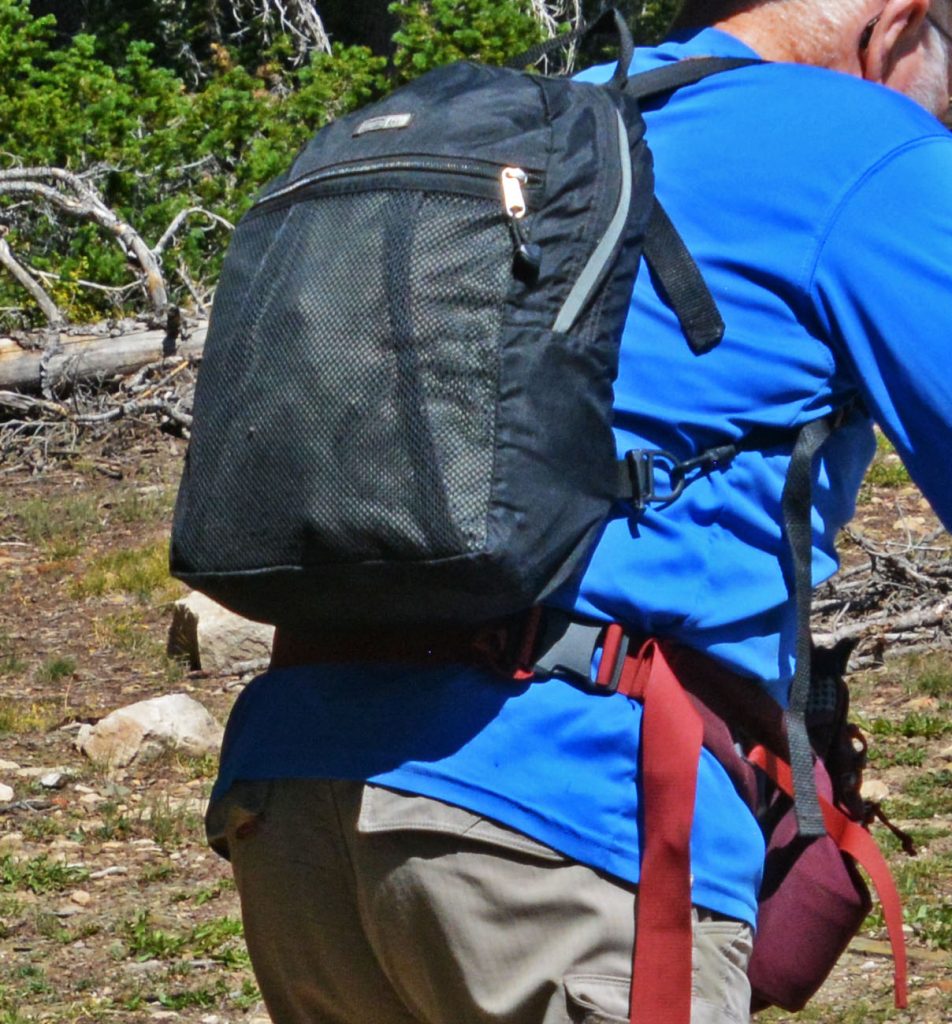 So, as seen above, I actually had on my back what I call my "BABY SURVIVAL PACK" that weighs 4.4 lbs. with which I could safely spend a night or two in the wilderness, if needed.
NOTE: I have strict instructions from my doctors to NOT BACKPACK ANYMORE–but, 4.4 lbs. is basically nothing–yet….
…..NOW QUALIFIES ME AGAIN AS "A BACKPACKER!"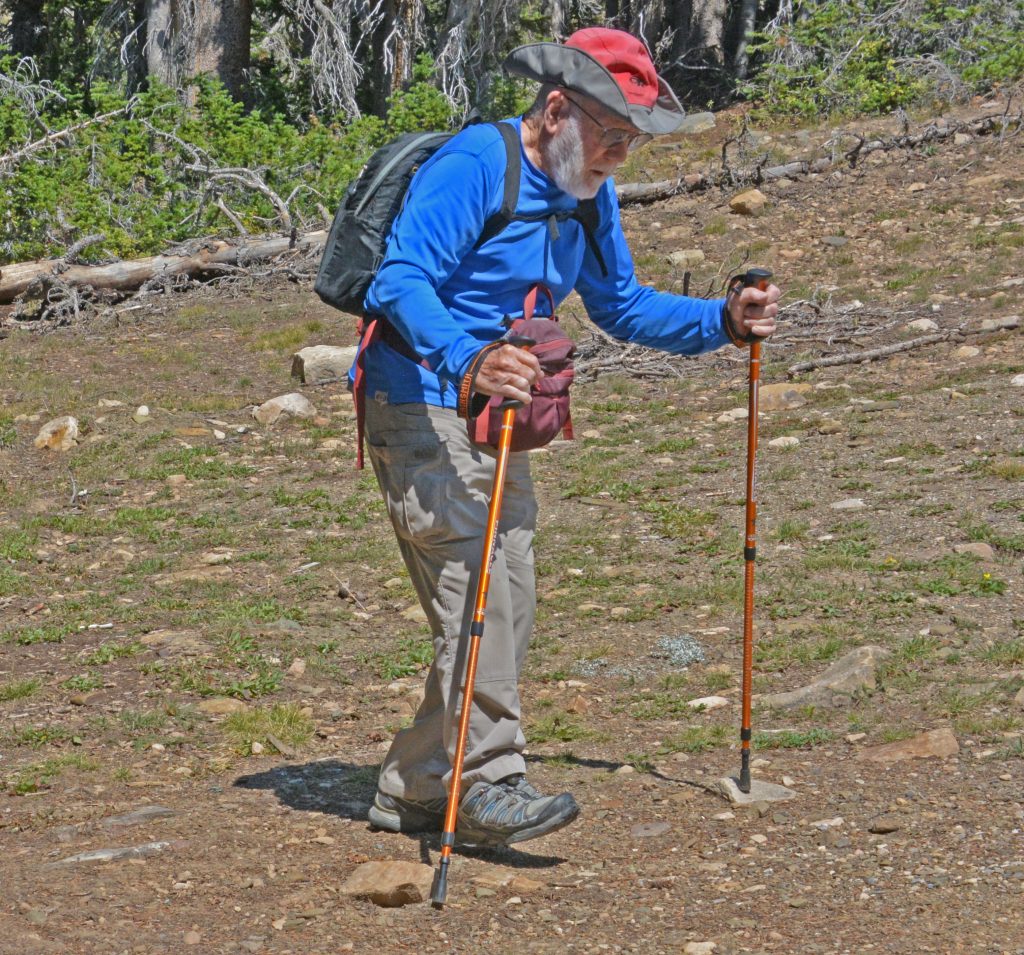 This was my first experience with trekking poles, and just a short while down the trail I stopped to adjust the length properly. Soon I noted that on smooth stretches that were level, or just slightly uphill, it was best for me to not even use the trekking poles–but they were critical for the downhill stretches. My lower back pain was the most bothersome part of the experience, and I'll admit I had to rest a few times.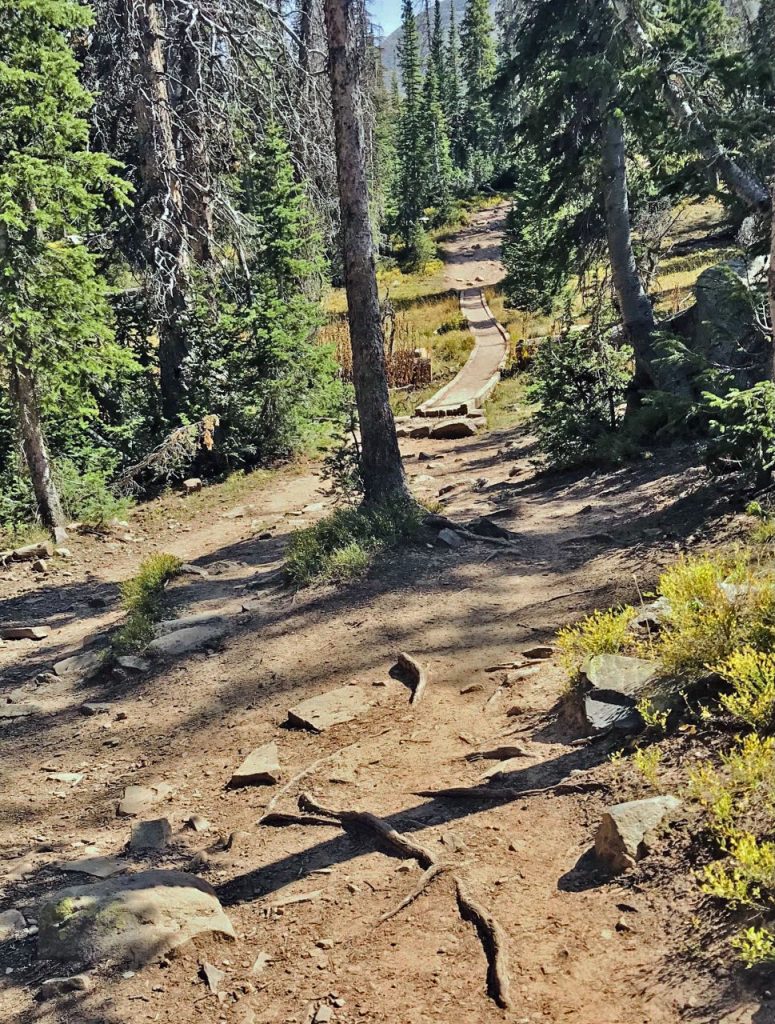 Eventually I came to a quite long, steep downhill section with the lake now in view, but as seen below there were a couple of quite large steps down that my experience to that point had showed me was dangerous for my condition.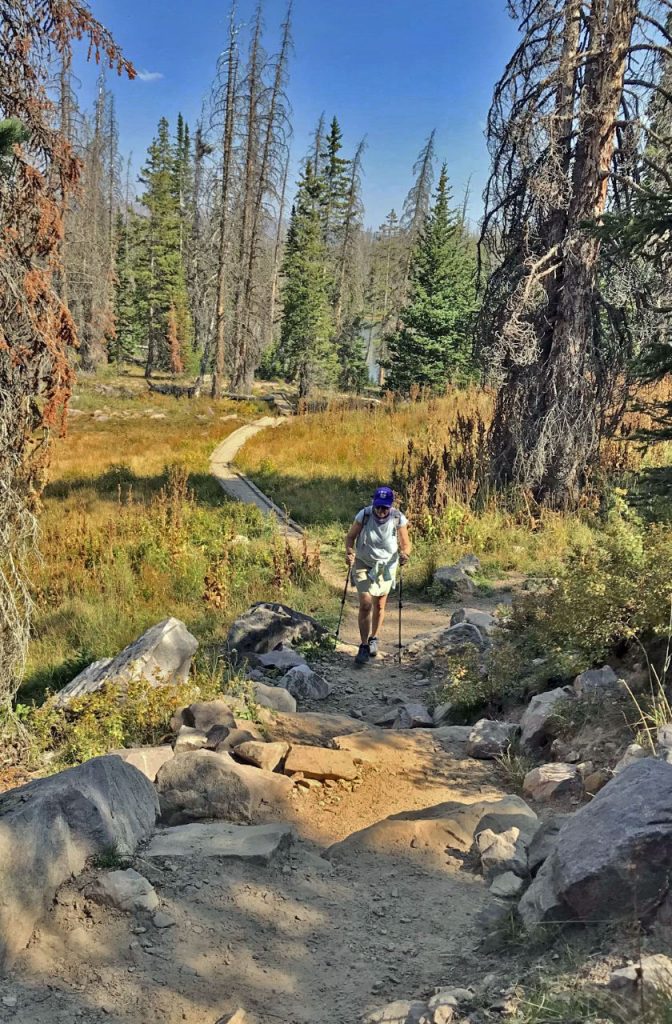 I'll insert a close-up below of the steps down, even though the picture doesn't really show how high they were–from 12-15″ each–two high for my BABY STEPS! I couldn't see a safe way to detour around this tiny stretch, but I'm sure I could have if it had of been a matter of life and death–but as ridiculously small as this effort was, I couldn't take excessive risks.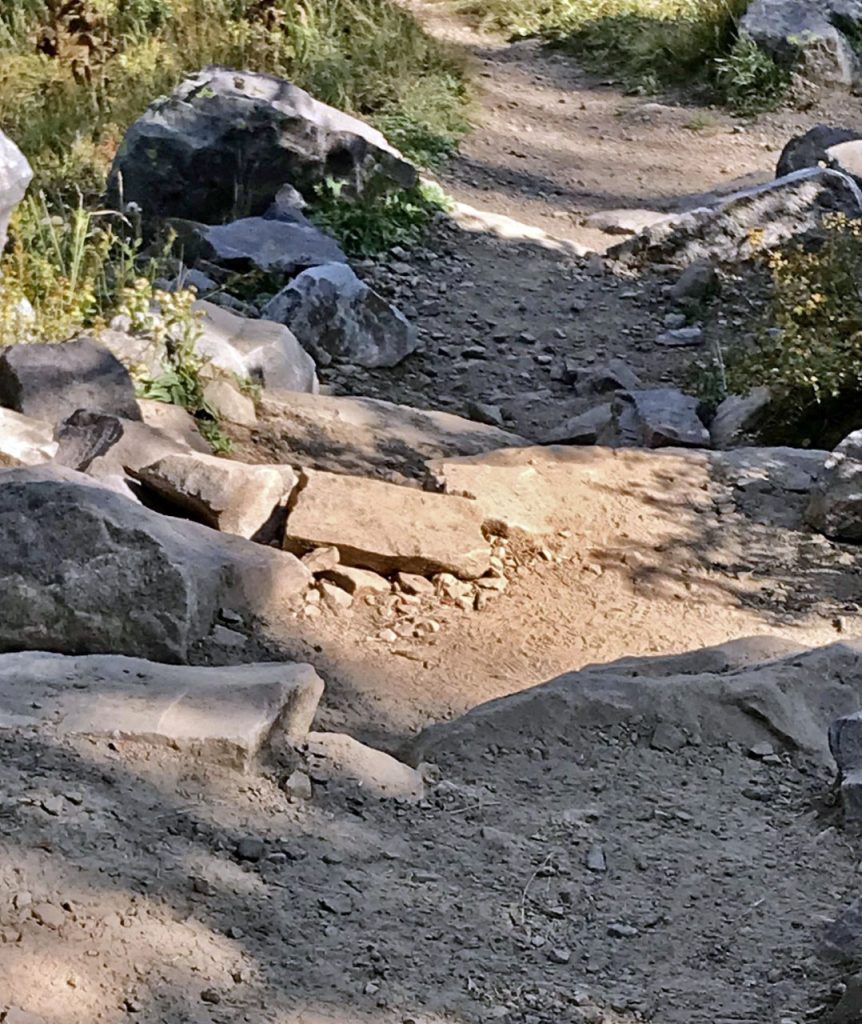 So, I got closer to the lake using the zoom on my smart phone, you see below.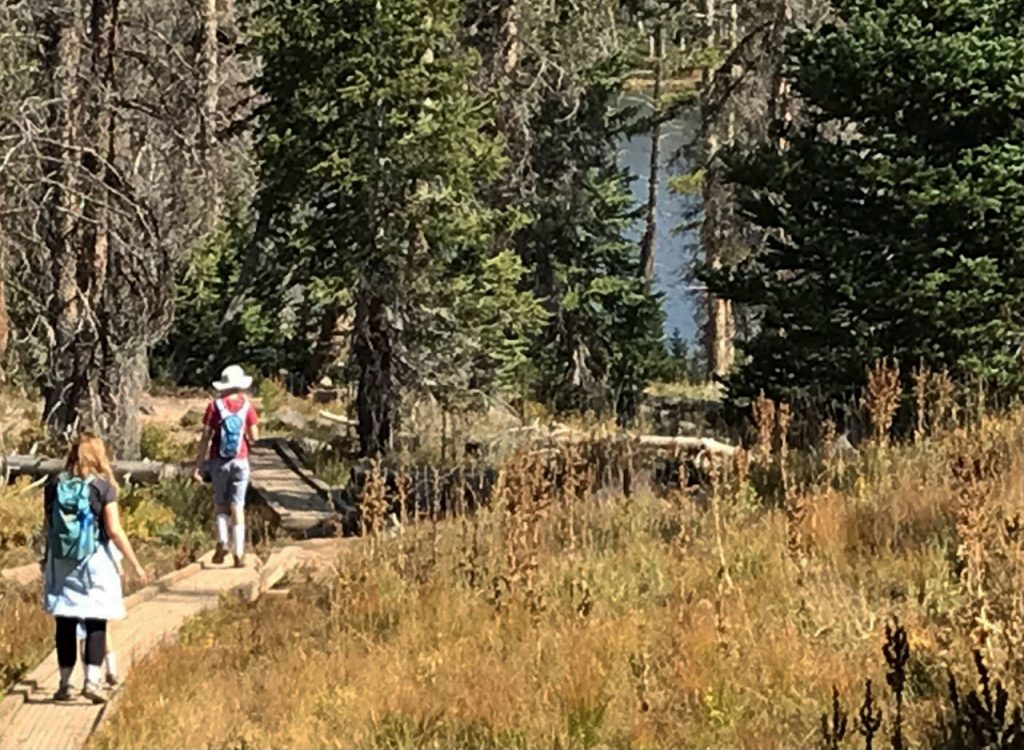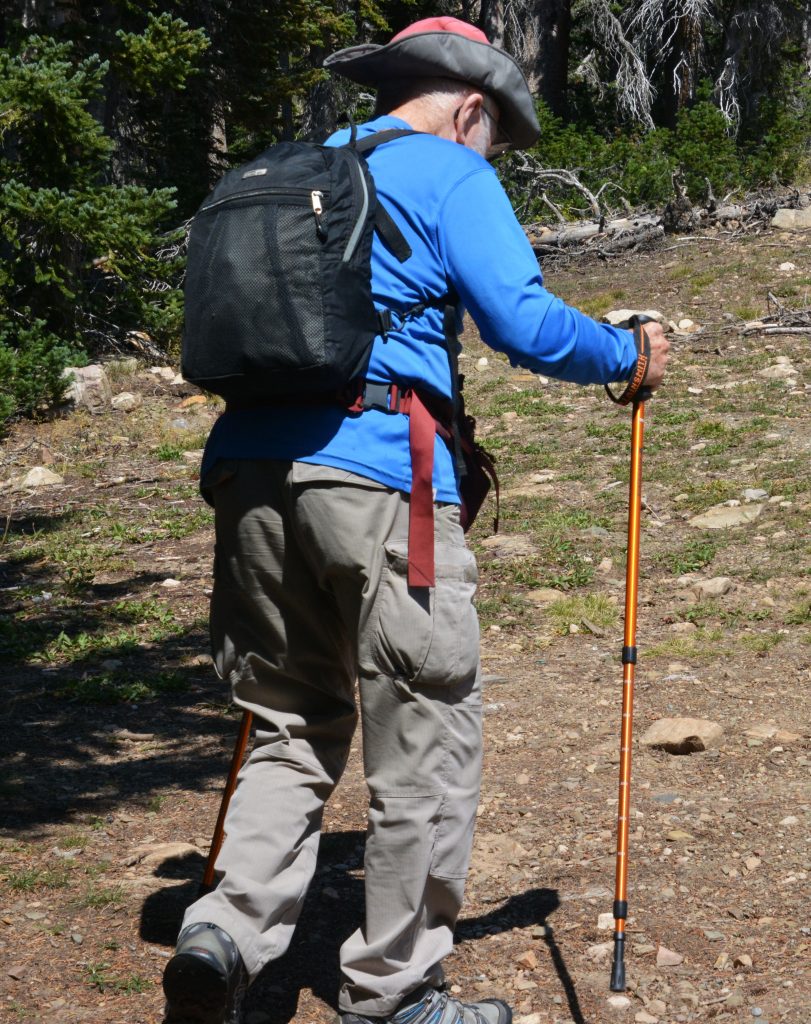 I then headed back to the Trailhead, and like I mentioned for my condition & BABY STEPS, uphill was much easier for me than downhill–which was dangerous. On semi-level ground I didn't use the poles at all, and moved along faster, even with baby steps. BUT I MADE IT BACK TO THE CAR & CAN NOW BRAG A LITTLE ABOUT DOING SOME "BACKPACKING IN 2021" but I frankly have to confess IT WAS TOUGH FOR ME, which for any normal person would be embarrassing to admit, but for me it WAS PURE TRIUMPH & A GREAT NEW BEGINNING!
But, once again for full disclosure: It hurt me some and driving home was painful–so I've gotto back off just a little and do less each time, but do it twice a day doing laps following the trails around the American Fork Amphitheater, even doing medium steps leading with my right "dead leg" which is coming back and isn't completely dead anymore!
OBVIOUSLY I HAVE THE HOPE OF KEEPING IN SHAPE and GETTING STRONGER DURING THE WINTER–mostly at the American Fork Fitness Center, and I must FIND A SOLUTION FOR THE CONSTANT LOWER BACK PAIN–(and have set up an appointment with Dr. Allan Colledge who is a real High Uinta Friend who has been life saving in the past),
GETTING STRONGER….NOW in the Fall, & in Spring 2022, will have me add to my DAILY WALKS, at least every other day, hikes with trekking poles in the Amphitheater, foothills, and canyons–like GROVE CANYON, ROCK CANYON, etc. I have found that to keep my legs awake requires daily exercise WALKS & TREKS!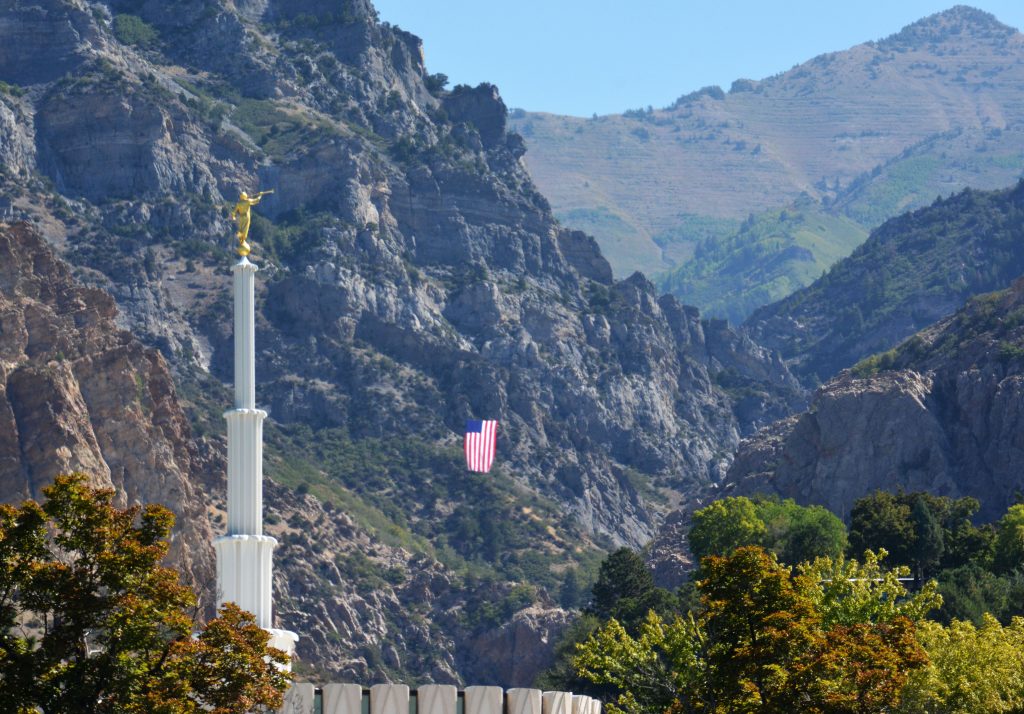 I'm even alternating walking with a sort of semi-jog with my walker with sights on……best not admit it or you'd be even more sure I'm crazy…..after all I have been also called a……..
"Modern Don Quijote!"!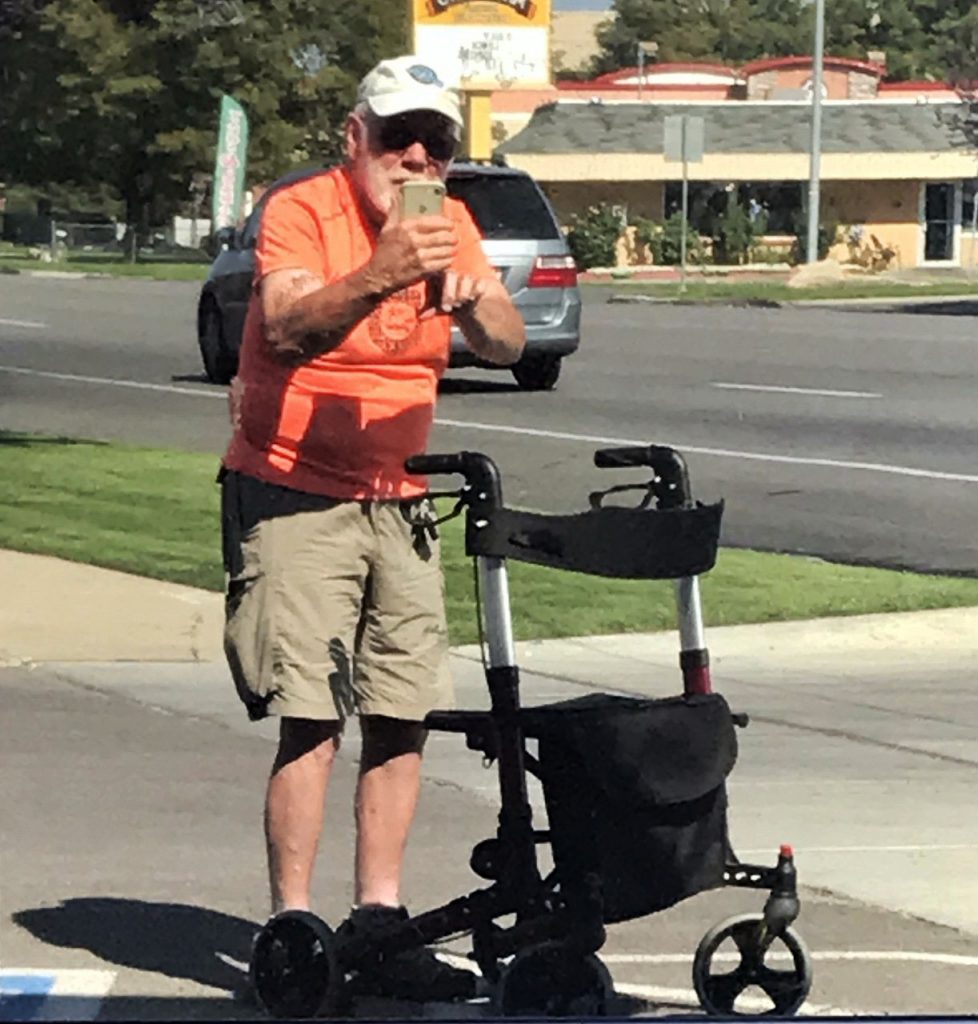 KEEPING AWAKE BOTH OF MY LEGS, I'M HOPEFUL DOING IN 2022 AN OVERNIGHTER & I EXPECT SEVERAL OF THEM, EACH A LITTLE MORE AGGRESSIVE!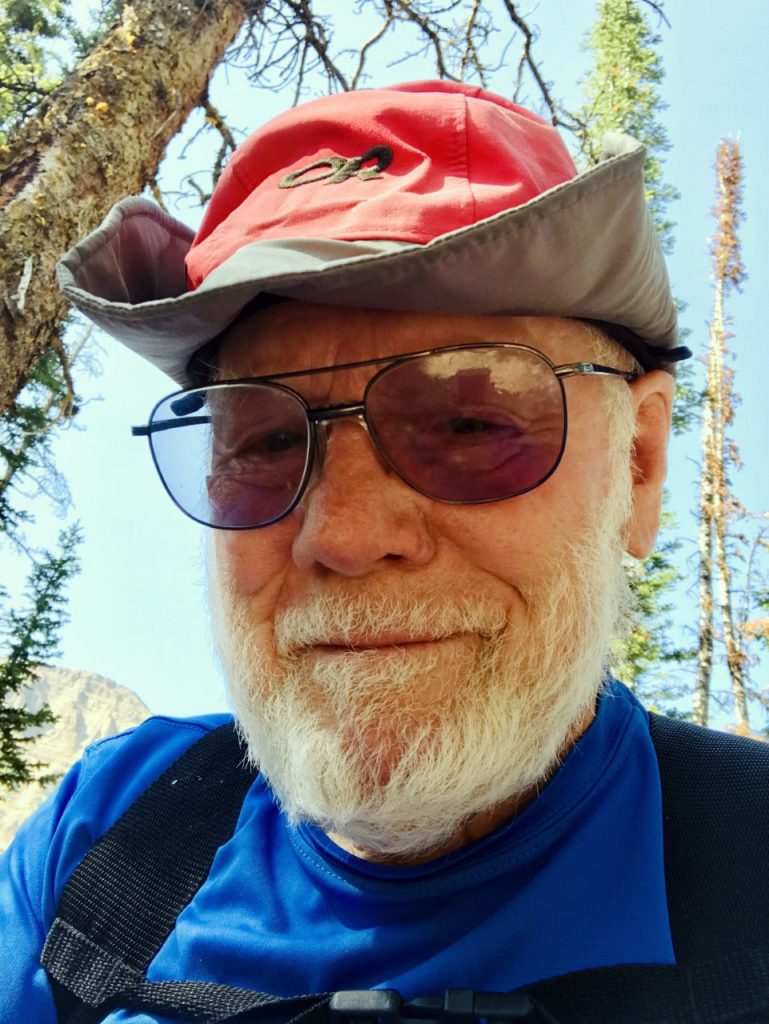 SOME OF YOU JUSTIFIABLY WILL LAUGH AT THIS "OLD BACKPACKER," BUT FOR ME, CONSIDERING I COULDN'T EVEN WALK TOO LONG AGO & SEEMED TO BE GETTING WORSE WITH BOTH LEGS GOING NUMB–I PERSONALLY AM DEEPLY GRATEFUL TO THE LORD FOR PUSHING AND HELPING ME TO ….."NOT GIVE IN….EASILY!"
**************************************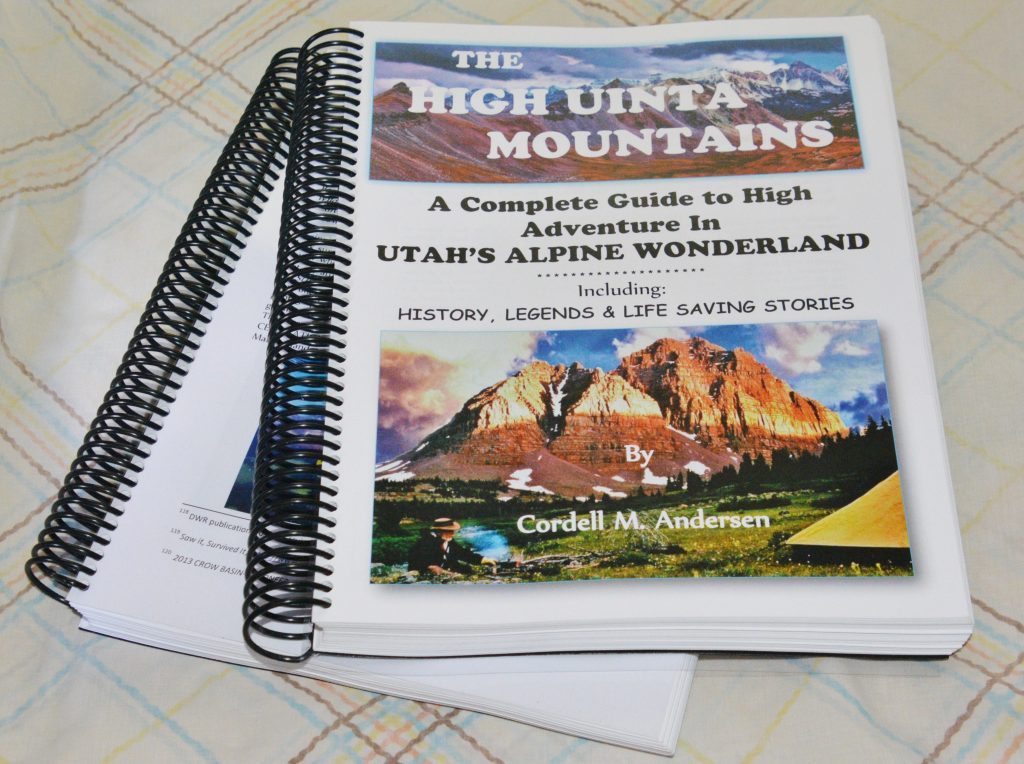 GET THE BOOK…..It's not just for backpackers, but for parents and grandparents who can share the history, legends & LIFE SAVING survival stories with your children, and grandchildren, and inspire them to appreciate the wonderful High Uinta Mountains–as good or better then most National Parks!
Send your check in my name for $19.95 along with your email address to:
Cordell Andersen, 444 Elm St., American Fork, Utah 84003
I will then email you a link to download the two volume book. You are thereafter welcome to share the link with others, but I would appreciate you forwarding to me half of whatever you get for it–maybe it can be a business for you MAKING YOU A MILLIONAIRE–AND ME TOO–FINALLY! It's a treasure of updated information, history, legends, hundreds of color photographs, 120 topographical maps with trails and distances marked, and what is needed to
MAKE MORE ENJOYABLE & SAFE OUR WONDERFUL UINTAS.
I'm not kidding—IT HAS SAVED LIVES!