NOW WITH THE WINTER…..back to my "STAIRS–FREE EXERCISE MACHINE" every day they're free of snow–to keep alive and awake my legs, my heart and my mind (& spirit)!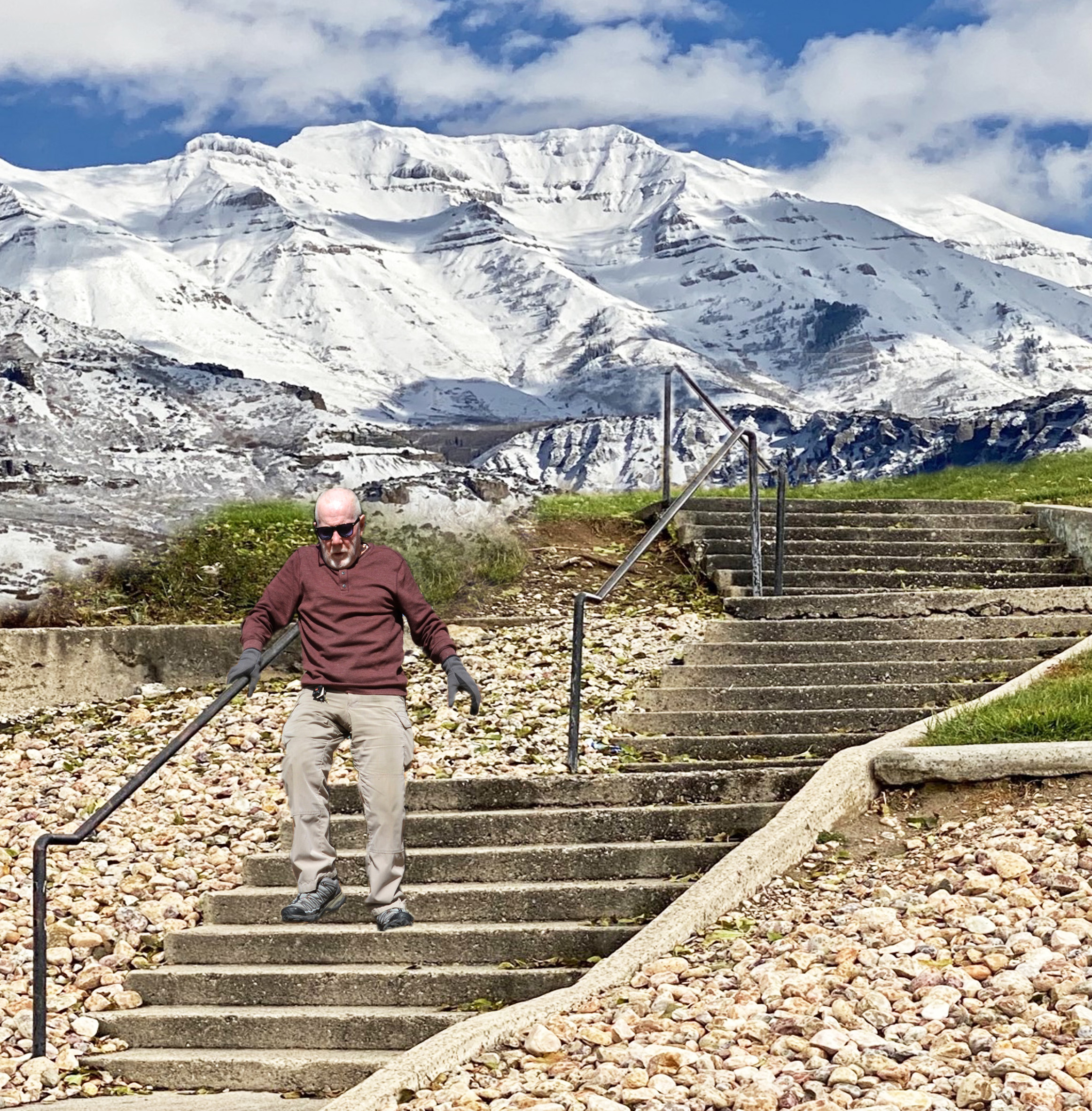 The STAIRS face south so any snow melts quickly–making possible doing enough laps every day to keep both legs from dying on me–and it so far is working cancelling out my left "good leg" from dying as was happening a few weeks ago!
************************************
NOW BACK TO A COUPLE OF WEEKS AGO AND MY POST ABOUT MEETING CHALLENGES ALONG THE PATH OF LIFE……BRINGING IT UP-TO-DATE WITH MY CONFESSIONS………….scroll down to see………….. WHO I RECEIVED HELP FROM
NOW, BACK TO THE PREVIOUS POST….WITH THE DIVINE ADDITION….
……but, SURPRISE, SURPRISE….RAN HEAD ON INTO ANOTHER GLITCH!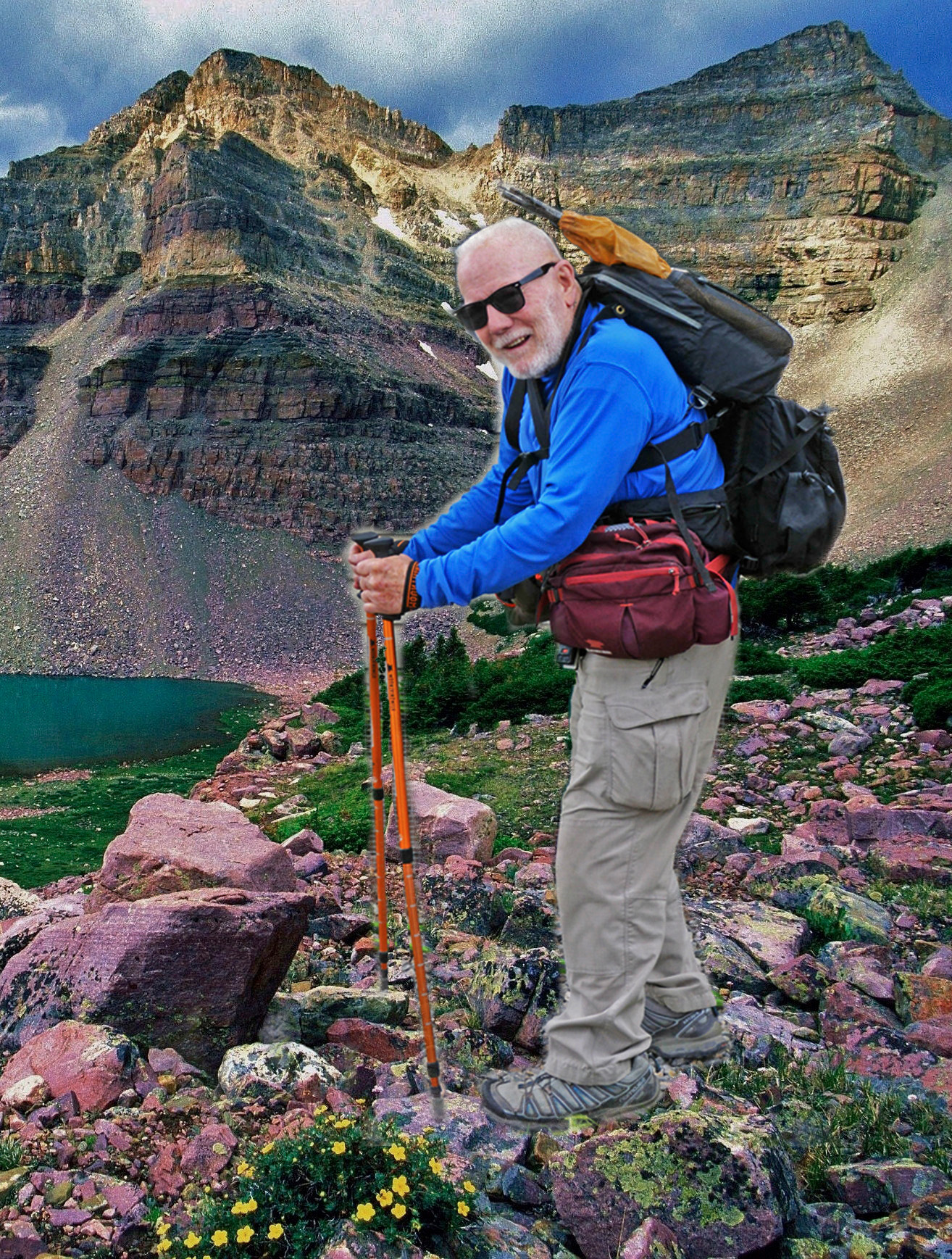 A little bit ago on this post I said, " My good left leg started dying as had the right one, but different as I began feeling pain down the outside of my leg and gradually weakening so I couldn't lead with it anymore–neither up, nor down and could only trust my previously dead, right leg!"
Now a few weeks later, and after actually doing my High Uinta "hike" and some big-time hikes up the front of the Timpanogos foothills…..
…..THAT PAIN HAS RETURNED & GROWN COMING CLOSE TO MAKING ME A CRIPPLE….AGAIN!
With every step the pain now hits me at the lower portion of my TITANIUM HIP–where inserted into the bone as seen below, and then travels travels down to my knee and lower leg and today 10/11 I couldn't use that leg to step up at the American Fork Amphitheater but could keep it stiff to step down, and had to abandon the stairs and just walk around some with hands on hips straightening my back–NOT ACCEPTING AS MY "NEW NORMAL" THE HUMPED OVER POSITION which my spine surgeon told me at the last visit I
"had to accept as the new normal!"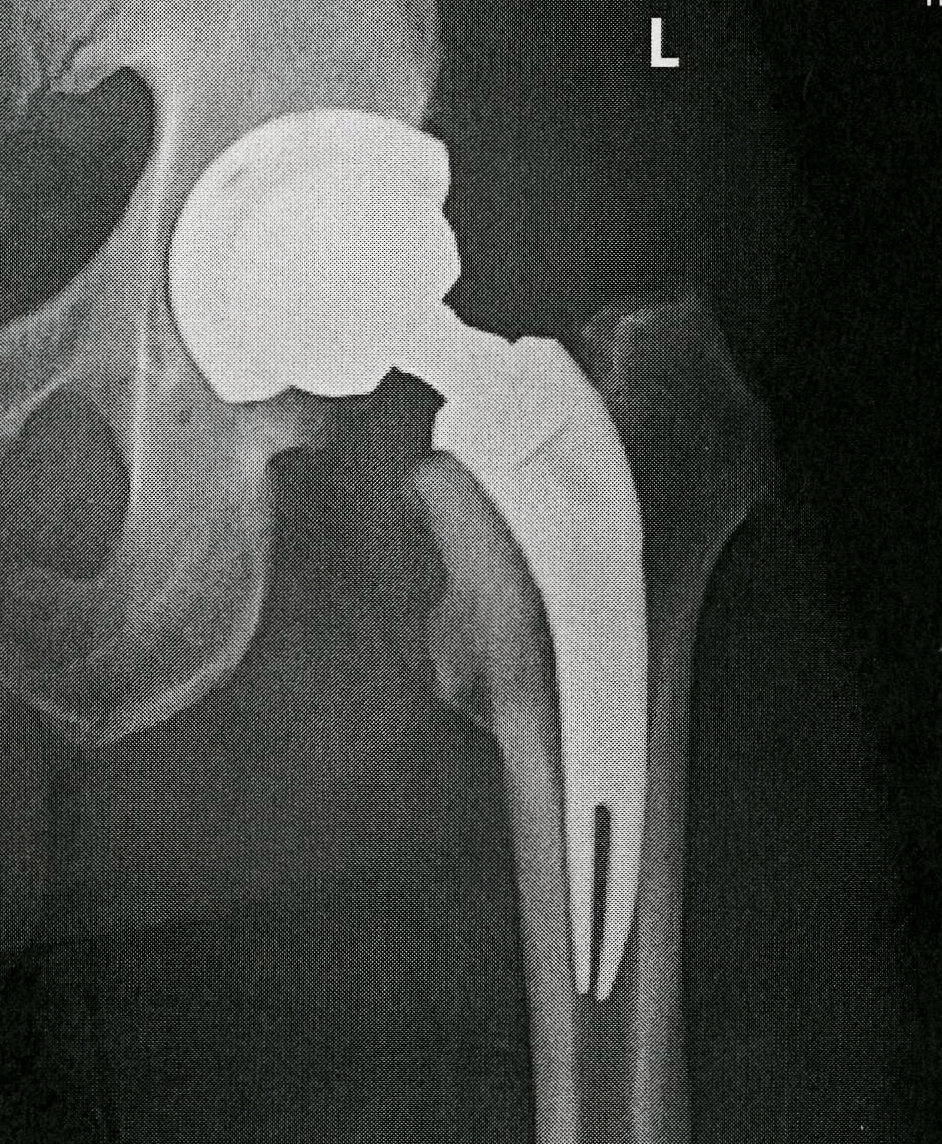 FOLLOWS A COMMENT OR TWO & MY REPLY ON FACEBOOK when reporting the above:
Maren Topham from Facebook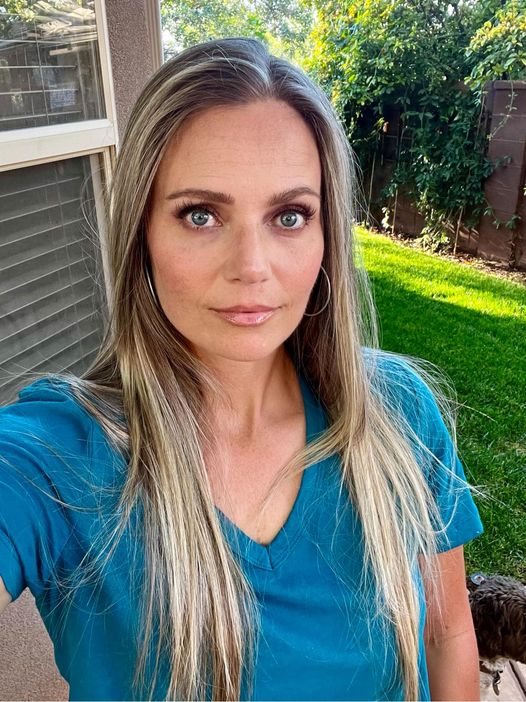 She first said: "If anyone can figure out how to solve this "glitch" it's you, my friend. So good to read a post from you. Stay strong!
"
MY REPLY TO Maren: WOW…SO GOOD TO HEAR FROM YOU. I want all to know you were one of the first to really motivate me in my High Uinta Project….when 16-18 years ago at a clinic in Provo you saw one of my color photographs of Red Castle Peak and told me you thought it was beautiful. You might not remember that, but I will never forget and always be grateful for YOU…one of the most beautiful VISIONS OF NATURE I'VE EVER SEEN. God bless you and your family. Your Trail buddy, Cordell
Maren Topham: "Oh my goodness, you are the sweetest person in the world! I'm so glad you came into my life all those years ago. You taught me so much about over coming obstacles and keeping a positive attitude and the power of determination! You've done wonderful things with your life and your talent with photography and love for nature. So glad I could be a small part in it.
"
MY ADDITION TO MY FACEBOOK REPORT:
"I'LL KEEP TRYING TO FIGURE OUT HOW TO SOLVE THIS NEW GLITCH & DO MY DARNDEST TO NOT ACCEPT BEING A HUNCHED OVER OLD RODEO CLOWN!
"I'll accept the RODEO CLOWN, nick name given me in Guatemala by Keith Hoops a BYU professor of Agriculture/Animal Husbandry who visited me at Valparaiso and our Dairy, asking me where our alfalfa fields were. I pointed to our lush pasture grass that had 23% protein–as high as alfalfa–with our cows on that grass 365 days a year..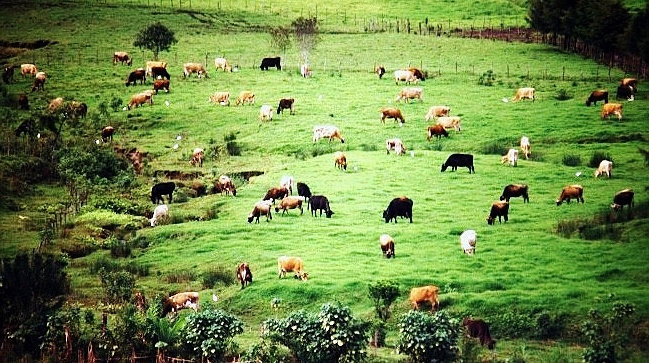 …but since we didn't have alfalfa and silage–like is used in the U.S., he started calling me a "RODEO CLOWN" which I loved ALL THE WAY TO THE BANK–with profits making possible quickly paying off the large bank loan as well as the mortgage on the plantation. I also laughed lovingly at the Rodeo Clown label when 2 of our cows and a heifer all defeated in a livestock show the Central American Grand Champion of the Jersey Breed!!!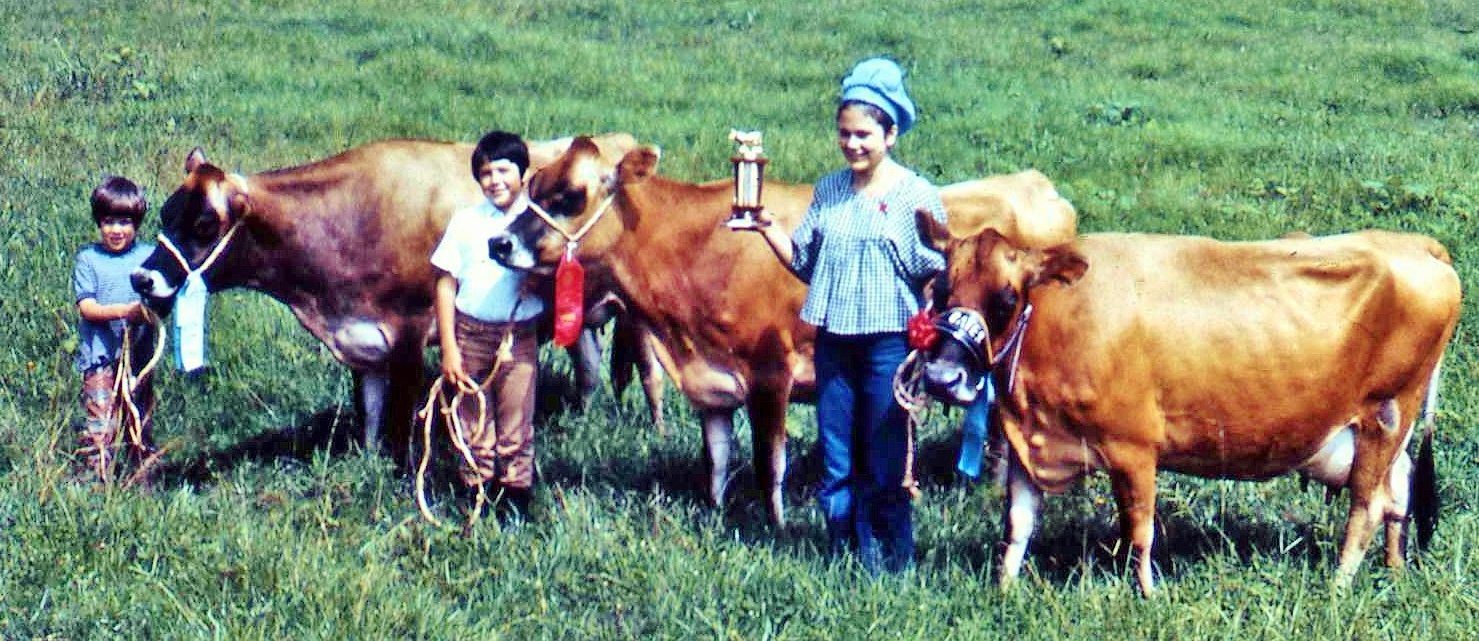 "I still love to be called a "Rodeo Clown," as well as a crazy old "Modern Don Quijote de la Mancha," a "Modern Ammon," and "Little Andy!"
*******************************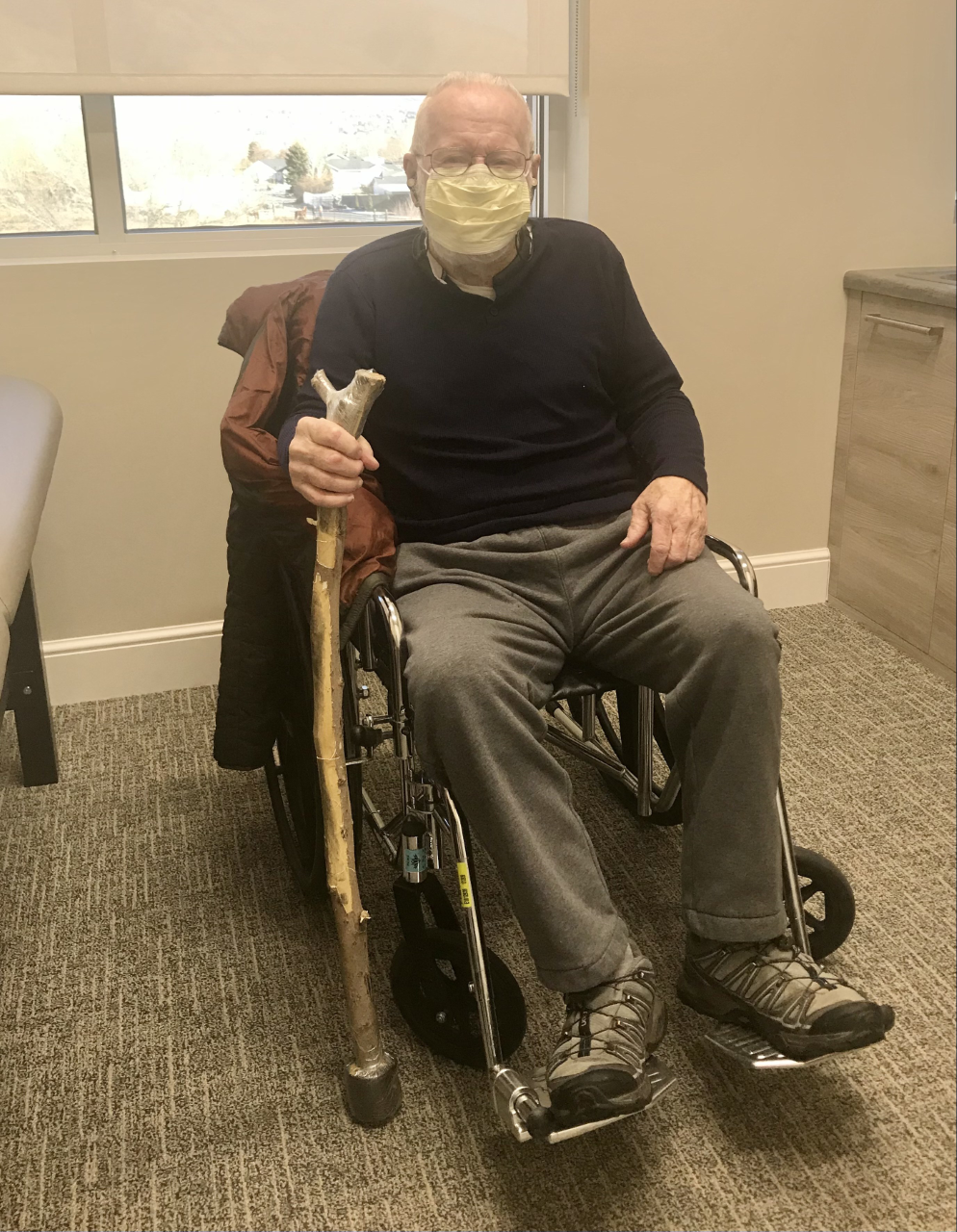 24 MONTHS AGO, after apparently a botched surgery on my spine, MY RIGHT LEG DIED & I COULDN'T WALK–the muscles in my lower legs disappeared and only bone was left like I was a holocaust victim! I was a bit different than Almanzo in the following story on LITTLE HOUSE ON THE PRAIRIE, as he got terribly discouraged at first–I NEVER DID even when diagnosed with cancer in 2003, but always was blessed with my "NEVER, NEVER GIVE IN, NOR GIVE UP" attitude. So, I went to work but in my attempts to -–awaken feeling, build muscle again, be able to walk and be independant-–a couple of falls left MY SPINE DANGEROUSLY MISALIGNED AS SEEN BELOW. The titanium appliances were perhaps doing more harm than good.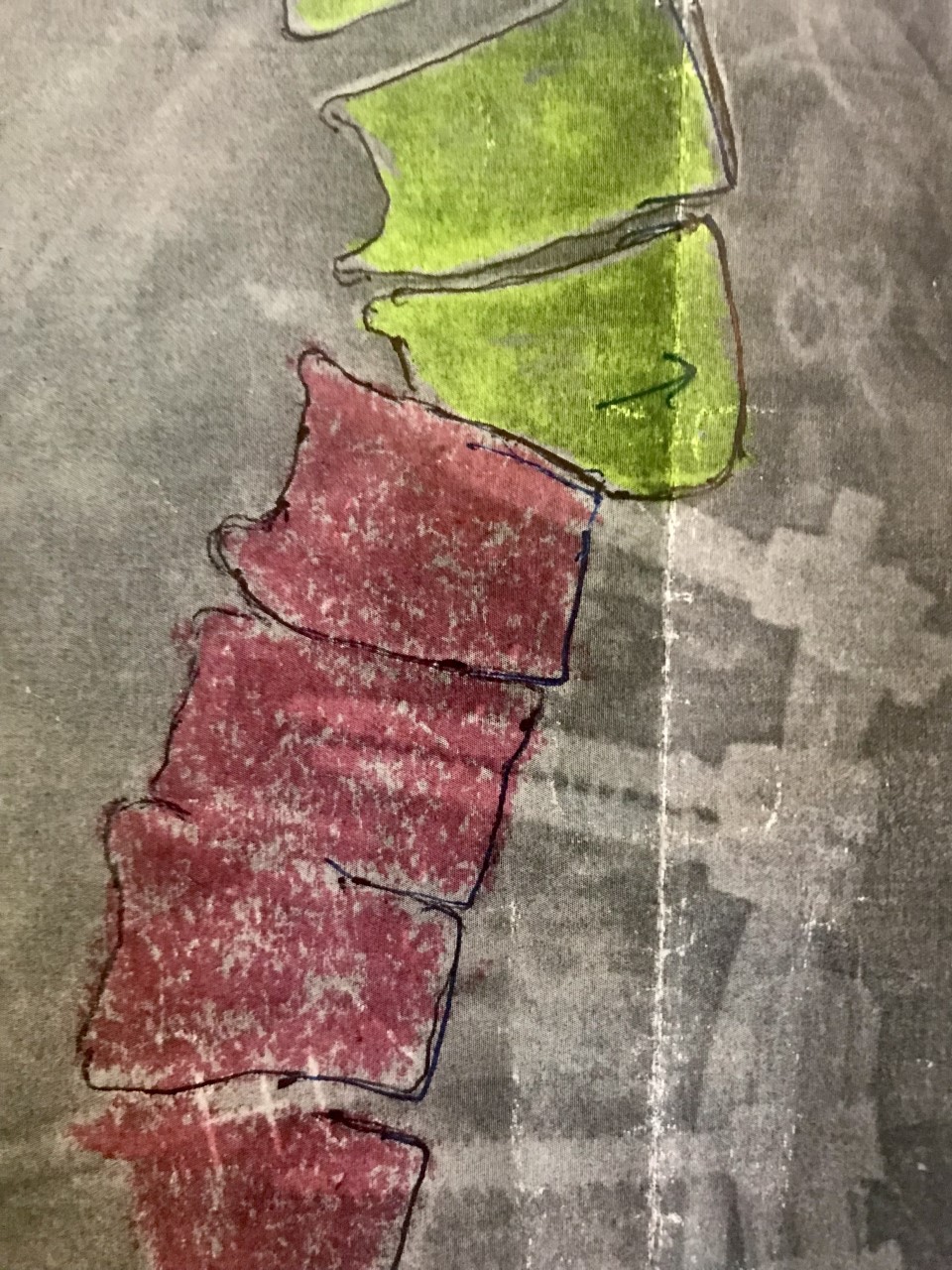 A FALL COULD LEAVE ME COMPLETELY PARALYZED OR DEAD…..So great caution was advised by my spine surgeon, saying,
"DON'T DO ANYTHING STUPID!" .
My spine surgeon said he could straighten it out but the surgery would take at least 6 hours with possible complications, and no guarantee, he adding something like, "I've never done such a surgery on someone your age, but you are healthier than others your age, but I wouldn't do it unless you were in so much pain you didn't want to live any longer!"
My decision was to try and live with it, and do my best to adjust, adapt, and strengthen myself.
THE YEAR LONG+ HISTORY of my CHALLENGE FOLLOWS:
AS REPORTED HERE TIRELESS & PAINFUL HOURS WERE SPENT WITH MY OWN VERSION OF PHYSICAL THERAPY, COUPLED WITH A LOT OF PRAYER-–FOR MONTHS IN BED with isometric exercises, and all kinds of exercises with my legs, helping with my hands the dead leg to begin movement and wake up , then gradually to actual movement inside my tiny mobile home-–learning the "log roll" to sit up, grabbing on all the things close in every direction to sit, to stand, to fix my picnic-like meals, and eventually scoot into my tiny shower room, sit on the toilet and using a flexible shower-head, actually take a shower, then outside onto the porch Jesse had built for me with its down-ramp and railing, then using special canes Jesse got for me, and then a wheel chair my good friend Garth Norman provided to get me to the clinic and then the hospital for an emergency surgery, next a walker my daughter, Mahana, got for me, then using shopping carts as walkers around store parking lots I actually worked up to doing 2-3 miles a day.
I didn't know what the Lord had in store for me, but I was willing to accept whatever condition he felt best–but DETERMINED TO PUSH MYSELF and LET HIM HELP ME ACHIEVE JUST AS MUCH AS WAS POSSIBLE!
Next, another good friend, Paul Edmunds got for me a nice walker gradually using it going farther and farther from home (American Fork) eventually on the paved jogging/bicycle paths to Highland and Lone Peak High School, then all the way up to half-marathon distance (13.2 miles) to Alpine & back forcing my dead leg to come alive and keep up with the good leg and building muscle again.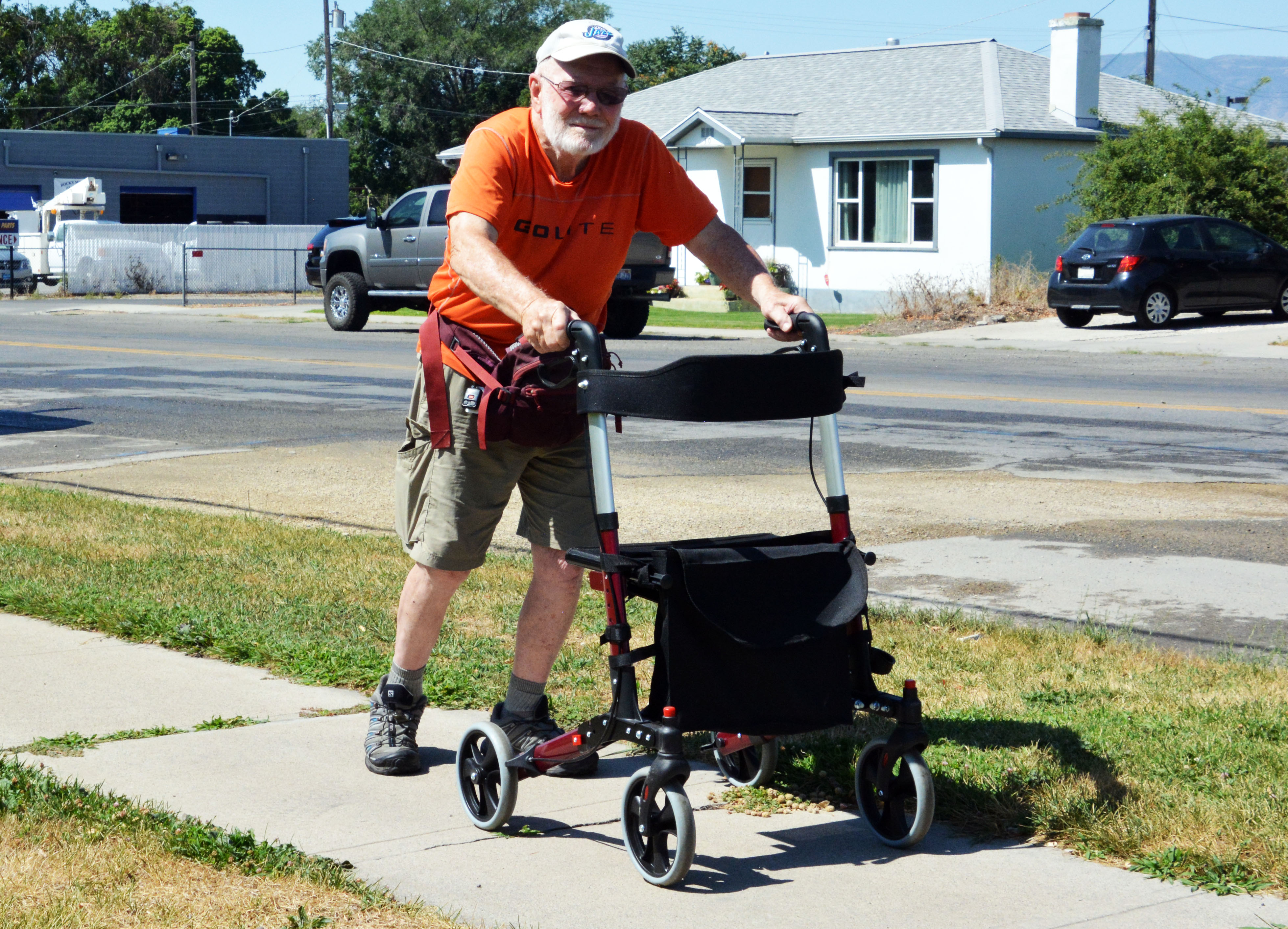 It was on those long "walks" that travelers called 911 that had the police offer to save "an old guy with a walker on the highway!" I thanked them, but insisted on getting home by myself, and twice beautiful young women attempted "love kidnappings" which I bravely resisted with a smile telling them "thanks a million, but I'm doing great!" I apparently DIDN'T LOOK GREAT, but gradually got better as I repeated those long "hikes" with my walker, THEN ON TO THE NEXT STEP….with DIVINE HELP–LEARNING TO WALK LIKE A BABY with no aids….except a HEAVENLY ONE WHO WOULD TAKE ME BY THE HAND!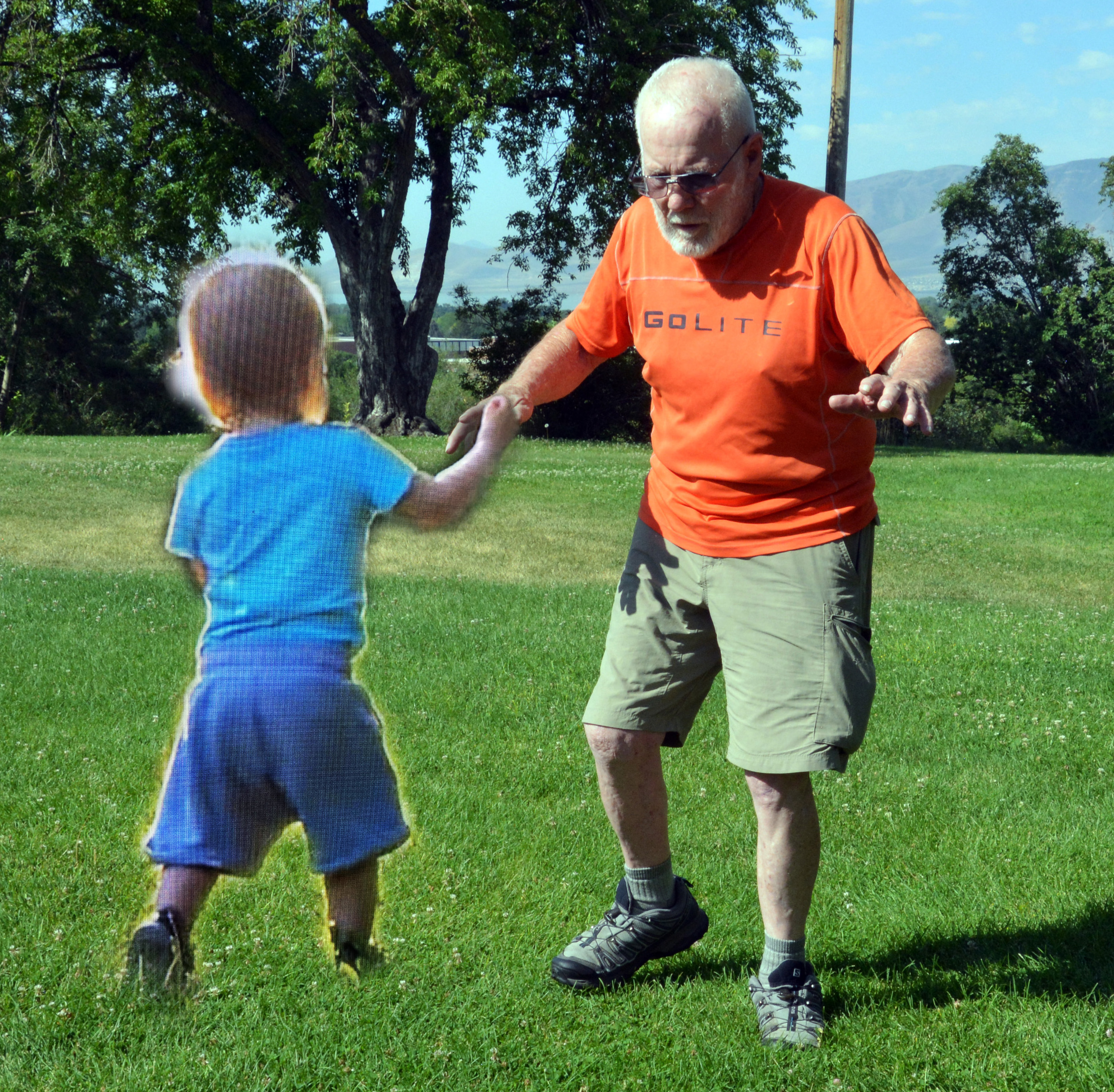 .……at the parks on on grass to provide soft landings learning to walk again like a baby–but I can't brag about doing it on my own, as I had the divine help of one of my Guardian Angels! He also helped me learn how to fall like a baby does to not break anything, and how to get up on my feet without help of any earthly gadgets.
Another of those–years before in the MOUNTAINS OF THE MAYA– I came to believe was my GUARDIAN ANGEL–our beautiful MICHELLE "PEPITA" — story told in my MAYA BOOK, pages 293-294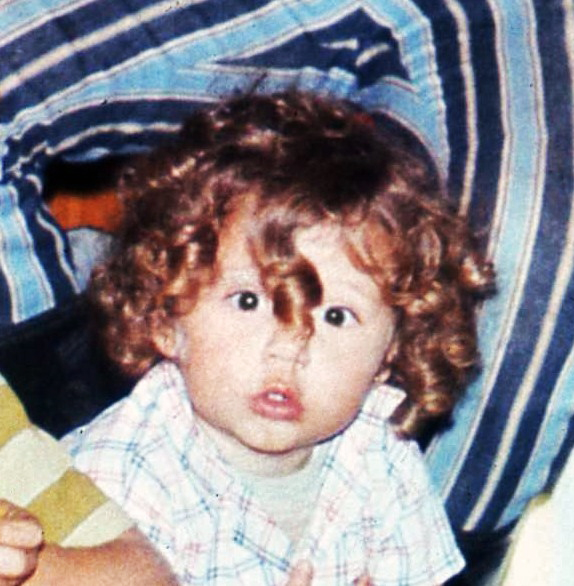 NOW BACK TO THE PRESENT: I then headed for the hills using trekking poles, so the FOOTHILLS OF MT. TIMPANOGOS became my FREE "EXERCISE MACHINE" up Grove Canyon, and hikes along the foothills every other day–doing a mile, then two, and three and always….
…. SHARING WITH ALL OF YOU the magnificent & inspiring
"VISIONS OF NATURE" ….
…..you can all see scrolling down, and down and down some more! All of this in hopes of being able to BACKPACK IN THE UINTAS AGAIN….actually dreaming of doing at least a mile at high altitude on rocky trails & maybe even an overnighter!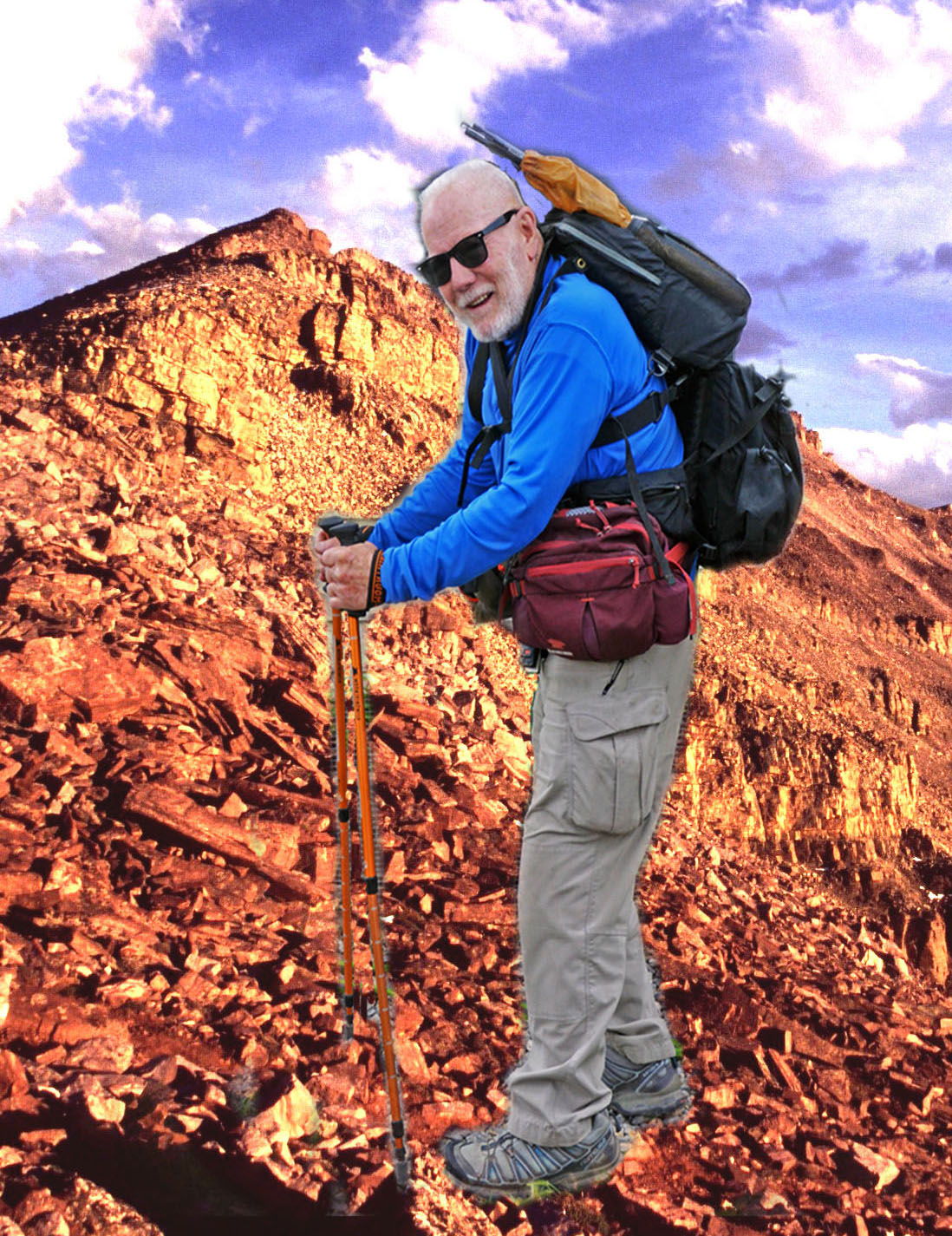 I would use a tiny day pack weighing only 5 lbs. but mainly I got special waist packs, the large one on my behind a "lumbar waist pack" as I couldn't put any significant weight on my spine.
SEVERAL ATTEMPTS WERE MADE UP TO BALD MT. PASS–by the way along the way I learned to drive again my car, first using exclusively my good left leg.
NOTE: The first time my car disappeared my boys, Jesse and Nephi were shocked and when I returned THEY CONFISCATED MY KEYS!
I finally did a test drive and showed them I could do it safely. Of course I'm now back to driving normally.
BUT AT HIGH ALTITUDE I HAD TO SEE HOW MY BODY WOULD REACT TO HIGH ALTITUDE–that as I got older in my High Uinta Project became a problem, and as previously reported I RAN INTO TROUBLE WITH EVEN A SHORT WALK AT 10,700 ft. HAVING ME QUICKLY OUT OF BREATH, ALONG WITH DANGEROUSLY ERRATIC BLOOD PRESSURE–sometimes TOO LOW (93/55 with 120/80 as normal), sometimes HIGH. Below 95 is experienced "with people who are dying!"
I also was shocked when it seemed like my good left leg started dying as had the right one, but different: The right one just lost all feeling as though it wasn't there; the left one just a couple of weeks ago began feeling pain down the outside of my leg and gradually weakening so I couldn't lead with it anymore–neither up, nor down and could only trust my previously dead, right leg! So, I had to back off and do some special work to…..
….. keep ALIVE & AWAKE BOTH LEGS!

I finally figured I could do it–carefully, my way.
So, as my last report stated on Monday, September 5th:
"LITTLE ANDY HAS DISAPPEARED!"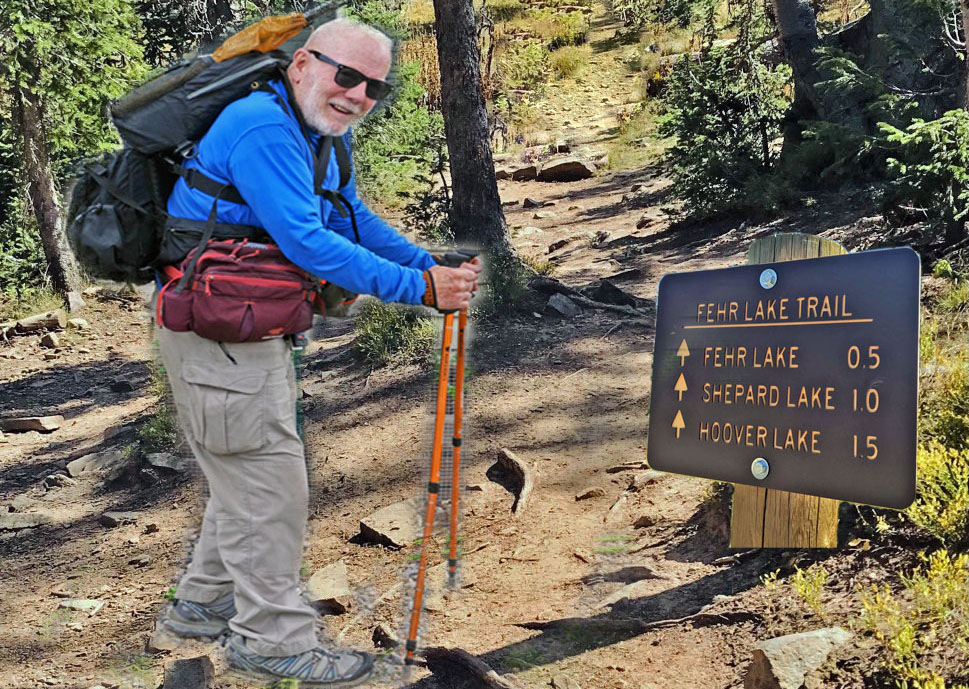 Only to reappear back in civilization on Wednesday, September 7th with the story in this photo/essay having MADE IT TO FEHR LAKE!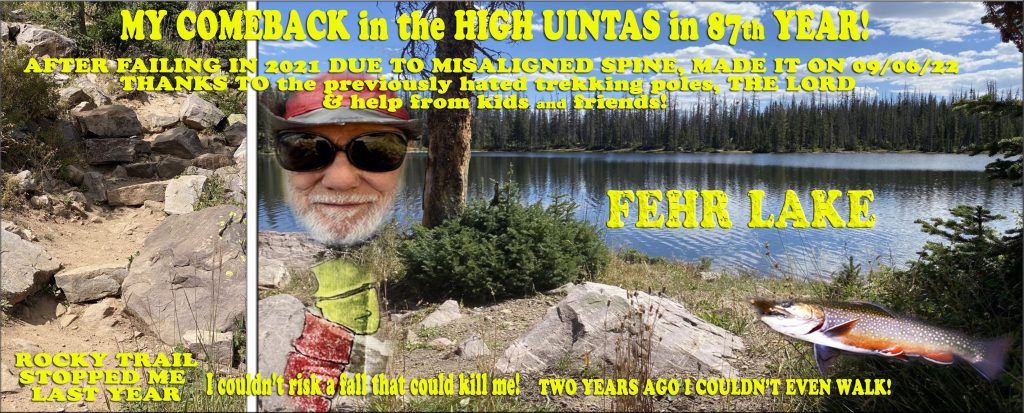 But, the following was necessary to adjust to the altitude. Once at 10,769 ft. Bald Mt. Pass, I parked and without doing any exercise, stayed there the night sleeping in my car to aclimatize before any hiking. My oximeter first showed my oxygen in my blood a little low–in the 80's. For 24 hours I had been taking Diamox to help my body adjust, and continued that the next day. The next morning my vitals were all OK. So I prepared my hike to Fehr Lake with about 20 lbs. of equipment, fishing gear, food and water in my waist packs. But down the trail a bit I didn't feel good, and found that my blood pressure was low….not as dangerously low as the last attempt, but I just felt that the load I wasn't accustomed to, coupled with the altitude, was perhaps just too much, so I wisely returned to the car, yet determined to get to Fehr Lake. I rested a bit and prepared to just make it a day-hike with only emergency items, fishing gear and food for the day.
I headed for Fehr Lake again, and this time felt much better, made it through the rocky area with large steps down–that had stopped me last year, and got to the lake-bowed my head with a prayer of gratitude to the Lord, had my picnic lunch, did a little fishing, but as mentioned previously my balance was mostly lost in all of this ordeal over the last 3 years, and in rocky, uneven terrain always needed at least 1 trekking pole. Spin fishing was a problem as I had to use both hands to hold the rod and operate the spinning reel, and didn't have a 3rd hand to steady me with the trekking pole, so every time I would begin reeling in my lure I would begin losing my balance–NOT GOOD ON THE EDGE OF A LAKE! I could only continue finding a rock to sit on near the water.
Balance is a big part of my problem and would make wading and fishing a stream, like my beloved Beaverhead River in Montana–IMPOSSIBLE…even STUPID!
After a little succes I finally headed for the Trailhead, and was in the middle of–for me–the dangerous rocky area with big steps up, when two elderly ladies passed me, and stopped to talk. One of them recognized me when I mentioned doing my Uinta Project after returning from living in Guatemala for 35 years, remembering especially I had a lot of children and asked how many? I replied with a smile,
"Only 15, but some were adopted!"
At the early October Family Reunion at Lake Powell, the family figured out that I have 84 grandchildren and great grandchildren…..so far!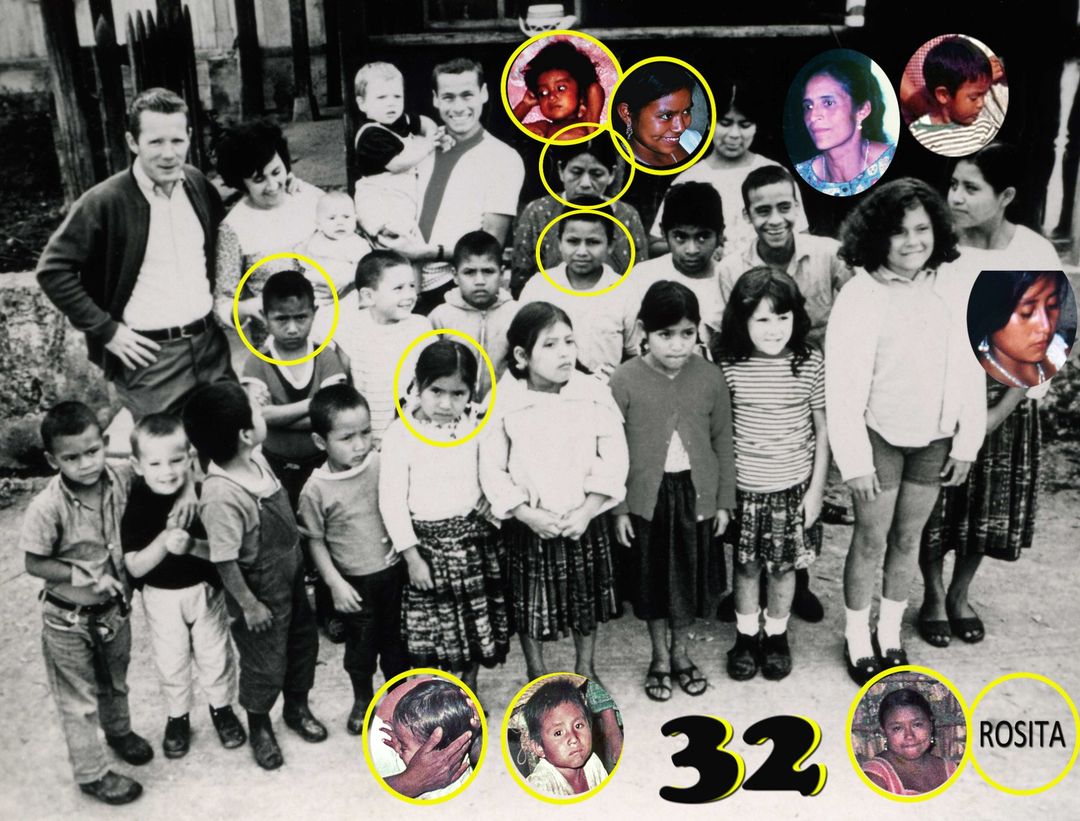 NOTE: If she meant my Central House Family in Guatemala–there would eventually be over the years around 300 who called me "PAPA!"
NOTE: At the end of this post is a FREE link to my book a….A FIFTY YEAR "IMPOSSIBLE DREAM" AMONG THE MAYA that explains all of the above.
I made it back to the trailhead fine, learning I could easily do more-–GIVING ME AMPLE TIME TO ACCLIMATIZE, monitor my vitals carefully, and WITH THE LORD'S HELP do a lot better with some of the lessons learned.
SO, FOR ME THE FUTURE LOOKS BRIGHT FOR MY 88th YEAR–I've just got to keep moving & keep awake BOTH legs as well as the rest of me–physically and spiritually!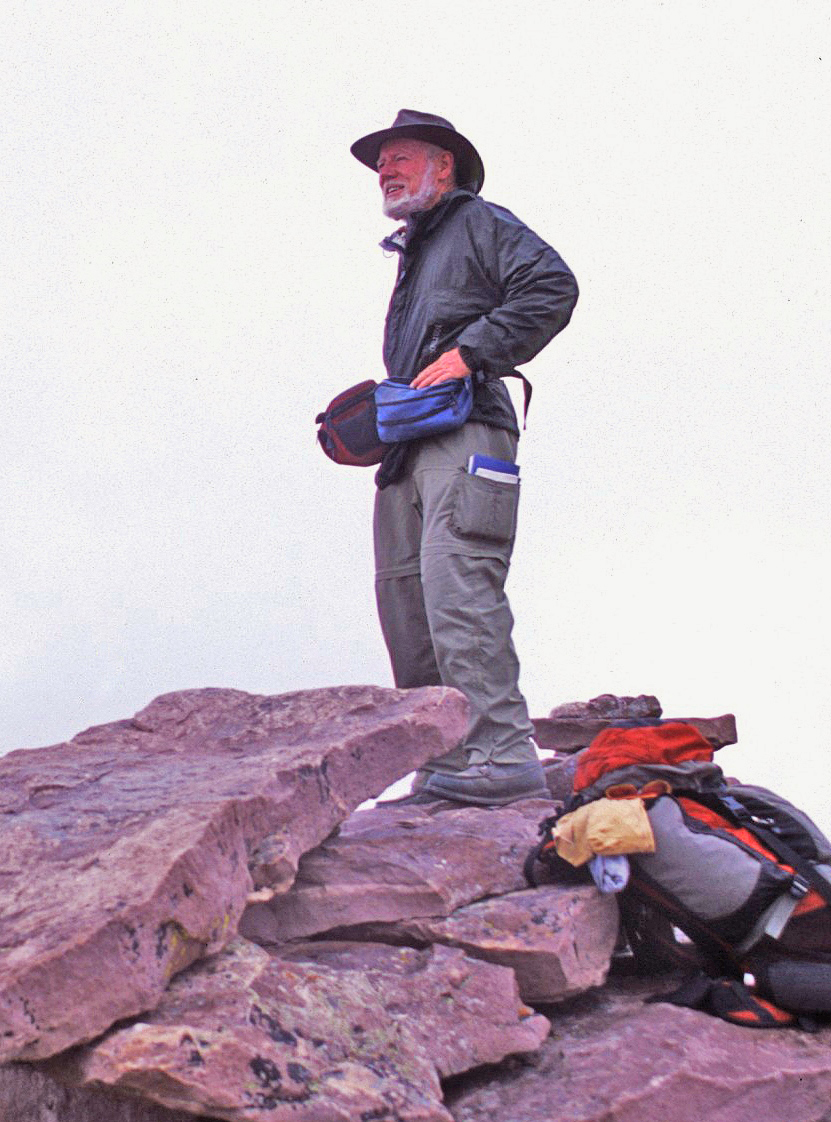 THERE WAS A TIME WHEN I WOULD BE EMBARRASSED WITH ACKNOWLEDGING SUCH A SMALL GOAL IN THE HIGH UINTAS, but all things considered I AM SO GRATEFUL FOR HAVING BEEN ABLE TO BEAR THE PAIN & THE DIFFICULTY OF REACHING THIS FIRST SMALL GOAL…...and it will keep me moving, exercising through the fall, winter and spring–doing innumerable miles and doing my best to keep my legs awake and get stronger--to interestingly be hopefully capable of doing a few miles in the Uintas, but more importantly all the time be mentally, physically and spiritually awake and capable of meeting greater goals more in keeping with what I came to believe was my overall purpose in this world….
….SAVING LIVES!
NOTE: Several who bought the book have emailed me thanking me for "saving their lives," plus a Forest Service officer told me a couple of summers ago that 4 had been saved that summer by using the SPOT TRACKER I used and recommended!
Since publishing the book only one hiker/backpacker has died in the High Uintas….and he was one WHO DIDN'T GET MY BOOK!
SO, GET THE BOOK & SAVE YOUR LIFE or that of A LOVED ONE!
"BIRDS FLY OVER THE RAINBOW, WHY OH WHY CAN'T I?"
"CLIMB EVERY MOUNTAIN, FORD EVERY STREAM, FOLLOW EVERY RAINBOW…..TILL YOU FIND YOUR DREAM!"
"A DREAM THAT WILL NEED ALL THE LOVE YOU CAN GIVE….
…..EVERY DAY OF YOUR LIFE, FOR AS LONG AS YOU LIVE!"
*********************************
THE STORY OF MY LIFE ….FOLLOWING EVERY RAINBOW….SEEKING MY DREAM ……ATTEMPTING MY BEST TO "SAVE LIVES" IS TOLD IN MY TWO BOOKS.
The story of my first 80+ years, THE "IMPOSSIBLE DREAM" IN THE MOUNTAINS OF THE MAYA, an online book 568 pages long with over 1,200 color photos, you can download free clicking on the link below the photo of the printed version. "FREE" as I told the ladies, "….because it in part tells my religious history and I don't believe in making money off of religion–not even a 'modest living allowance!'" The ladies heartedly agreed!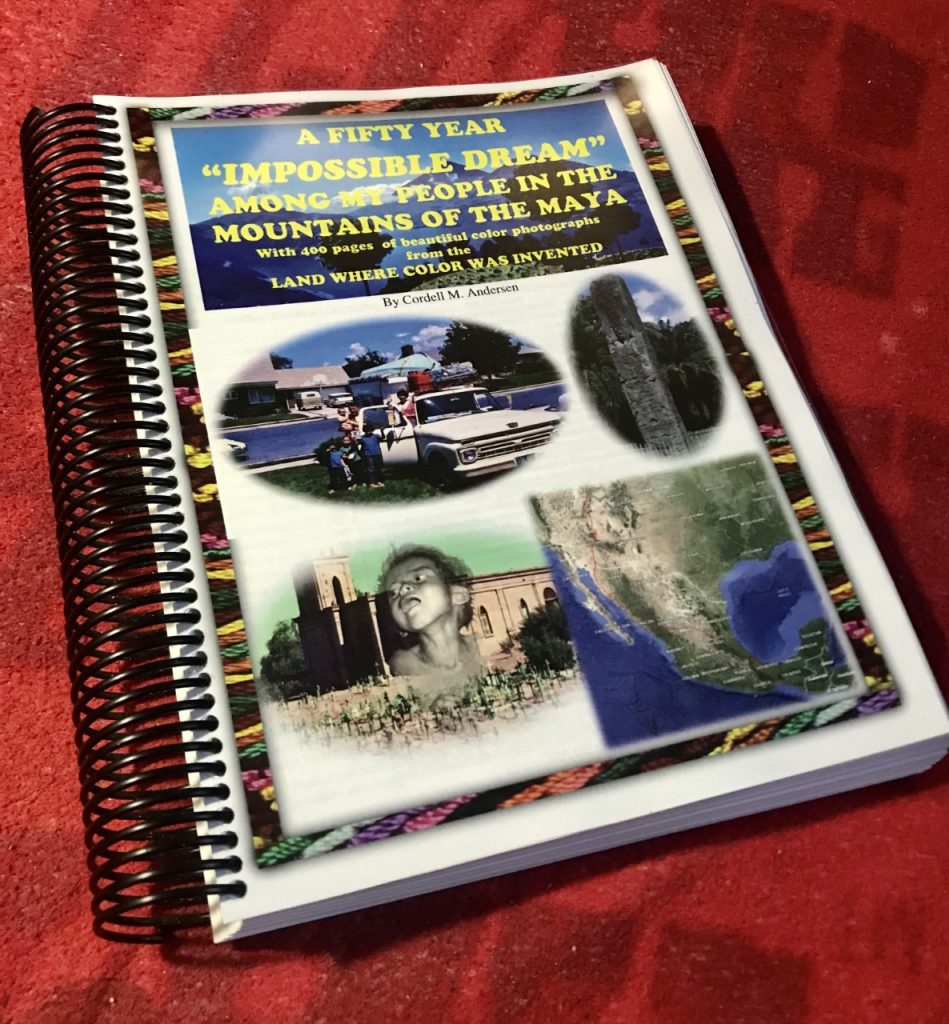 JUST THIS WEEK–09/19/22–THE FINAL, UPDATED & ENHANCED VERSION, WAS PRINTED FOR ME AT COPYTEC (info below) COSTING ME $153.37, so I can now hold it in my hands and read it to constantly remind me HOW THE LORD BLESSED ME with being an instrument in his hands to, as someone said,
"SAVED THOUSANDS & HELPED MANY TENS OF THOUSANDS OF MAYANS GET AN EDUCATION!"
To download the book to your computer CLICK ON:
A lot of very good information about the details of the book are included in a description of the MAYA BOOK on the Guatemalan Foundation website: https://www.guatemalanfoundation.org/ I heartily suggest you go there and read the entire introduction.
NOTE: There is no promotion of any kind asking for donations as I retired the Foundation on its GOLDEN ANNIVERSARY on August 19, 2017— 50+ years doing my darndest!
**********************************
Then overlapping the last 18+ of those 80+ years–my life story is completed with THE HIGH UINTA MOUNTAINS BOOK—which I'm told has saved lives & will continue to do so as more and more of you get the book following the information below the picture.
NOTE FROM AUTHOR (me): "I'm really enjoying now reading my book again, and I must say that IT IS PRETTY DARN GOOD, so far outdoing in every aspect any other book about the Uintas."
IS THERE ANYONE OUT THERE WITH EXTENSIVE PUBLISHING EXPERIENCE WILLING TO PROMOTE THIS BOOK & GET RICH? IT SHOULD BE IN EVERY LIBRARY IN THE U.S. & IN THE HANDS OF EVERY OUTDOOR LOVER, but I haven't known how to promote it properly & now getting too old to do it justice. I WOULD ALMOST GIVE IT TO SOMEONE WHO COULD DO IT RIGHT! LET ME KNOW.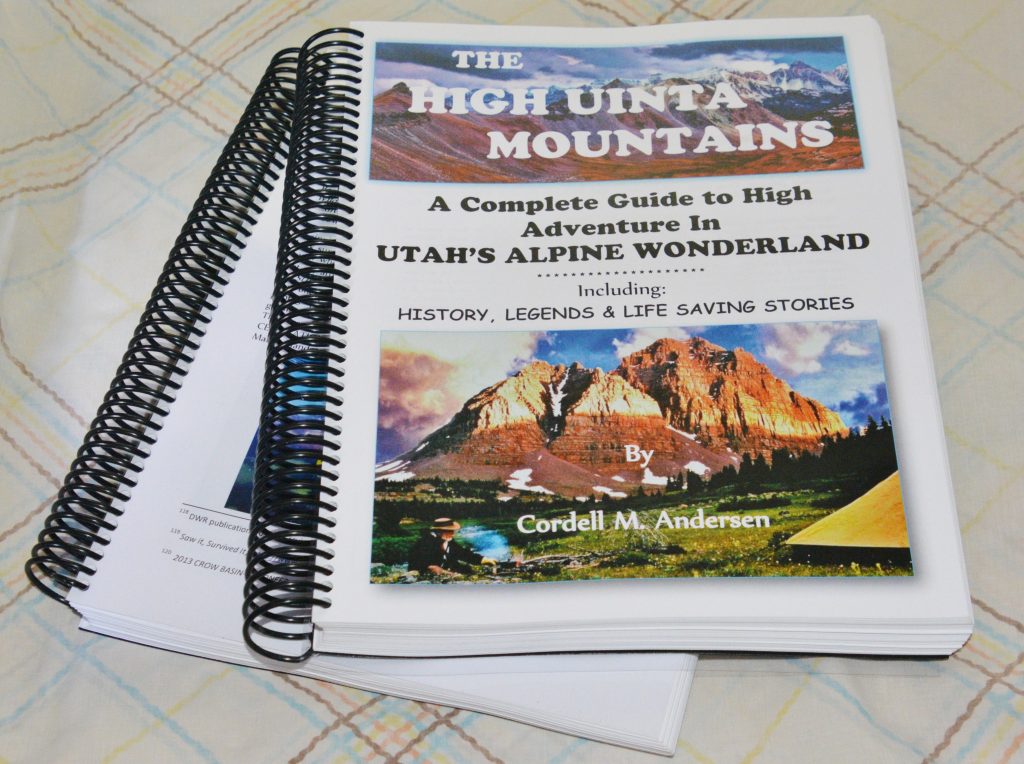 The 730 page digital book is a Guide for adventuring in the Uintas, but also with HISTORY, LEGENDS, the SURVIVAL STORIES OF THOSE WHO DIDN'T MAKE IT & WHY, plus my 8 SURVIVAL STORIES and WHY I'LL BACKPACK THIS SUMMER IN MY 87th YEAR, plus a detailed APPENDIX (that among other things has the Anti-Aging Challenge writing), & 14 page INDEX, as well as TOPOGRAPHICAL MAPS–of all the trailhead areas–WITH ROUTES, DISTANCES & LABELS — to get an online copy of this book, some have called THE ENCYCLOPEDIA OF THE UINTA MOUNTAINS, send me $20 (don't be afraid of sending a $20 bill as we aren't south of the border) along with your email address, and I will immediately email you the link to download the book with my permission to share once with a friend.
Send to:
Cordell Andersen, 444 Elm St., American Fork, Utah 84003
To get a printed version like you see above, get the online book, then put it on a thumb drive and take to your favorite printer. Office Max will do it, but ask them to lighten up the pictures as the one they did for me had the pictures too dark.
To get a printed version like you see above, get the online book, then put it on a thumb drive and take to your favorite printer. Office Max will do it, but ask them to lighten up the pictures as the one they did for me had the pictures too dark.
By far my favorite printer is
COPYTEC,
185 West 200 South,
Pleasant Grove, Utah 84062
Telephone: 801-785-3680
THEY HAVE IN THEIR COMPUTER THE UPDATED FINISHED VERSIONS OF BOTH BOOKS & ARE AUTHORIZED BY ME TO PRINT BOOKS FOR ANY OF YOU, SO YOU CAN CALL THEM ON THE PHONE, MAKE YOUR ORDER, AND GIVE THEM YOUR CREDIT CARD INFO TO PAY, INCLUDING ANY SHIPPING COST, or pick up yourself if you are in the area.
****************************************