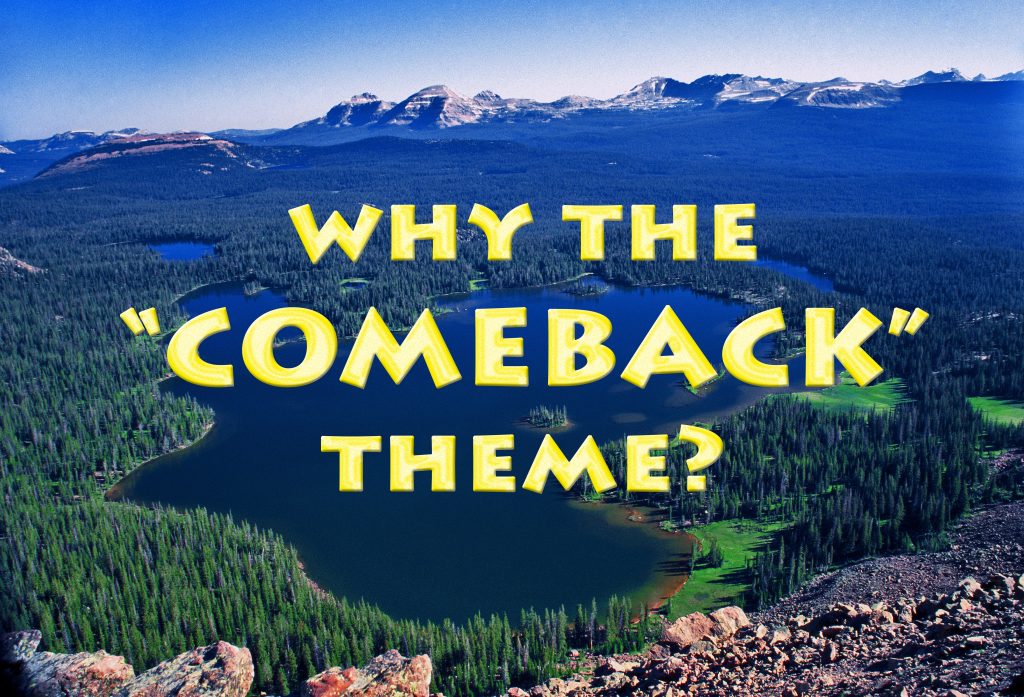 Until today, May 5, 2022 I've done this FOUR TIMES! Each time after giving up due to problems, but then remedied with yet ANOTHER SURGERY to keep me going. To today 15 surgeries, plus two radiation treatments and becoming a cancer & heart attack survivor, etc.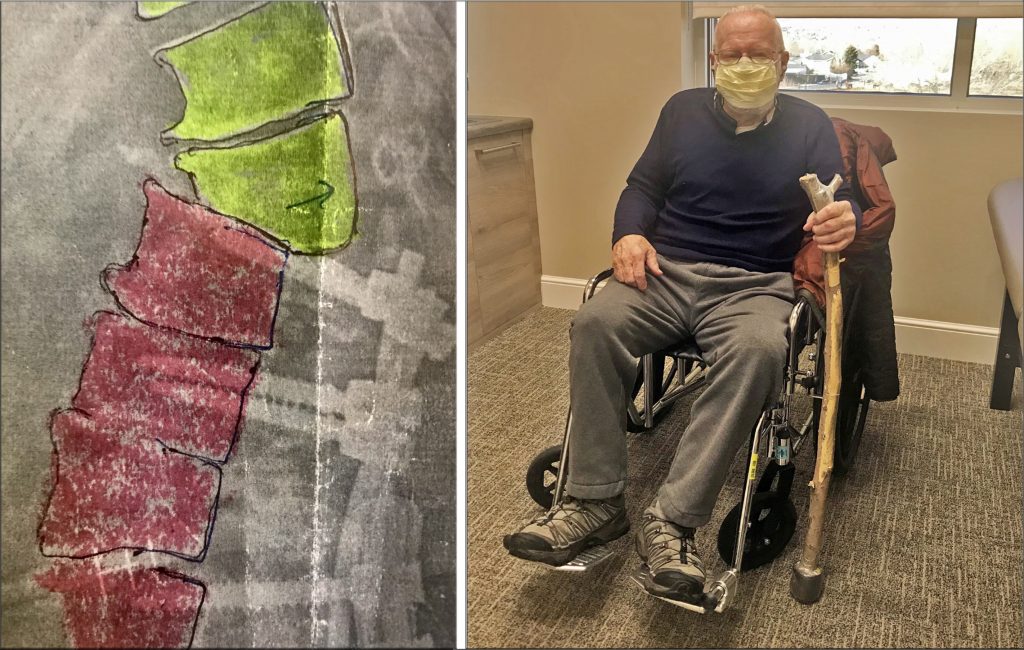 All of a sudden by Fall 2020 I was in a wheelchair, and in November the 3rd back surgery but made me worse, then the 4th spine surgery to kind of fix me a little. But by mid-2021 my spine became DANGEROUSLY MISALIGNED as shown above on the left–a fall could paralyze, or kill me, so I carefully went to work again on ANOTHER COMEBACK as too much of me worked pretty good to accept the other dire alterative–but with great precautions.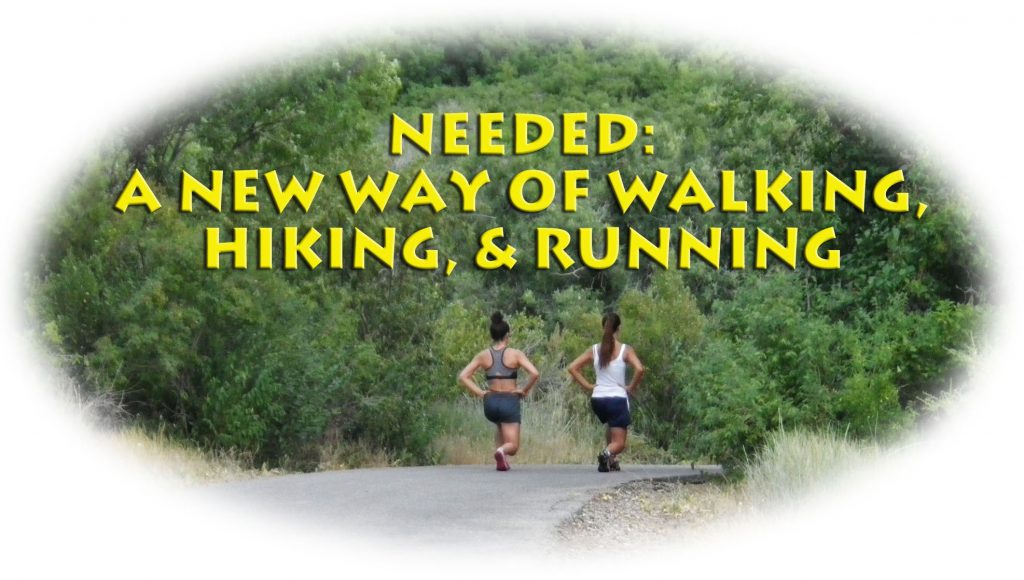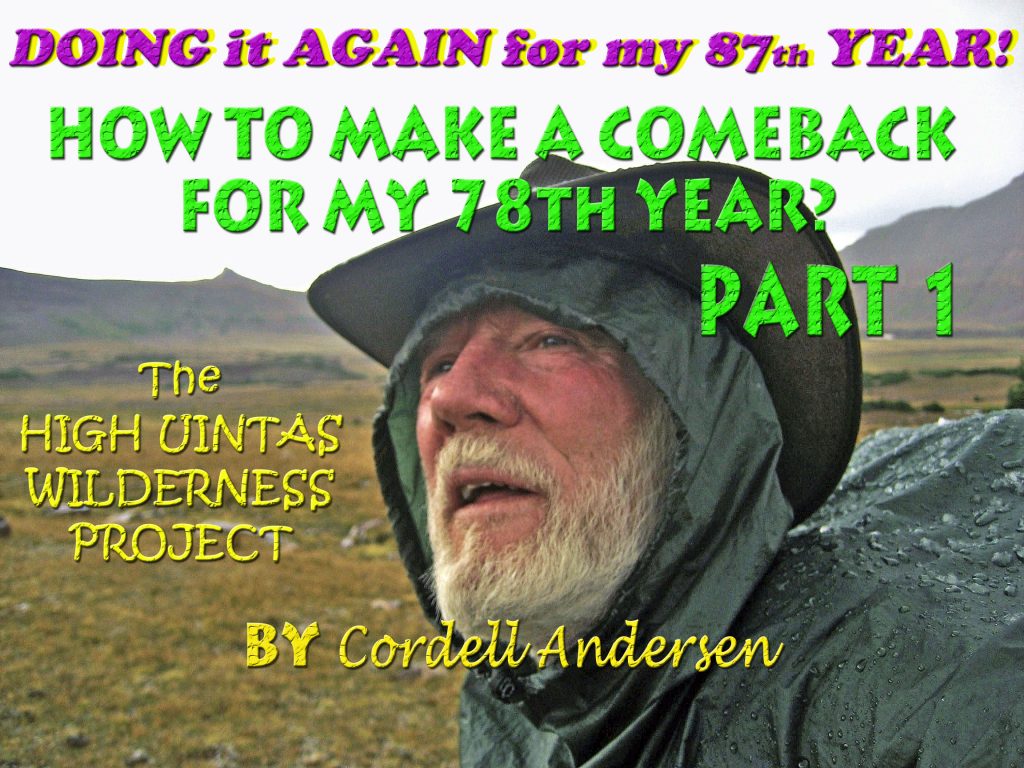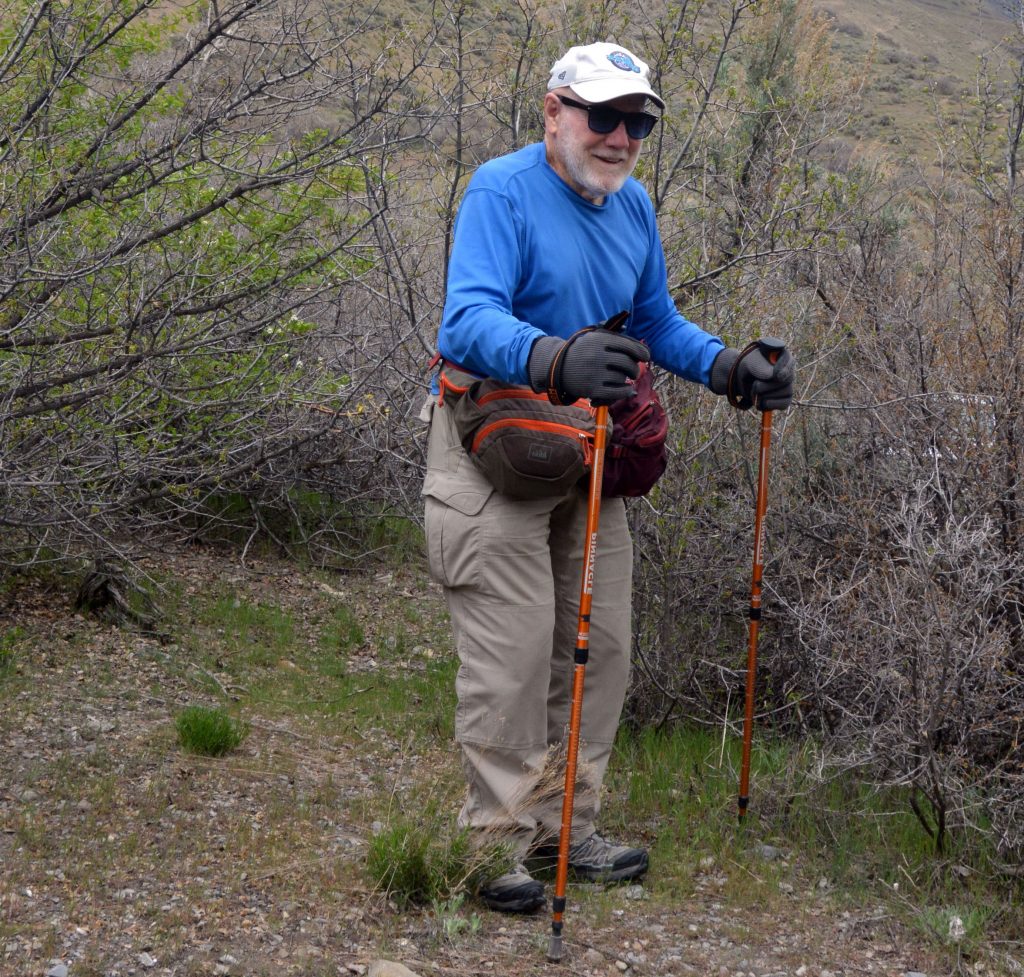 But, now also with a dangerous HIGH BLOOD PRESSURE problem, but as explained in past posts, learning to reduce salt and sugar intake, but JOYFULLY LEARNING THAT 1-2 HOURS OF VIGOROUS OUTDOOR HIKING REDUCED MY BP for the TWO DAYS.
So….INTO THE HILLS every other day! Now forced to use the previously hated TREKKING POLES….thought previously THEY WERE FOR WIMPS! Now without them I'm maybe dead on tough foothill & High Uinta trails!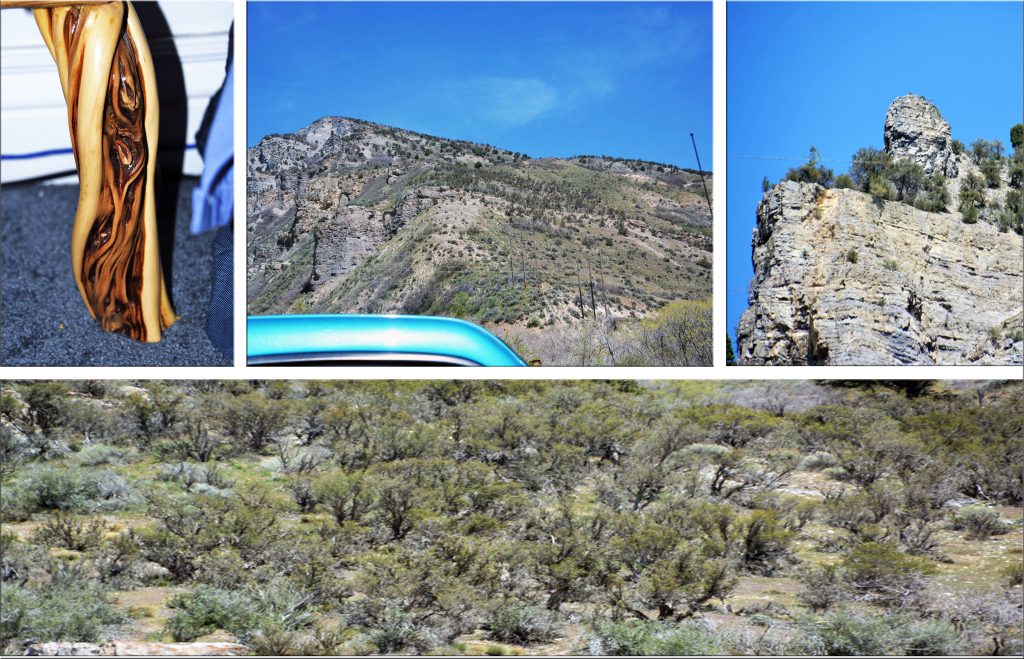 Do you remember CLIFF ROSE and its BEAUTIFUL WOOD? Up above the parking lot of the Grove Canyon Trailhead, on the right we see a whole forest of Cliff Rose, that we'll visit later when it begins the SPECTACULAR BLOSSOMING STAGE.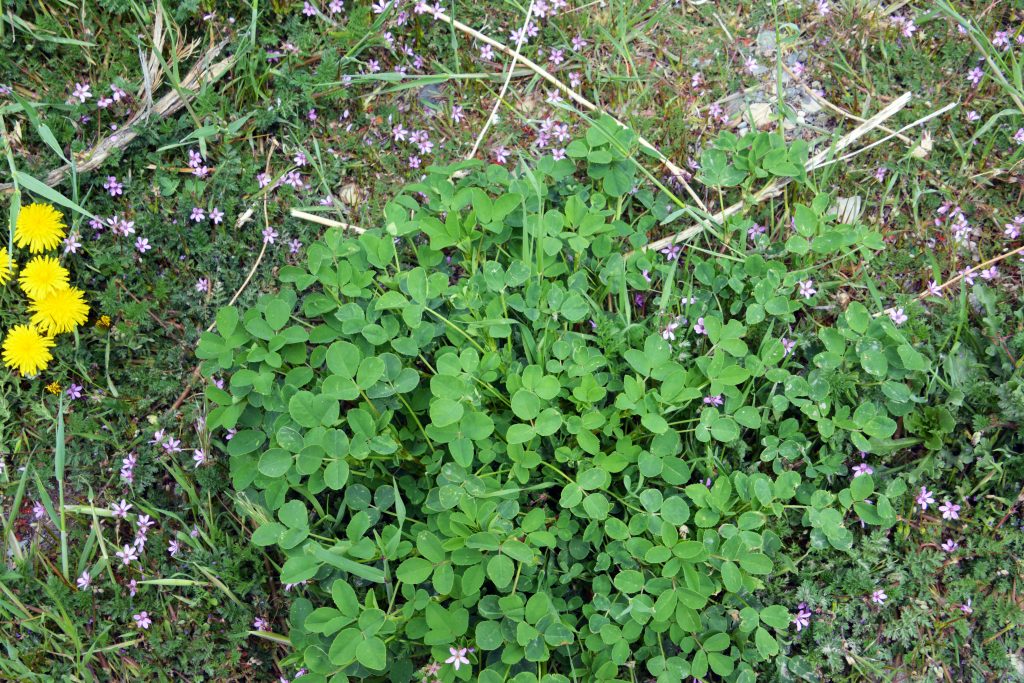 NEAR THE PARKING LOT WE SEE A CLOVER PLANT....and LOOK FOR THE FOUR LEAFED ONE to bring me GOOD LUCK! Didn't find one, but HAD GOOD LUCK ANYWAY!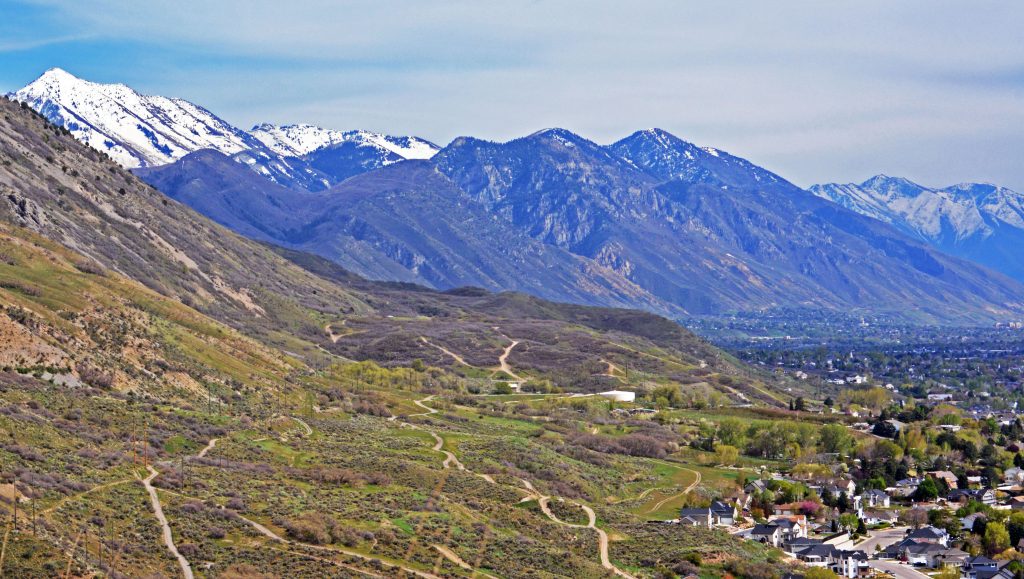 This past week several hikes along the foothills, getting higher and higher. This photo zooming in on Provo Peak (on the left), then Little Squaw Peak, Squaw Peak, Y-Mountain, Maple Mountain, and Provo at their feet, with Orem, and then Pleasant Grove along the foothills of Mt. Timpanogos.
I was well rewarded with the first blossoming of WESTERN BLUE FLAX, upper shots at the entrance to Grove Canyon. Higher in the foothills, leading to the Uintas, they blossom profusely, and even are found in the lower High Uintas among the Quaking Aspen.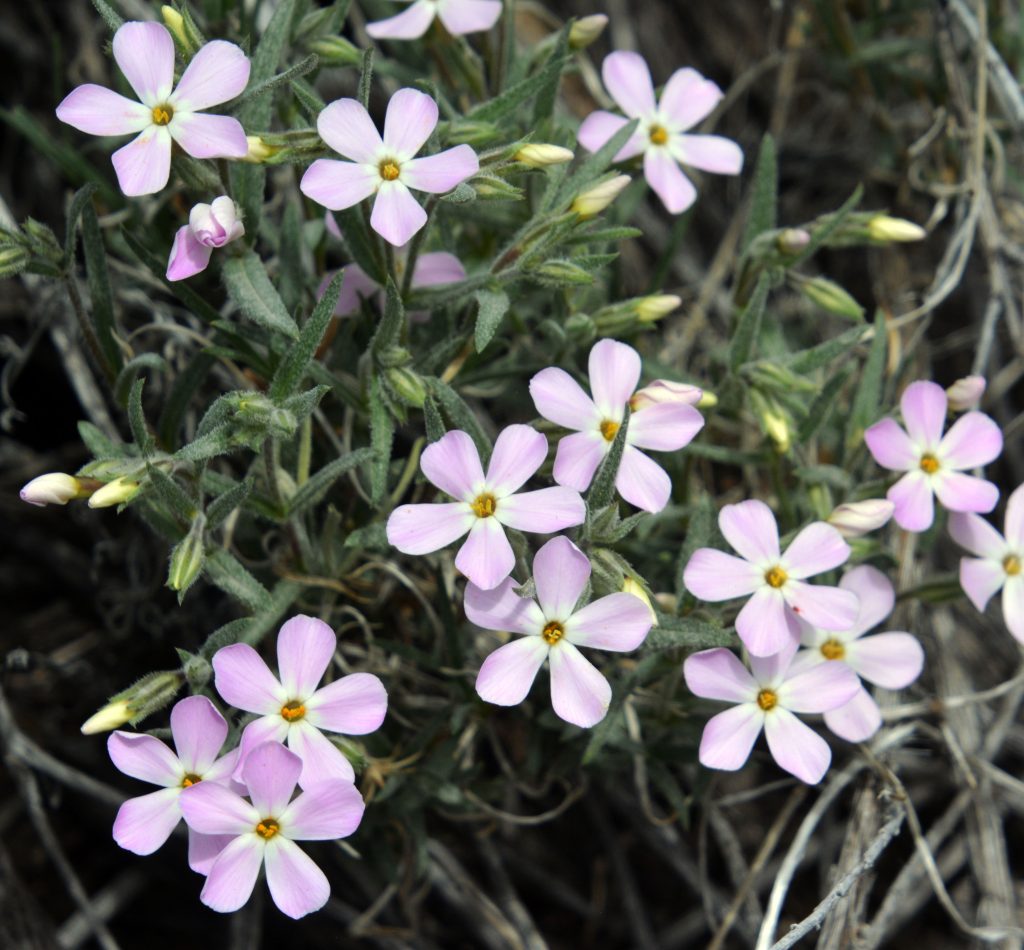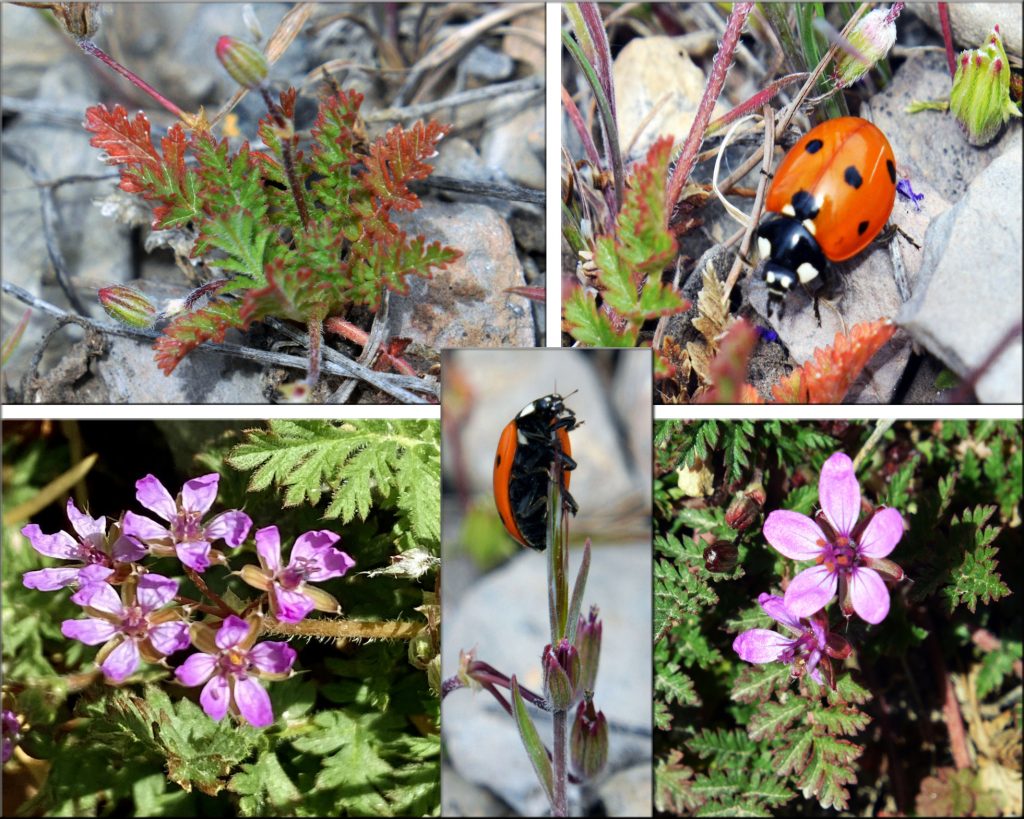 Another tiny wild flower seen already, but in upper left the sprouting of a new plant, and the Lady Bugs out protecting them from aphids and other tiny insects.
Near the Trailhead I found this plant beginning to blossom as seen below.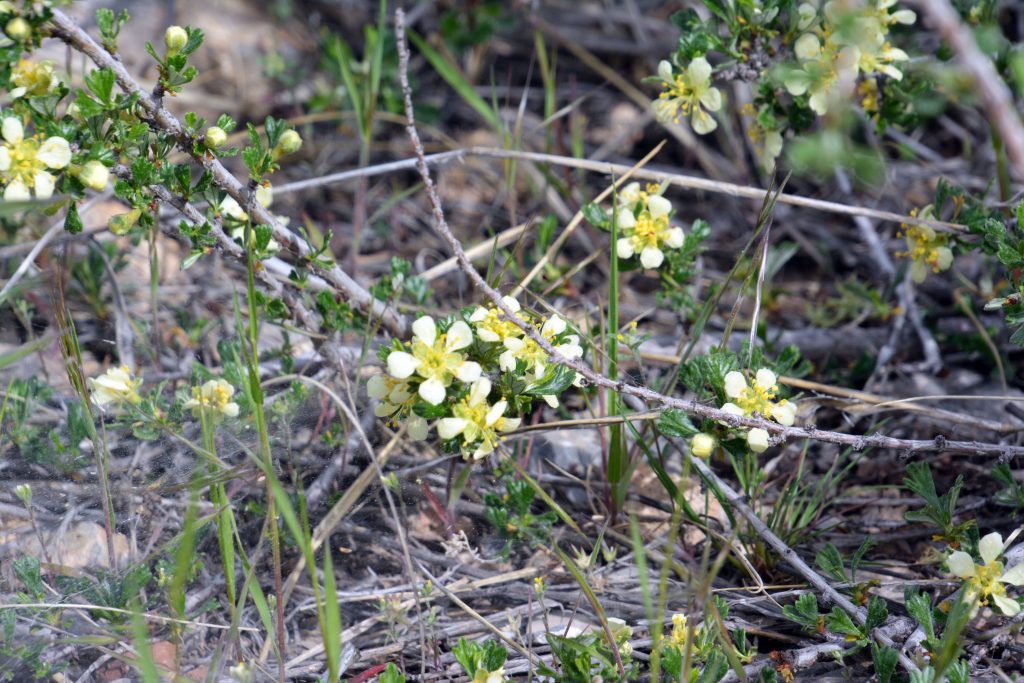 And, out now all along the foothills AMERICAN VETCH.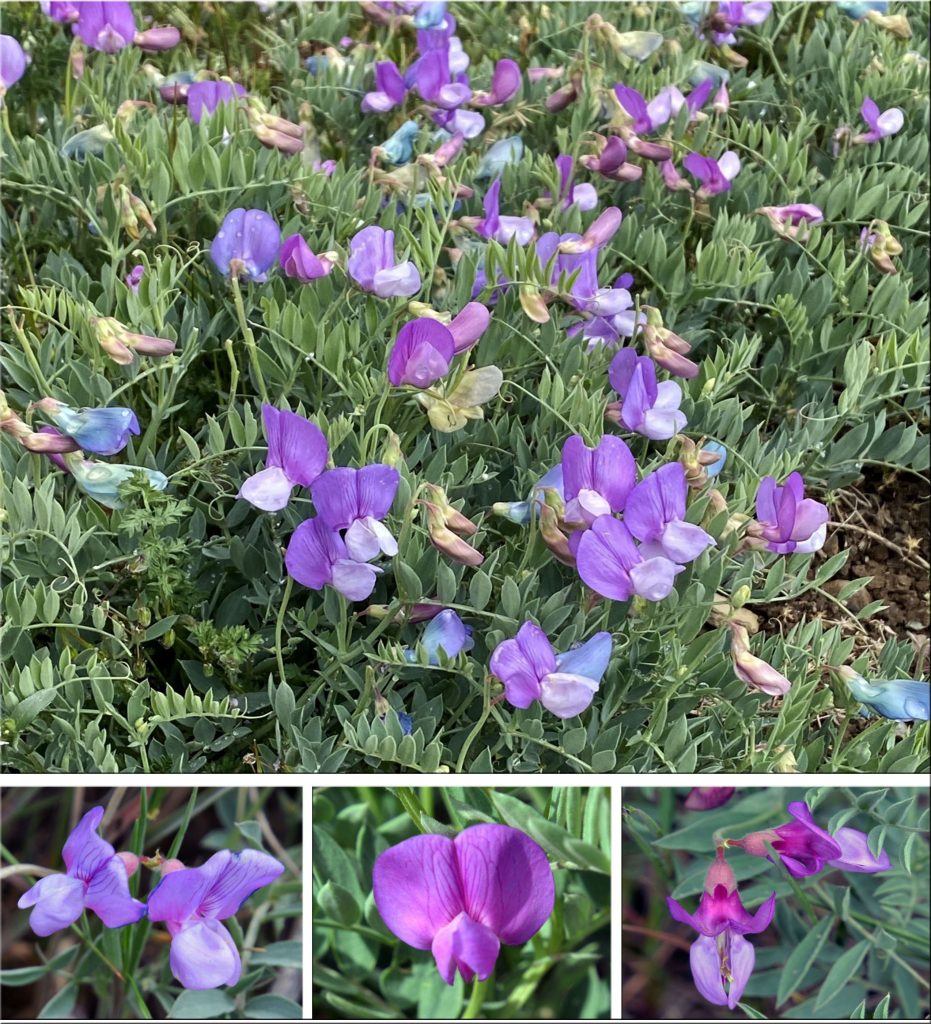 And, I discovered a WHOLE GARDEN ON A ROCK!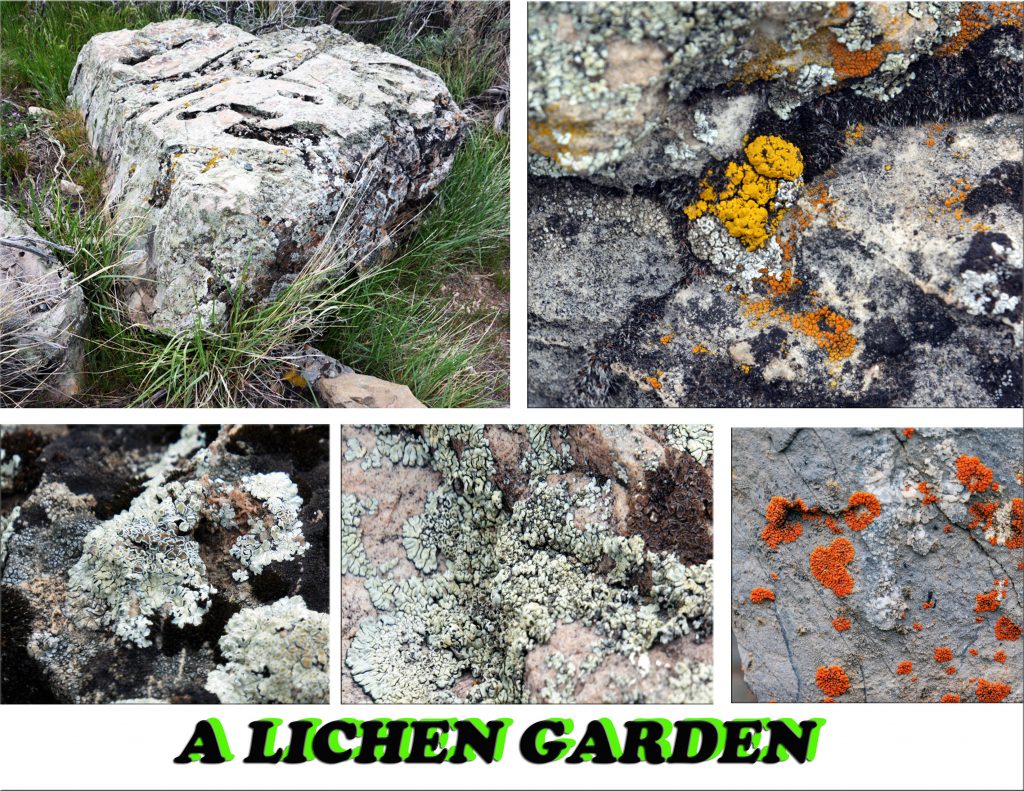 FUNGI form a symbiotic relationship (partnership) with ALGAE creating what we call LICHENS. The fungi and algae each fill a role in the survival of their partner and together fill a slow, but crucial role in the process of breaking down rocks and trees. It was said by an expert: "LICHENS ARE FUNGI THAT HAVE DISCOVERED AGRICULTURE." Rocky Mountain Goats eat lichens as an important part of their diet. Over 3,000 varieties have been identified in the Rocky Mountains region.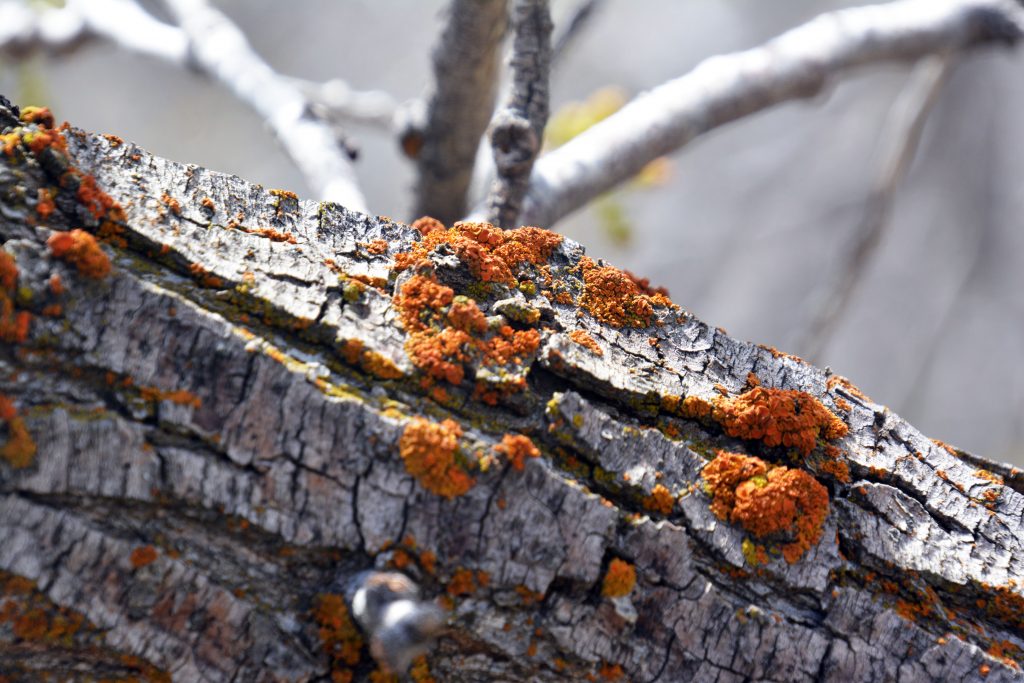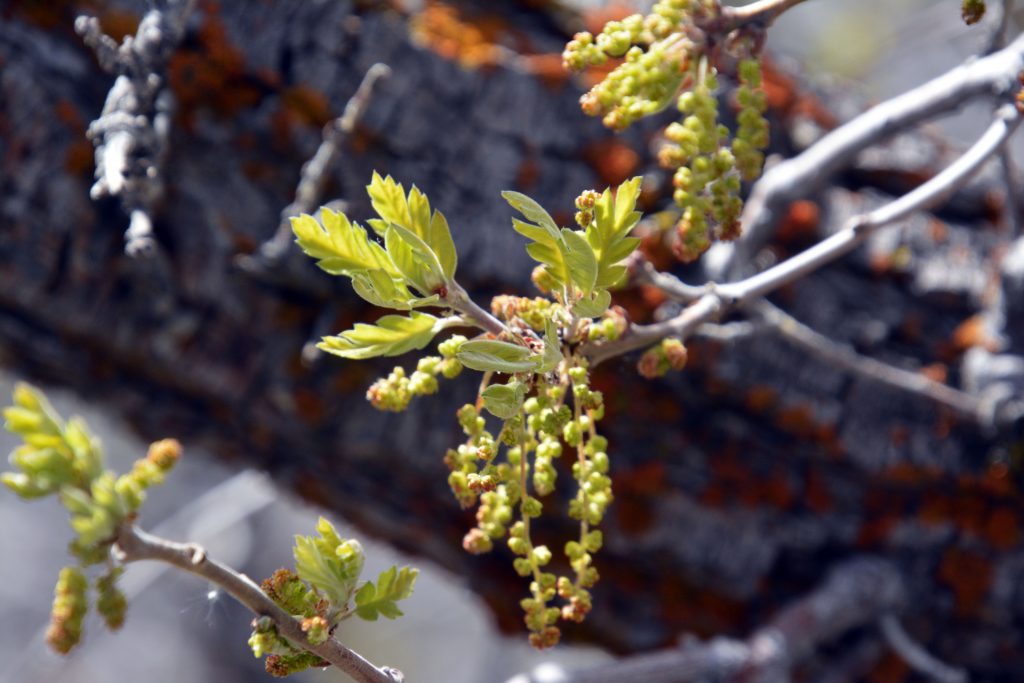 More and more shrubs and trees are now blooming and will soon adorn our foothills with beautiful green colors.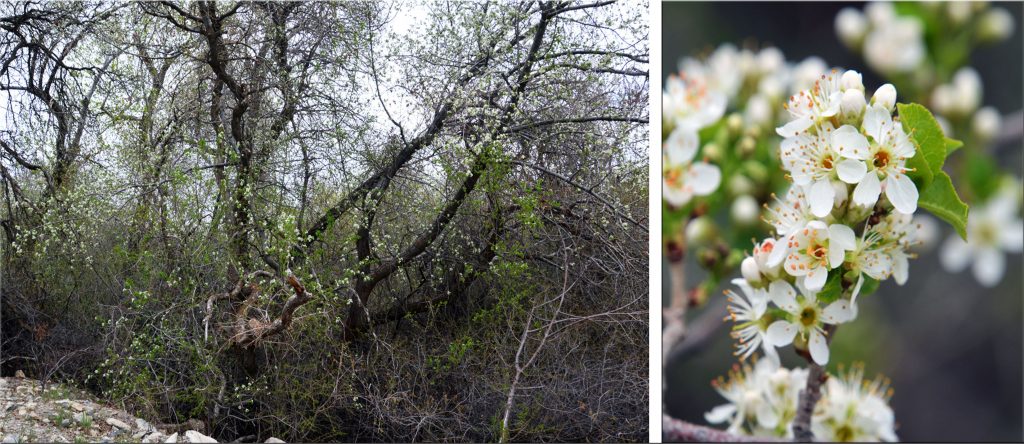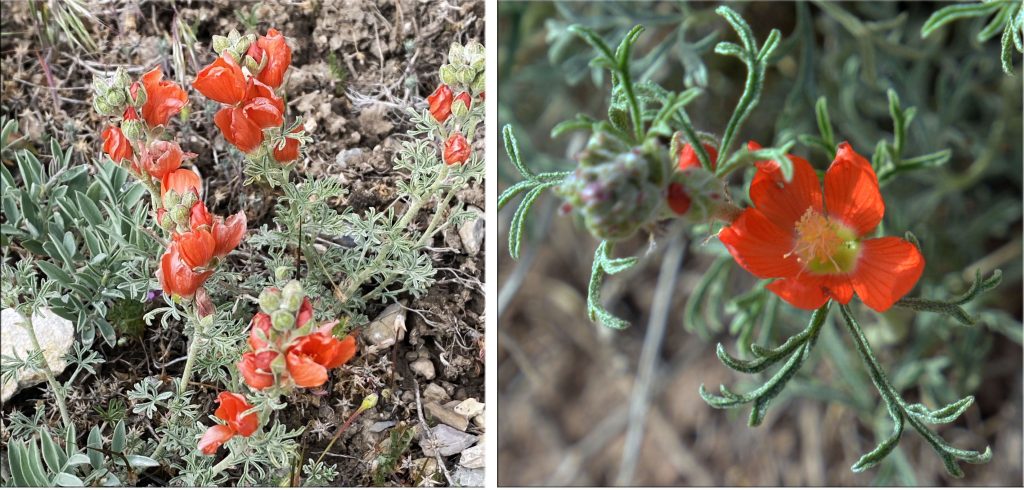 This was one of the first wild flowers I found in the foothills, but way up Grove Canyon. It is now blooming along the lower foothills.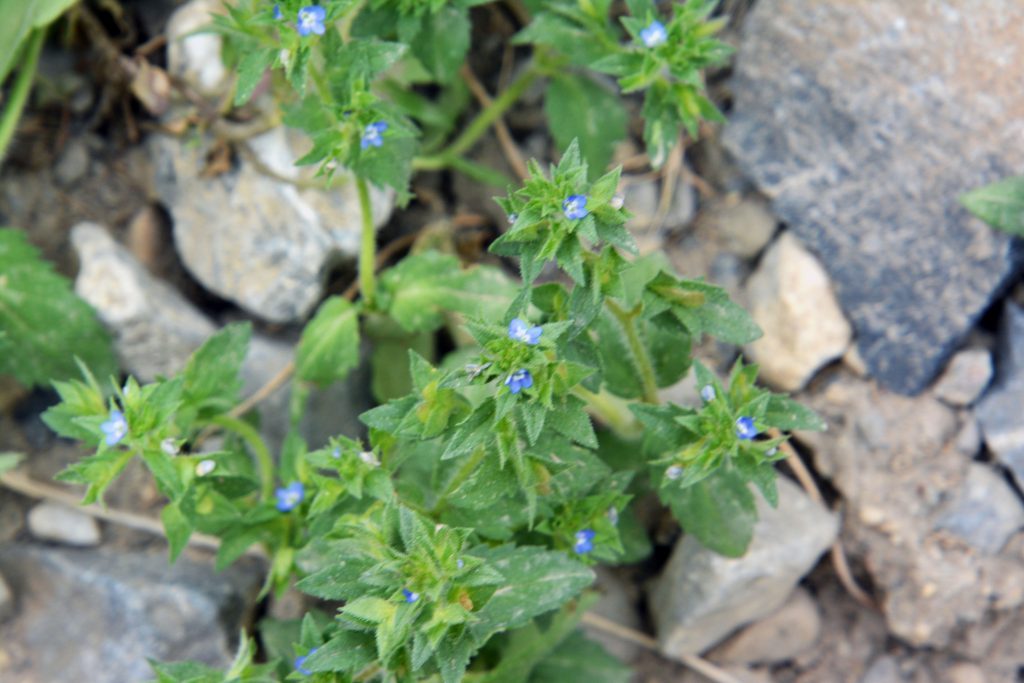 This TINY BLUE WILD FLOWER is one of the smallest. I should have had my Nikon camera with close-up lens to show you how beautiful it is. Maybe next time.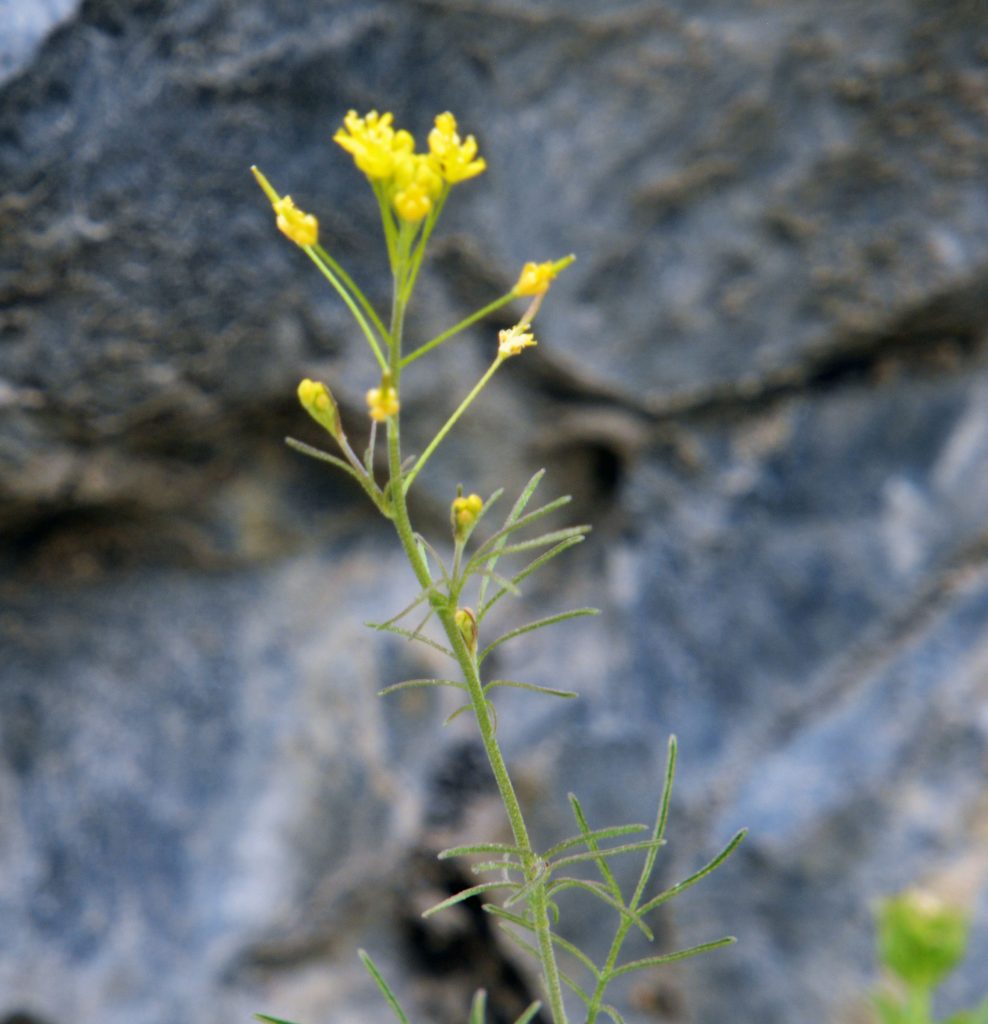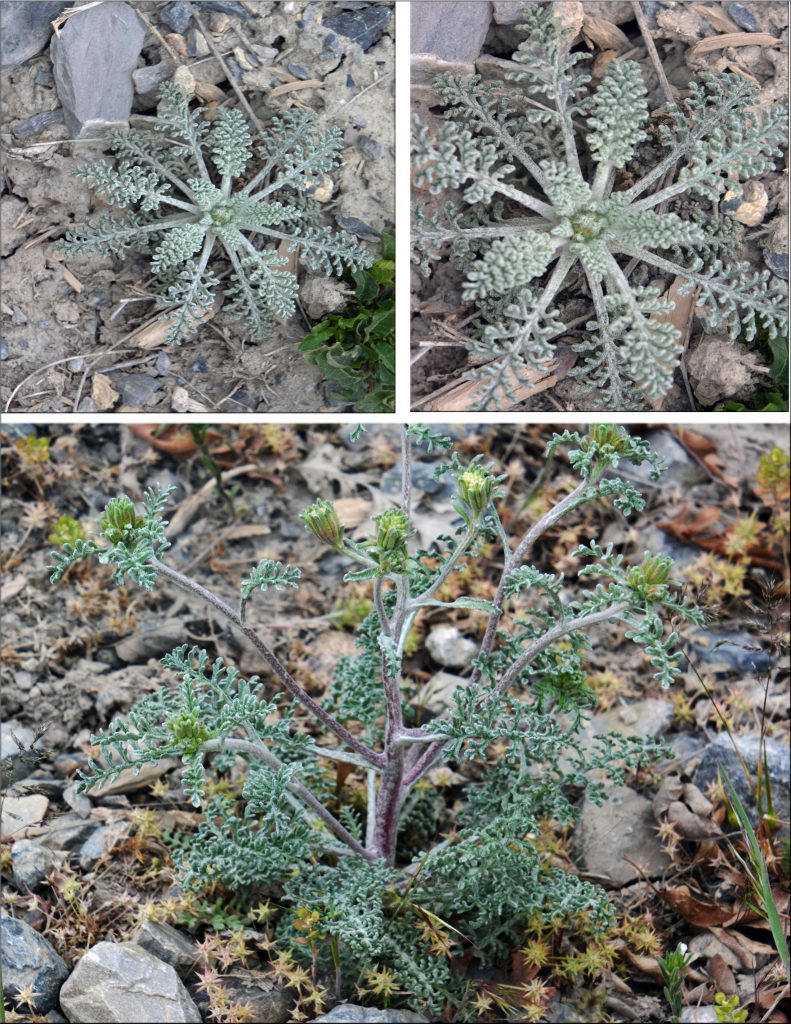 By the next hike or so this one should be blossoming.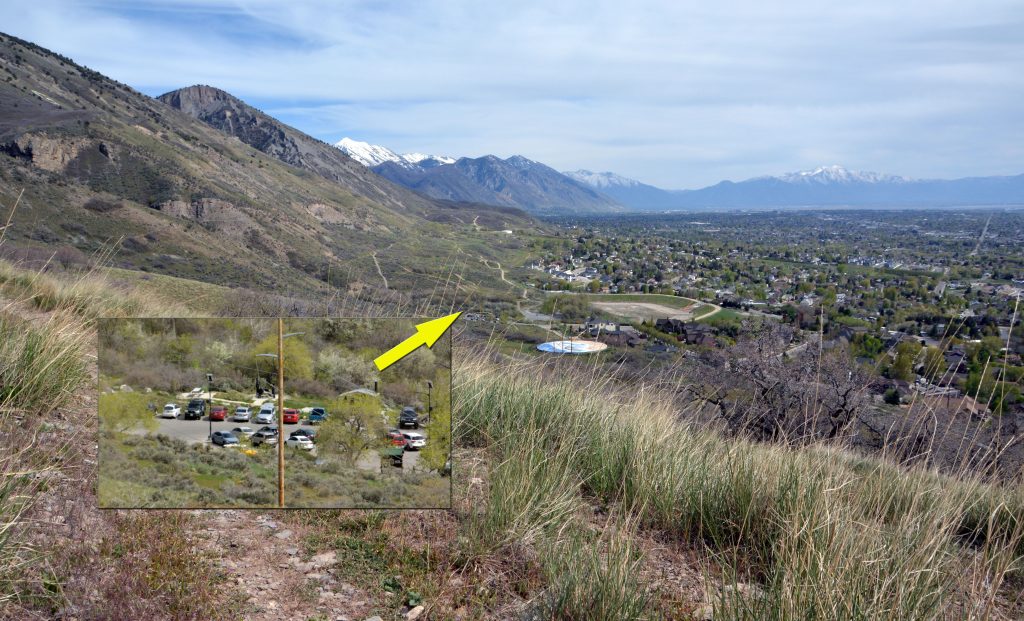 I'm getting higher and higher, far above the parking lot, but am aiming for getting higher up than ever before. No es una gran logro, pero tomando en cuenta que hace 1 ano y mas, NI PUDE CAMINAR, para mi es UNA GRAN BENDICION PODER HACERLO, Y PODER AGUANTAR EL DOLOR!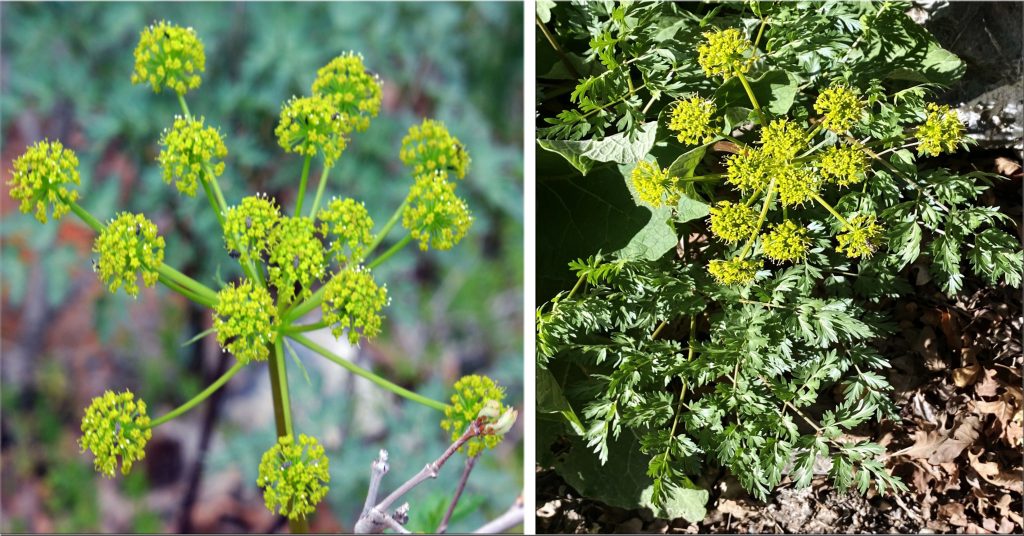 You might remember way back I got some pictures of this plant sprouting, and then later the one on the left. Here we see the whole plant to connect the two pictures.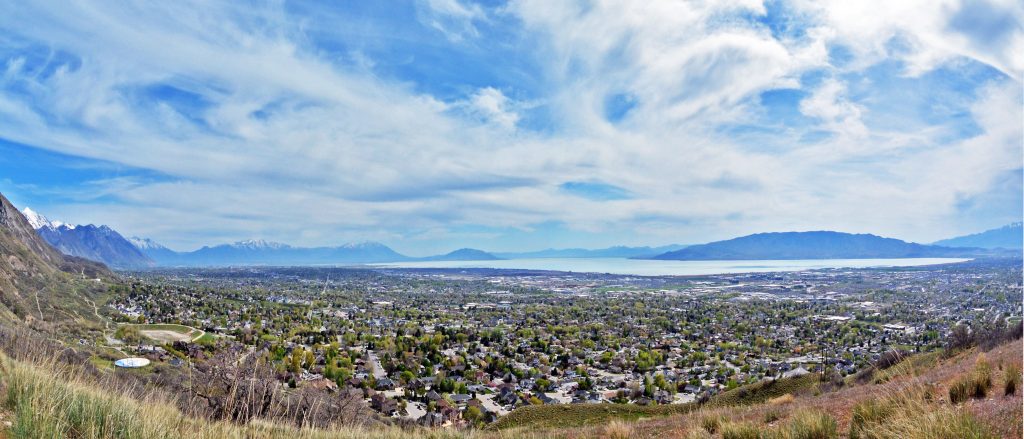 From as high along the foothills as I have ever got to, I got this fish-eye photo of beautiful UTAH VALLEY gradually being decorated by nature with its many varieties of trees among our homes. Father's Escalante and Dominguez were the first white men to record a visit here in 1776 and in a letter to the King of Spain called it the "most beautiful and fertile land" they had seen in all their explorations, including their swing up from Santa Fe, following the "Old Spanish Trail" to the Uintah Basin, and from there came by Utah Valley where they had a good relationship with the Timpanogos-Ute Indians and promised to return and establish here a Mission. But, they never returned. Can you imagine how the history of Utah would have drastically changed if they had of kept their promise? In my YouTube video on the Pioneer Timber Slides I give their exact quote and details.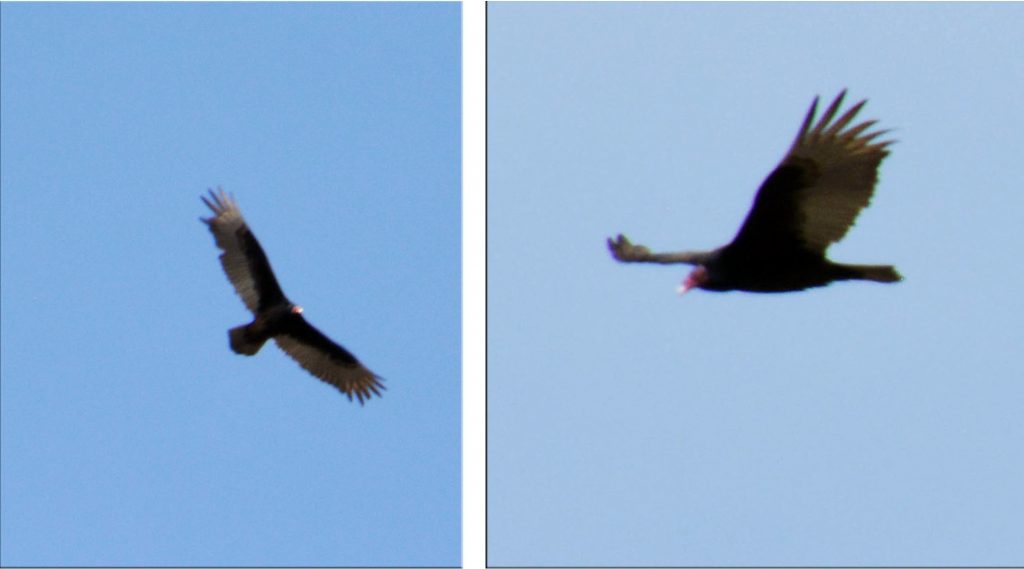 Up high in the foothills I all of a sudden had a quite large bird soaring above me. Often we imagine we are seeing a Golden Eagle–and sometimes we are, but even my slightly blury pictures show us otherwise. We are seeing a TURKEY VULTURE, or BUZZARD, native to Utah, easily identified with a telephoto picture by it's red head.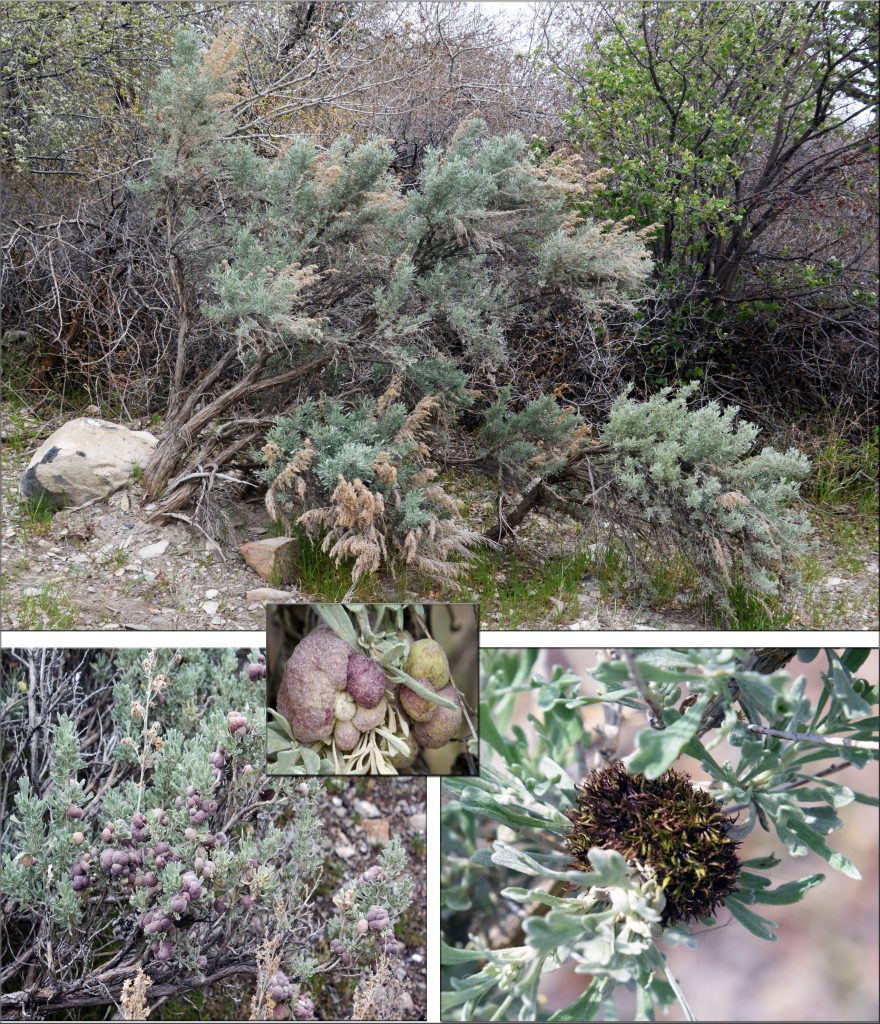 We are now back down near the Trailhead and begin our study of SAGEBRUSH so critical to the deserts and foothills of Utah. As the season progresses we'll keep an eye on it and follow it's development, some of which we observe in the montage above.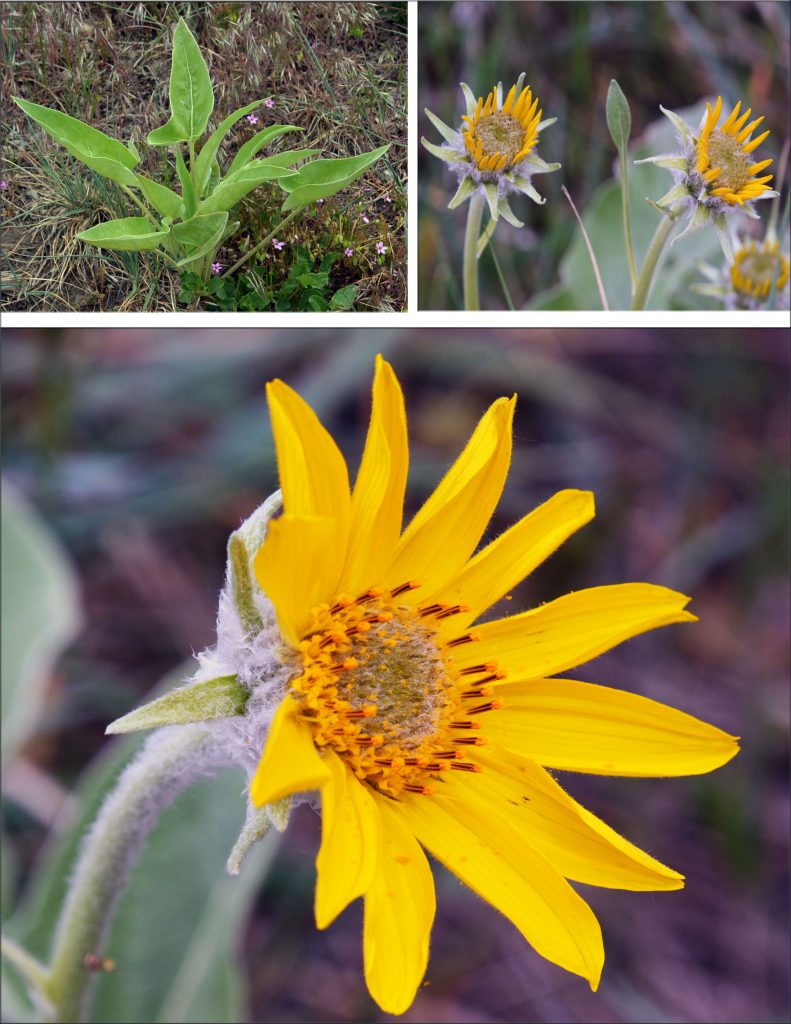 NOW ON TO WHAT'S LIKELY OF MORE INTEREST…..
THE HIGH UINTA WILDERNESS…STILL ON THE NORTH SLOPE
Our last tour was of the West Fork of Blacks Fork (of the Green River). This week I'll show you a few pictures from two of my three explorations of THE MIDDLE FORK OF BLACKS FORK.
It is rarely visited as you will see, but one of the most important explorations as I discovered there more TIE HACKER RUINS THAN ANYWHERE ON THE NORTH SLOPE. My research showed nothing ever recorded or mentioned about this area by the scientists. So my 3rd exploration was to go back and forth as I went up the drainage to locate every site, get an accurate reading on each with my SPOT TRACKER, then measure and photograph everything. AND, OF COURSE END UP DOING A LITTLE FISHING AT BOB'S LAKE.
MUCH MORE DETAIL, INCLUDING TOPOGRPAHICAL MAPS, CAN BE FOUND IN MY BOOK, pages 204-207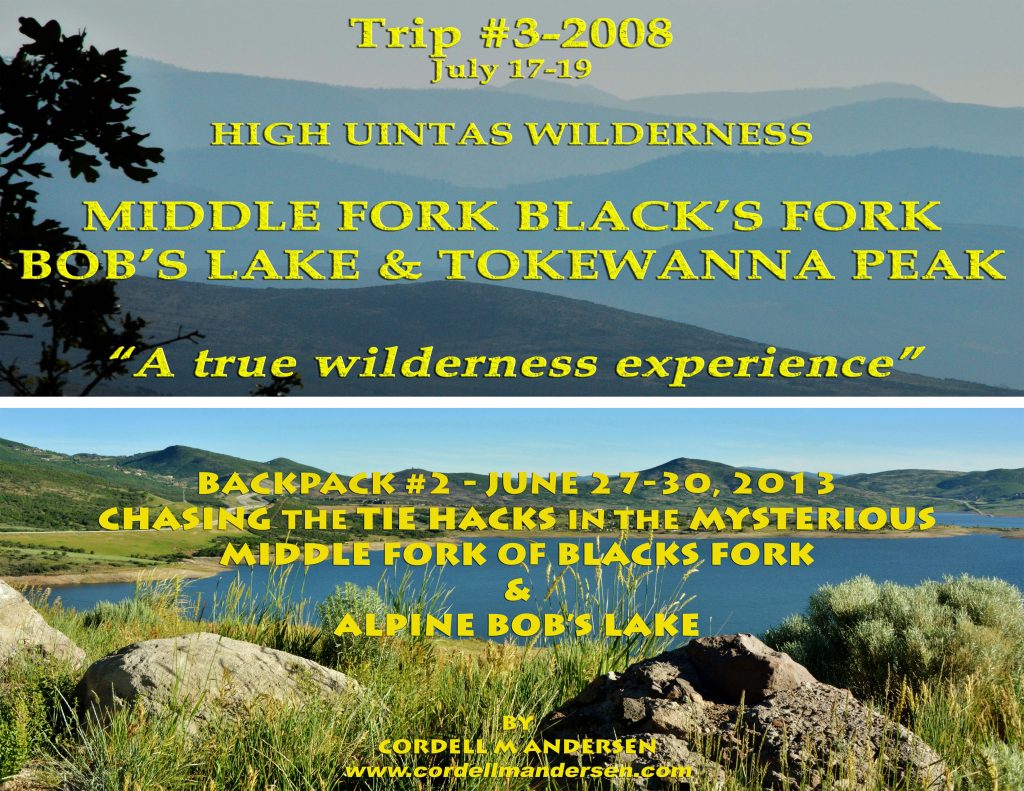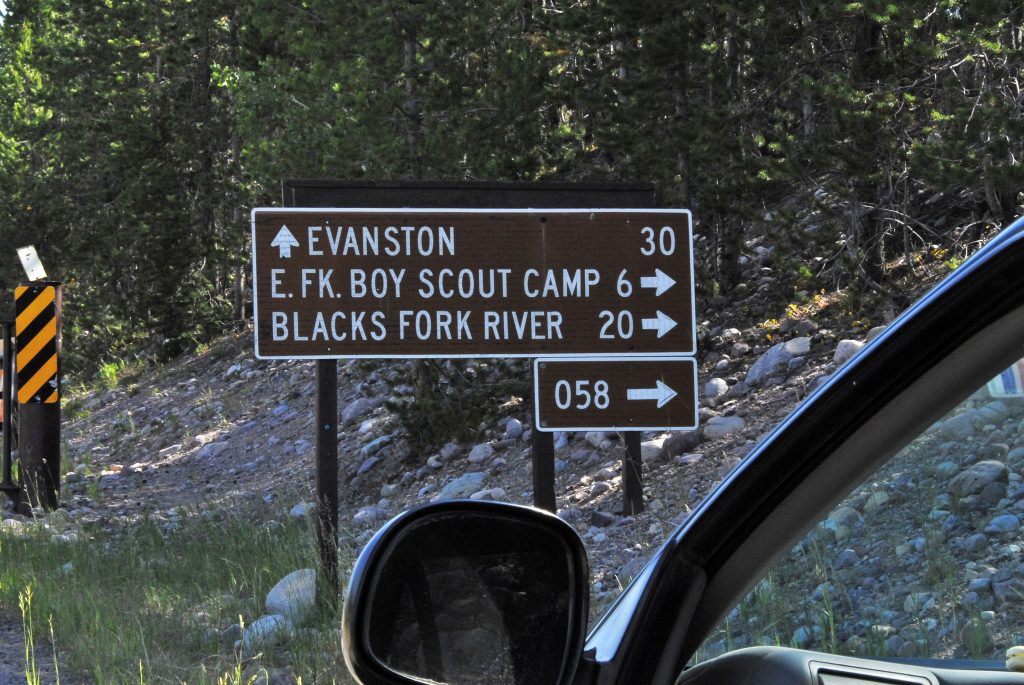 One gets to the area by going down north on the Mirror Lake Scenic Byway and turning east on the NORTH FORK ROAD with 20 miles to go to get to the road that is marked for the East Fork of Blacks Fork Trailhead.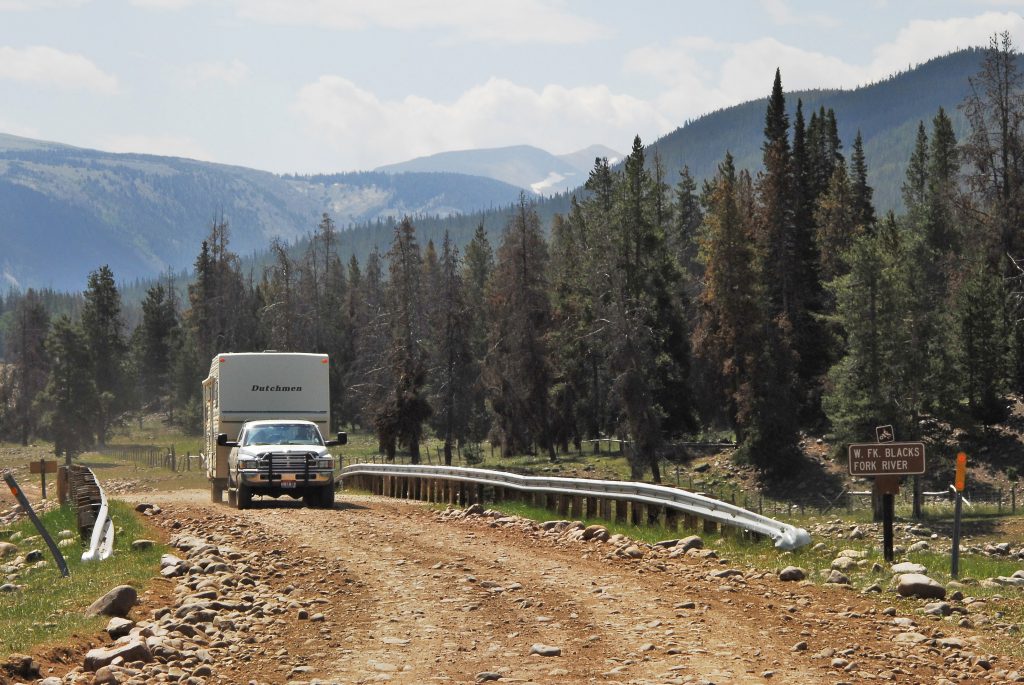 At 20 miles from the Scenic Byway, you come to a junction and turn south on the road to the East Fork of Blacks Fork Trailhead, and shortly cross this bridge.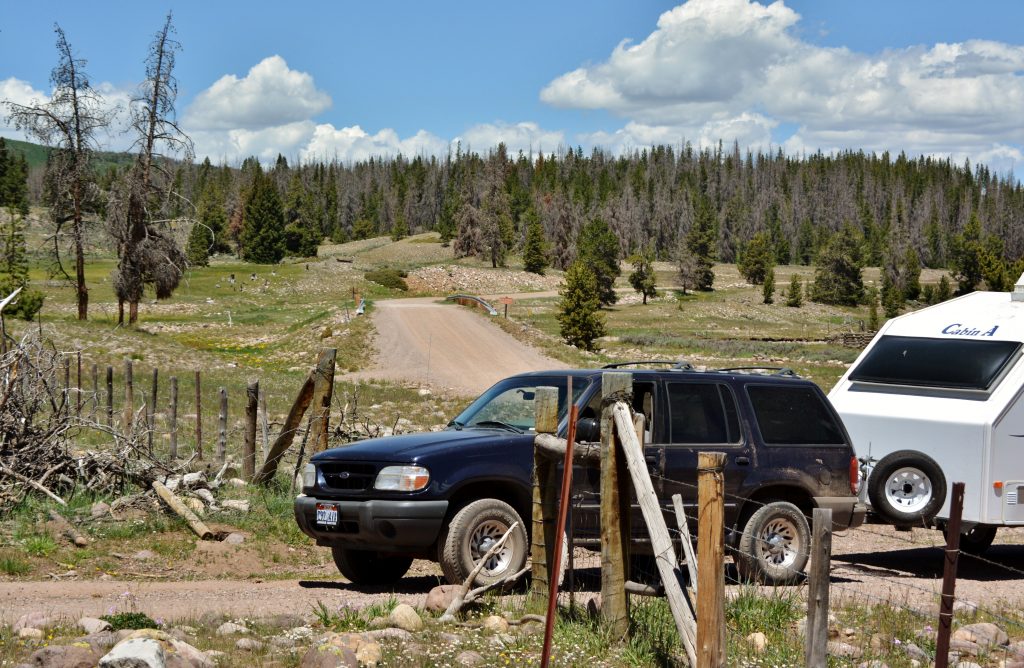 The junction and bridge is seen in the center of the picture. Shortly, as you can see, you will come to a gate that you go through. There are no signs, but believe me the road takes you to the "unofficial Trailhead," I have named–a distance of about 2 miles….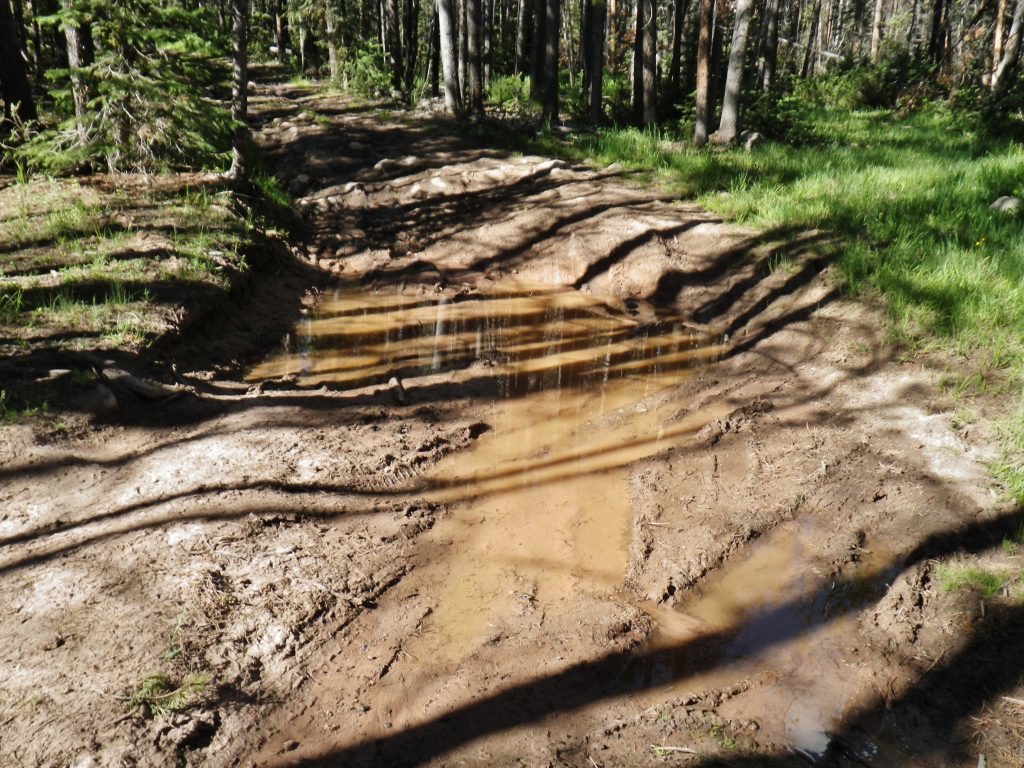 As you can see…..SOMETIMES THEY ARE TOUGH 2 MILES!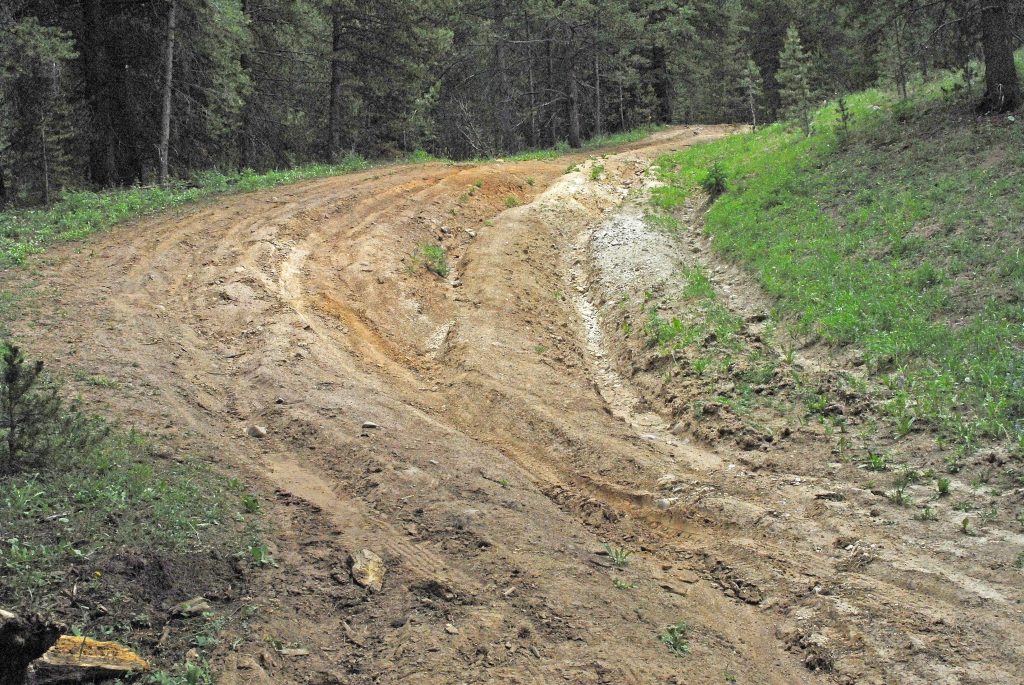 ….and sometimes you'll have to park your car and hoof it to get to the "trailhead"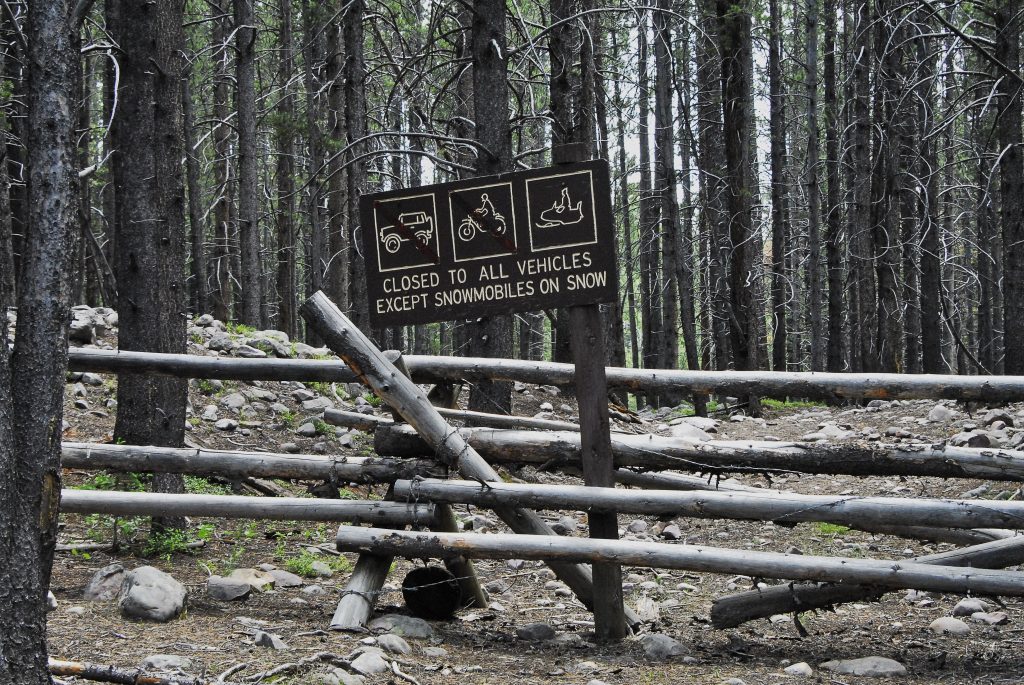 Believe it or not, THIS IS THE TRAILHEAD!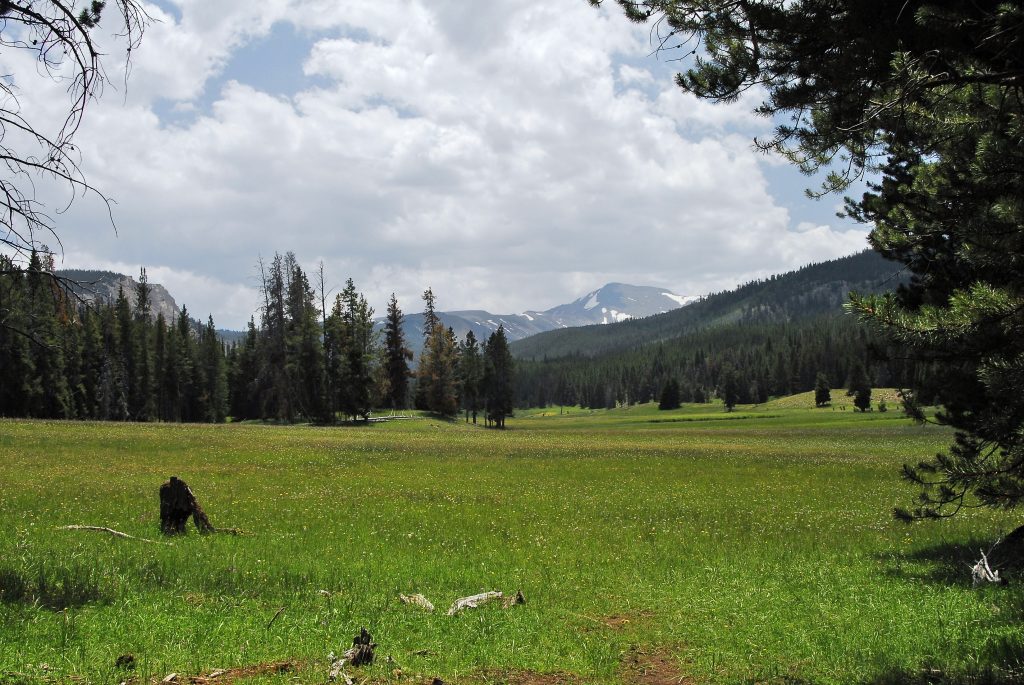 A short hike through the lodgepole pines has you arriving at a beautiful meadow with 13,165 ft. TOKEWANNA PEAK in the distance–one of the seven officially named 13,000+ ft. peaks in Utah. The 8th would be the 13, 387 ft. high Mount Jedediah–I named to honor for me the greatest of the explorers and mountain men of the West–JEDEDIAH SMITH, whose story I tell as a Preface to one of the sections in my BOOK.
On my important 3rd exploration, from this point I hiked to the right and went some downstream looking for signs of a tie hacker SPLASH DAM. Later I'll explain what a SPLASH DAM was for the Tie Hackers.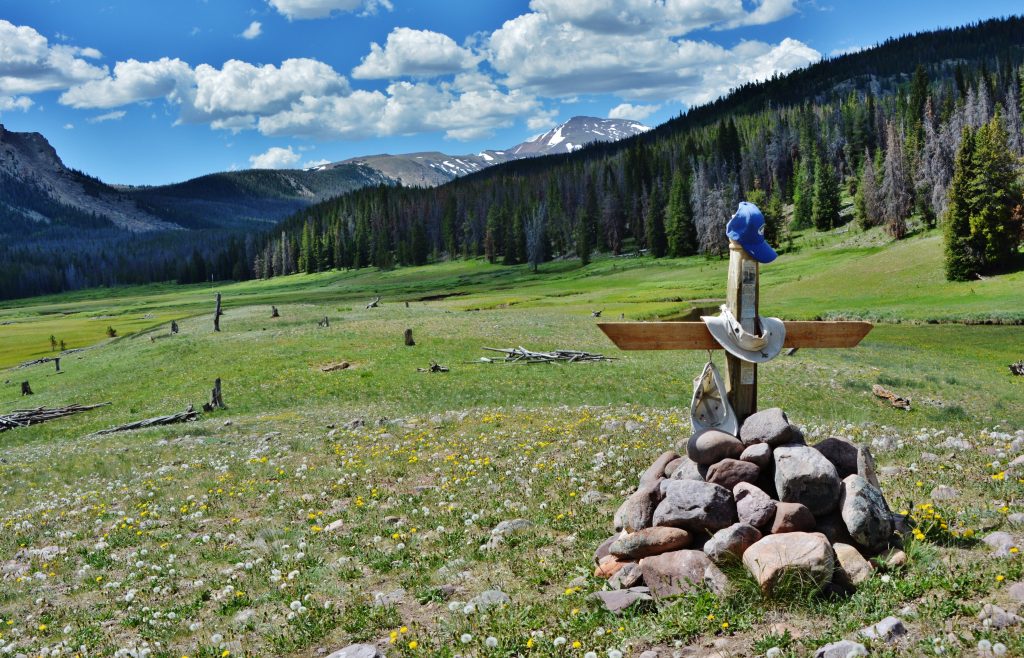 Instead of tie hacker ruins I found a MONUMENT TO A UINTA LOVER —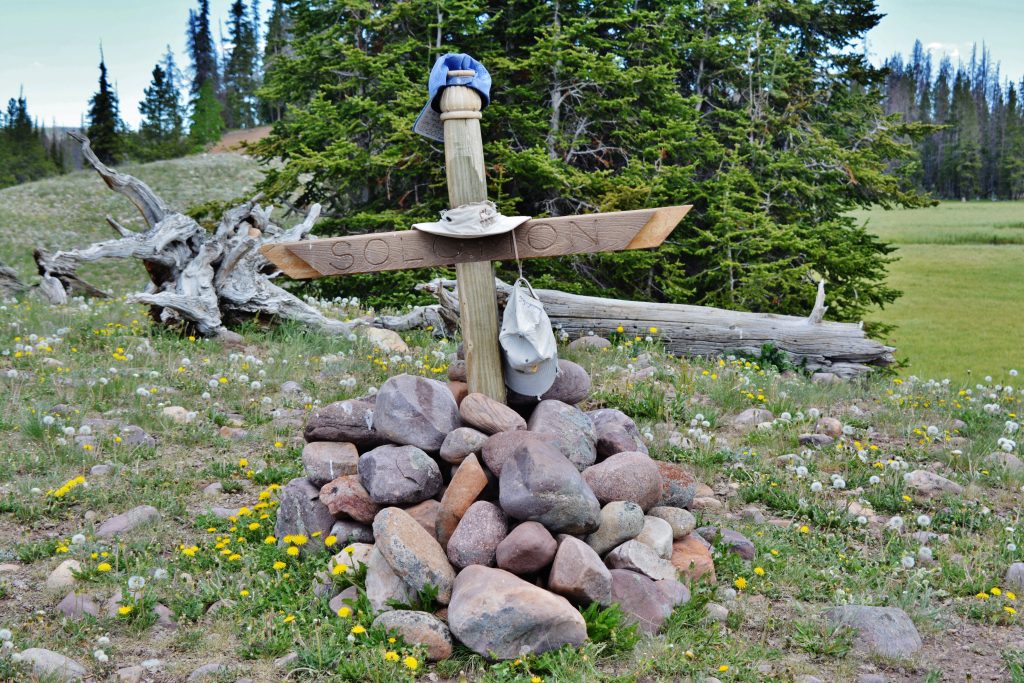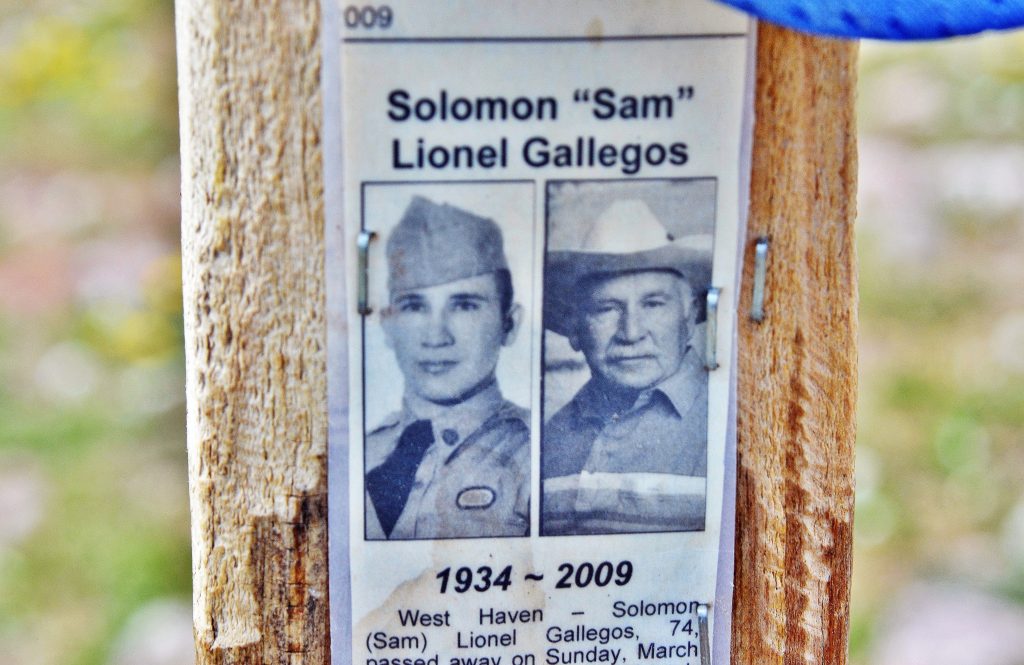 SOLOMAN "SAM" LIONEL GALLEGOS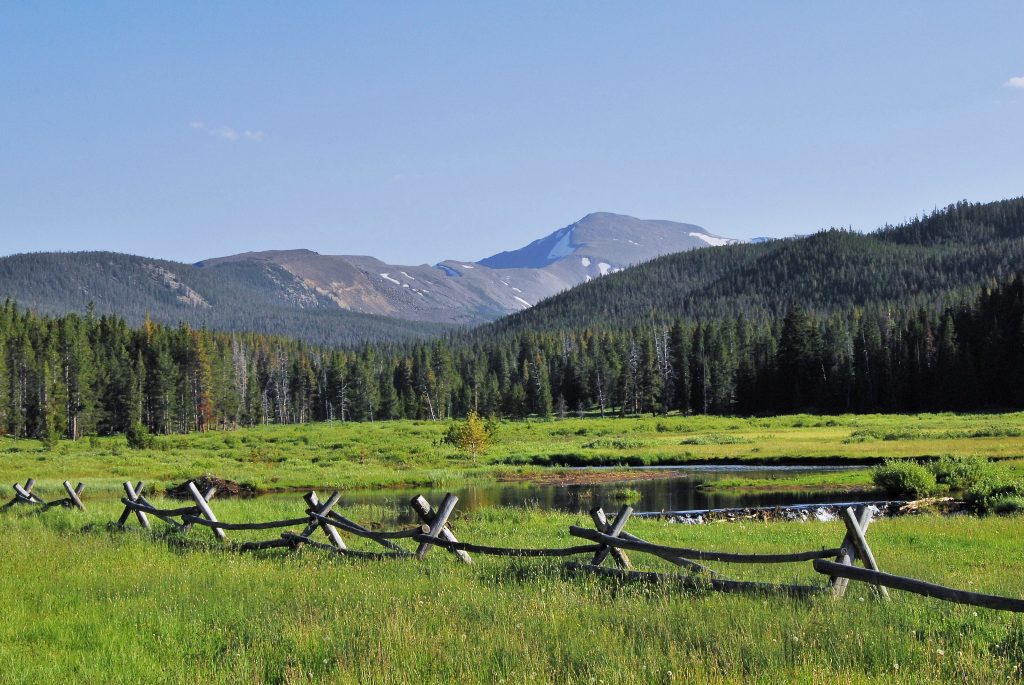 Then, up the drainage in search of beautiful VISIONS OF NATURE and the TIE HACKERS.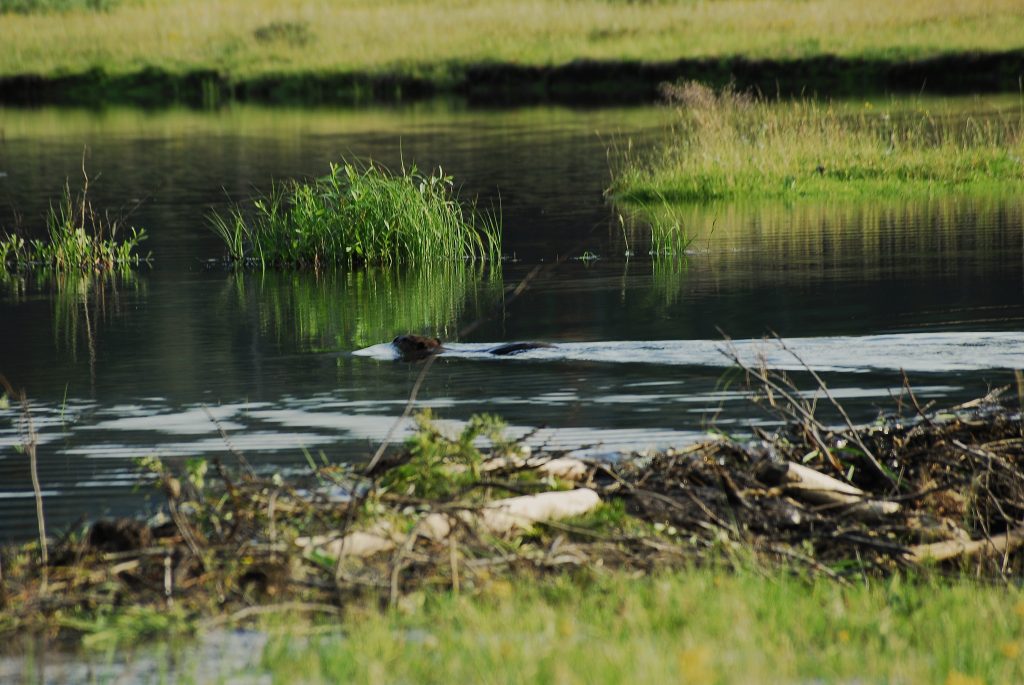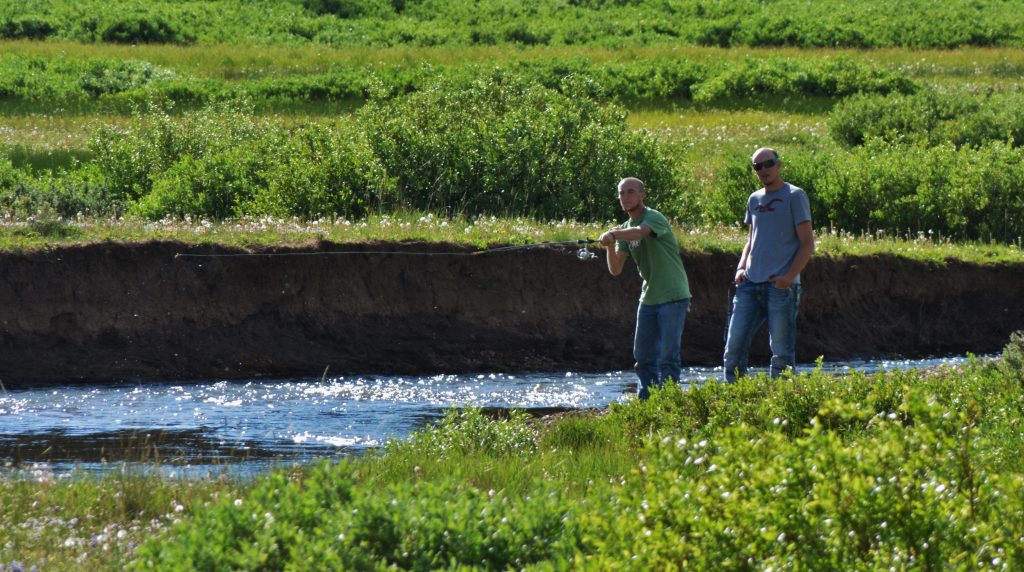 On the lower portion of the stream I did see two fisherman. They were the only two human beings I had seen on my three backpack/explorations, but they were just on a short day hike to fish. By the way, they are casting a spinner! Can you see it?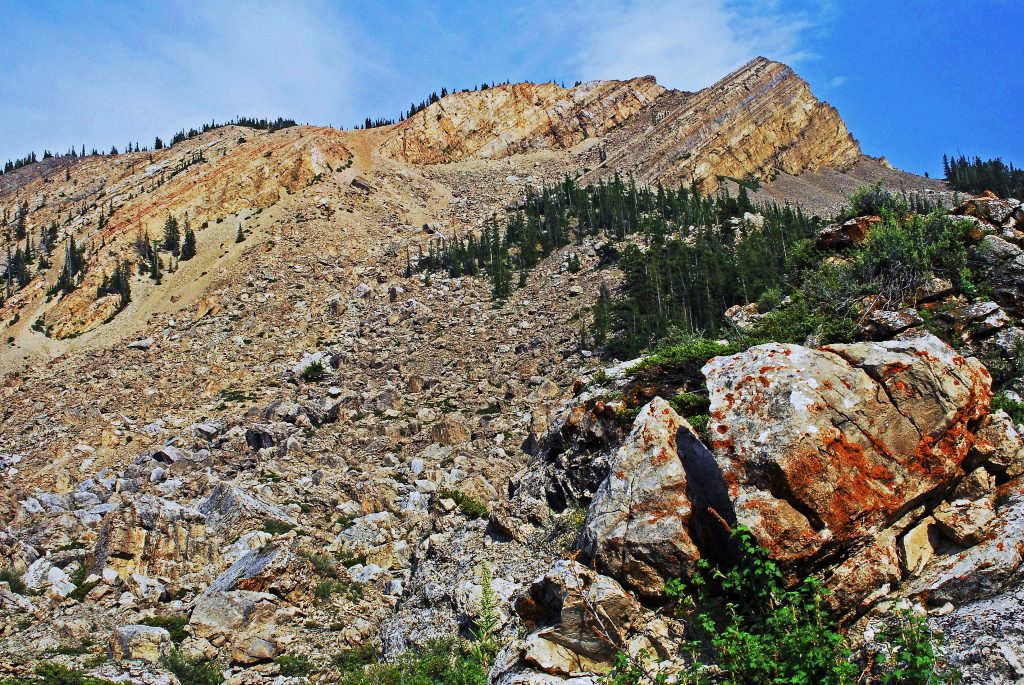 As I worked my way up the drainage I crossed a section of a rough intrusion that I had also seen on the West Fork of Blacks Fork. Once past that I entered a lush area of even more wild flowers than seen on the lower drainage.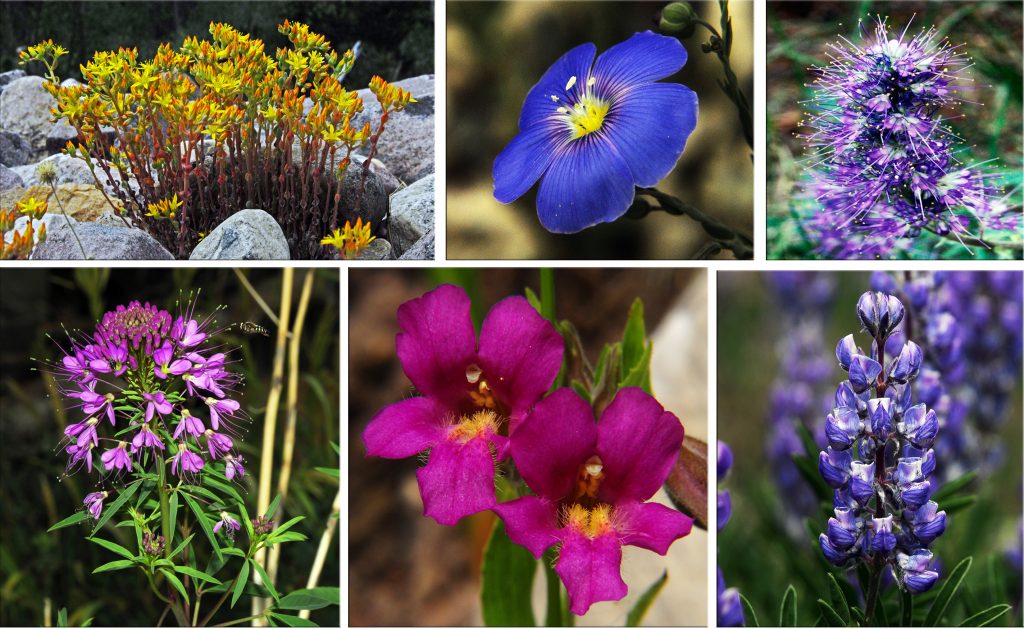 I don't recall seeing any area in the High Uintas with such a profusion of colorful wild flowers.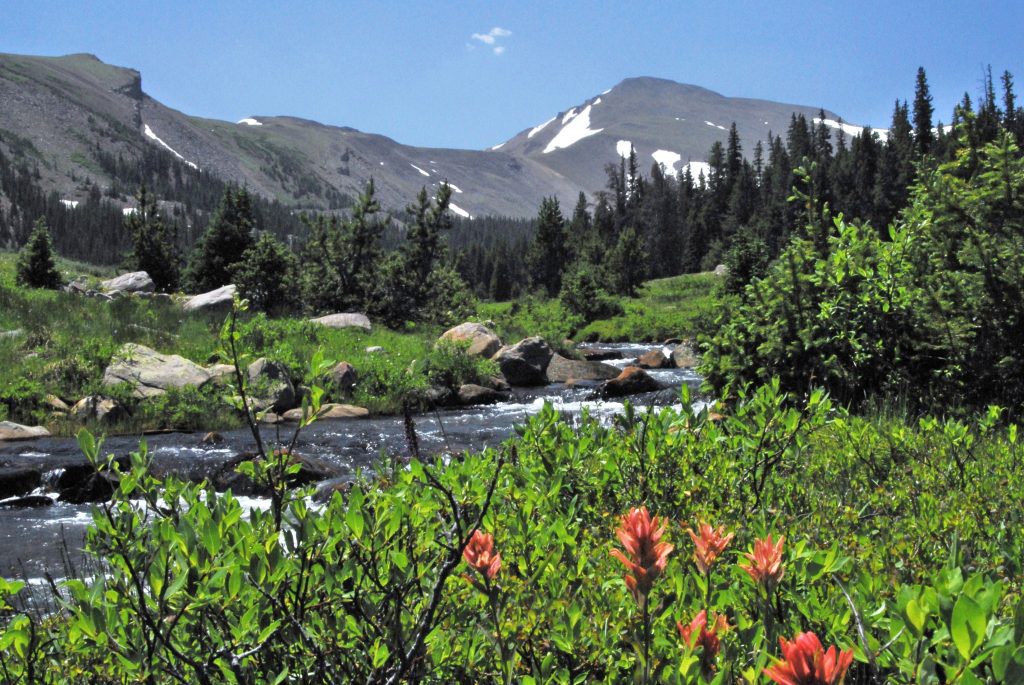 STICKING CLOSE TO THE STREAM I ALL OF A SUDDEN I FOUND PILES OF ROTTED LOGS, LIKELY FROM THE EARLY PERIOD. WHO KNOWS WHY THEY WERE ABANDONED.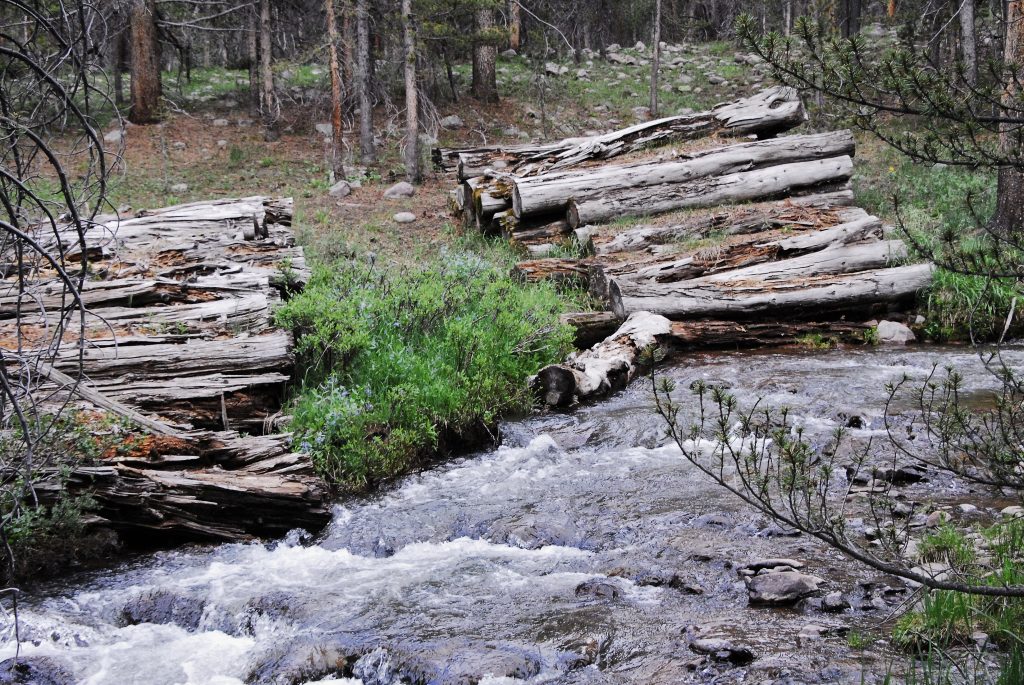 Then I came to the first stumps from the tie hackers–almost completely rotted away indicating they were from the early period.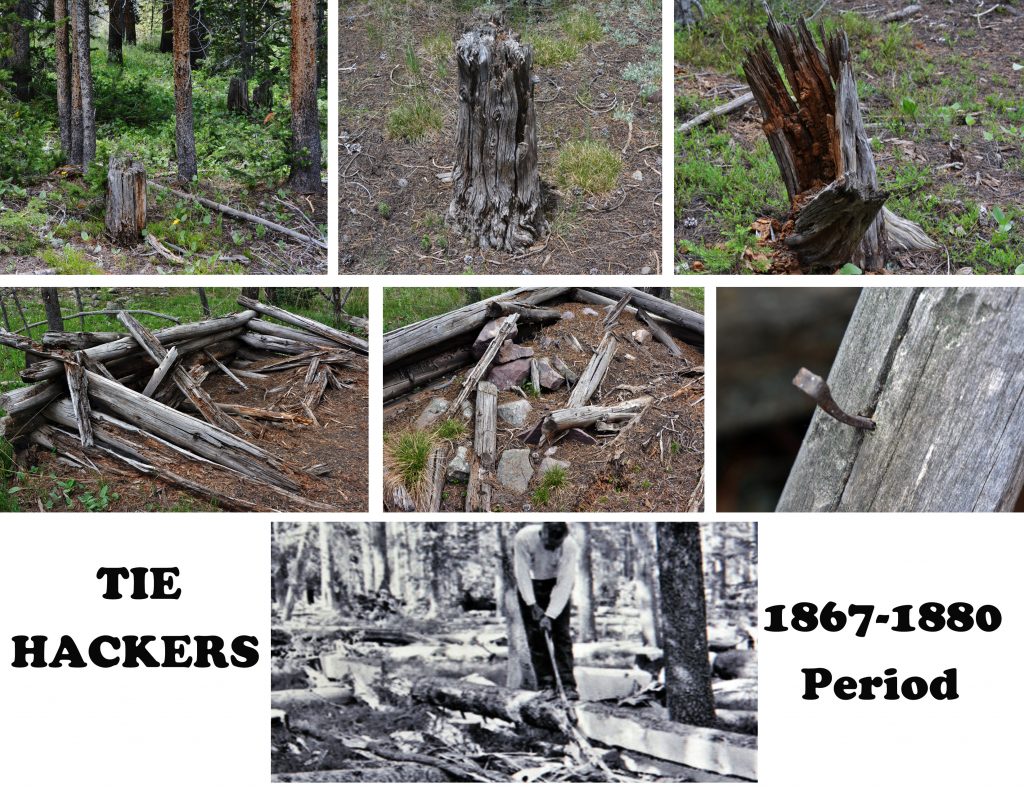 Soon I discovered ruins of a cabin–small, with rocks in one corner suggesting a fireplace, and found a square nail: ALL SIGNS OF TIE HACKERS FROM THE 1867-1880 PERIOD.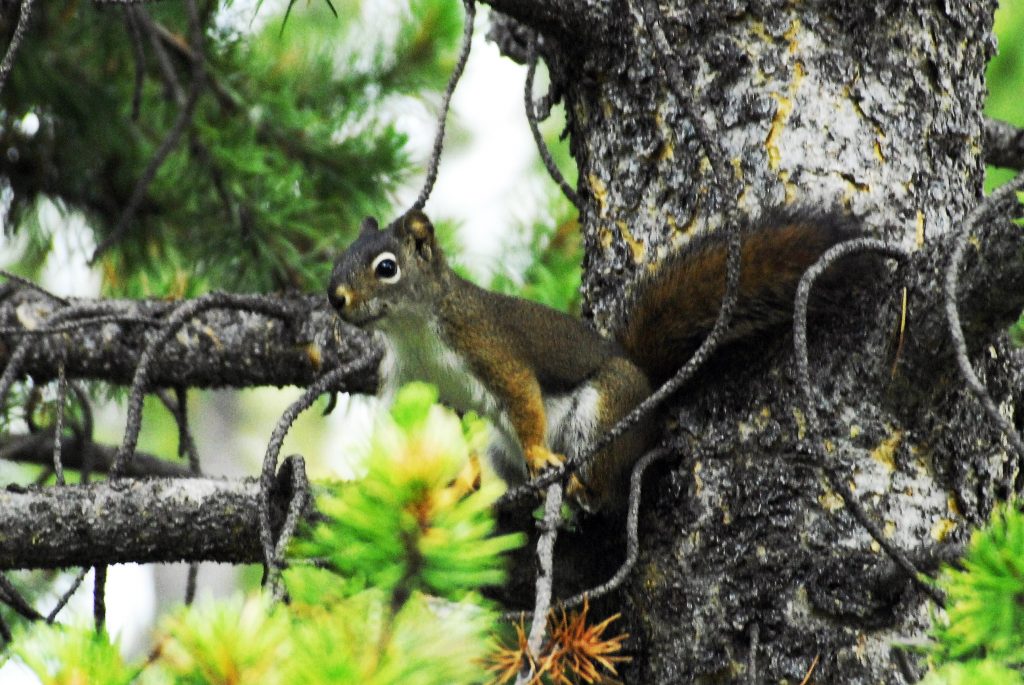 In less than a mile I began finding stumps that weren't rotted away, and a little further I entered a long section of more and more ruins. They weren't all rotted away, were larger, no rocks inside, and had windows. No square nails, only round ones invented in 1910–all signs of the later tie hacker period from 1912 to 1935 when mechanization made obsolete the tie hackers.
One of the ruins seen middle left below, was the largest ruin I'd seen anywhere…..I recall it being 36 feet long, by 18 feet wide, and had signs of having had a rustic floor.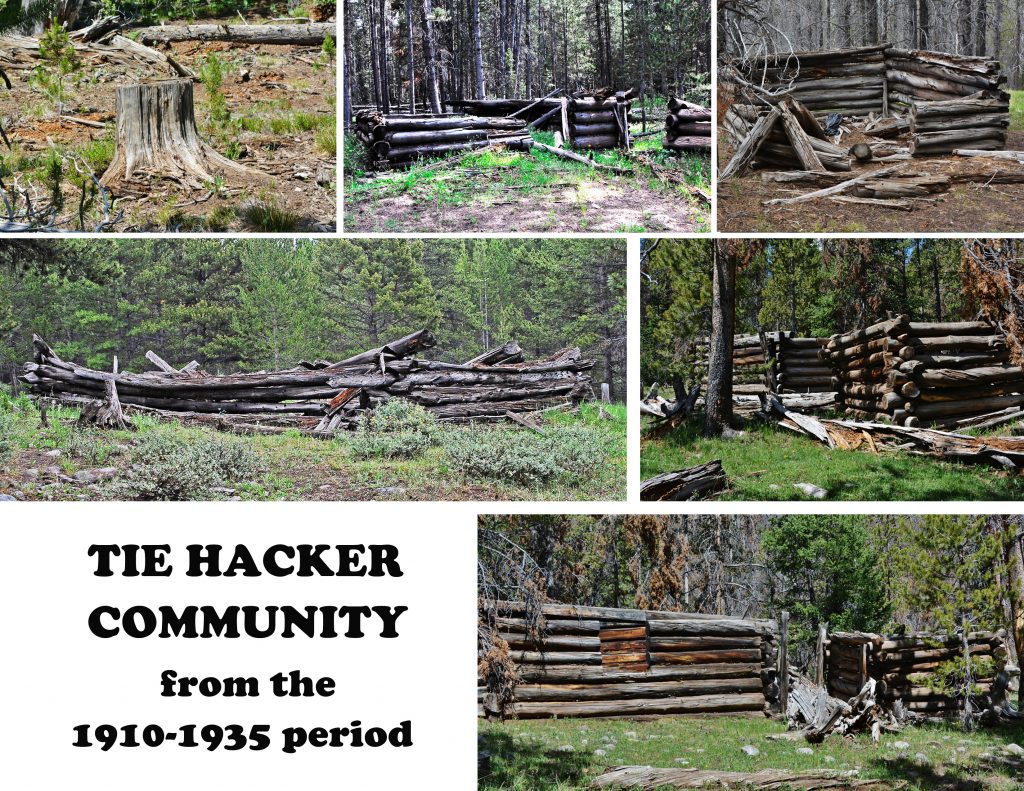 Nearby the large ruin I found two ruins with features that suggested they were sweat houses, used commonly by Scandinavians.
The scant history of the Tie Hackers from the early period is almost non-existent since that period was before the organization of the Forest Service, and most of the tie hackers were Irish lumbermen immigrants who didn't know how to read or write, and so there are no journals, or letters to tell their story.
But the later period is completely different with the Forest Service beginning to keep records and regulate the tie hackers, who were almost all Scandinavians, mostly Swedish–who had the tradition of sweat baths.
What I was finding was a TIE HACKER SCANDINAVIAN/SWEDISH COMMUNITY. The large ruin was likely a dinning hall, also used for social activities, and maybe even a school, as it was common in the later period for entire families to be together in communities.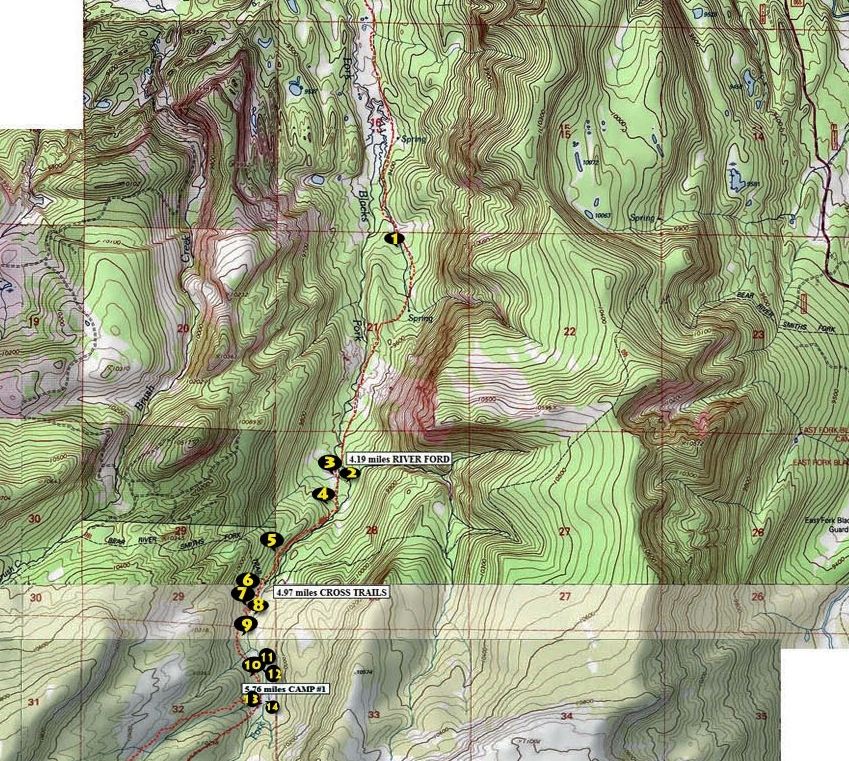 With my SPOT TRACKER I took readings on 14 sites as you see above. #1 was from the early period, and most likely a more thorough search of the area would turn up more signs from that period–in spite of much of it having rotted away.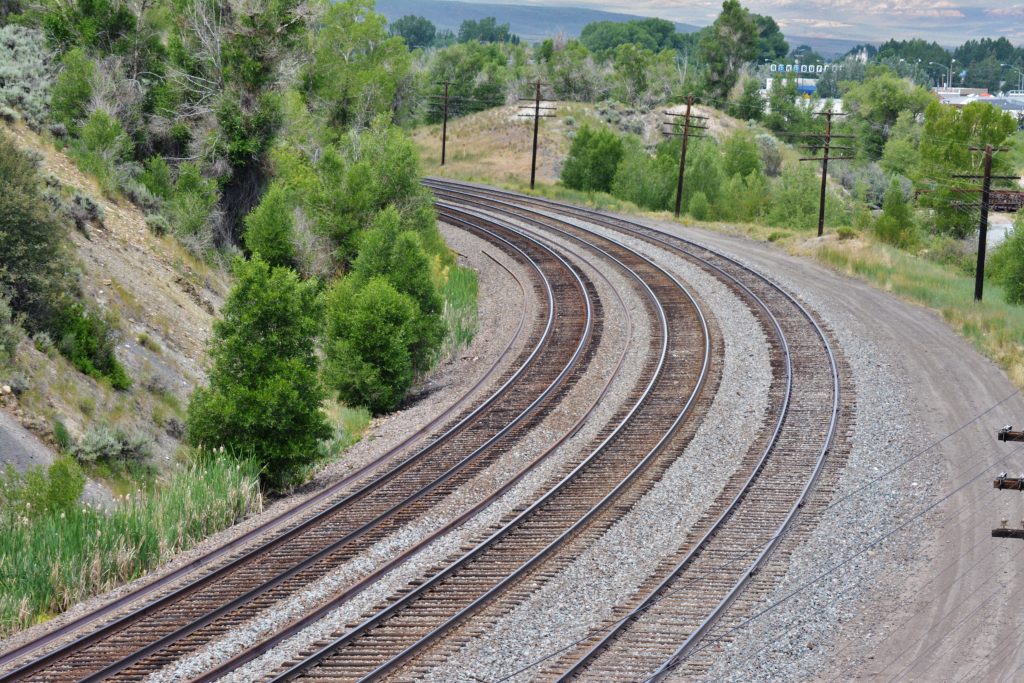 Each railroad track….and in the beginning of the Transcontinental Railway there was only one track, but for EVERY MILE APPROXIMATELY 3,500 RAILROAD TIES WERE NEEDED–adding up to many millions needed. Without the TIE HACKERS the railroad(s) would have never happened, and without the railroad the "WEST WOULDN'T HAVE BEEN WON" so I justifiably call the "TIE HACKERS THE UNSUNG HEROES, WITHOUT WHOM THE WEST WOULDN'T HAVE BEEN WON!"
……and as evidence that LIFE ISN'T ALWAYS FAIR, it is a fact that the volumes of very large books that document the Transcontinental Railroad construction, and the TV series HELL ON WHEELS, NEVER MENTION THE TIE HACKERS! Only one or two episodes of HELL ON WHEELS show wagons arriving with railroad ties, but we are never told where they came from, or who made them. Yet, one of those HELL ON WHEELS ghost towns, BEAR RIVER CITY, was labeled in a newspaper, "The Liveliest, if not the most wicked town in America!" which story I tell in my BOOK, and a suggestion has been given that it could be made into a GREAT WESTERN MOVIE, featuring Sherriff Tom "Bear River" Smith who became famous for trying to stop "the bloodiest fight between white people in the history of Wyoming." He went on to Abelene, Kansas where he was killed in a shootout and became President Dwight Eisenhower's hero–every time he came home to Abelene he would go to the cemetery and place flowers on Tom's grave.
NOW, LET'S GO FISHING!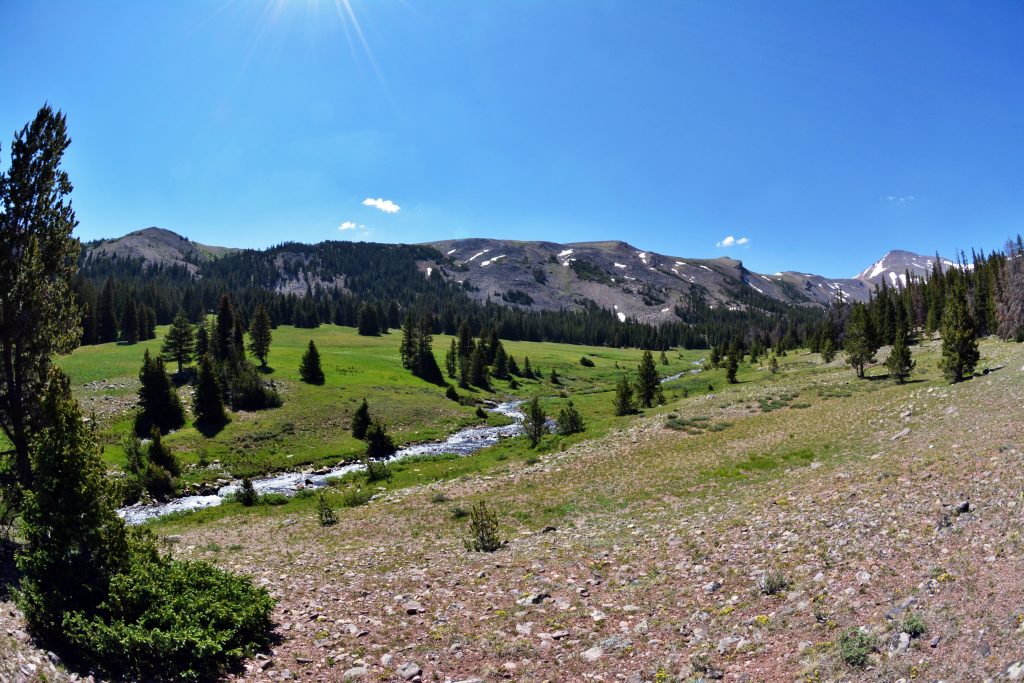 We head for Tokewanna Peak. There are portions where the trail just disappears. Even the WILDERNESS SIGN was lost in a jungle of vegetation. The best way to get to Bob's Lake is to follow the stream, and when it divides, keep to the right and follow it up to the lake. The other fork goes to the left up to where there are a number of small lakes, two with numbers: G-72 and G-74. Both had been planted experimentally with brook trout in 1984. A follow up survey in 1986 showed winterkill for G-72 and stocking discontinued. G-74 is much shallower, but showed it still had wary brook trout, and was aerially stocked in 2018, with plans to stock on a 3 year cycle.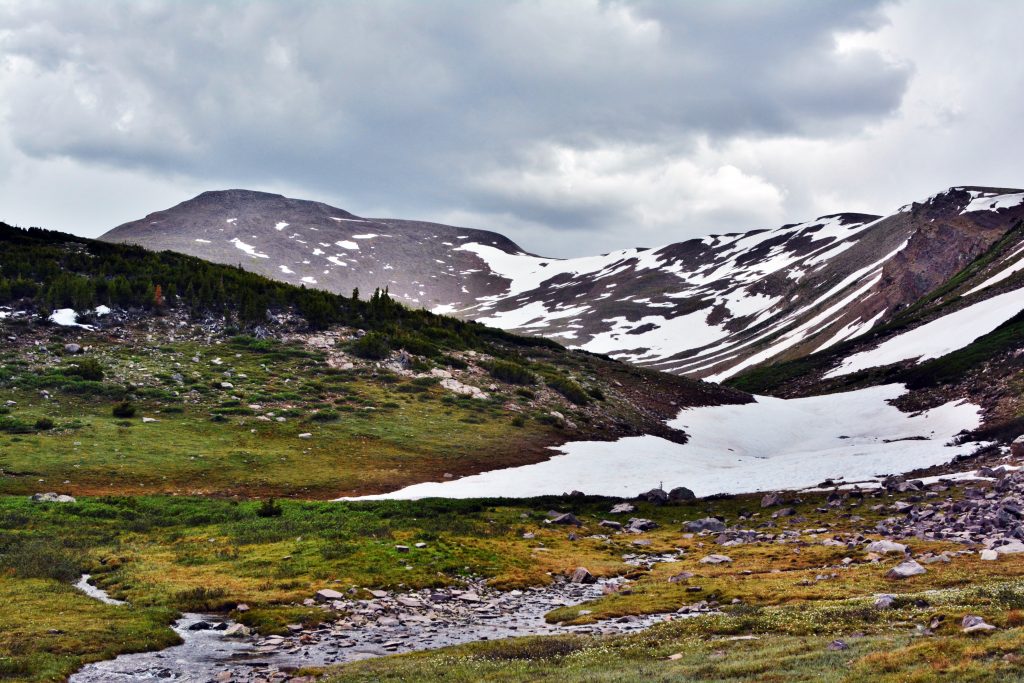 WE ARE GETTING CLOSE TO OUR DESTINATION…JUST UP AND AROUND THE SNOW BANK TO THE LEFT.
Here we are at BOB'S LAKE. It looks small, and certainly isn't big. Another view below is better.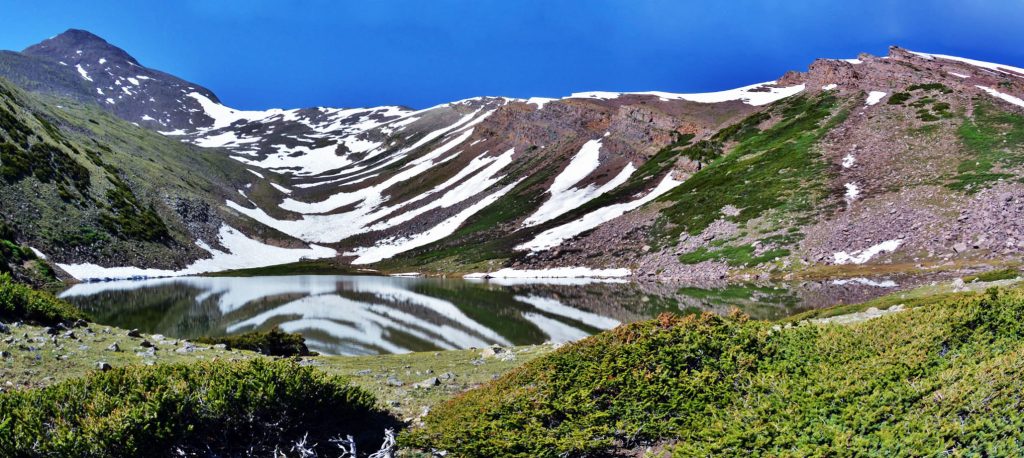 On my first visit in 2008 I didn't know what kind of fish to expect, but cast away with my Thomas Cyclone, and WHAM! It felt like I had a large, very strong fish on. He wasn't all that big, but strong as he was a TIGER TROUT, that once for once, are pretty strong.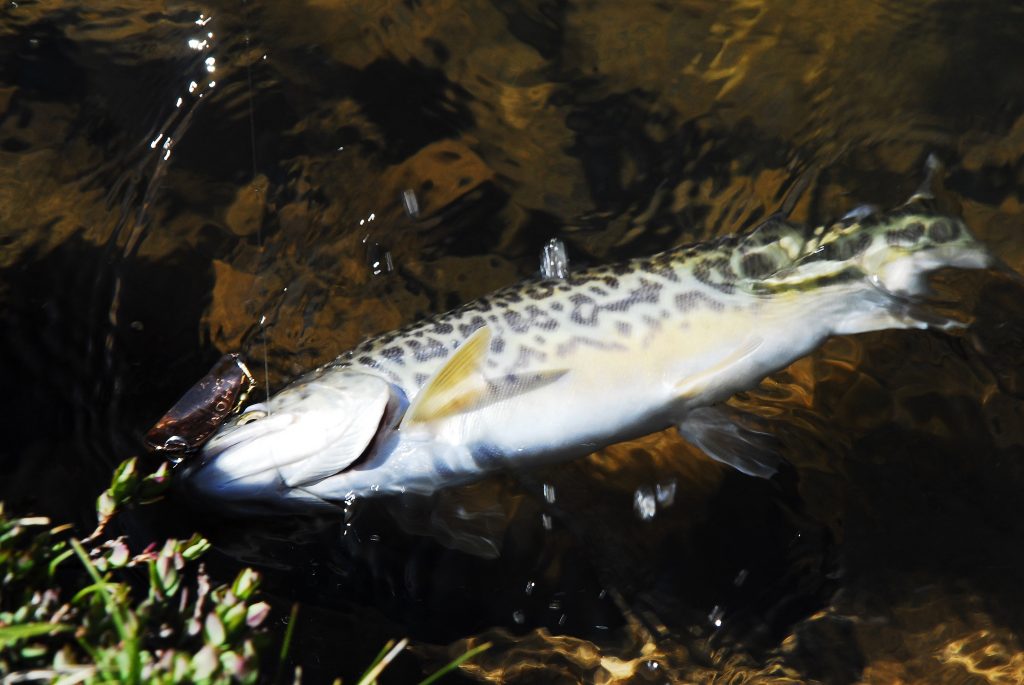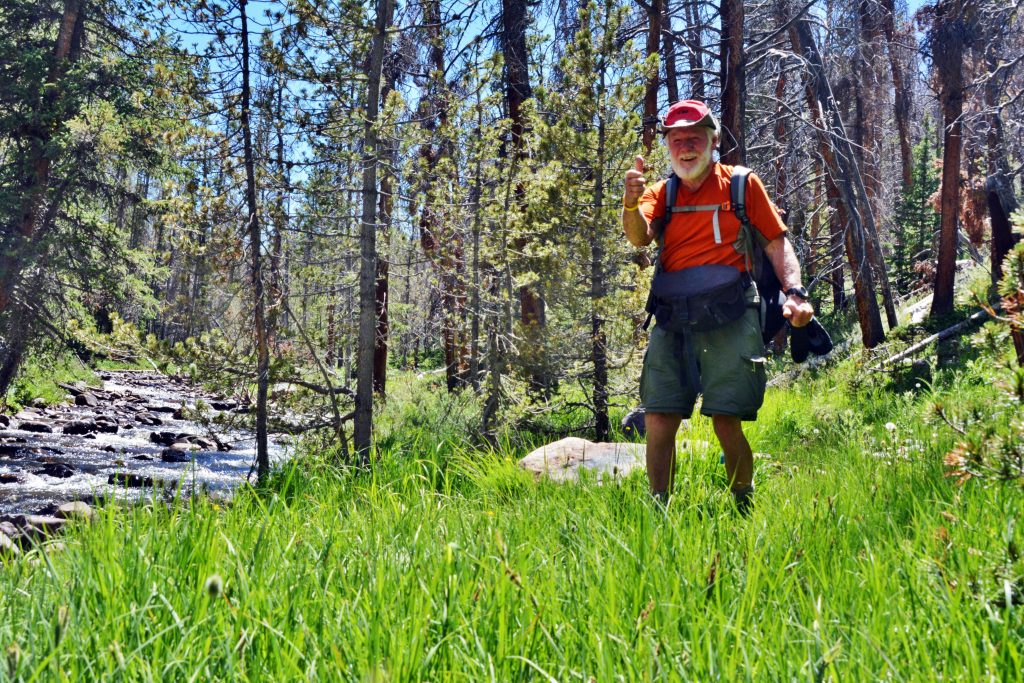 On my first two trips to the area I had only seen a footprint of one human being, but didn't see him or her. On that last trip I was down the canyon, and all of a sudden SURPRISED BY THE FIRST HUMAN BEING BACKPACKERS SEEN!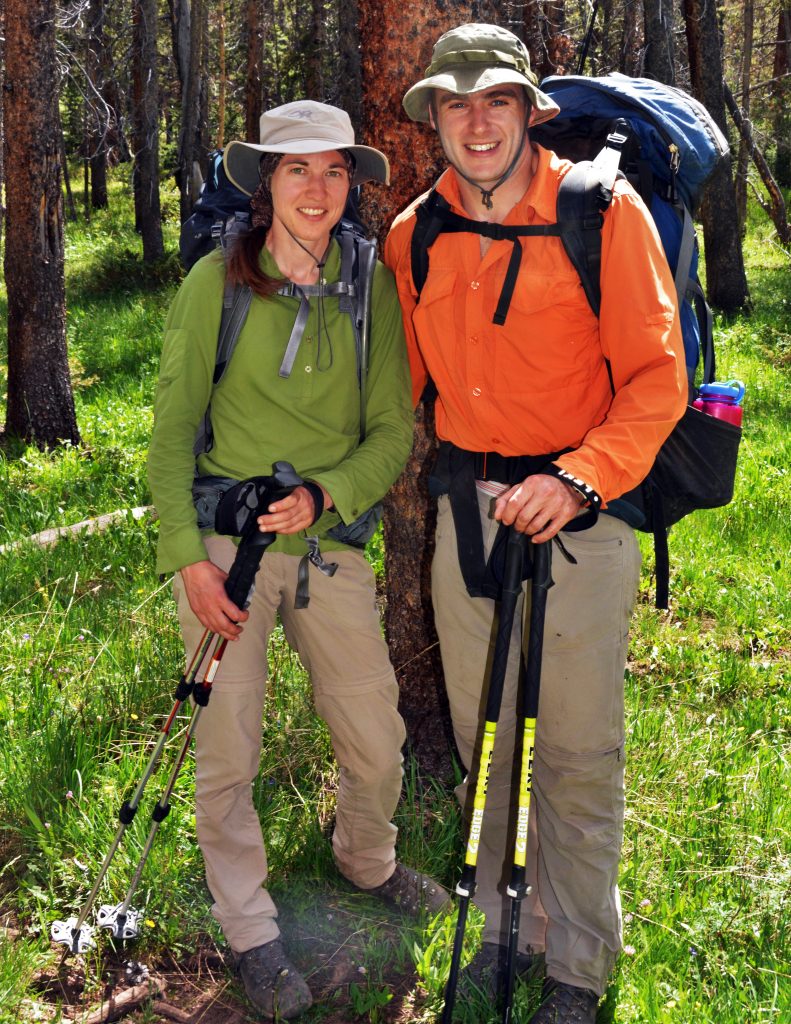 They were a handsome couple: Mike & Nicole from Germany – they met in Switzerland. Apparently they had heard something about my previous reports and so were on their way to a
GREAT WILDERNESS ADVENTURE.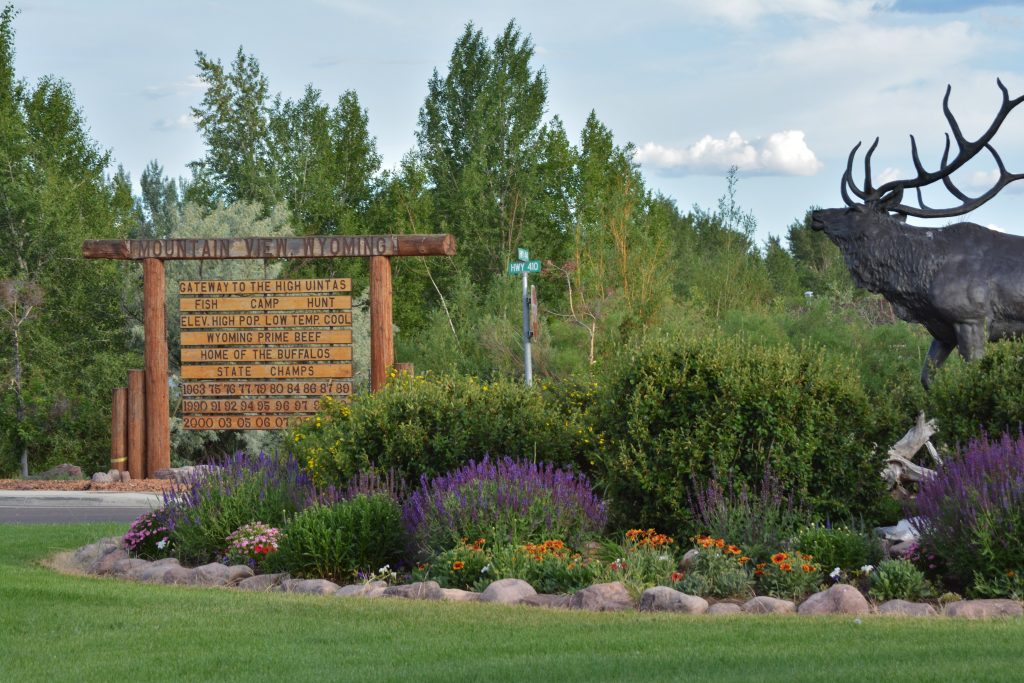 From there I headed for civilization at Mountain View, Wyoming, and was cleaning and organizing all of my equipment.

For some reason I had taken out of my Nikon camera the memory card you see to the left with it's wealth of photographic documentation of likely my most important exploration. But in preparing for my next move, I all of a sudden COULDN'T FIND IT! I meticulously went through everything, including every nook & cranny in my car, and in my trailer. But, NOTHING!
I was literally sick, but had no choice but to prepare to GO AND DO IT ALL OVER AGAIN! NO SMALL ACCOMPLISHMENT FOR A 77 YEAR OLD TIRED MOUNTAIN MAN!
At the Rest Area I took my pot and utensils into the rest room to wash them, and as I was doing so I all of a sudden heard something drop onto the pot bag on the floor. I looked down, and……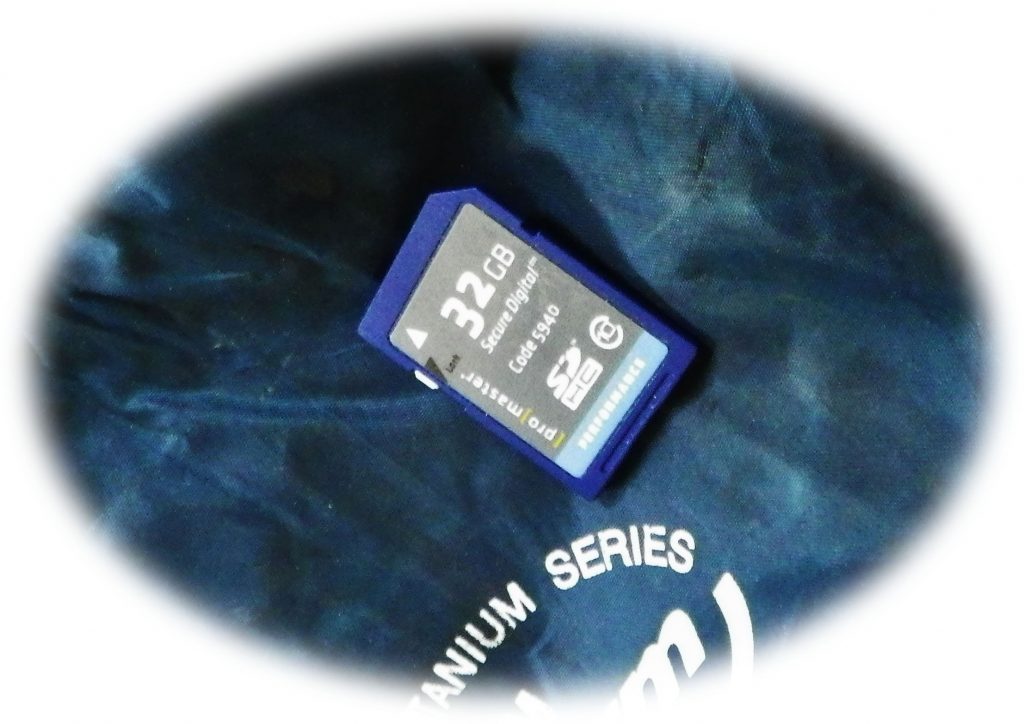 …..THERE MY MEMORY CARD WAS, seemingly HAVING DROPPED DOWN FROM HEAVEN as an ANSWER TO MY DESPERATE SEARCHING & PRAYERS! WOW, HOW GRATEFUL I WAS, so headed for the Maverick Convenience Store
& CELEBRATED WITH A BIG MT. DEW & A DONUT!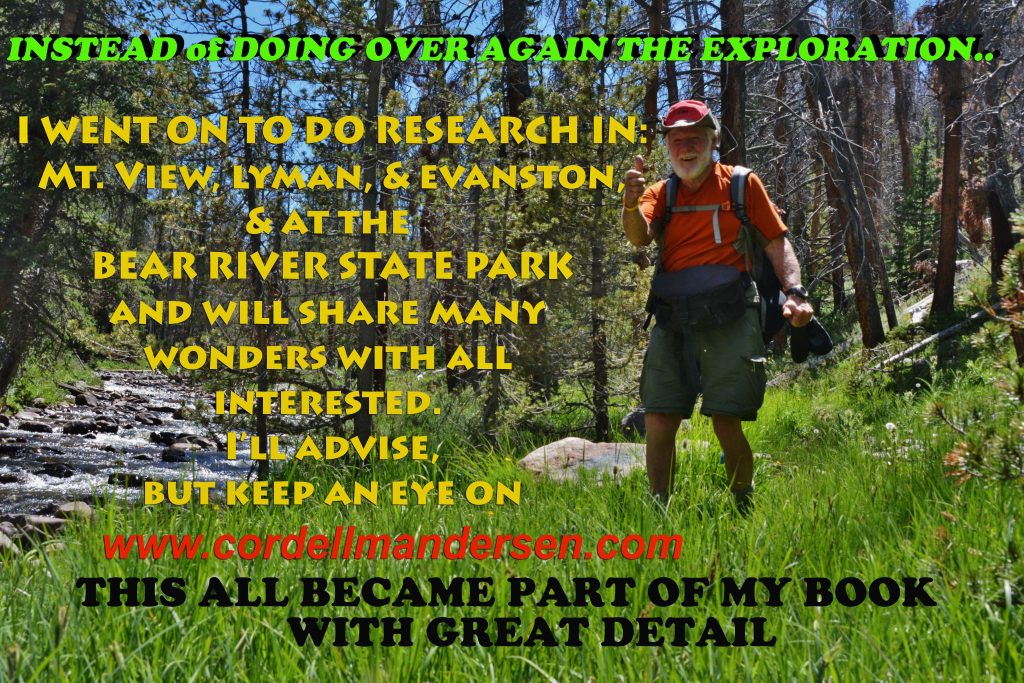 THE BOOK IS A TRIP GUIDE with updated information, topographical maps with routes & distances, and MUCH MORE–like a GUIDE TO DO A 856 MILE AUTO-LOOP TOUR of the HIGH UINTA MOUNTAINS, with HISTORY, the LEGENDS, the SURVIVAL STORIES OF THOSE WHO DIDN'T MAKE IT and WHY, plus CRITICALLY MY 8 SURVIVAL STORIES & WHY I'M STILL HANGING AROUND...and IMPORTANTLY MY ENTIRE WRITING ON THE ANTI-AGING CHALLENGE….look at me at 83 compared to Bill Gates at 63!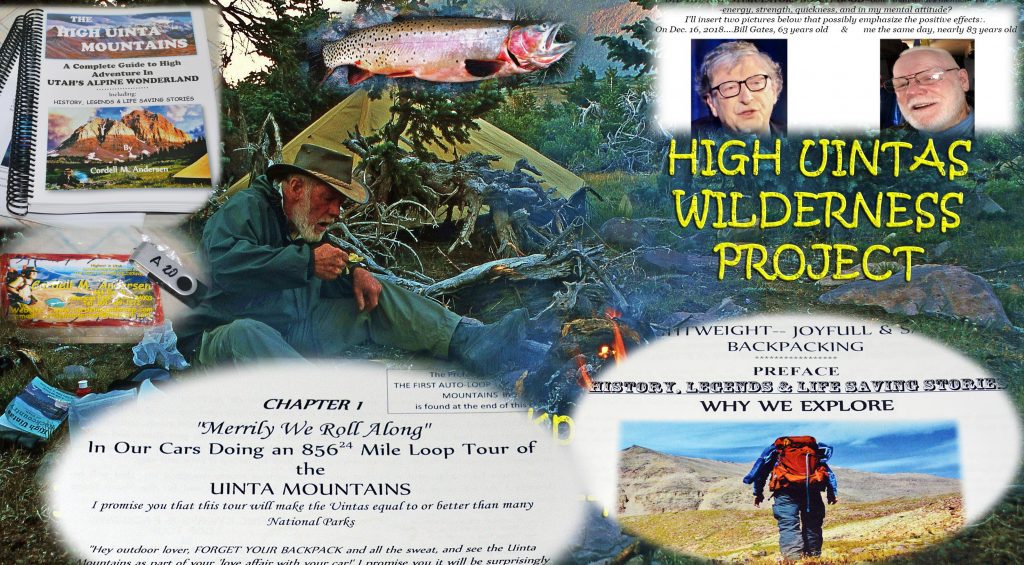 FOR FULL INFORMATION ON THIS & OTHER AREAS, AS WELL AS TOPOGRAPHICAL MAPS WITH ROUTES, DISTANCES & LABELS — get an online copy of this book, some have called THE ENCYCLOPEDIA OF THE UINTA MOUNTAINS, send me $20 (don't be afraid of sending a $20 bill as we aren't south of the border) along with your email address, and I will immediately email you the link to download the book with my permission to share once with a friend. Or, send $25 for a thumb drive that will have the book, plus The History of it's creation as detailed in a speech I gave at the Utah Valley Historical Society; plus my CHECKERED HISTORY & VISION QUEST–0-22 years. Send to:
Cordell Andersen, 444 Elm St., American Fork, Utah 84003
**************************