DAILY THE STAIRS &
THEN EVERY FRIDAY UP TO THE FOOT OF TIMPANOGOS HIKING UP GROVE CANYON, EACH WEEK A LITTLE FURTHER UP THE CANYON & HIGHER ABOVE UTAH VALLEY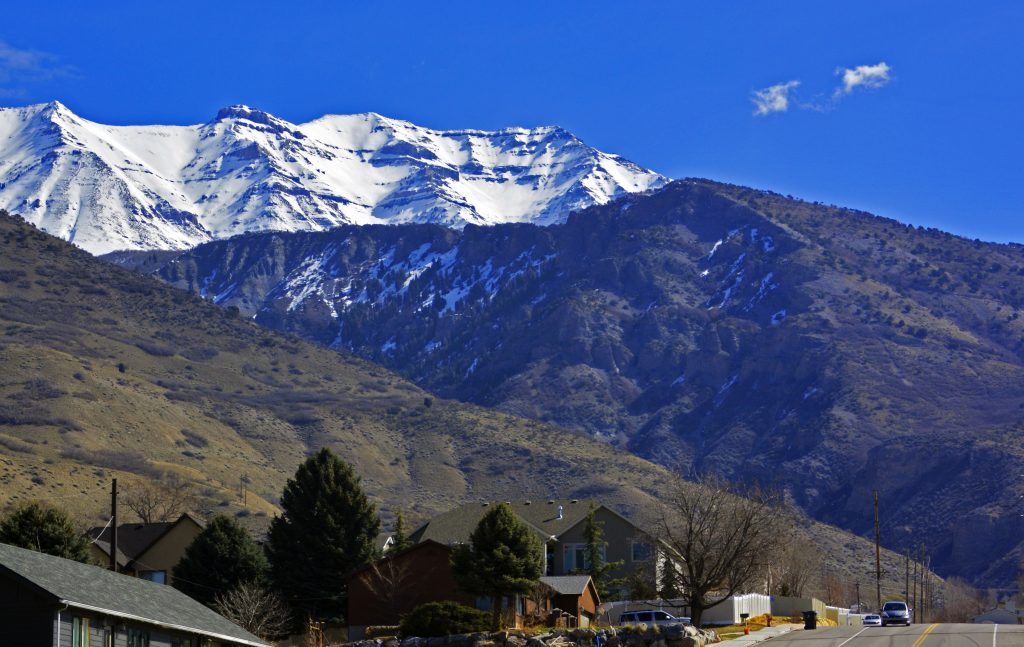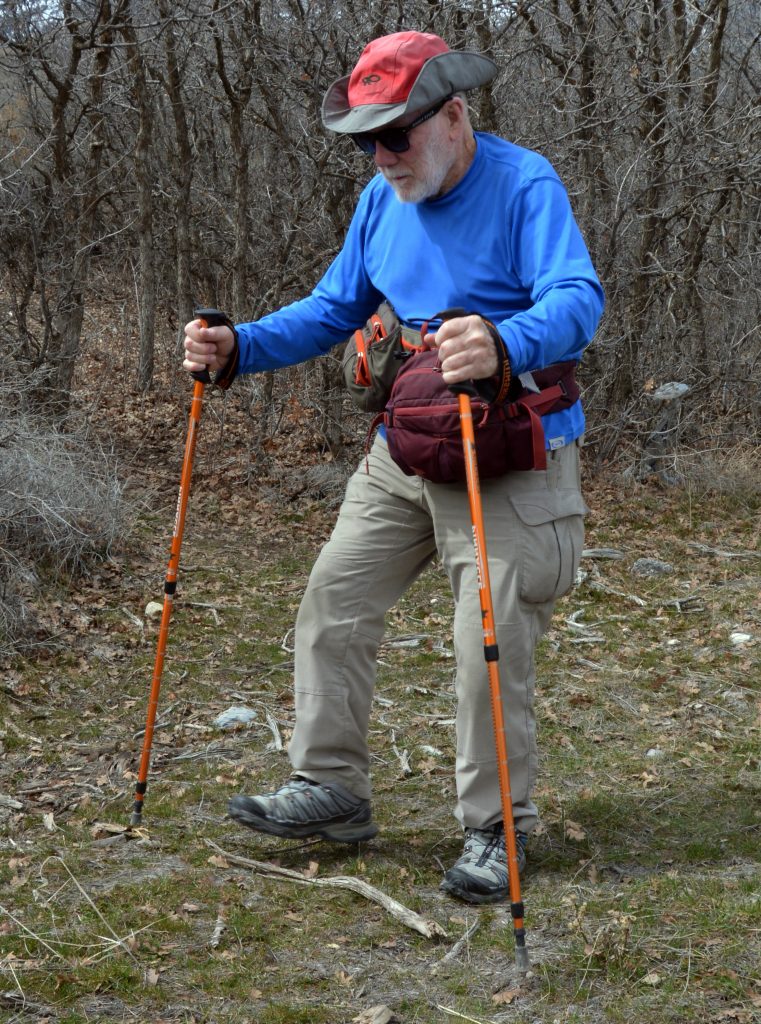 MY GOAL THIS WEEK TO GET UP TO THE THIRD LONG SWITCHBACK WHERE THE TRAIL OVERLOOKS THE VALLEY & TURNS UP THE CANYON HIGH ABOVE THE CREEK.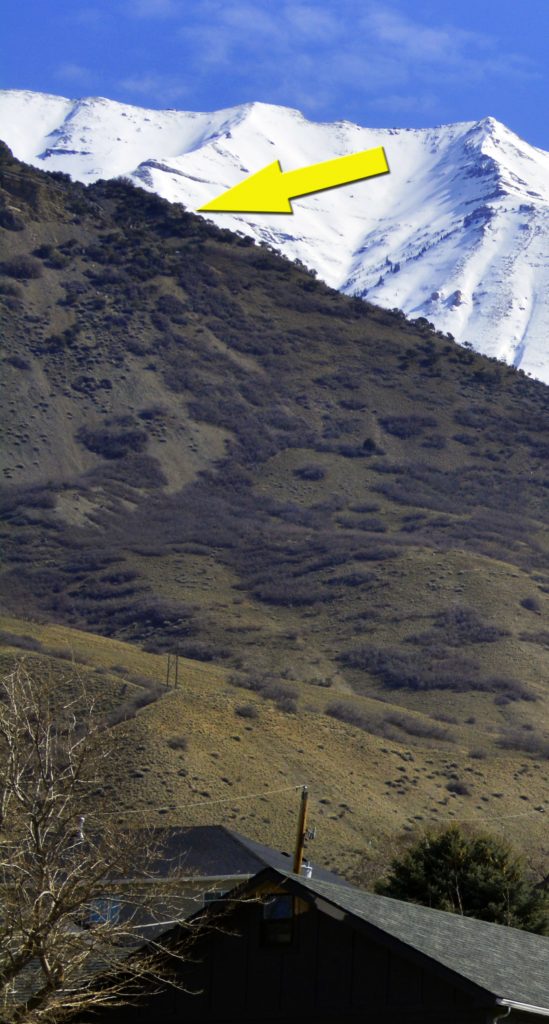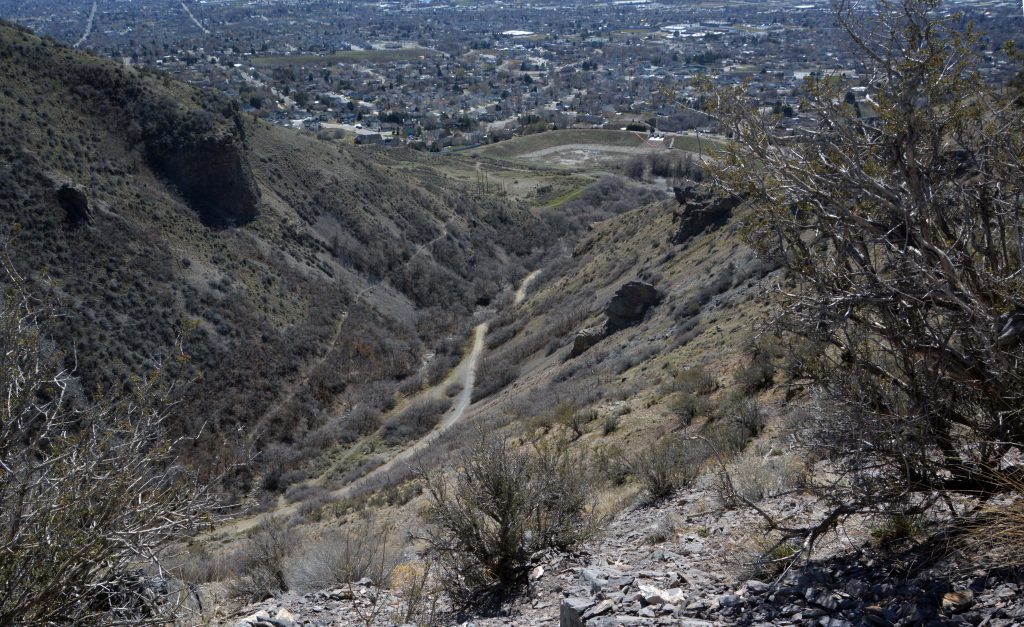 FINALLY MADE IT & SAT DOWN FOR MY PICNIC LUNCH and NEEDED REST.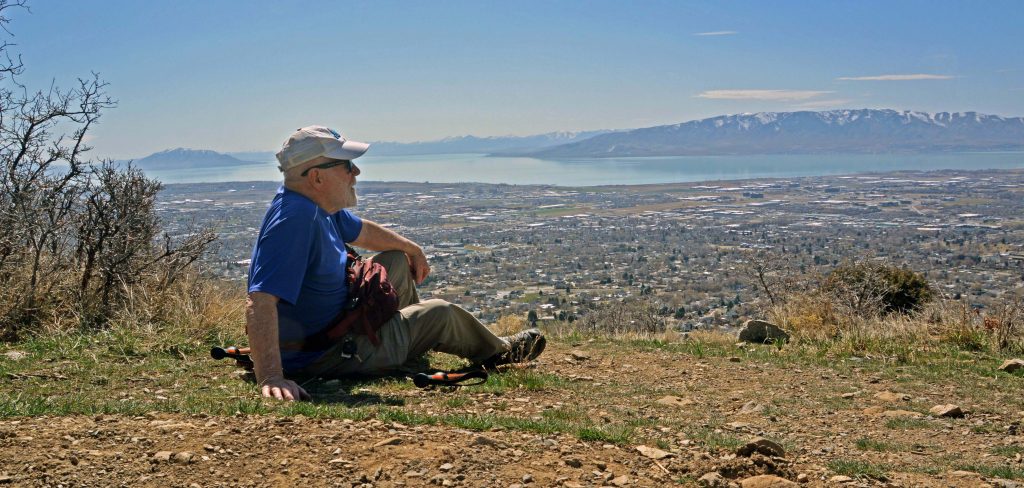 ALL PRETTY "MICKEY MOUSE" BUT CONSIDERING A YEAR AGO I COULDN'T EVEN WALK–WITH NO MUSCLES IN MY LEGS THAT HAD ME LOOKING LIKE A HOLOCAST VICTIM & NO BALANCE — I FEEL MORE THAN GRATEFUL FOR BEING BLESSED BY THE LORD WITH FOR ME "MIRACULOUS" PROGRESS & VERY REAL HOPE FOR SOME KIND OF "EXTREME LIGHT WEIGHT BACKPACKING" IN THE HIGH UINTAS!
GOING DOWN, WITH STEEP DROP-OFFS ALONG THE WAY, HAD ME HIKING VERY CAREFULLY USING MY TREKKING POLES & IT WAS EASY TO IMAGINE HOW OLD GUYS LIKE ME–WITH POOR BALANCE– ON SOME HIGH UINTA TRAILS TO PASSES, COULD LOSE BALANCE & FALL OUT OF SIGHT TO NEVER BE FOUND! DOWN LOWER I CAREFULLY LOOKED FOR THE ROCK WITH A FOSSIL FROM MY LAST HIKE. I FOUND IT AND at home WASHED & VARNISHED IT–SEEN BELOW.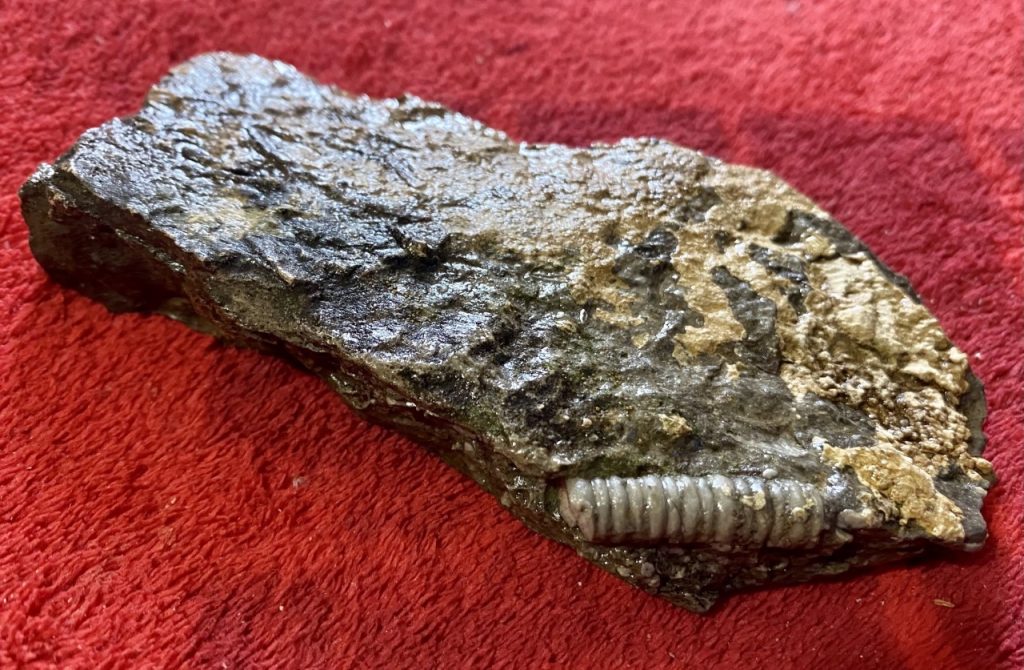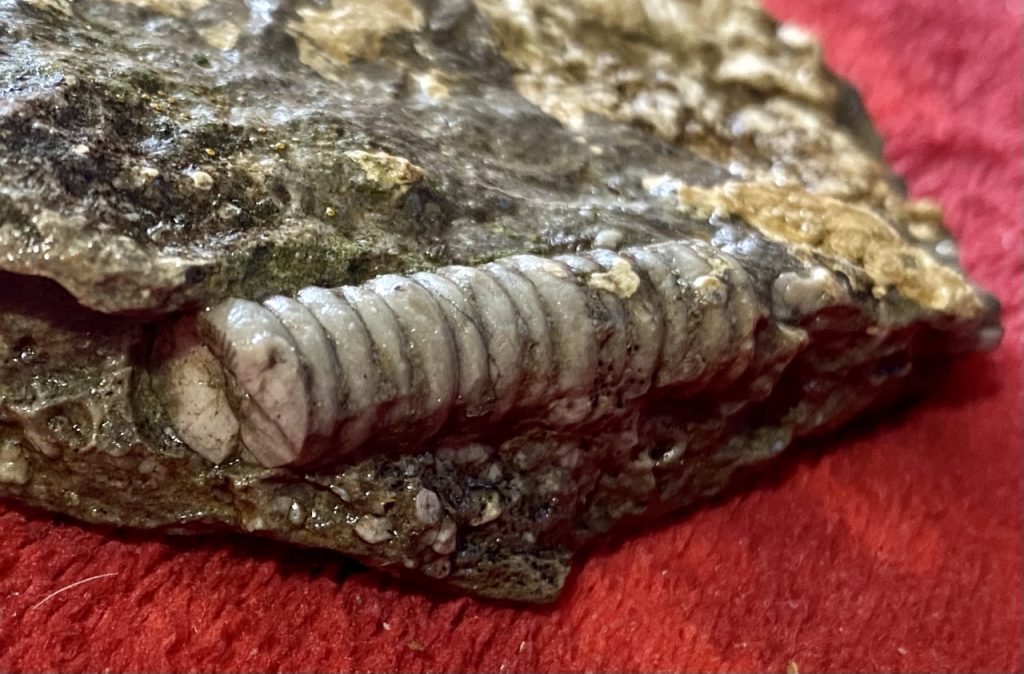 NOW I'LL TELL YOU OF A WONDERFUL EXPERIENCE & MY TERRIBLE GOOF!
SOON AFTER FINDING MY ROCK I WAS RESTING A BIT WHEN A TALL GOOD LOOKING HIKER, WITH HIS BEAUTIFUL DAUGHTER, CAME DOWN THE TRAIL–STOPPED & SPOKE:
"YOU'RE CORDELL ANDERSEN!"
I was pleased to learn he was one of my "HIGH UINTA FRIENDS" who I had never met, but he followed me on my website, and had even driven to 444 Elm St. in American Fork, to give me $20 and get the link on his computer my HIGH UINTA MOUNTAINS book, but nobody was home. I told him to just send a $20 bill in the mail along with his email, and I'd immediately email him the link and told him he could share with a few others as MY INTEREST is to get it spread around to help ALL HAVE GREATER AND SAFER ADVENTURES IN THE UINTAS. We talked some about my struggles, etc. and he did give me their names–but I goofed by not jotting them down on my smartphone and taking their picture–as an OLD GUY my memory is slipping. I think I remember the names, but to not completely embarrass myself, best wait until I hear from him, and then I'll introduce him to everybody.
WOW! I remembered right! I received his letter and $25 in the mail today with a nice letter and request for a thumb drive with the book. My High Uinta Friend is: JEFF JOHANSEN, and his daughter is KARA. In my note I even got the SEN right, easy for me because I'm also an SEN Andersen. We are both either Danish, or Norwegian, in my case a little of each. I even had an ancestor who was KING of Norway for a short while in the 1200's until he was poisoned!
Thanks, Jeff, for the order. I'll get it in the mail today, and hope to meet you tomorrow (Friday)–as I understand it won't be raining–on the Grove Creek trail between 2:00 and 4:00. Best not send the thumb drive, but take it with me tomorrow in hopes we meet–so I can get that needed photo of–YES, the "GOOD LOOKING" hiker & his "beautiful daughter."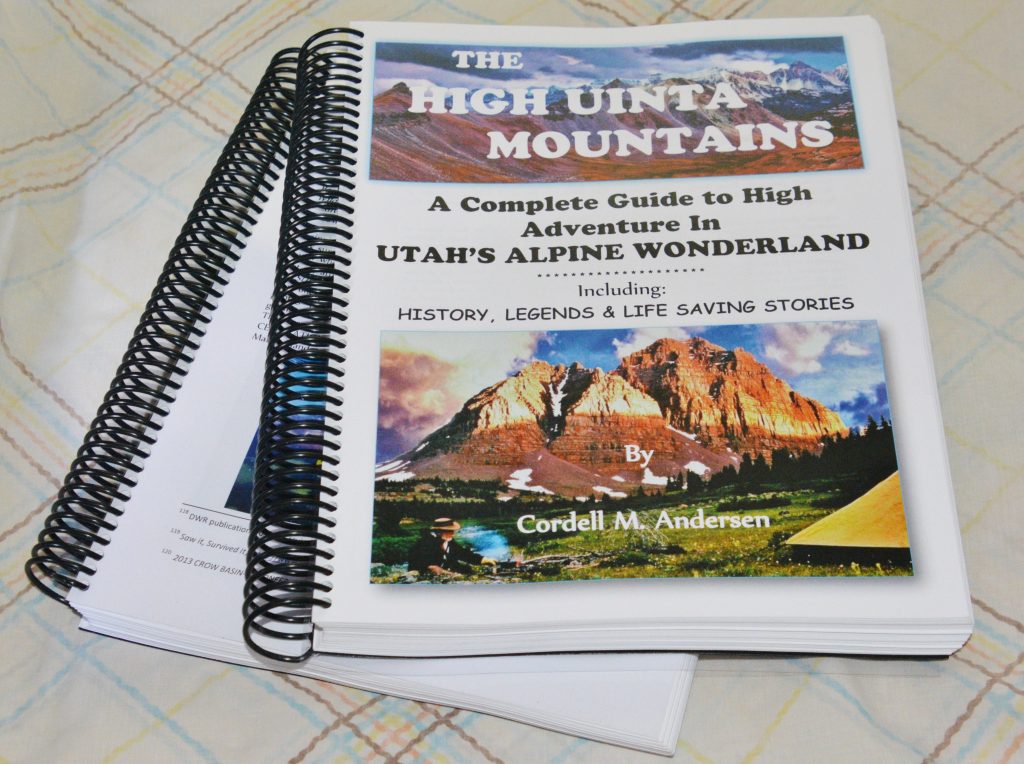 NOW TO CONTINUE OUR MINI-TOUR OF THE HIGH UINTAS
First just a simple mention of the SNOW DEPTHS in crucial places (posted weekly here–later by the day) :
BALD MOUNTAIN PASS…..3/26 = 37.3″ of snow
WOLF CREEK PASS……3/26 = 43.5″
HEWINTA on the North Slope……3/26 = 26″
THE TOUR will first take us to "THE WILDERNESS AREA" – Utah's greatest Wilderness.…so far we have reviewed lakes accessible from the Norths Slope's Christmas Meadows Trailhead–which logically we should have held off on until after the Grandaddy of Uinta's Trails we have been reviewing taking you to lakes accessible along the Highline Trail . We have seen the Wilder/Wyman/Packard area, Naturalist Basin, Carolyn, Bedround & Allen Lakes, Cyclone Pass and Sea Lion & Thompson Lakes, & The FOUR LAKES BASIN, taking us to Pigeon Milk Springs. From the Springs we head east climbing first ROCKY SEA PASS (11,200 ft.)……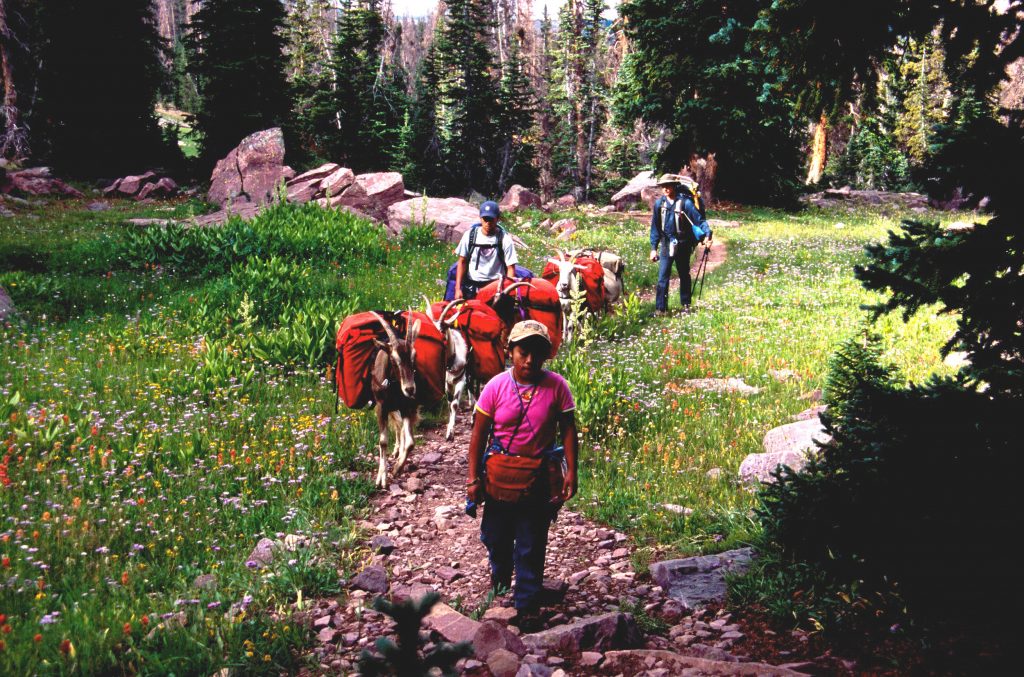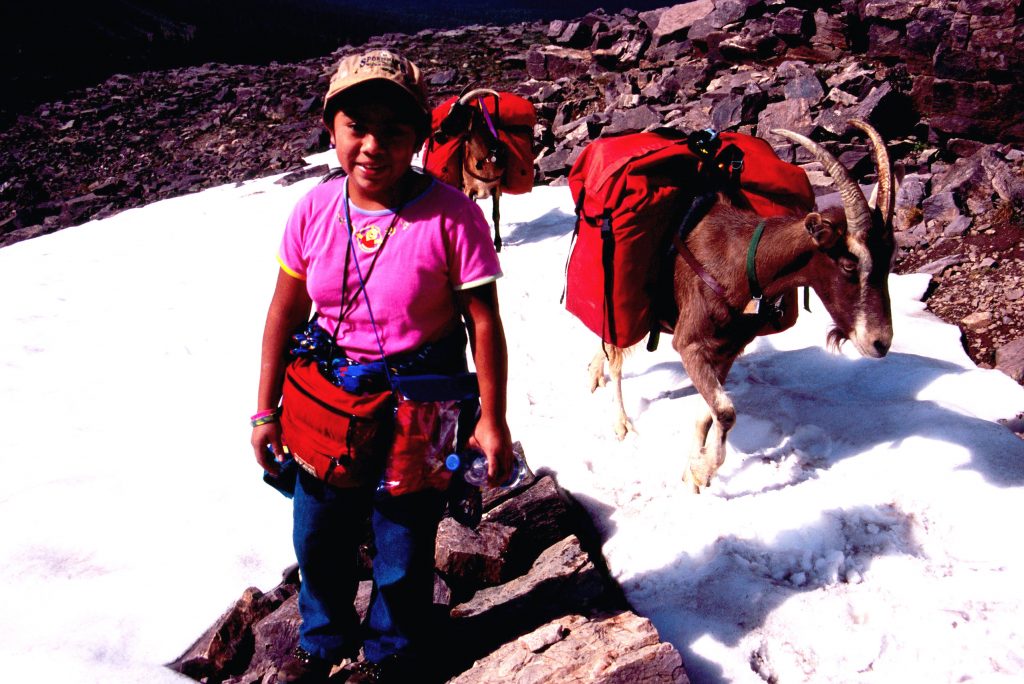 …… that early in the season has a large snow bank on the eastern side–so be careful. See details & topographical maps on pages 168-173 of the HIGH UINTA MOUNTAINS book.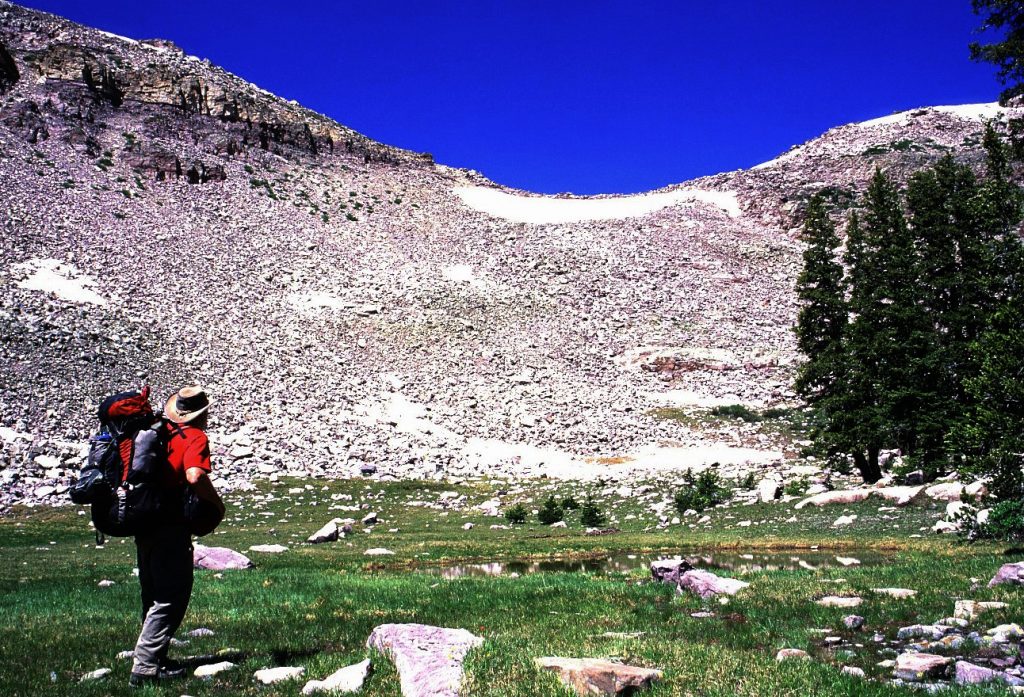 In this first segment of the HIGHLINE TRAIL we will review the upper reaches of the Rock Creek Drainage. The lower reaches will be mentioned when we swing around to the South Slope. From here below the pass to the east, we head north to swing around the large basin, and 1.7 miles from the Pass come to a junction where the actual Highline Trail goes down directly in a mile to cross Rock Creek where there's a trail 12 miles long coming up along the creek from the Trailhead, but following the actual Highline Trail you climb out to meet the trail–that we will now follow swinging around the upper reaches of the Drainage.
We first come to the Huntley Ponds, seen above, that have brook trout, and just a little further Brinkley Lake with Mt. Ostler way to the north on the north side of the spine of the Uintas.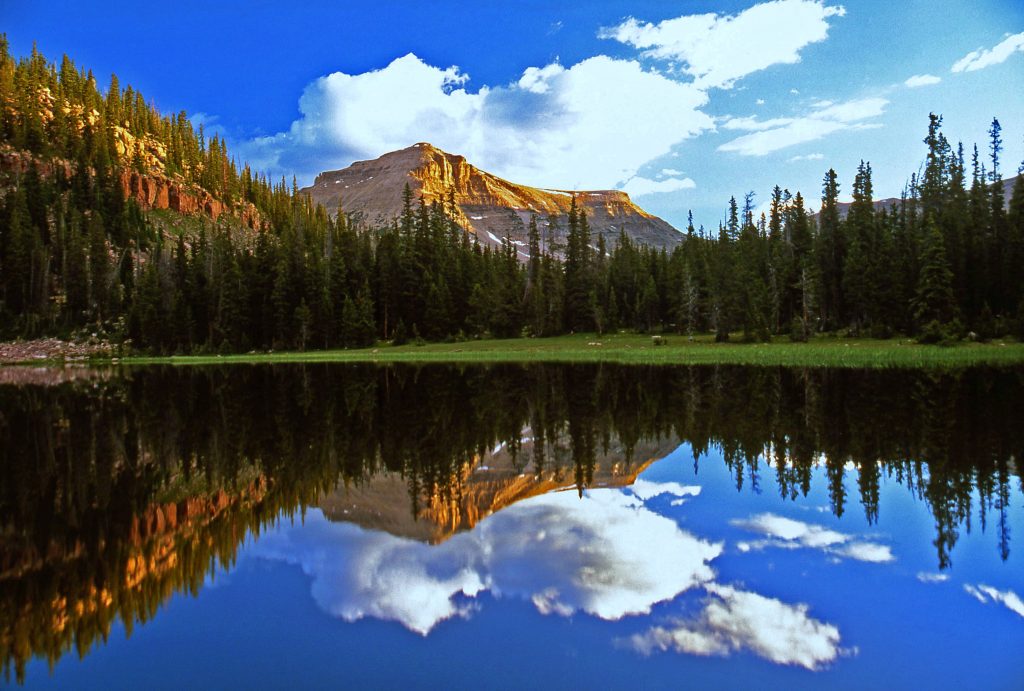 Another mile north we come to another junction, with one trail heading down across the basin passing by Black, Ouray, Jack & Jill Lakes and continues on to join the trail that circles the upper reaches. We will rather take the left fork to visit Rosalie, Uintah, and Margie Lakes, then swing up above timberline passing by Glady's Lake, and then drop down to Lightning, and Helen Lakes. Before dropping down to Lightning is where I left the trail and climbed off-trail up to the Ostler Saddle to get a picture of Amethyst Lake already seen. Below, we are looking at the Ostler Saddle over Lightning Lake.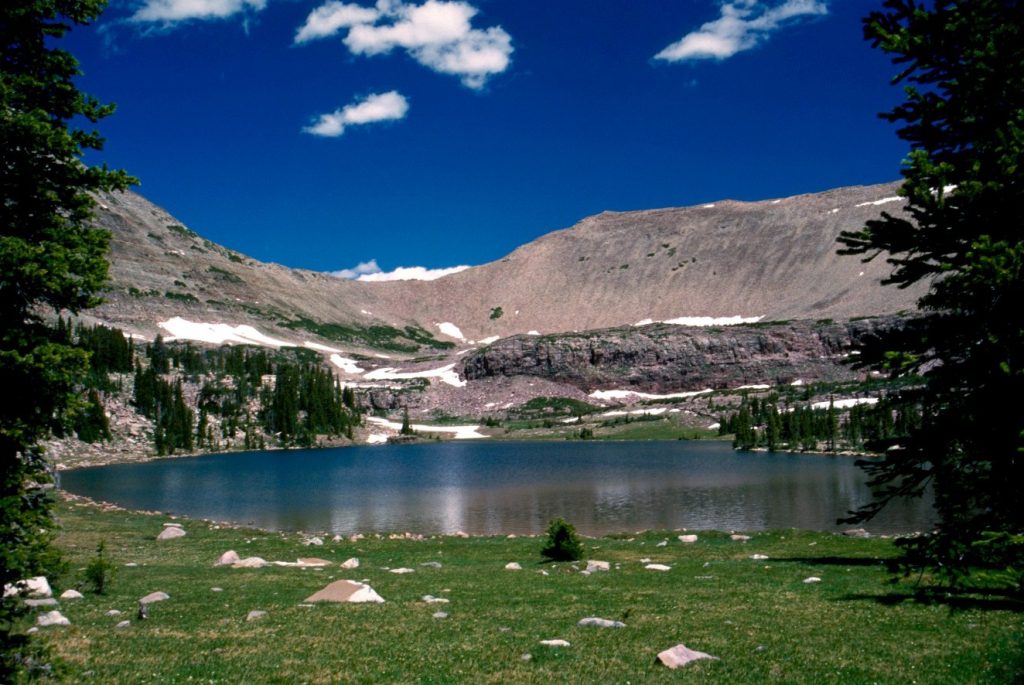 From between Lightning and Helen Lakes we follow the trail down some and bypass a basin to the east–that you can climb up into it and from there climb the saddle to see on the North Slope Priord Lake.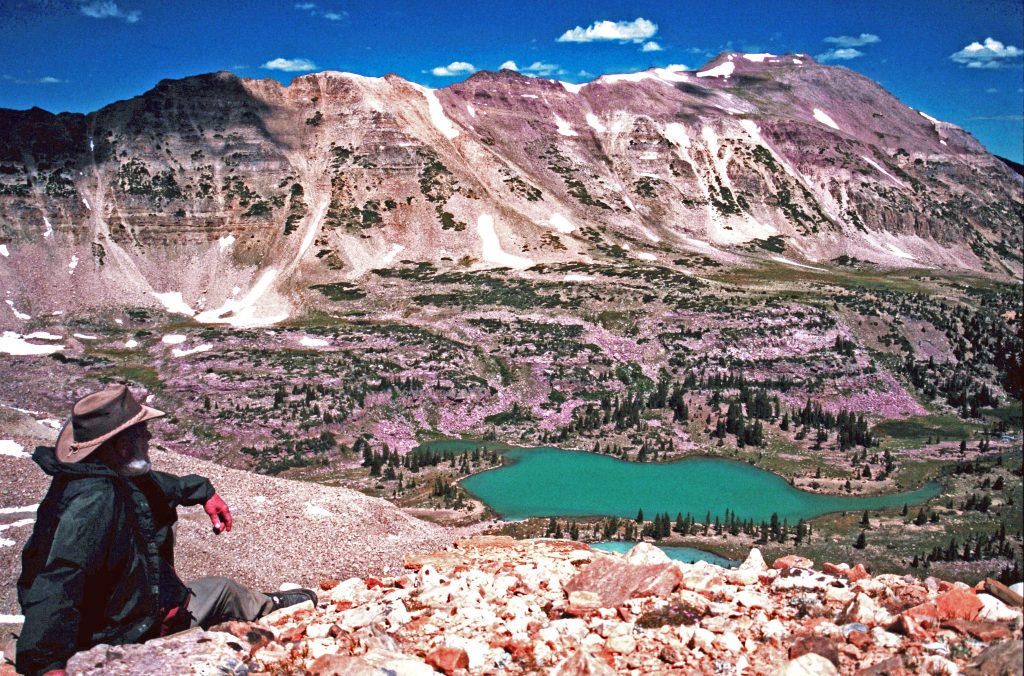 MANY YEARS AGO I MADE A CRUDE PANORAMA–combining three photos- of the Priord/Norice Lakes basin, I'll insert below to give you an idea about how spectacular the scenery is.

FROM THAT little side-trip, WE FOLLOW THE TRAIL JUST PAST THE NEXT POINT OF THE MOUNTAIN and after crossing THE FIRST STREAM COMING DOWN FROM THE BASIN, you can climb northeast on the south side of that mountain point which is basically Triangle Mt., and in about 1 mile of easy climbing come to what some of us have called:
ONE OF THE TWO MOST BEAUTIFUL MOUNTAIN SCENES IN UTAH, TRIANGLE MOUNTAIN and RECONNAISSANCE LAKE.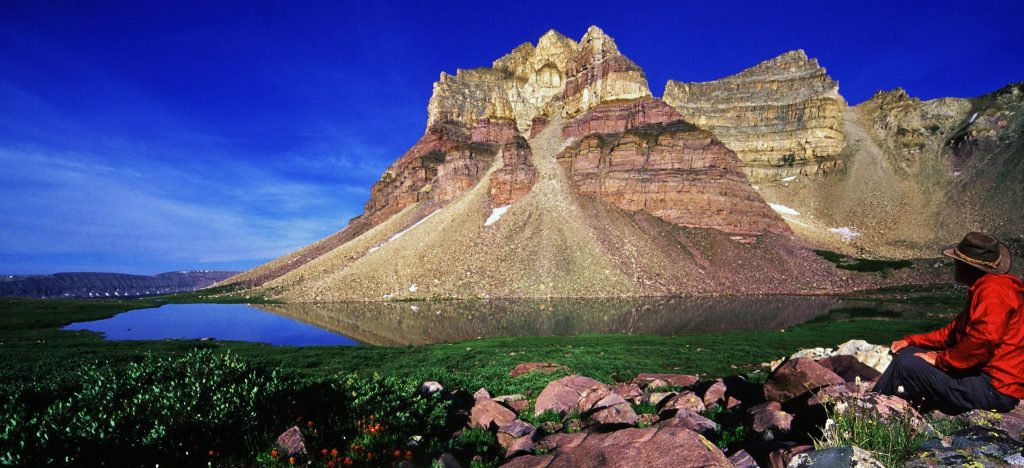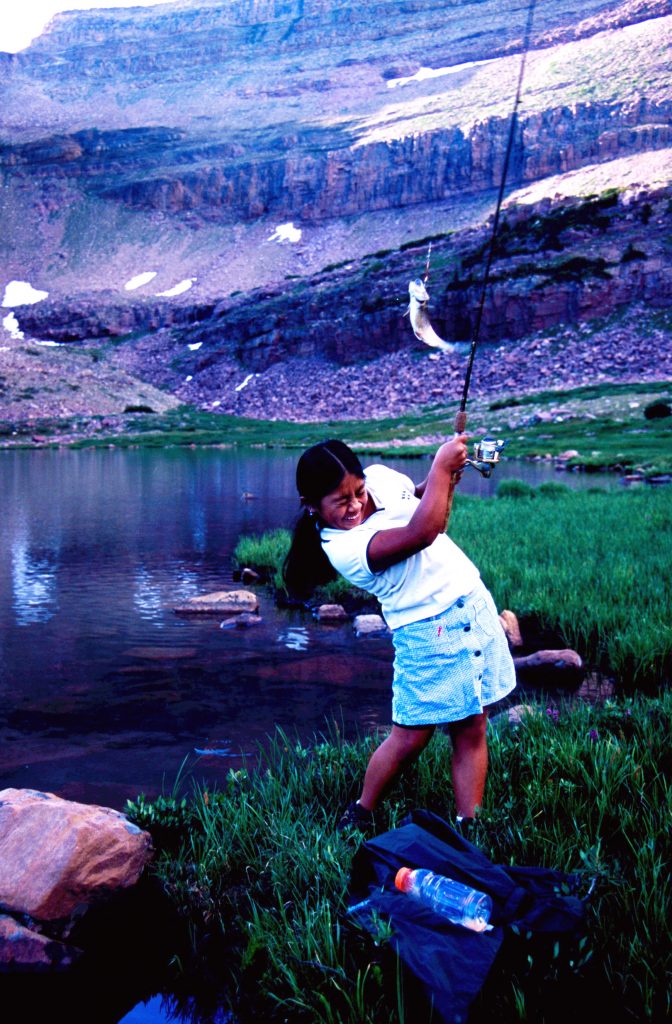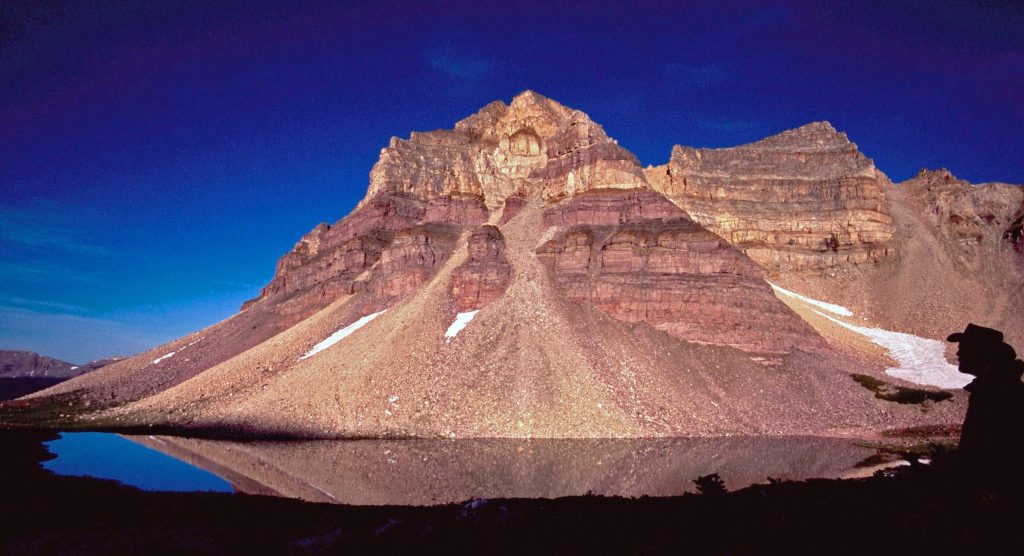 FROM RECONNAISSANCE LAKE YOU CAN WANDER DOWN THROUGH THE BASIN VISITING BENCH LAKE (on the way up), BOOT, DOUG & JODIE LAKES, and then find the trail where one comes from Jack & Jill Lake, and soon the other, the actual HIGLINE TRAIL that has cut across the basin, and on it follow it around the point of the next mountain to LEDGE LAKE, where also is found the junction of a trail coming up 16 miles from the Rock Creek Trailhead. From there follow the Highline Trail about 1 mile north to DEADHORSE PASS, but I recommend along that one mile cut across a short stretch of arctic tundra to visit CONTINENT LAKE, you see me fishing in below.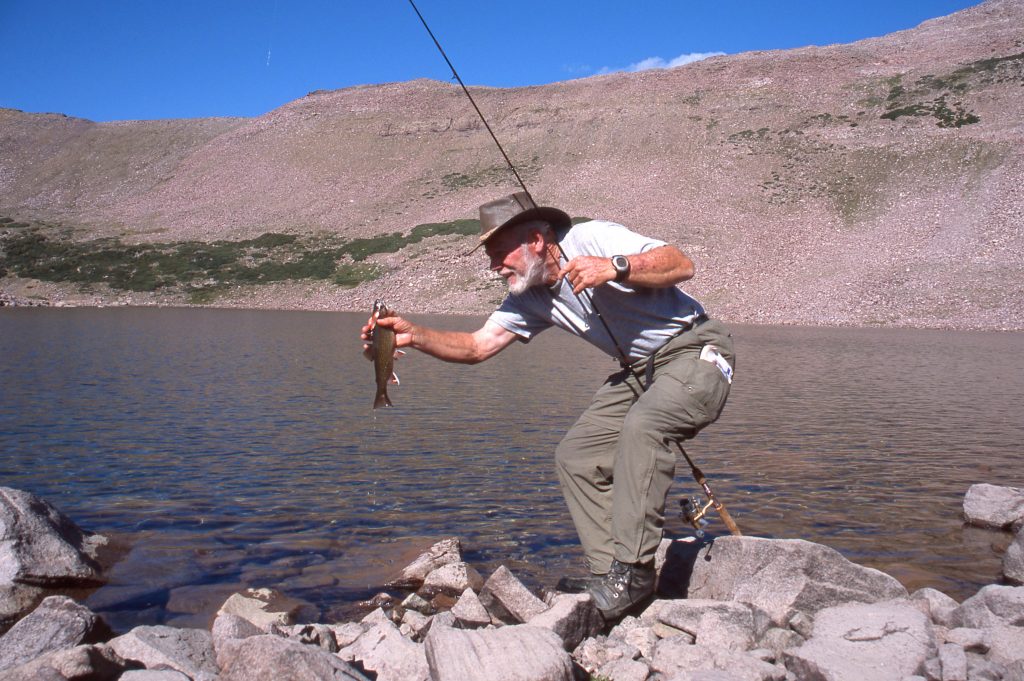 From here it is just a short hike to DEADHORSE PASS.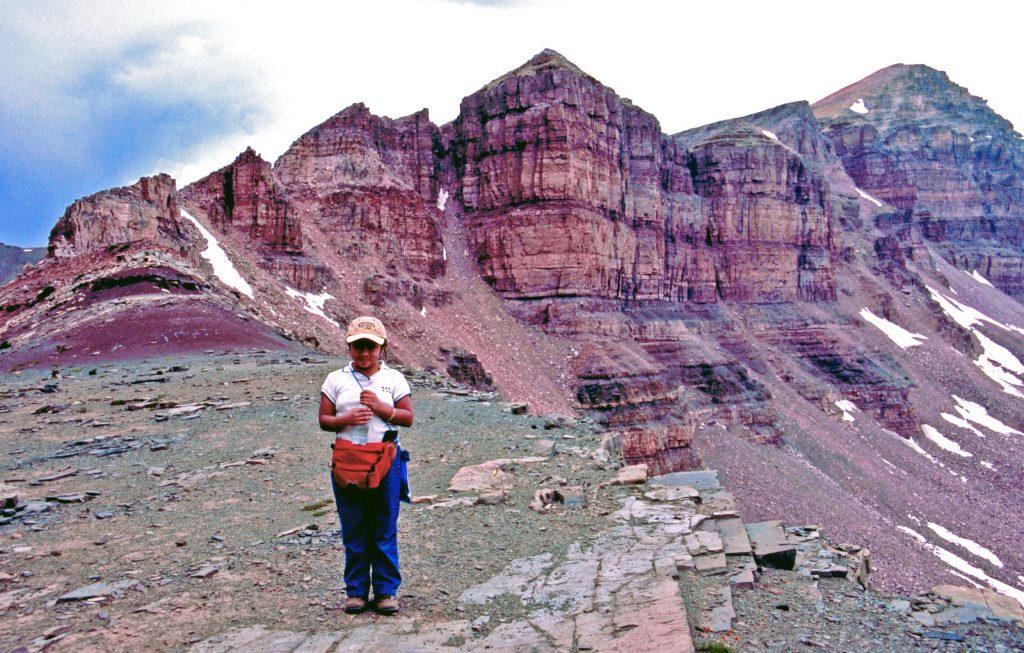 Below is seen DEADHORSE LAKE with it's turquoise colored waters from glacial turbidity common on the North slope in high altitude lakes, along with another view of the Lake as our concluding photo of this post, plus one more….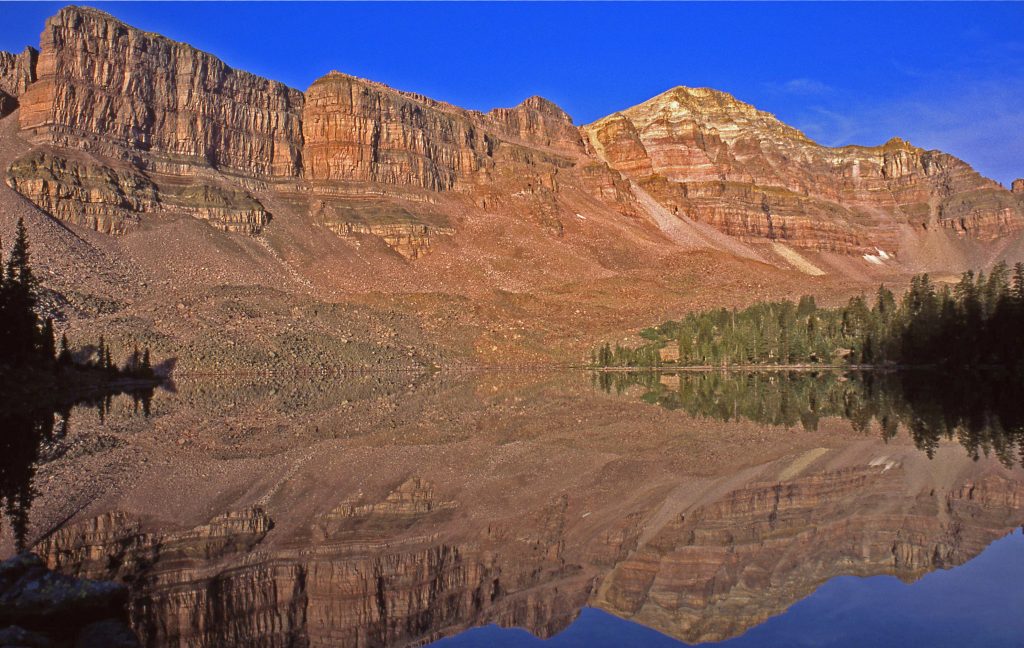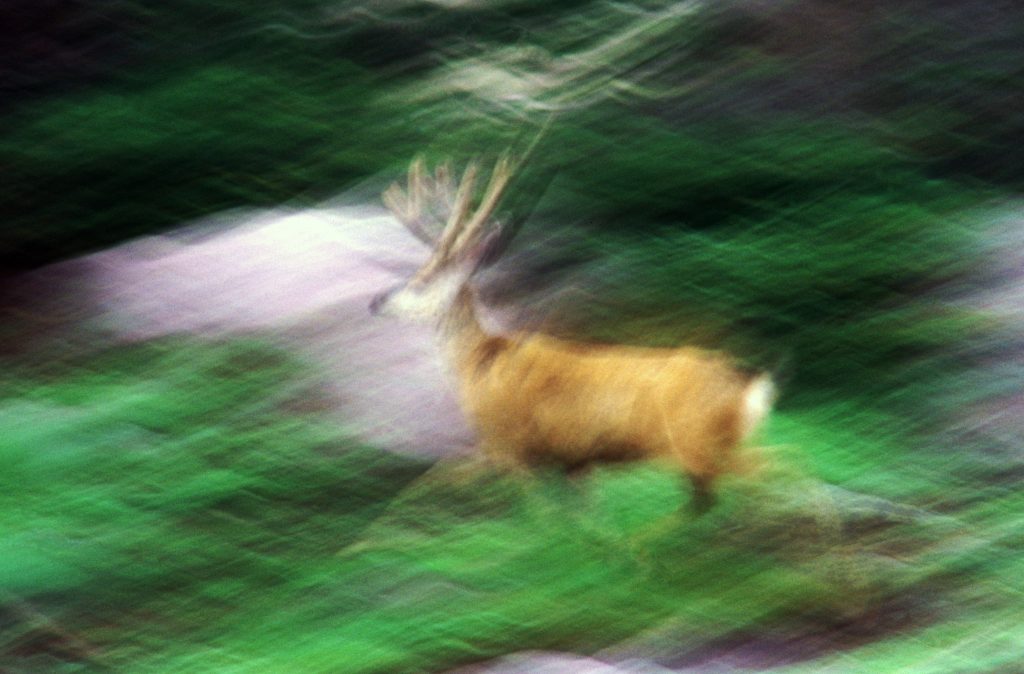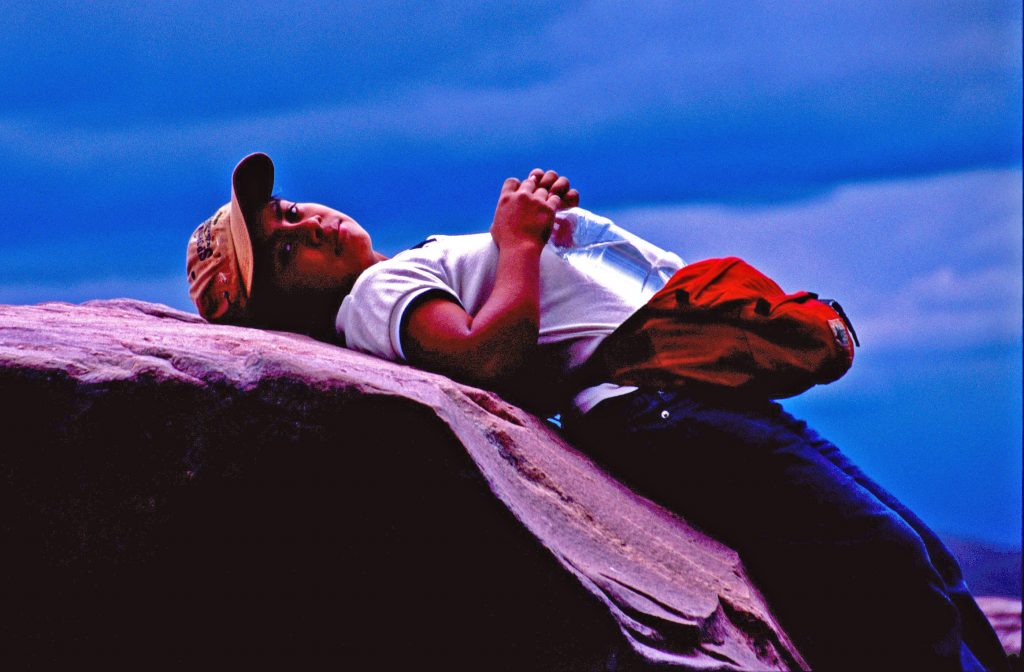 GET THE ONLINE BOOK & PREPARE FOR MUCH MORE ENJOYABLE & SAFE ADVENTURES.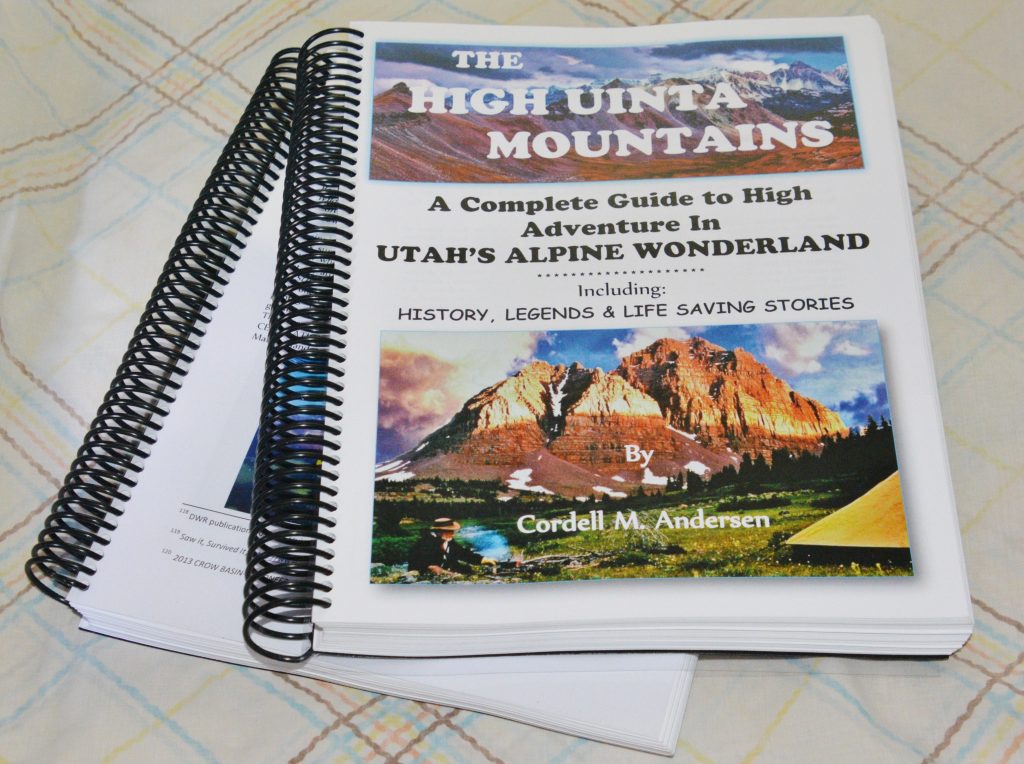 And remember, the 570 page book,
A 50 YEAR "IMPOSSIBLE DREAM" AMONG MY PEOPLE IN THE MOUNTAINS OF THE MAYA,
…….that is now finished "completely" with one more page added with a portrait of each of my TWO FAMILIES.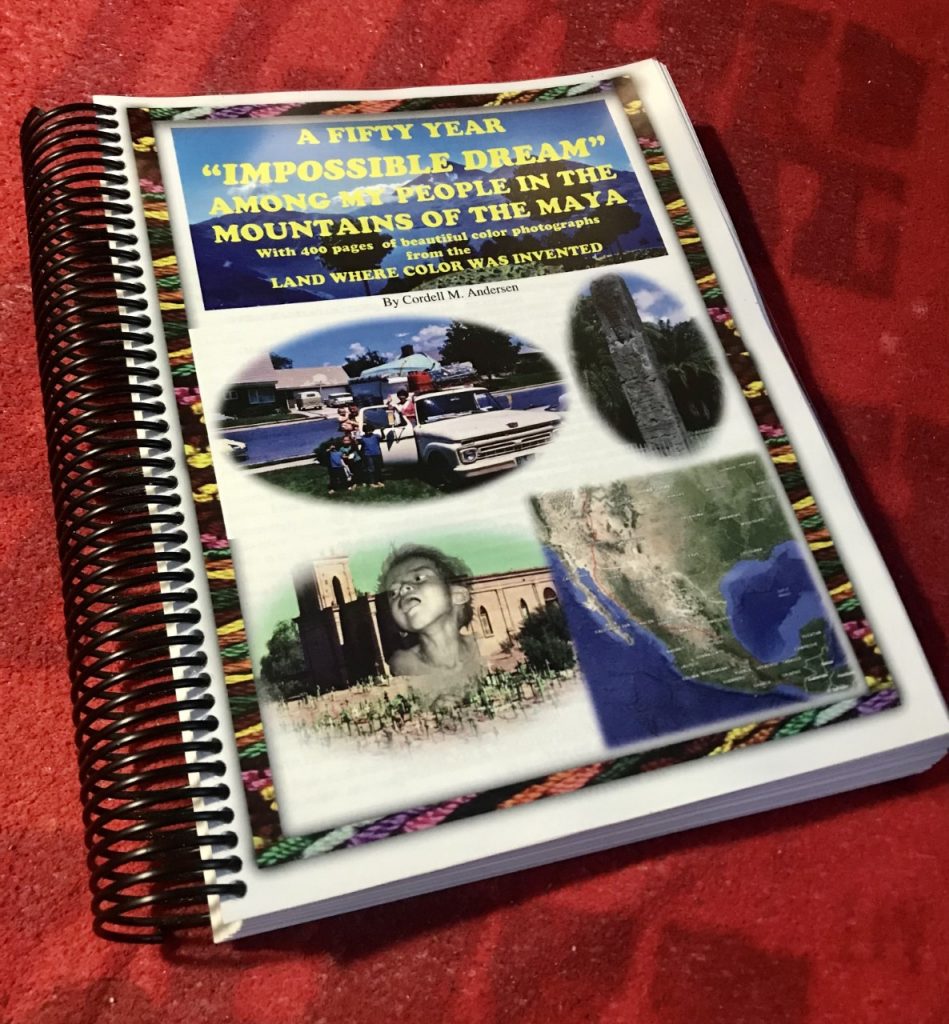 TO SEE A DESCRIPTION OF THE ONLINE BOOK & BE ABLE TO GET IT ON YOUR COMPUTER, go to: https://www.guatemalanfoundation.org/
REMEMBER: Each Wednesday on my Facebook Page–by evening I will have a new post in Spanish with a historical review each week of photographs of that 50 year experience–eventually with THOUSANDS OF PHOTOS, many never seen before — and of course every Saturday a post & report like this one of my
CHALLENGE & the HIGH UINTA MOUNTAINS!
ACUERDENSE QUE CADA MIERCOLES PARA LA NOCHE PONDRE EN MI PAGINA DE FACEBOOK UN NUEVO REPORTAJE HISTORICO DE MIS 50 ANOS ENTRE LOS MAYAS–AL FIN CON MILES DE FOTOS NUNCA VISTAS ANTES….DE CADA UNO DE UDS.!
IN THE MEANTIME HELP IN UKRAINE @: RED CROSS AID TO UKRAINE
***********************************
My email address is: cordellandersen@hotmail.com