THE PRICE OF 2,000+ MILES OF THE HIGH UINTAS WILDERNESS PROJECT & NEVER GIVING IN…..EASILY!
THE BEGINNING IN 2003 AT 67……. to November 2020 at 84–I wore out my back and now unable to walk with a bad back and DEAD RIGHT LEG–the one with the "football ankle" that was reconstructed in 2007 with a tendon transplant & 3 screws, and the "motorcycle knee" rebuilt with titanium in 2008, but still not GIVING IN….EASILY.
I must add that "I'M HAPPILY PAYING THE PRICE" as I'm not sorry in the least for my 16+ years of exploration in my "Golden Years" in the High Uintas–rather INCREDIBLY GRATEFUL, and would do it all over again–but would focus a little more on keeping my loads "lightweight" as much as possible. See CHAPTER 5 in my book as a guide to do that.
SO, in November 2020, my 3rd back surgery as I basically couldn't walk anymore
Then another surgery in December 2020–the 4th on my spine!
A CHRISTMAS PRESENT FOR "LITTLE ANDY!" Walking for the first time in two months!
JANUARY 2021 SETBACKS WITH A COUPLE OF FALLS…
.…and A FRACTURED SPINE!
FROM JANUARY to JUNE 2021 I COULDN'T SIT FOR MORE THAN 1 MINUTE AT MY COMPUTER, THEN HAD TO LAY BACK DOWN TO NOT FEEL PAIN SO MUCH, BUT FINALLY MOSTLY FINISHED MY BOOK, A 50 YEAR "IMPOSSIBLE DREAM" AMONG MY PEOPLE IN THE JUNGLES & MOUNTAINS OF THE MAYA …….
…… only needing a bit more tweaking with some of the greatest adventures of my life!
ON JUNE 28th DR. FABER PERFORMED A "SPINAL RADIO-FREQUENCY ABLATION" TO HOPEFULLY GIVE ME PAIN RELIEF…..and it helped some but only about 20% effective leaving both legs numb, but I could sit up and work, so on July 16th, 2021 I COMPLETED MY MAYA BOOK with the following last addition on https://www.guatemalanfoundation.org/
"I'M GETTING NEGATIVE ALERTS ABOUT MY REPUTATION! THAT'S GOOD NEWS, BECAUSE……..THERE SHOULD BE POSITIVES ONES TOO—FROM THOSE TRULY FAITHFUL, LIKE HAROLD BROWN, WHO ARE SUPPOSED TO READ CAREFULLY THE ENTIRE RECENTLY EDITED BOOK & THEN DO SOMETHING!"
"THAT WILL GIVE ME HOPE MY LIFE WAS NOT IN VAIN!"
NOTE: Said Maya Project is now in the hands of the Lord & my friends–a few of which hopefully will do something about it. I will now "FADE AWAY" maybe into the High Uintas!
SINCE I DON'T GIVE UP….EASILY! NOW TAKING BABY STEPS TO MAKE ANOTHER COMEBACK….like done in the past. Do you remember? "FAKING…NOT BEING A CRIPPLE!"
Below is a link to a great review of the HIGH UINTA PROJECT:
#16 COMEBACK Part 5: Challenges….for 10 years!
BABY STEPS….
TWO MILES A DAY AT THE FRESH MARKET PARKING LOT USING SHOPPING CART AS WALKER — WITH A DEAD RIGHT LEG…..HOPING TO FORCE MY LEGS TO COME ALIVE & FUNCTION AGAIN!
Starting July 7th–NOW WORKING ON LEARNING TO WALK ALL OVER AGAIN WITHOUT A WALKING CANE….
…..at the parks on grass to cushion a fall if it happens…..
…….and learning to fall like a baby does without breaking anything.
Now learning to get back onto my feet with only strength in my left leg.
Then standing up without help of a cane or walking stick.
Next, like a baby, carefully taking steps and learning balance, always remembering my right leg is mostly dead and so step with it stiff or it will collapse and I'll go down like a rock! I have now stopped using the walking cane, and learning to do it on my own and walking so far 200 yards/daily, and increasing some every day, in addition to the 2 miles a day with a shopping cart, etc.……
Then on July 13 had a wonderful visit from PAUL, one of my 400 customers, whose names I memorized. from Reams Supermarket in Springville from 2009 to 2012 as a "shopping cart herder," & "restroom scientist," and after a several hour visit he gave me a gift to help in my COMEBACK…..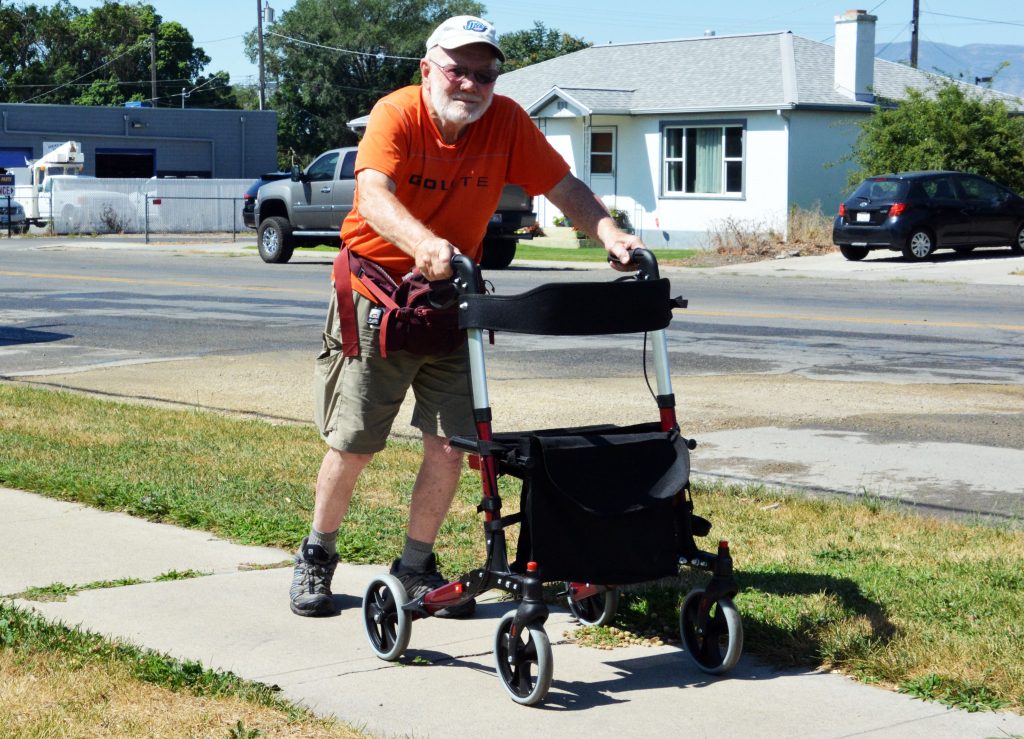 On July 14th no going to the Supermarket for a shopping cart, but I did 1 mile with this wonderful gift. Yesterday, July 15th I did 2 miles from my mobile trailer–home, all at one time, and today did a photo shoot showing how I can also use it to sit for rest stops and a bit of refreshment.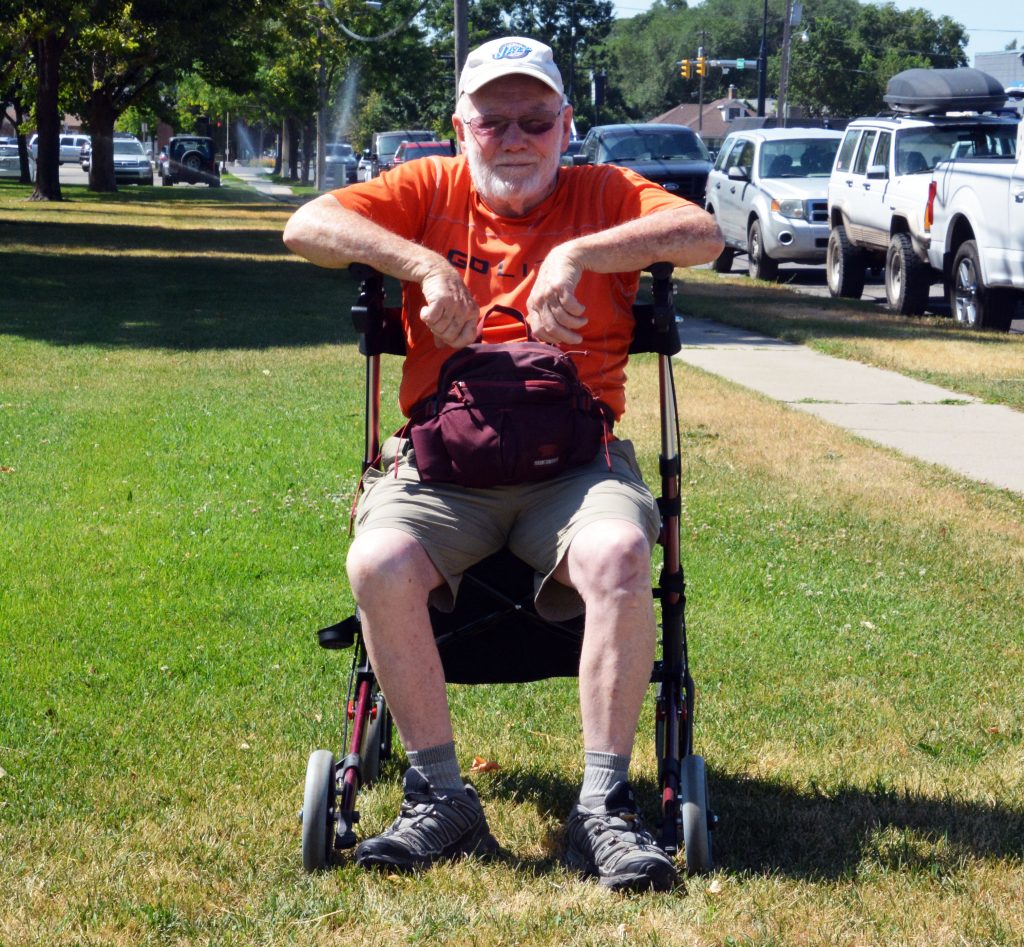 NOTE: I will still daily be doing gradually increasing distances on grass with no walking aids–with my BABY STEPS!
WOW! THANKS, PAUL, for the wonderful gift that will help me in my COMEBACK!
…..IT'S NOT POSSIBLE TO HAVE WEIGHT ON MY BACK, BUT AROUND MY WAIST & I WILL EVENTUALLY BE ABLE TO HIKE SOME….WHICH I WILL CALL MY
2021 COMEBACK IN MY 86th YEAR!
This is not new for me….rather a great tradition of
NOT GIVING IN …… EASILY!
In the MENU on the home page you can click on Videos and scroll down to find a whole bunch of my COMEBACK VIDEOS–the one mentioned previously a good review of most of the Project.
GET MY BOOK TO SEE THE WHOLE STORY & INCREASE YOUR ENJOYMENT OF THE WONDERS OF THE HIGH UINTAS….and do it SAFELY!
NOTE: A printed book is now very expensive up from what 50 of you paid $140 for, and up from the $170 quoted recently. I will now have to charge $200 or more if I want a small profit. Best to get the…..
If you then want a printed book you can put it on a thumb drive and find a printer of your choice.
************