THE SCOUT-LOFTY-KAMAS LAKES LOOP from the Pass Lake Trailhead will be done as an experiment to see how I adjust to high altitude and see if my back pains will permit me to continue backpacking or not, I have been given a shot in my spine, but which hasn't taken effect yer, but I hope it will by the time I get to the trailhead later today (Thursday) It will be done between Thursday, July 18th to Sunday, July 21. In my book, you can see the details of this backpack on pages 449-451. The Preface to this section is about the SHOOTOUT AT SCOUT LAKE in search of the Lost Rhoades Mine.
My SPOT TRACKER has been activated — CLICK the following link to see where I am daily SCOUT-LOFTY LAKES LOOP.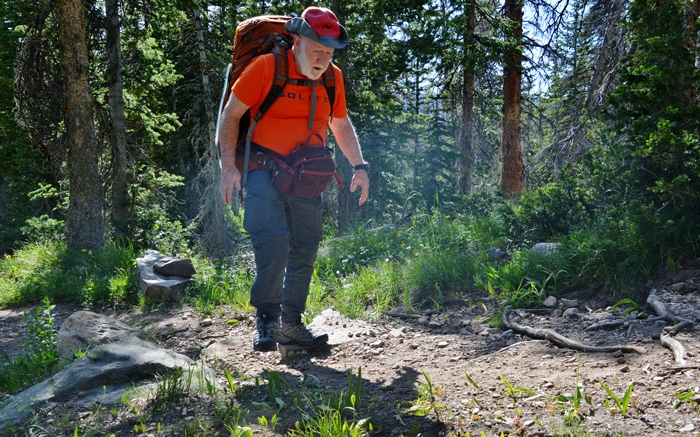 There were 4 tracks with the SPOT TRACKER, but the 2nd one didn't work–as I turned it off after the 1st of 3 shots taken at the satellite rather than leave it on for the full 20 minutes–so FOR ONE DAY THERE WAS NO CONTACT FROM ME……the lesson is to make sure and leave the Spot Tracker with OK message, ON FOR THE FULL 20 MINUTES TO MAKE SURE ONE SHOT GETS TO THE SATELLITE. The last was just made back safely at my Cabin in American Fork, Utah.
I'LL CREATE A NEW POST WITH A REPORT BY Thursday afternoon, July 25th.
******************************
THE eBOOK IS A STEAL AT $19.95 WITH 1,600 COLOR PHOTOGRAPHS, 106 TOPOGRAPHICAL MAPS TO EVERY KNOOK & CRANNY, and 14 MAPS to guide you on the 856 mile AUTO-LOOP TOUR, or any of the many portions thereof–showing the UINTAS EQUAL TO OR BETTER THAN SOME NATIONAL PARKS!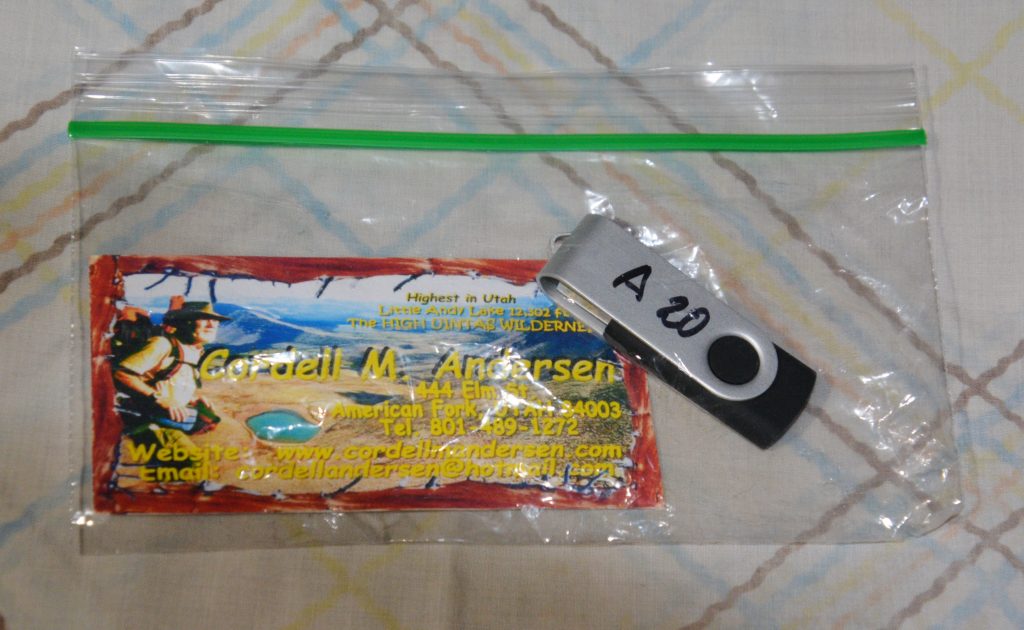 THUMB DRIVES WITH THE BOOK — available for $25 —
shipping, handling & sales tax included—THEY MAKE GREAT GIFTS!
Send a check to Cordell Andersen at 444 Elm St., American Fork, Utah 84003
THUMB DRIVES for $20 if you come by my place to pick one up, but email me when you're coming, so I'll be there. I'm not at the house, rather in the funky little white travel trailer parked to the west of the house.

Click for podcast: KSL OUTDOORS RADIO July 6: Russ Smith at the 5:00 minute point tells a funny story about Charlie Jennings in which I was involved, he then plugs the eBook telling an interesting experience with a woman from Texas, purchaser of my book that led her to him for a satellite phone for her dream trip to Red Castle. I then call in towards the end of the segment to participate in the conversation.
Scroll down to access the HIGH UINTAS NEWSLETTER of your choice
A YouTube video on THE GRANDADDIES
********************************
UPDATE ON THE HIGH UINTA MOUNTAINS for JULY 10, 2019
Below is seen Bald Mountain & Pass on Monday, July 8th –only one car in the Trailhead parking lot–scroll down to compare to June 24th–2 weeks ago.
The Crystal Lake Trailhead parking lot was filled up with cars. There were no cars in the Mirror Lake Trailhead parking lot.
At the HIGHLINE TRAILHEAD–parking lot, now with no snow compared to two weeks ago–there were quite a few cars, but far from being filled up. Below is the crude register showing the last hikers to sign in for 2018, and the first from 2019, on June 29th–the first only on that day, the second intending to go to "Deadhorse Pass" which would have been impossible at that time with all the snow on the trail and on Rocky Sea Pass.
ONE OF THESE DAYS I'M GOING TO TAKE INITIATIVE TO SUPPLY THIS–THE GREATEST OF TRAILHEADS IN THE UINTAS–WITH A PROPER REGISTER AS OTHER TRAILHEADS HAVE.
EXPLORING THE SPRING CANYON/TRIAL LAKE ROAD intending to get to each of the lakes and report. I had discovered this road during my research for writing my book and made a quick, late Fall, trip which pictures are in the book, along with maps of the area.
I came to the first junction, with a "jeep road" leaving the main road to take me 2.5 miles–near Lambert Lake (A-2), but within .6 of a mile the road became just too rough for my old Ford Explorer, so I turned around and returned to the main road. In my book I showed a picture of one of the secondary roads, called "jeep trails," like the one below.
I continued up the main road, and tried two more "Jeep trails," and eventually turned around each time and returned to the main road. I knew how to drive on these roads and keep from hitting my oil pan, but it was very hard on my 19-year-old Ford which I couldn't afford to ruin–as I have envisioned it would have to be my last car–which makes me sound kind of old–which I proudly admit to since I'm still exploring and backpacking in my 84th year!
I had to likewise, in my tie hacker explorations, park the car and hoof it when my road degenerated into what I have called the worst road of my experience, seen below.
I did see coming in on one of those bad "jeep trails" a couple of ATV's, each loaded with camping and fishing gear, which also of course would be possible in a tough jeep, or one of those big, brawny pickups many have today. So, there are ways to get to all the lakes in the Spring Canyon area, but I finally cried "UNCLE!" — deciding to rather save my old Ford Explorer and leave it up to the younger generation. I more comfortably decided to check out the areas up the Scenic Byway, already reported on, and in coming back down the Byway, decided to explore another area not checked out before:
THE SOAPSTONE BASIN.
Previously I had ignored the area as there are no lakes or streams involved, but did know that said road, 14 miles from Kamas heads south to climb Soapstone Pass, and then drop down to the Wolf Creek Pass highway, U-35. It ended up being a great drive through beautifully forested areas, with green meadows and tons of wildflowers–with quite a few campers enjoying the cool weather and beautiful mountains. I'll insert a picture or two for your interest.
The first mile of the road is paved. 1/2 mile along it is an RV Dump Station, then a YMCA Camp, and a Forest Service Guard Station, the road by that time turning into dirt/gravel, but passable for any vehicle.
The red highway you see below in the upper portion is the Mirror Lake Scenic Byway, U-150.
The red highway in the bottom portion is the Wolf Creek Pass highway, U-35. Lots of beautiful forests and meadows, and likely very good deer/elk hunting country.
The Pass is 3.5 miles from U-150, then 2 miles down to U-35, a total of only 5.5 miles
HIGH UINTAS NEWSLETTER – beginning 04/19/19
HOPE TO SEE YOU ON THE TRAIL OR ON AN ADVENTUROUS BACKWAY SOON