**************************
WOLF CREEK PASS – OPEN for several weeks… with NO SNOW 5/27.
NOTE: The elevation of Wolf Creek Pass is about the same as the Grandview Trailhead. Hades Pass is about the same elevation as Bald Mountain Pass, so those comparisons will give you some idea about when for backpacking.
BALD MOUNTAIN PASS–Mirror Lake Byway..OPEN– NO SNOW – 6/4
Next week–as seen below with my two front waist-packs, in the rear my lumbar waist pack, & tiny 5 lb. backpack–I will do my FIRST OVERNIGHT BACKPACK to Fehr Lake & likely one other. Then before the mosquitos hatch…….
……..I will MAKE IT TO THE
GRANDADDIES!
Taking me 70 years to come FULL CIRCLE, the first backpack in 1952 and maybe(??) the last in 2022.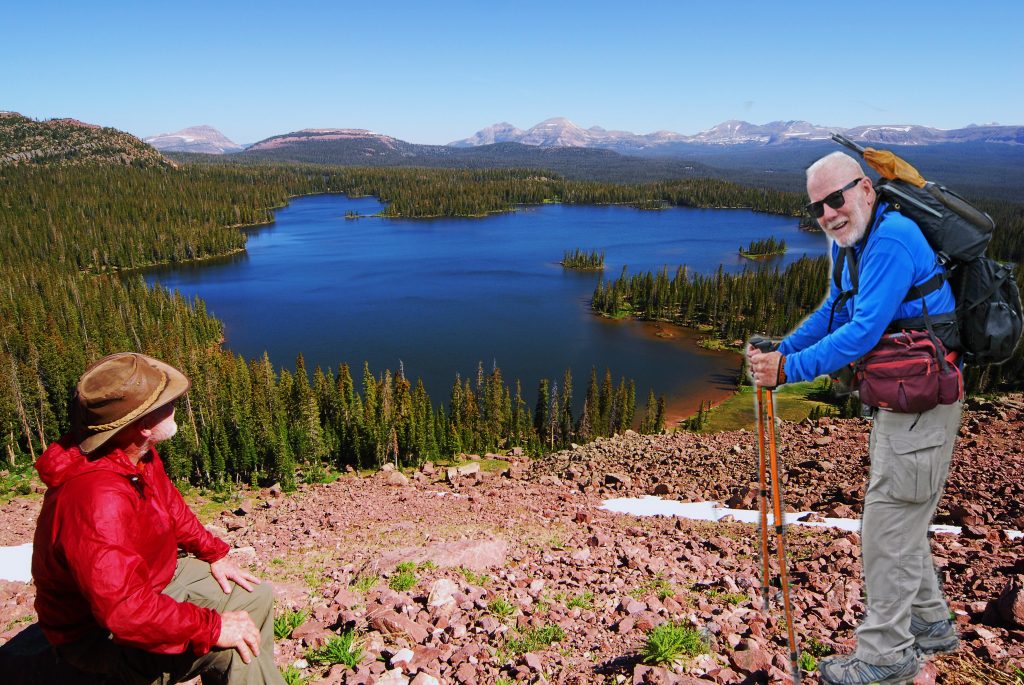 *********************************
The May 22, 2022 report:
THE SEGO LILY The Utah State Flower
On Saturday, May 21st, on a hike up quite high on the foothills north of Grove Canyon, I found my first SEGO LILY of this season. Before I got back to the parking lot, going cross-country I found at least a half dozen more of them.
During the First World War the flower became a symbol of peace. Karl E. Fordham's poem "Sego Lily" portrayed the plant as an image of home, mercy, freedom, and peace for the men and women of Utah who were serving on the battlefields of Europe. The blooming stage is very short, at most two weeks. The bulb is sweet and nutritious and is the size of a walnut. It can be eaten raw or cooked as an emergency food. It tastes like a potato when boiled.
The Mormon pioneers made much use of this plant as a source of food. It is illegal to pick any wildflowers on Public Lands.
Next up – A WARNING!
As the weather warms in the Spring, snakes come out of their dens–THE ONE TO WORRY ABOUT IN UTAH OF COURSE IS THE RATTLESNAKE. To introduce you to the danger we all face now along the Wasatch Front foothills, I'll tell you a story below the picture.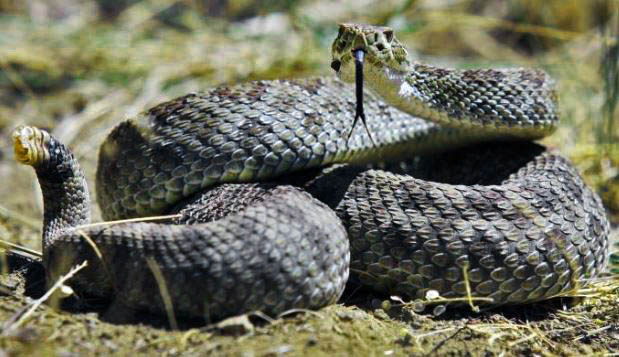 Back quite a few years ago, before my life among the Maya, when living in Provo, one Spring in the middle of May I decided to climb LITTLE SQUAW PEAK….just down the ridge north of Squaw Peak and Rock Canyon. As I approached the summit going between two large rocks I noted movement nearby–it was a rattlesnake that didn't rattle as it was in the stage of shedding its skin to allow for more growth, and eliminate parasites. It actually struck at me, but missed. When sloughing off the old skin they are usually blind, and can't rattle, but are aware of any danger, and will strike blindly. So NOW IS THE TIME TO BE CAREFUL.
In another few steps there was another from the other side, and when arriving at the summit there were several more–SO I CAN'T REALLY BRAG ABOUT HAVING CLIMBED LITTLE SQUAW PEAK! On my way down I was more alert and several times safely encountered more rattlesnakes. I had never before, nor since, encountered so many rattlesnakes in such a concentrated area, and the last time I found one in the foothills was when climbing to the Y, and it was a small one I captured as it was way back when it wasn't illegal to kill or have a live rattlesnake–AS IT IS NOW!
Best mention if you find one in the wild, just leave it alone. During my 18th & 19th years when working at Dugway Proving Grounds as a hunter and trapper for the University of Utah, I captured several rattlesnakes and had them in my office in cages and they were very effective to scare off any visitors I didn't want to see! The second they stepped into my office, they would hear the rattle and FREEZE!
There are about 7,000 people annually bitten by rattlesnakes in the U.S., most of whom get medical care quickly, with only about a dozen deaths yearly, one of whom could be you–so best not play the odds, and be very careful.
NOW INTO THE HILLS AGAIN–which I have to do every other day to help control my blood pressure, and keep getting a little stronger each time, as well as trying to get my BALANCE BACK, as I hope to actually be doing some BACKPACKING IN THE HIGH UINTAS SOON! A week from now I'll show you my new LUMBAR WAIST PACK, and you've already seen last year my small 4.5 lb. backpack, all the rest being around my waist as you've been seeing in these reports.
My QUARTERLY VISIT WITH MY SPINE SURGEON, was this past week, and he continually seems amazed at what I'm doing, but INSISTS I USE MY TREKKING POLES ALL THE TIME! Of course, I KNOW BEST, so when it is 100% SAFE I PERSIST IN NOT BECOMING 100% DEPENDANT ON THEM. Follows a few pictures of the…….
WONDERFUL WORLD….
……even in the almost totally desert-like foothills of the Wasatch where I am blessed with high testosterone (I take daily Andro 400 Max for helping me have a good mood & recognize beauty in everything) and capable of recognizing…….
BEAUTY EVERYWHERE & FEEL GRATEFUL TO BE ALIVE!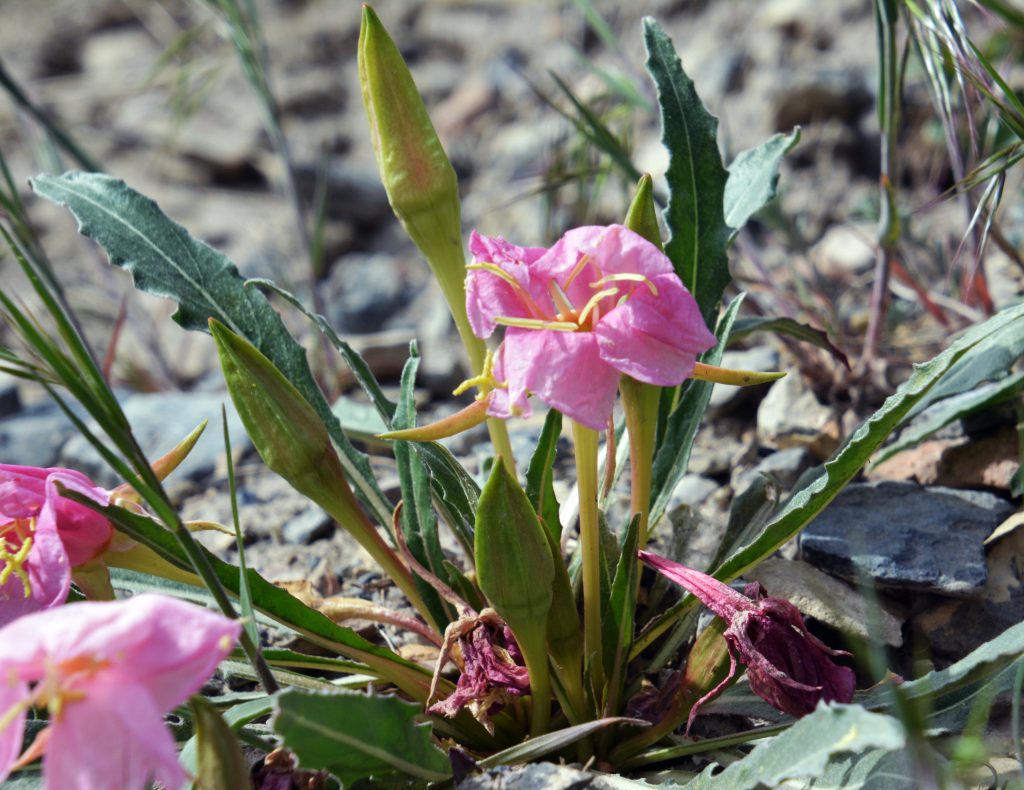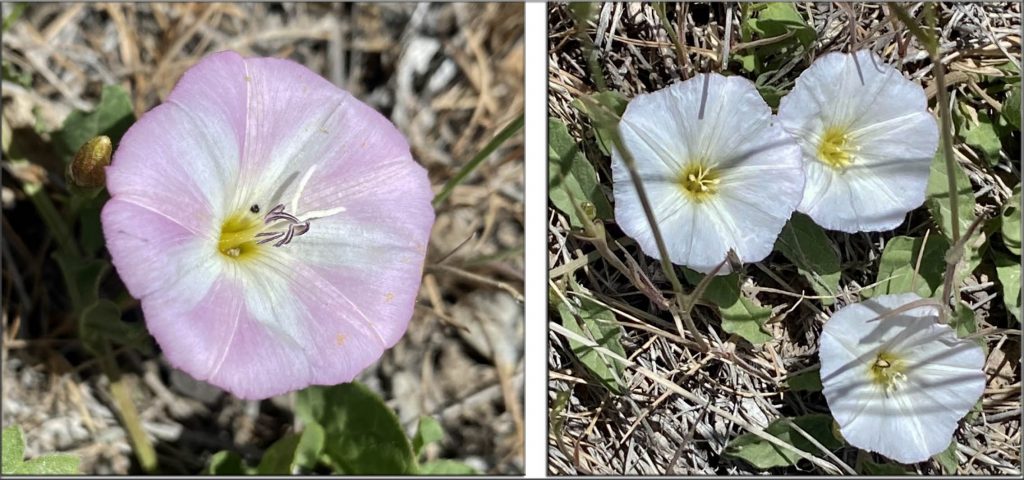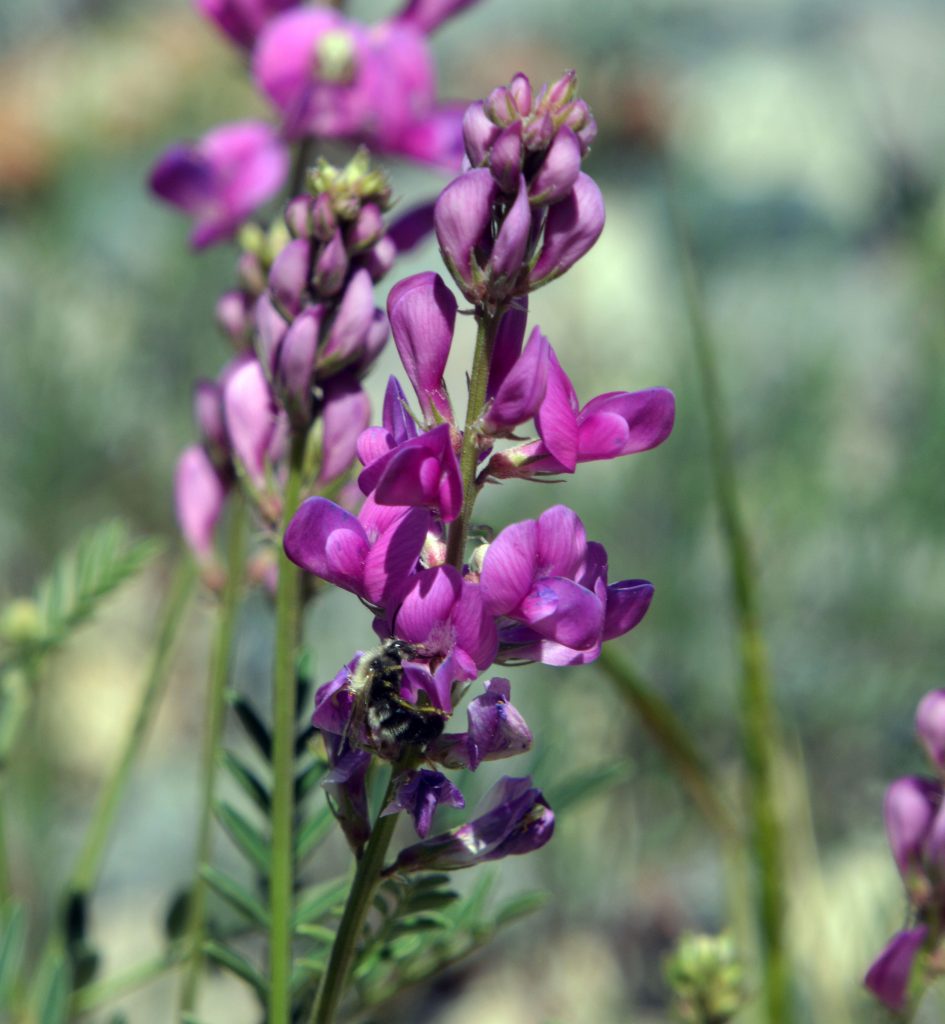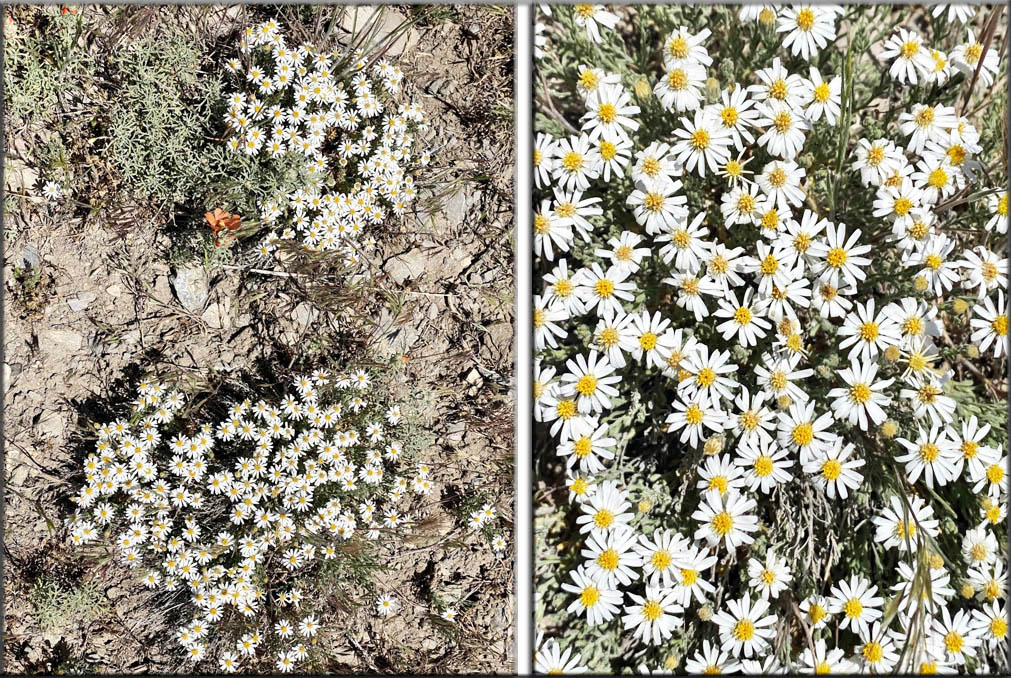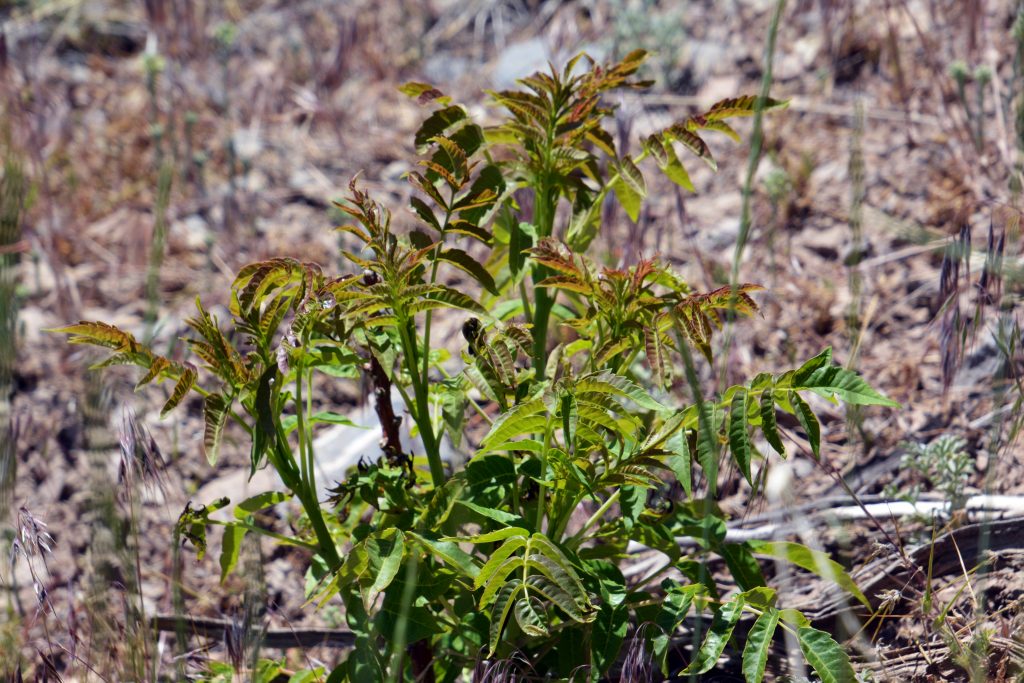 Do you remember this one….that I used as a project for a LANDSCAPING CLASS AT BYU BACK IN THE 50ies?
If not, scroll down to the last post. The beauty of this bush will WOW you later when it matures!

I've mentioned previously the first white men to visit Utah Valley, they being Fathers Escalante and Dominguez in 1776 who in a letter to the King of Spain described the valley as,
" THE VALLEY OF OUR LADY OF MERCY OF TIMPANOGOS IS THE MOST PLEASING, BEAUTIFUL, AND FERTILE SITE IN ALL OF NEW SPAIN!"
As also mentioned before, they had a good relationship with the Timpanogos-Ute Indians and promised to return and establish here a Mission. If they had of done so, the history of Utah would be very much different than the way it worked out with the Mormons.
It was up here at the highest point of my hike, where I took the panorama of Utah Valley, that…
….. I found the first SEGO LILY.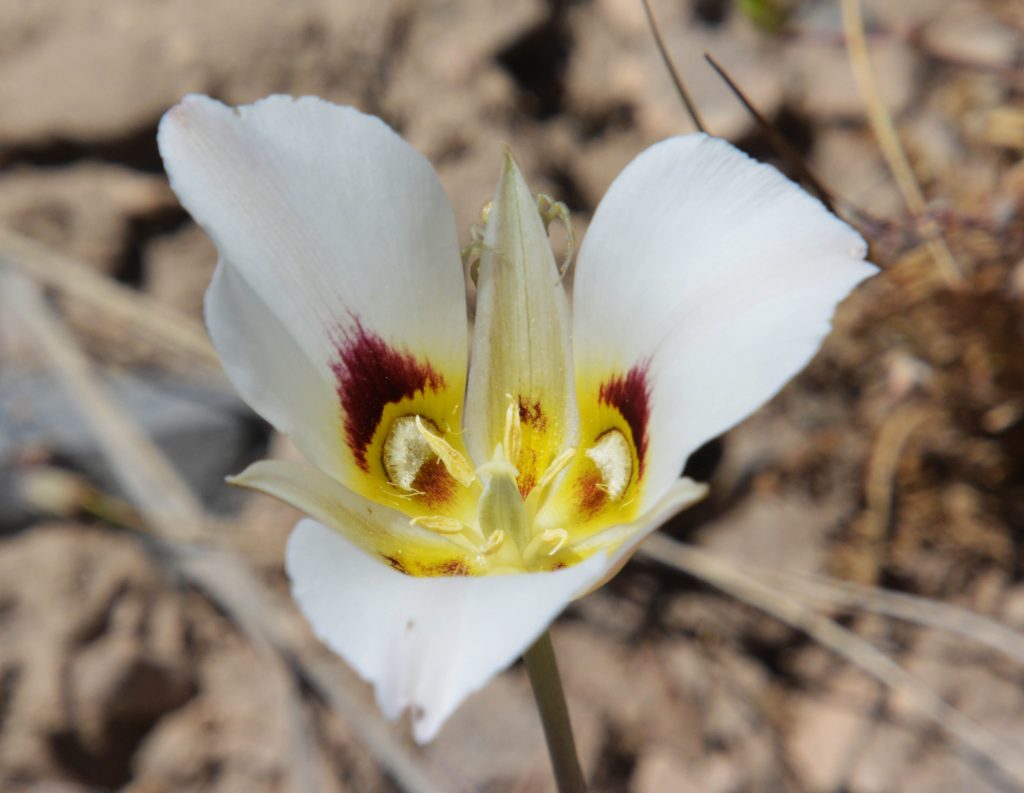 Then on my way down cross-country, I was happy to find this UNIQUE WILDFLOWER we will see much more of soon.

This plant is just getting started. The middle shot shows the flower developing on the right of the plant. The 3rd picture shows the beginning of the blossoming process–THAT WILL ALSO WOW YOU!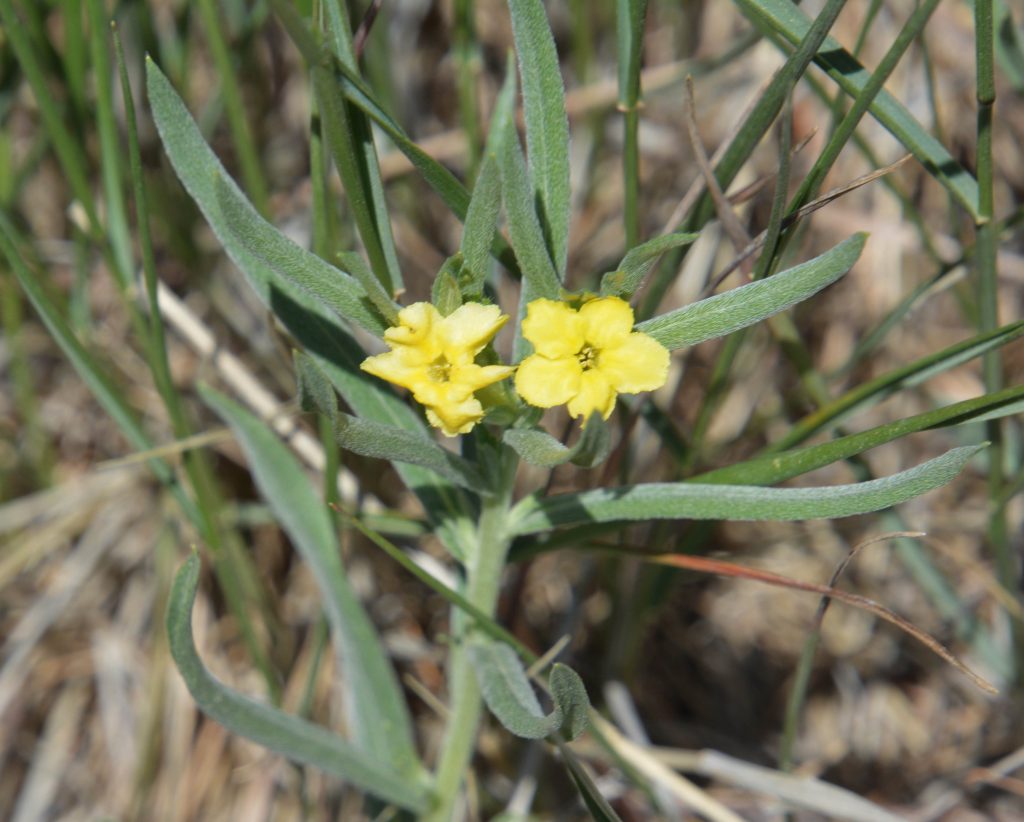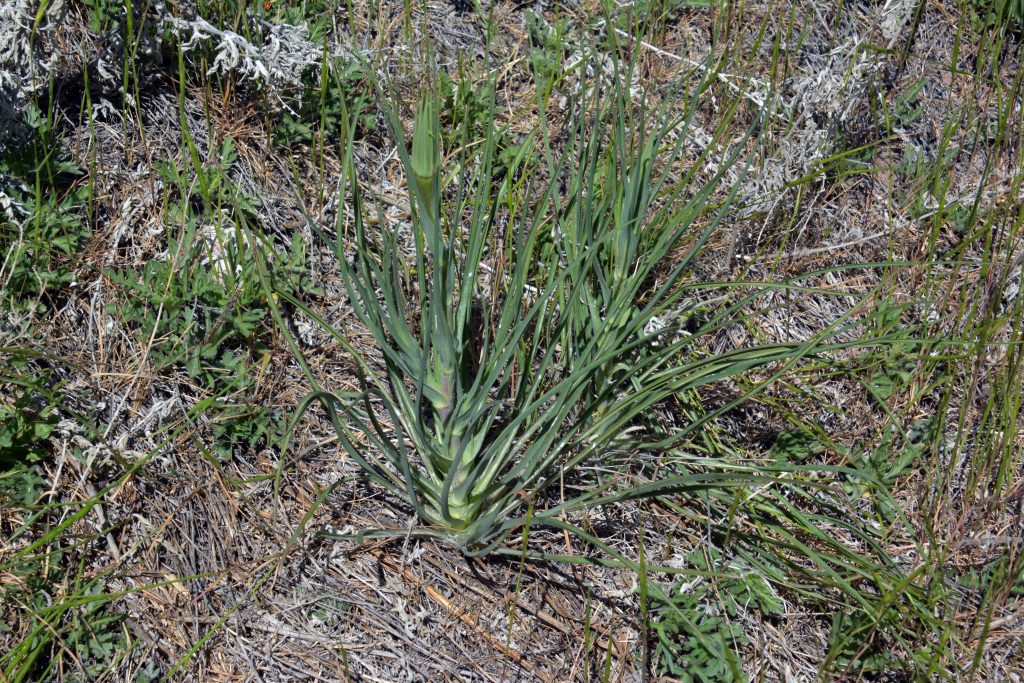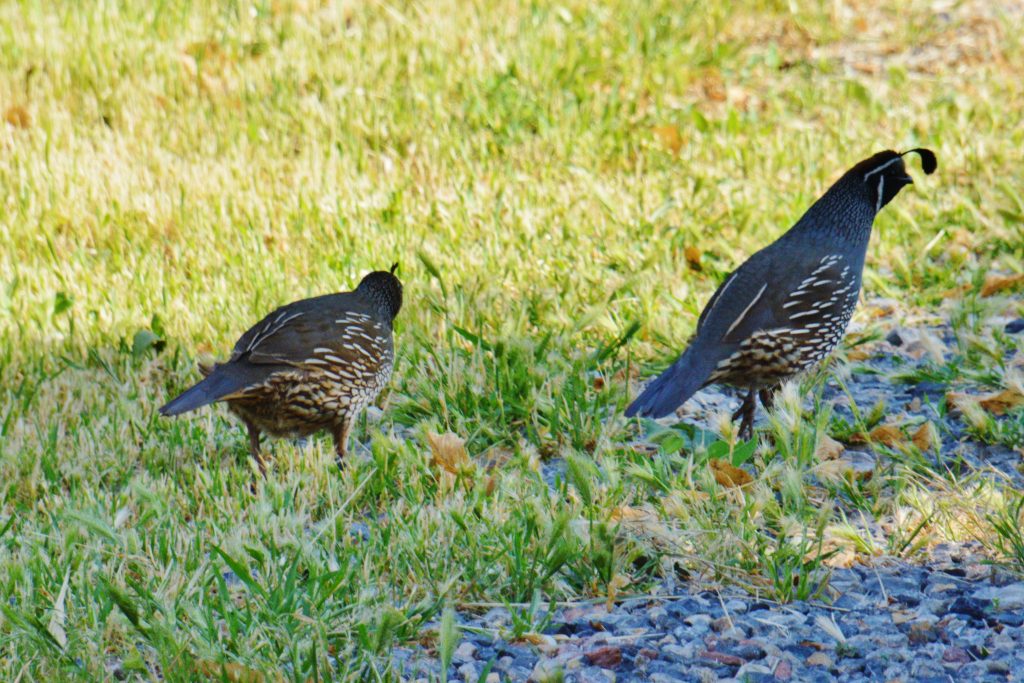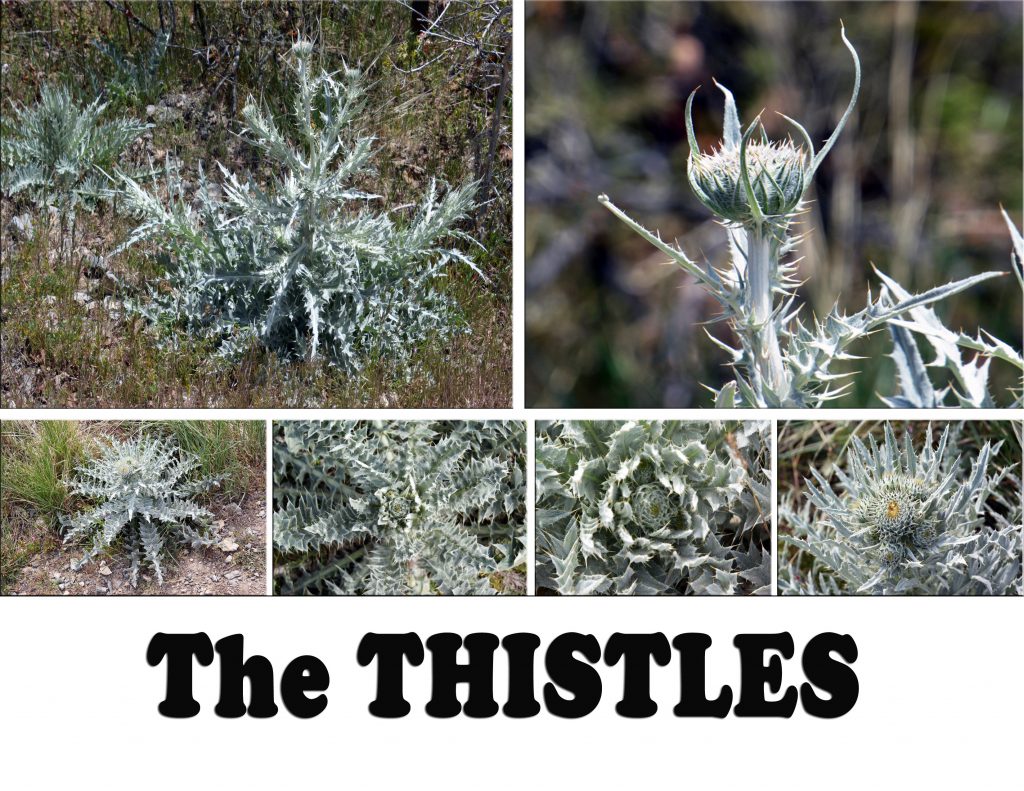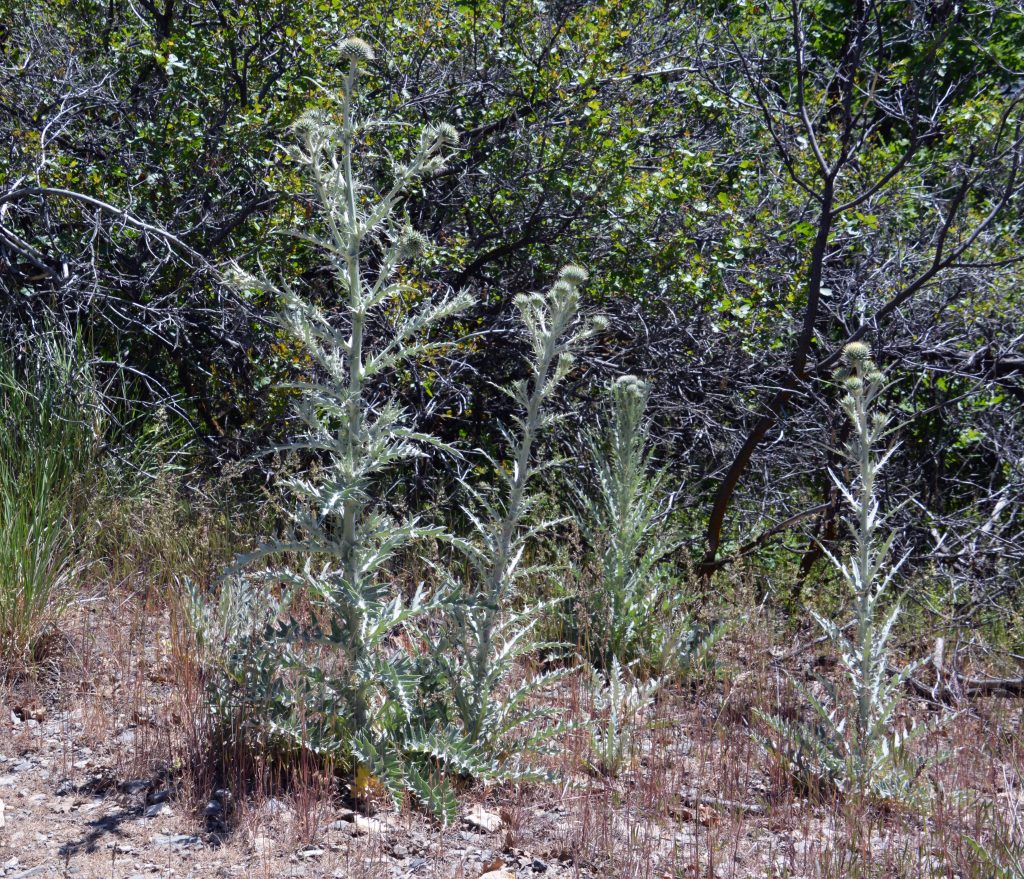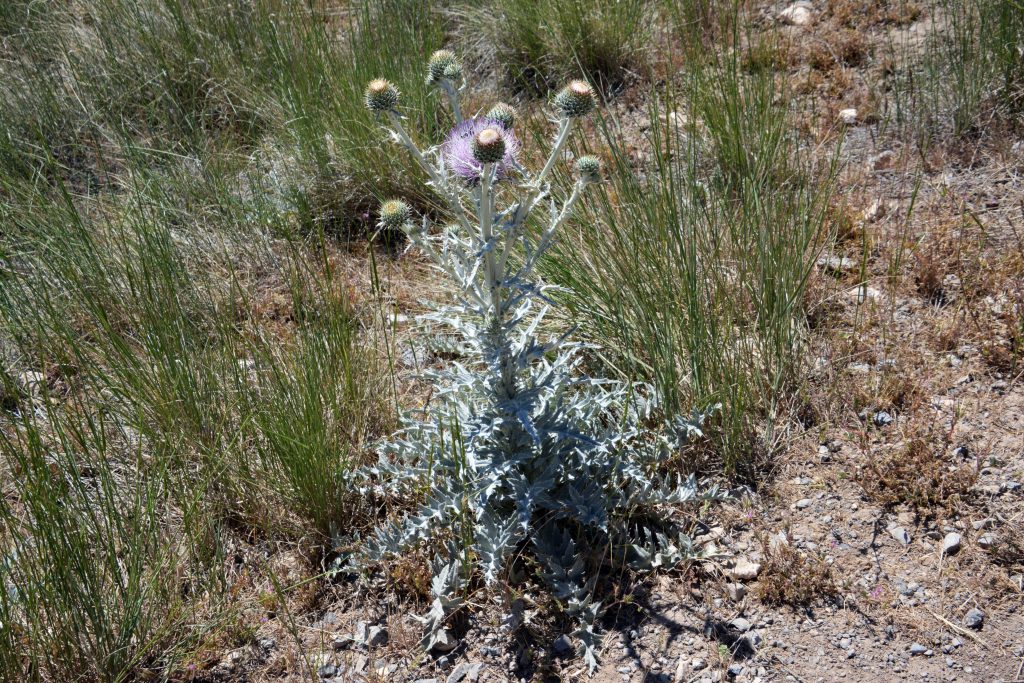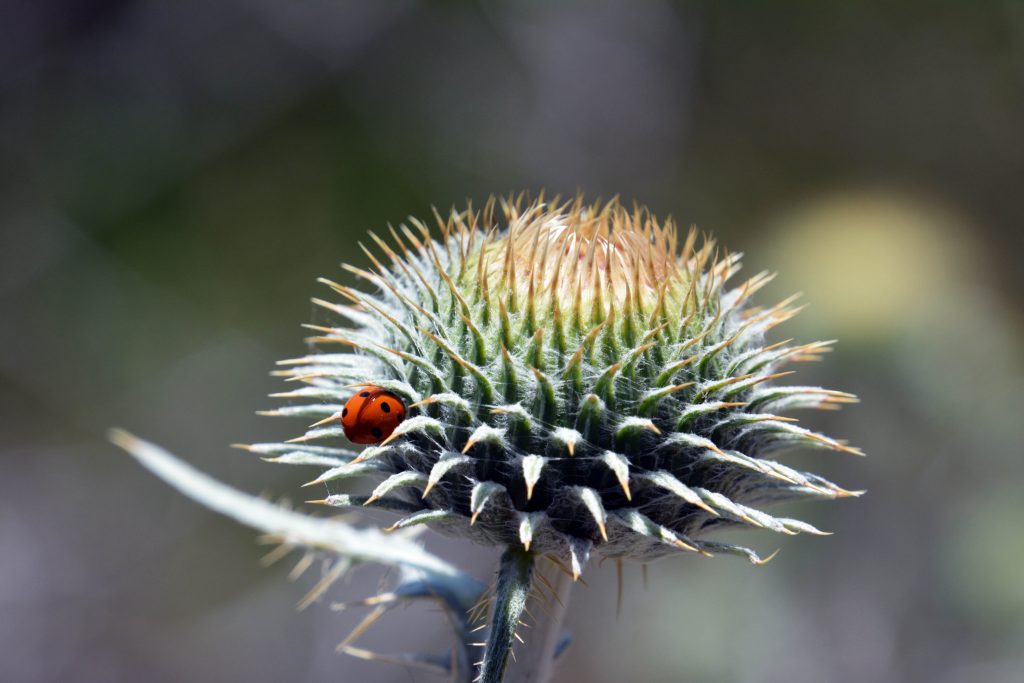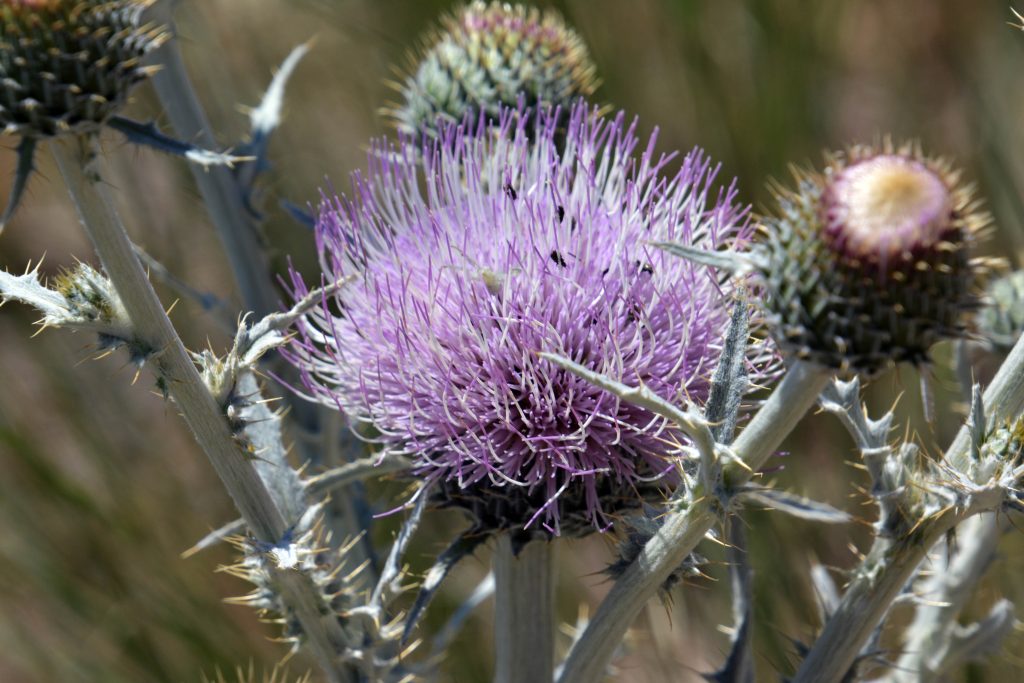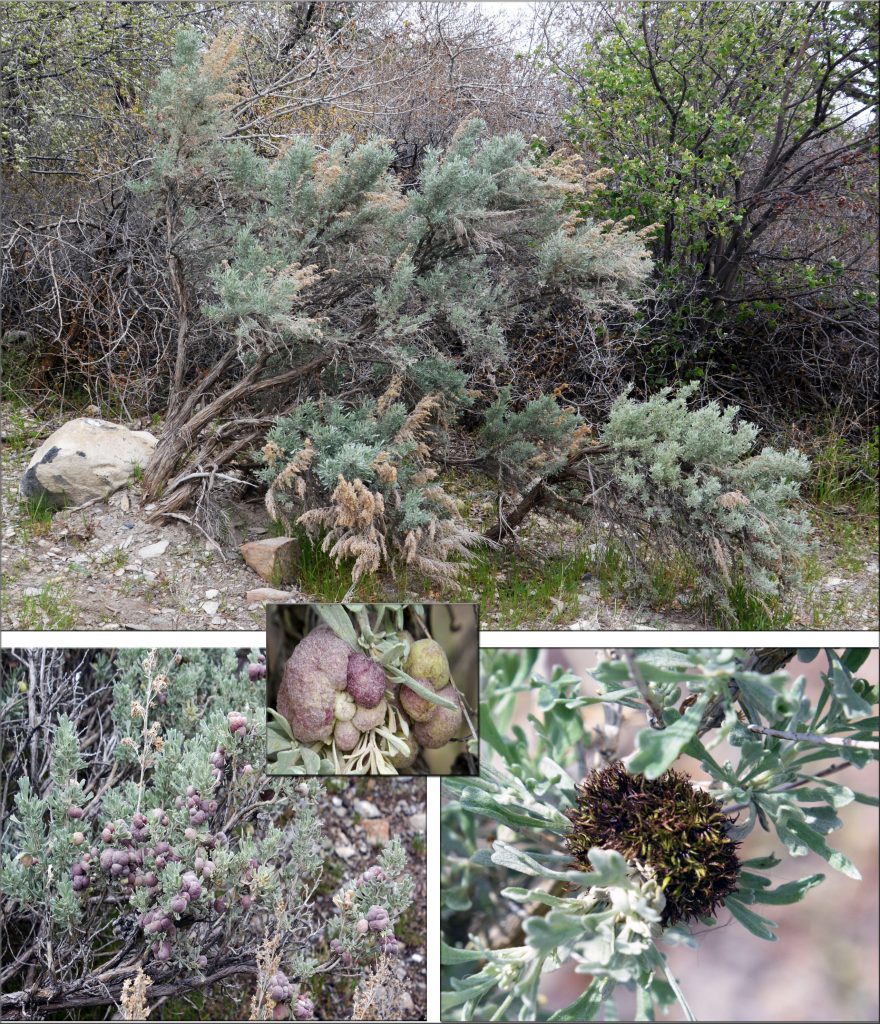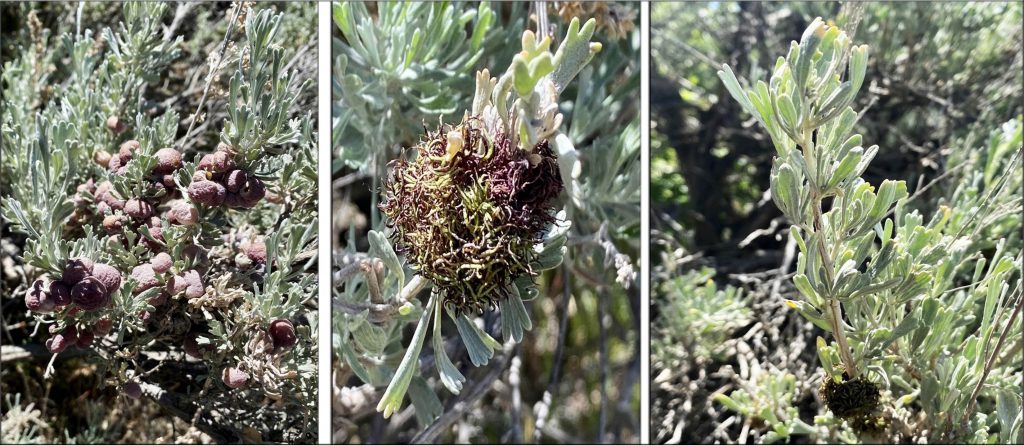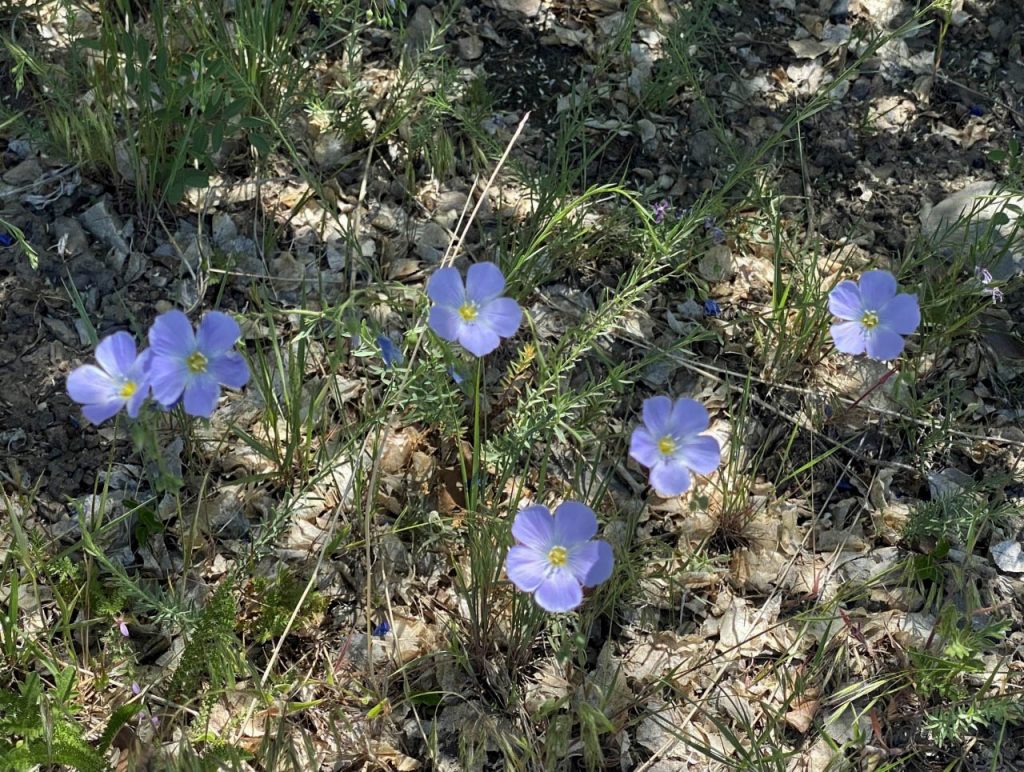 Thanks to our loving & perfect CREATOR for all of HIS AWESOME VISIONS of NATURE and the WONDERS IN OUR BEAUTIFUL WORLD! MAY WE ALL BE DESERVING and APPRECIATIVE STEWARDS!
*********************************
Now, to the HIGH UINTA WILDERNESS at LITTLE EAST FORK OF BLACKS FORK & BIG FOOT
Once, way back in the beginning of my HIGH UINTA WILDERNESS PROJECT, I went to Google Maps of the High Uinta Mountains and all of a sudden I was seeing where there had been reported sightings of BIG FOOT or SASQUATCH. It indicated that most sightings were in the drainage of Little East Fork of Blacks Fork….and my interest was CAPTURED! Eventually making 3 backpacks into the area. I'll sort of combine all of them into one trip I reported on my website as a photo/essay with lots of pictures and detail, going all the way up the drainage–ALWAYS READY WITH MY CAMERA, LENS CAP OFF, JUST IN CASE THIS "BIG FOOT LEGEND" had some truth in it! Then over Squaw Pass, and to Porcupine Lake in the Lake Fork Drainage.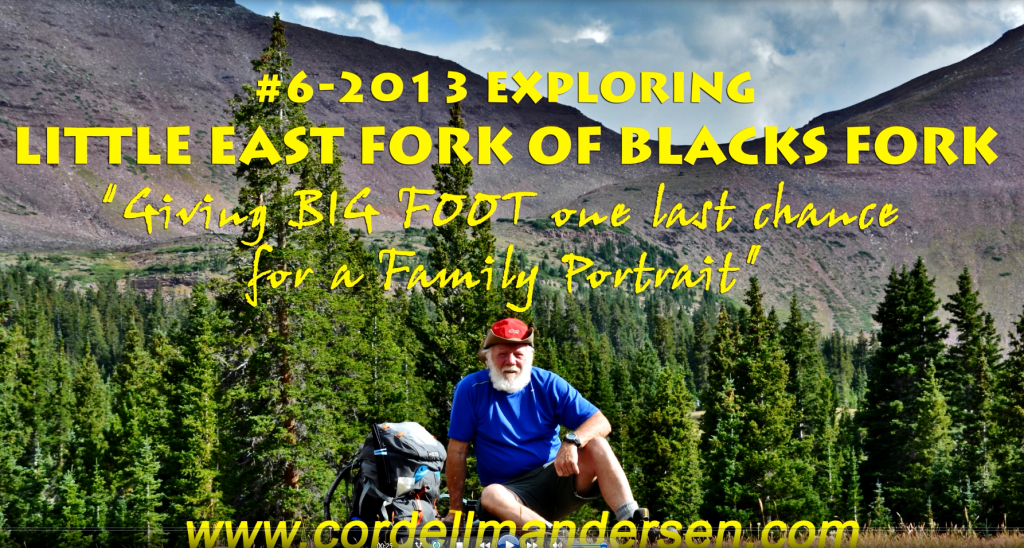 For full information on how to get here, as well as topographical maps, fishing information, distances, etc. go to pages 224-231 of my BOOK–info about acquiring it will be inserted at the end of this post. The Preface to this Chapter 2, Section 8 of the book, is entitled:
"THE LEGEND OF BIG FOOT — SASQUATCH"
In that writing is told the story of my sort of mystical encounter with Big Foot, his son on horseback, and them laughing at us civilized humans needing all the sophisticated and expensive gear to survive in the Uintas! If you are really interested I could say, "GET MY BOOK!" but I'll sort of tell the story briefly along with the wonderful adventure I had in this often overlooked area.
AS YOU PROCEED UP THIS DRAINAGE THERE WILL BE SEVERAL FORDS OF THE STREAM NECESSARY.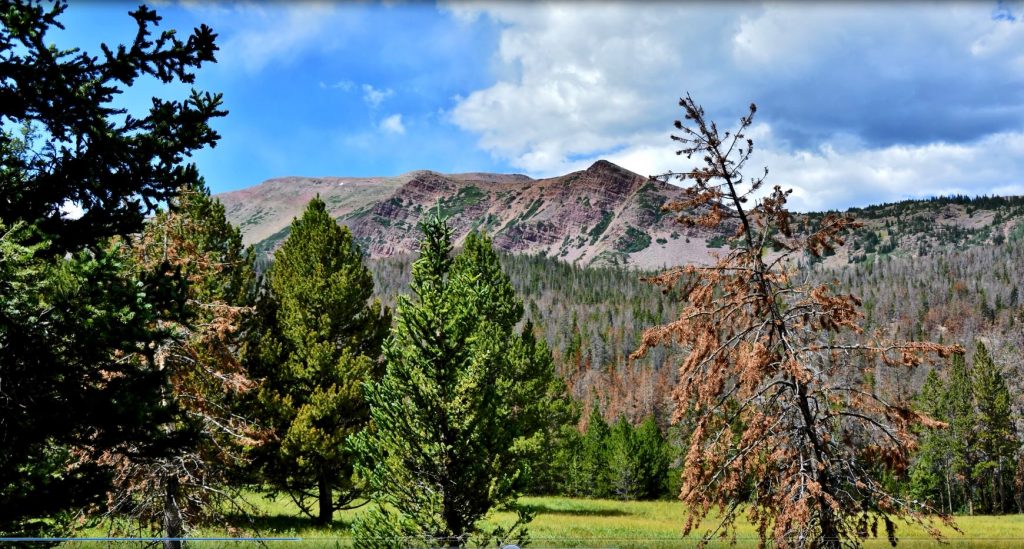 As you continue up the drainage you will see many of what I call VISIONS OF NATURE, with many wildflowers, mushrooms, signs of Tie Hacker culture, some strange mounds I have since learned were left by glaciers, and much more. As you go southeast you will notice off to the west side of the canyon an above timberline level up above those pines where there are 7 remote lakes, none with a name–only numbers, and all have fish. You will have to use your maps and my book to guide you.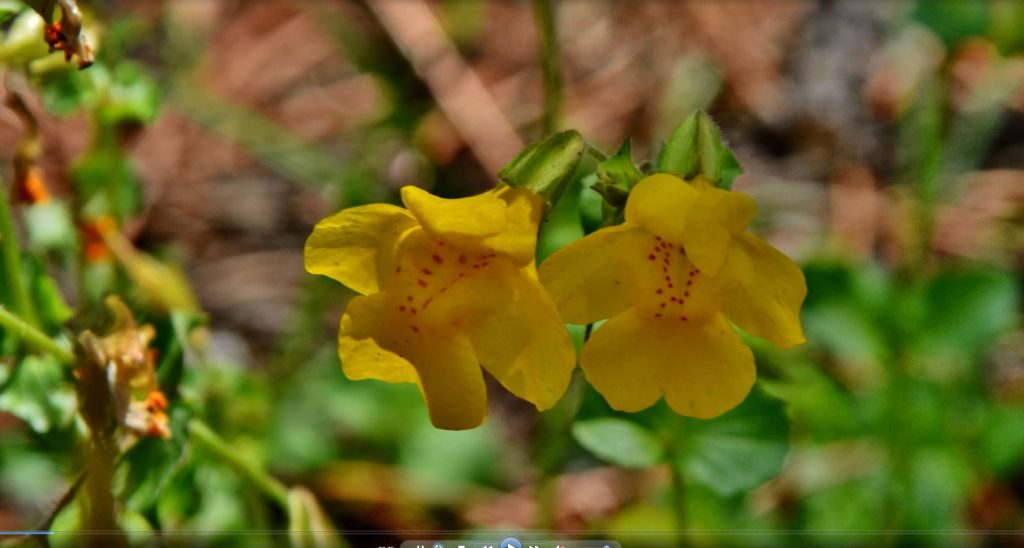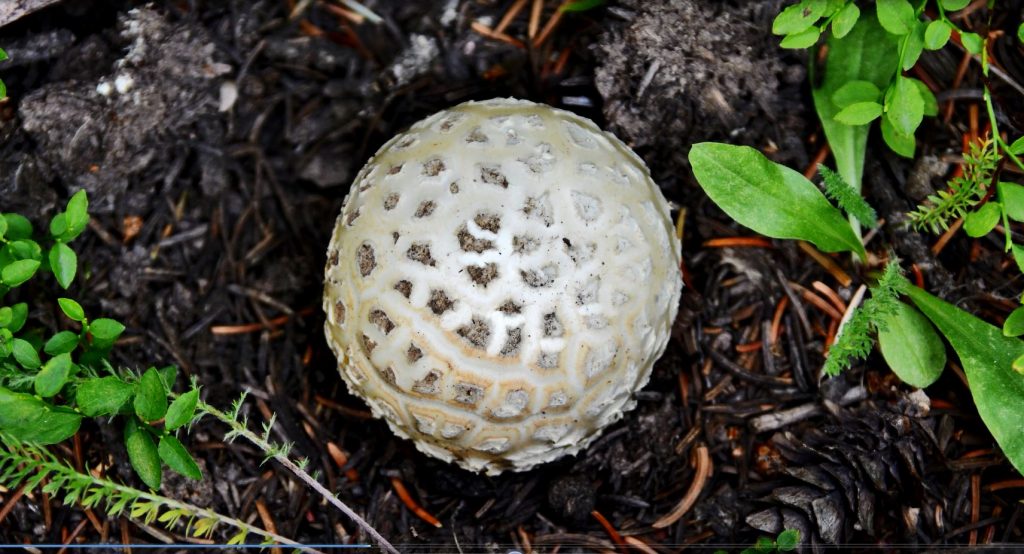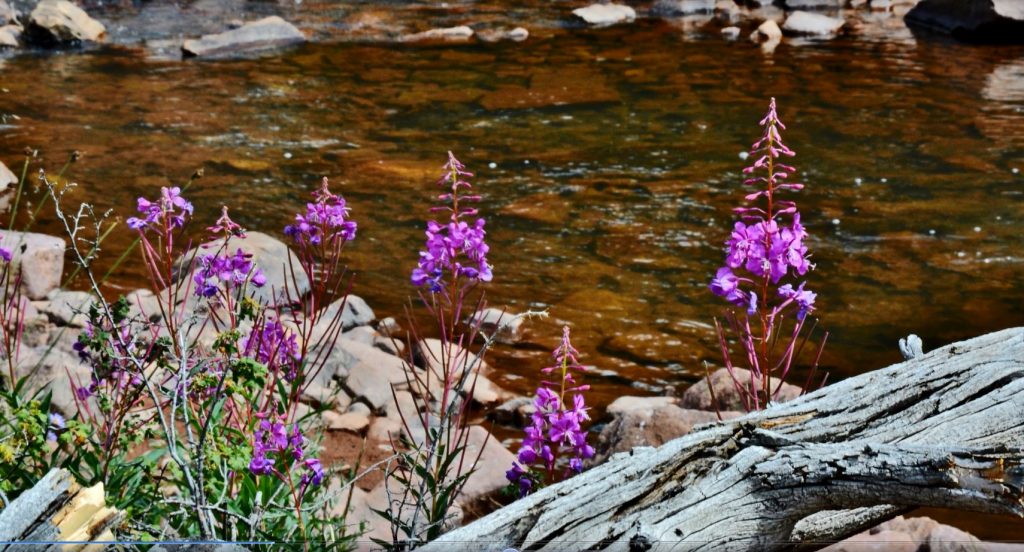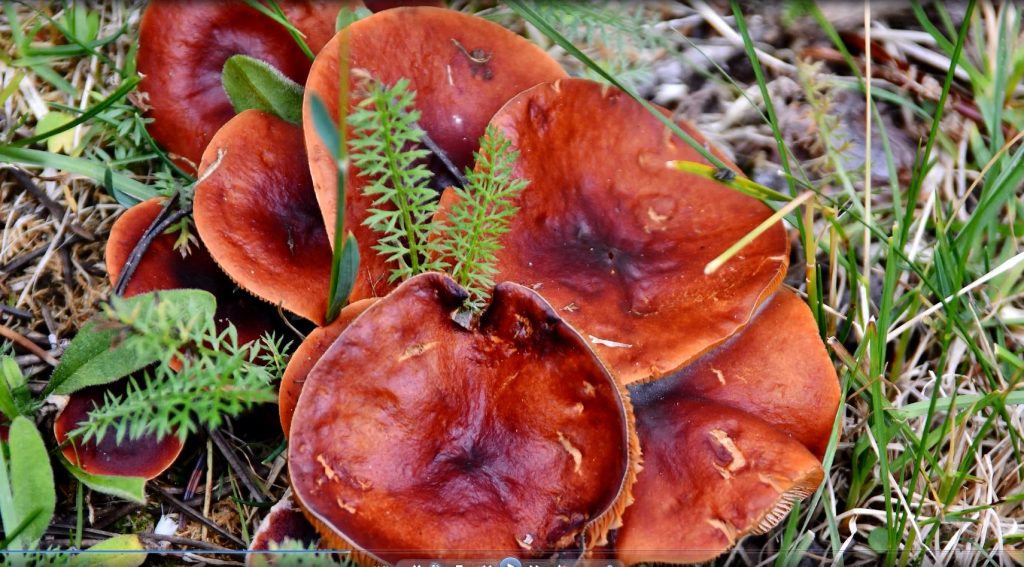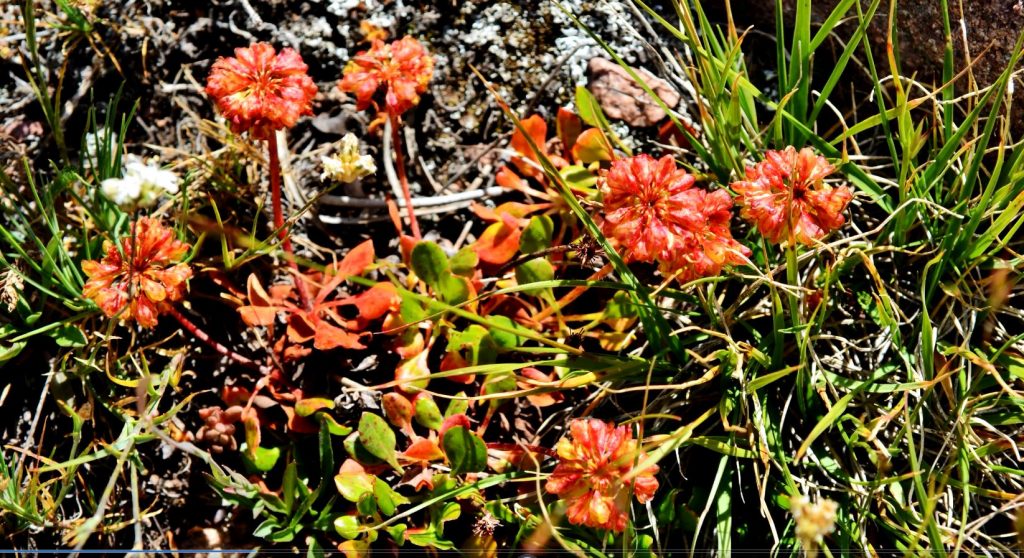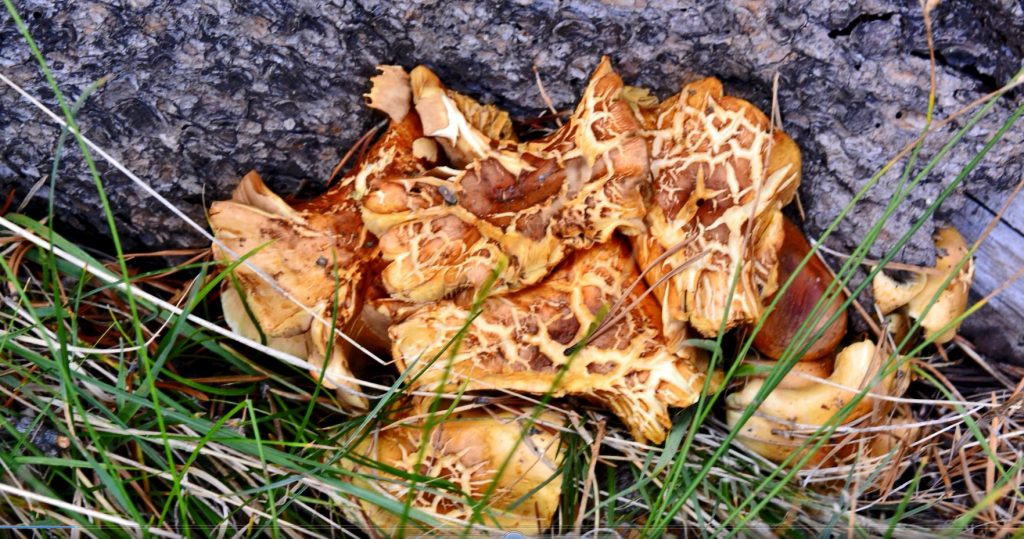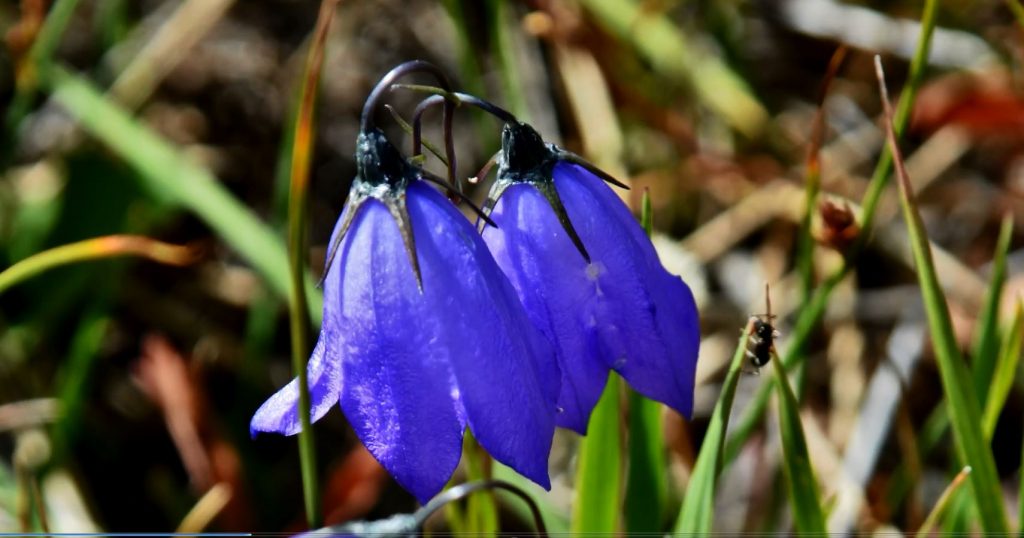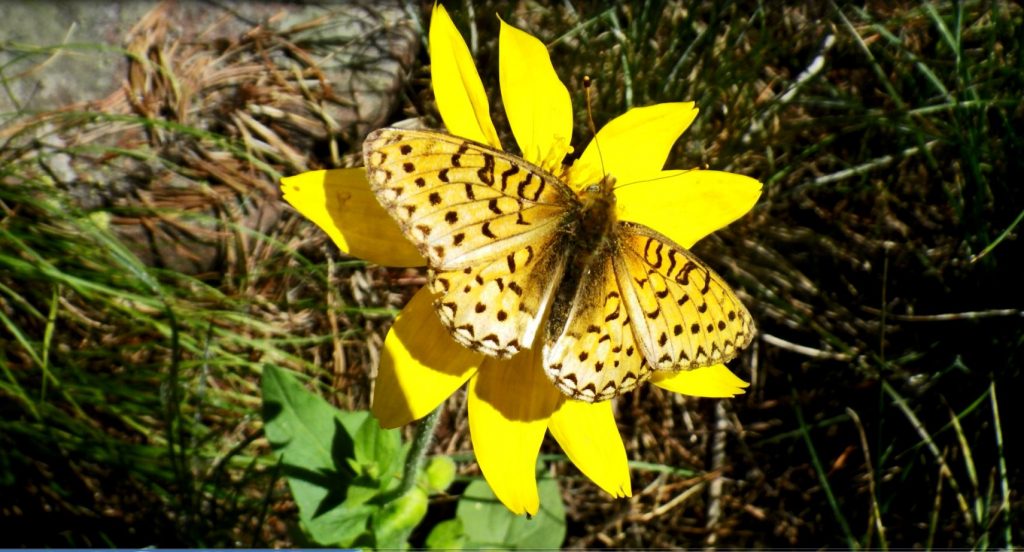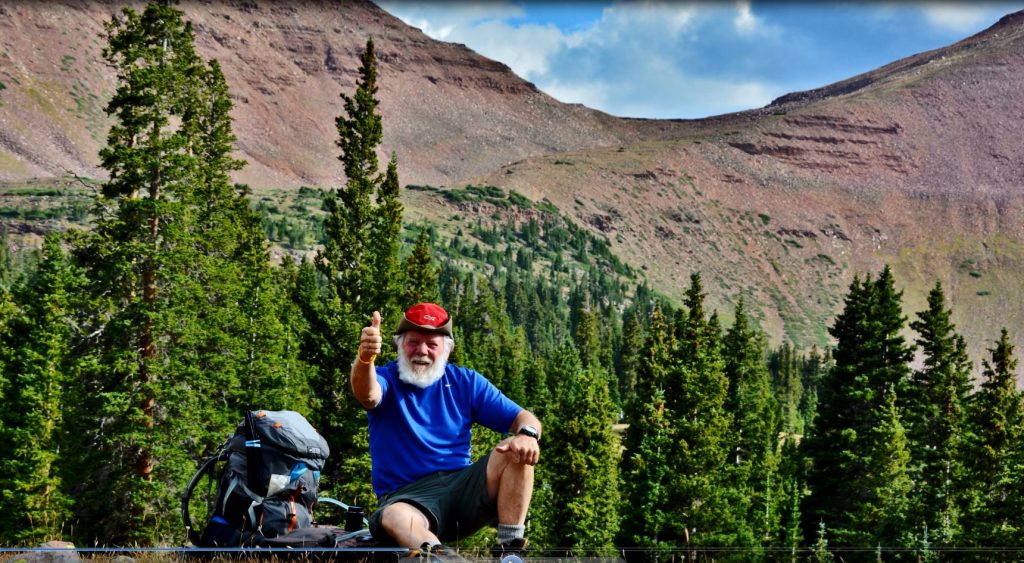 Here I am with 11,600 ft. high SQUAW PASS behind me.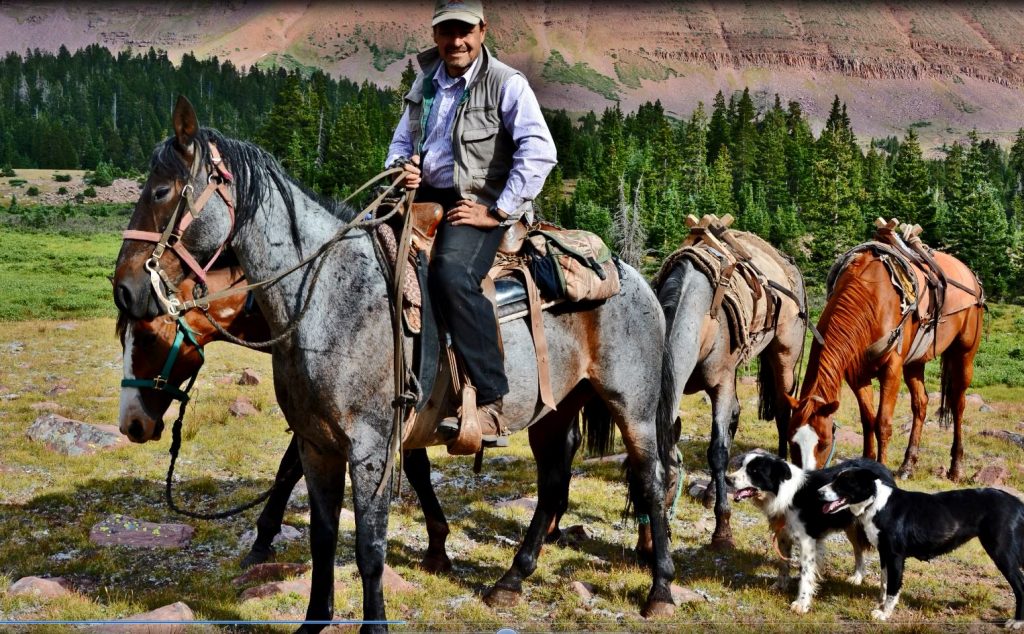 I met a sheepherder from Peru going out for supplies. Their sheep were over the pass in the Oweep Drainage.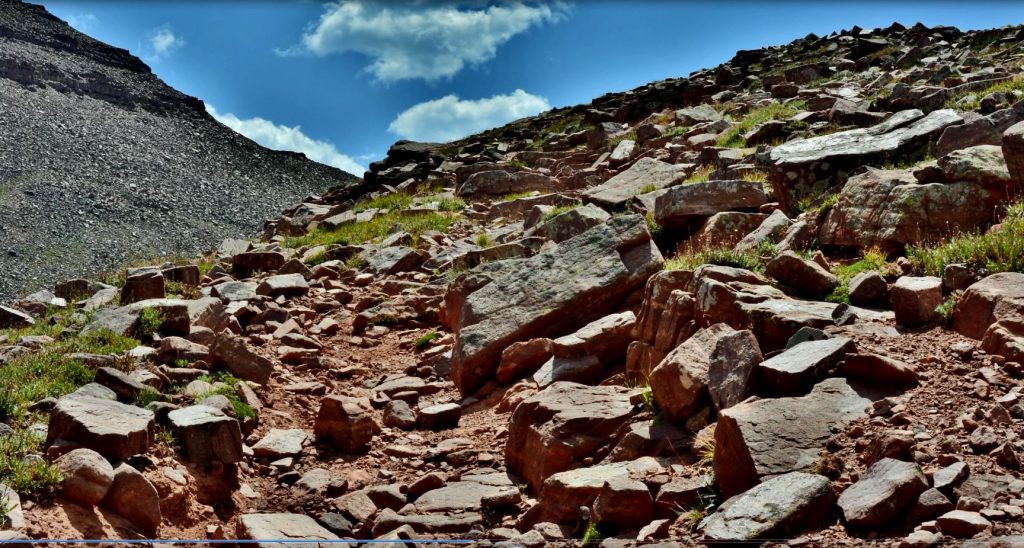 Climbing the pass over a very rocky trail, with spots of blood here and there from the herder's horses.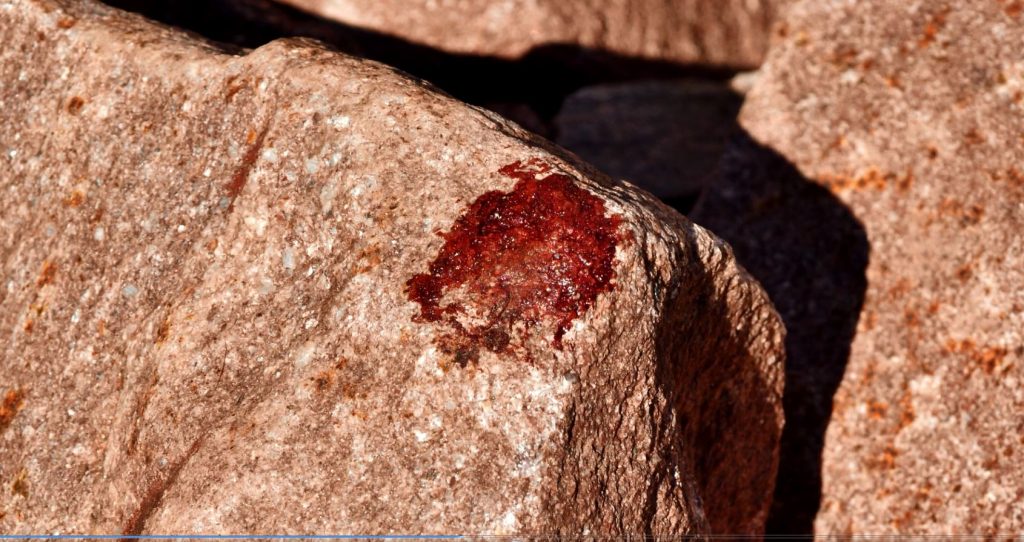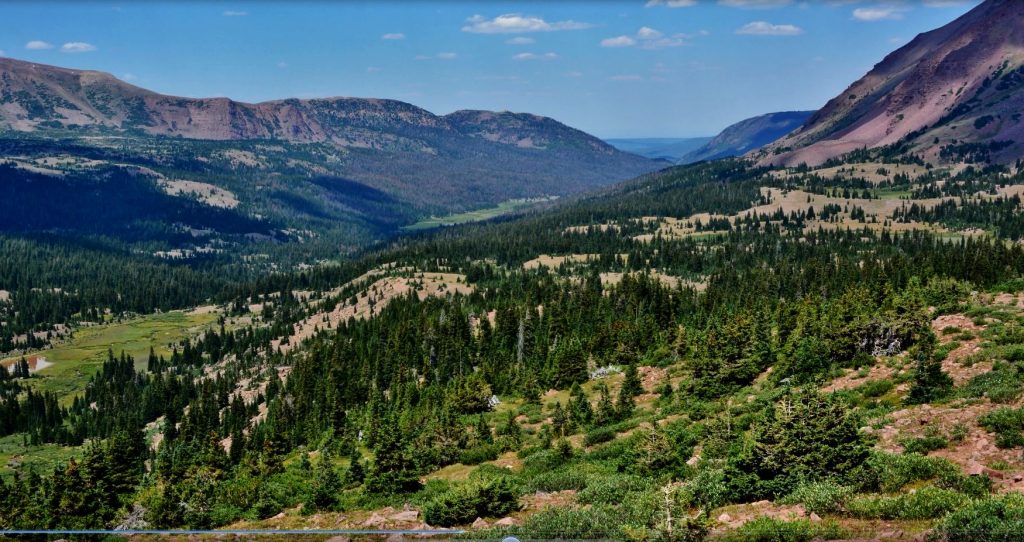 Looking back down Little Fork of Blacks Fork canyon.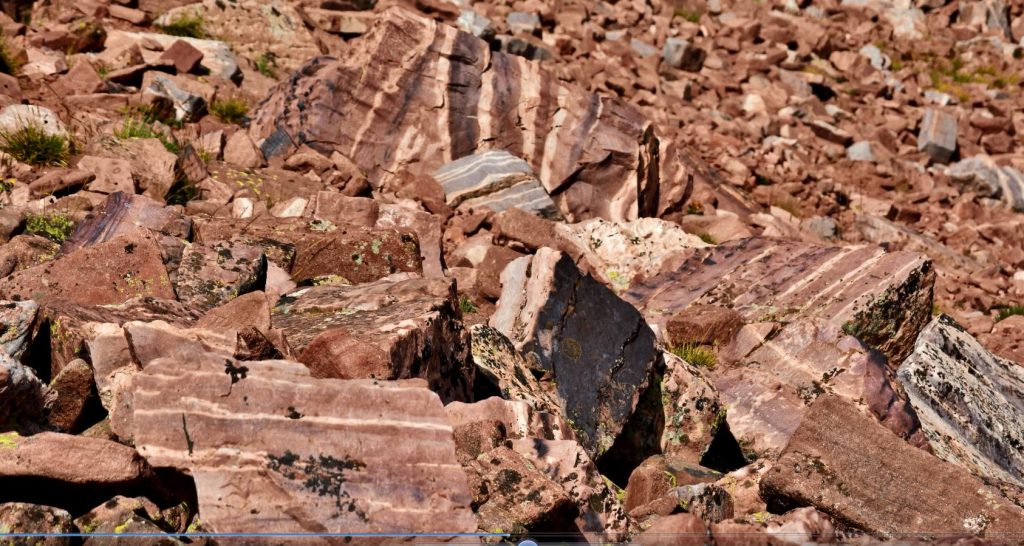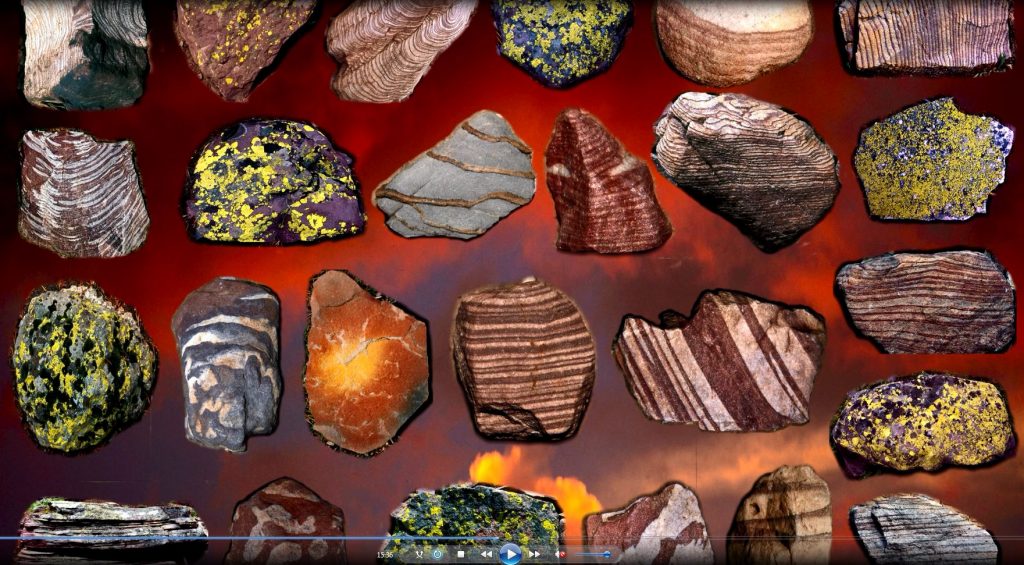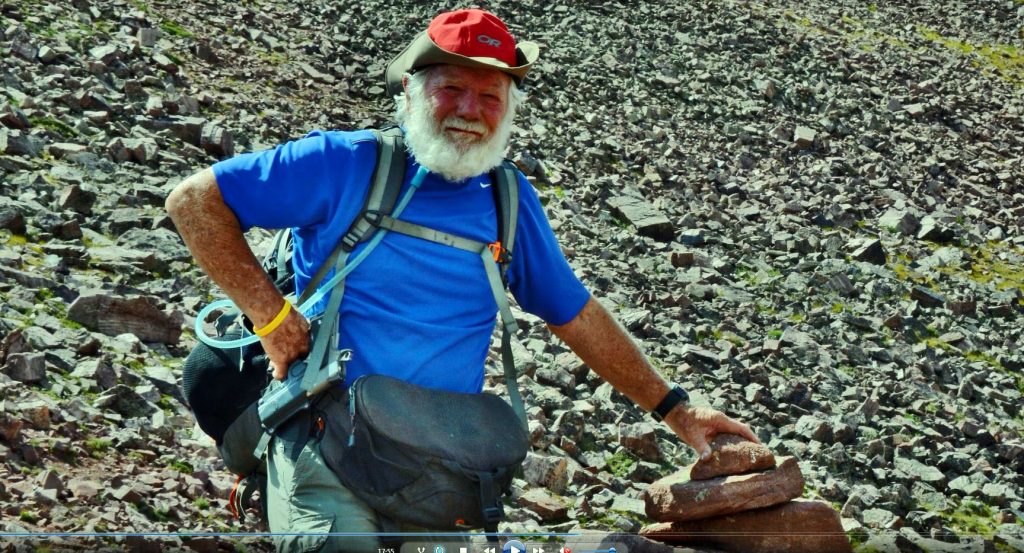 On the 11,600 ft. pass.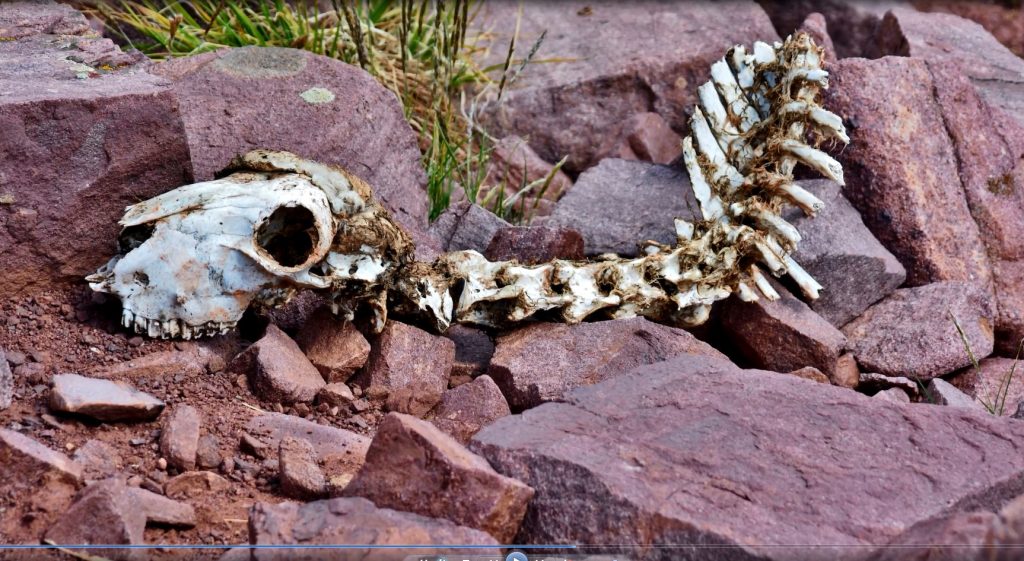 One critter that didn't make it.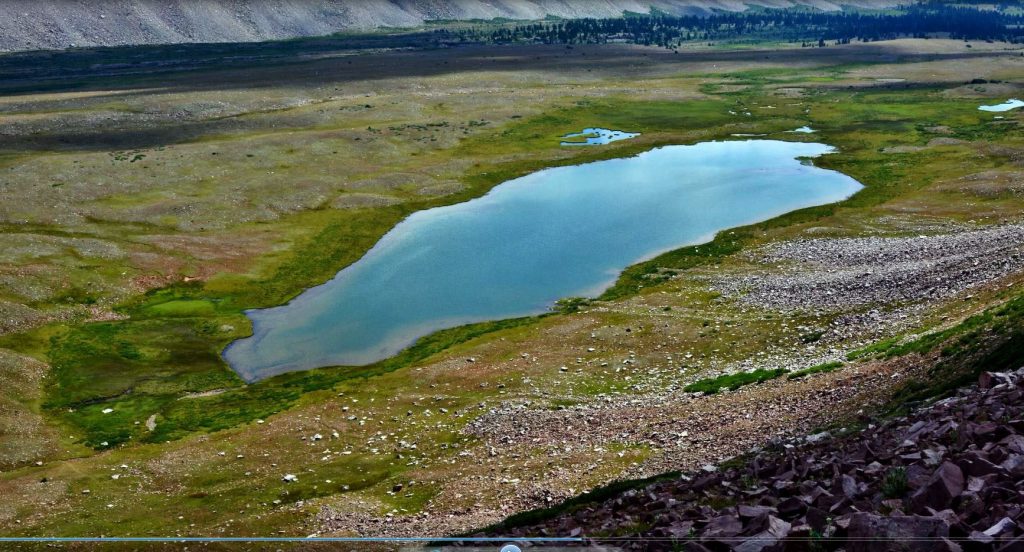 Looking down on Porcupine Lake in the Oweep Drainage.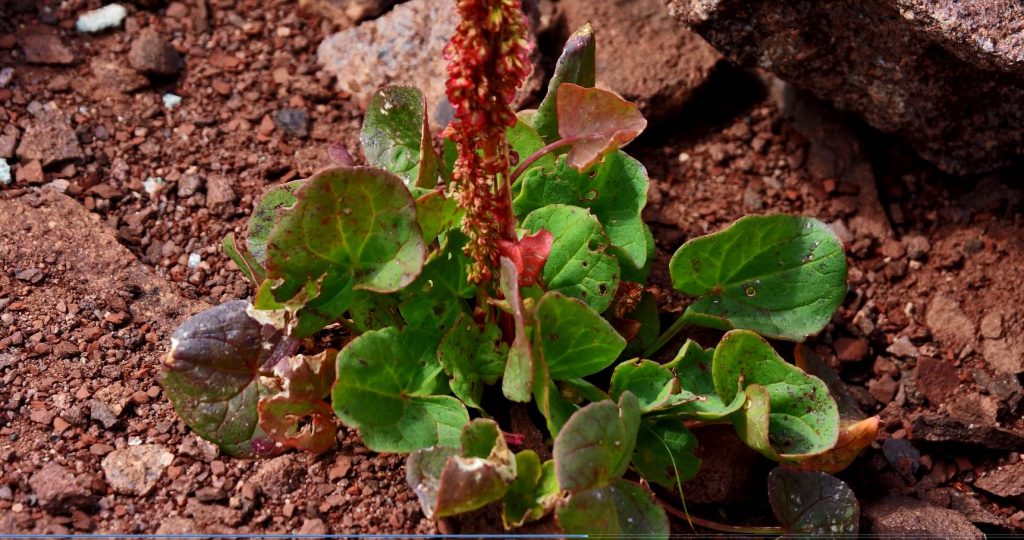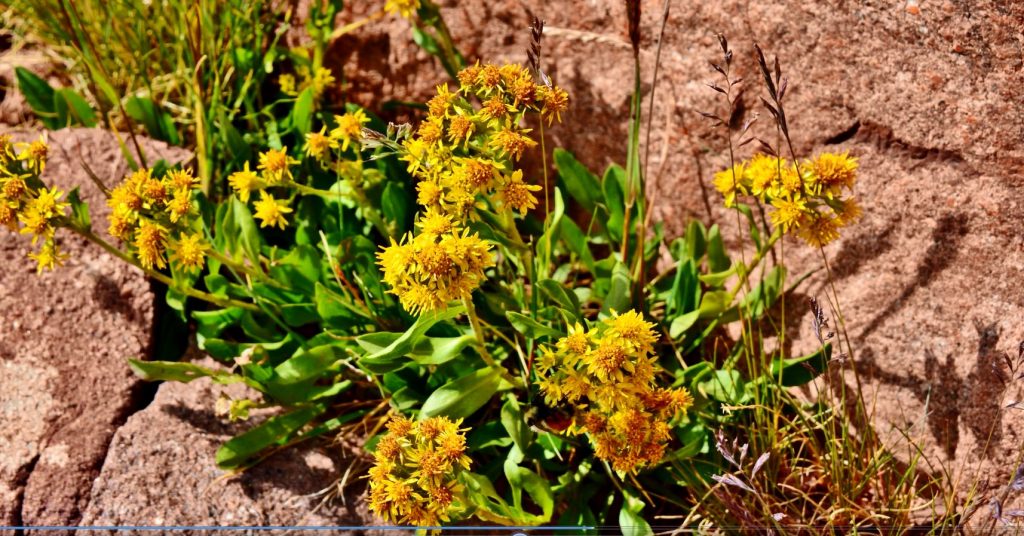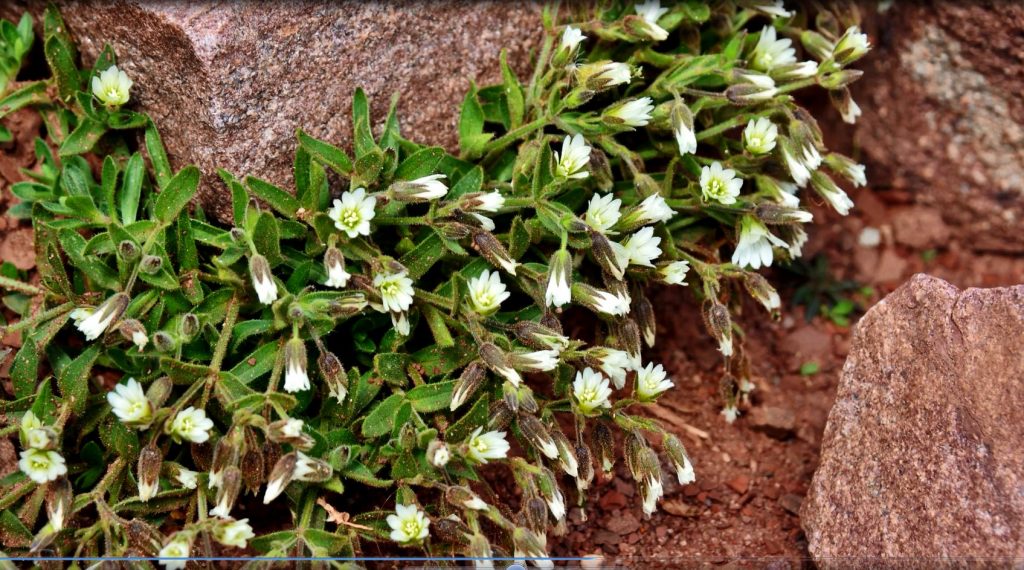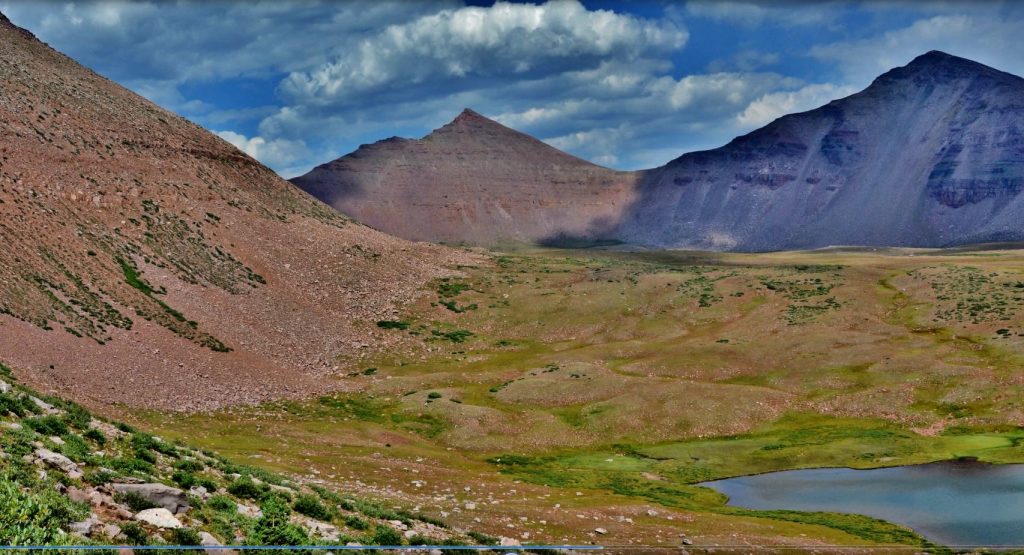 Looking east from Porcupine Lake towards Porcupine Pass, 12, 260 ft. high
A shot of myself on PORCUPINE PASS on my 27 day/no-resupply backpack in 2003 to begin my HIGH UINTA WILDERNESS PROJECT. I'm looking down on Porcupine Lake.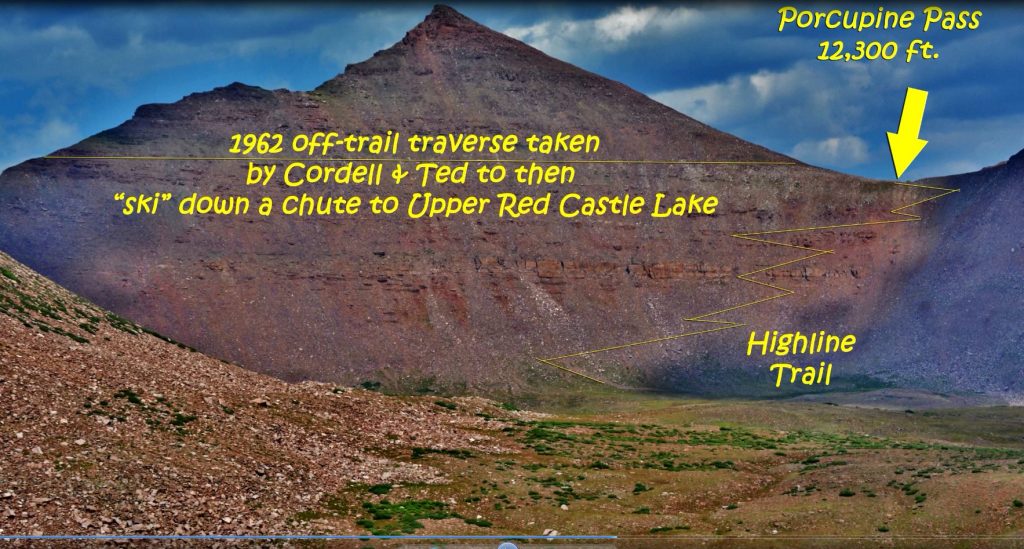 This is a shot again of Porcupine Pass, with 13,000+ Mt. Wilson rising up in the middle, and a line drawn across the picture that was the pathway for Ted and me in 1962, somehow traversing that mountain to get to the saddle above the Red Castle area.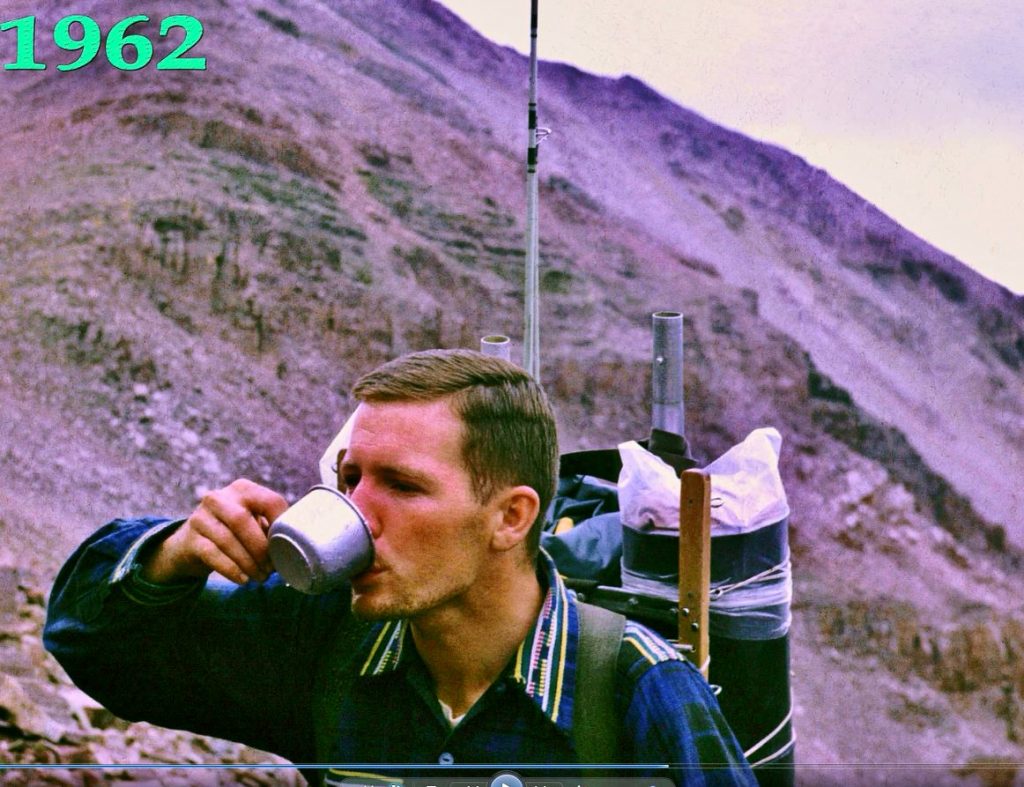 Here I am along the dangerous traverse getting a drink from a spring. You can see my Guatemalan shirt. Five years later our family left on our RISKY & BREATHTAKING PIONEER JOURNEY TO THE MOUNTAINS OF THE MAYA!
Here we are on the saddle above the Red Castle area on that 1962 adventure. We would eventually camp high above Red Castle Lake on those vegetated cliffs on the right.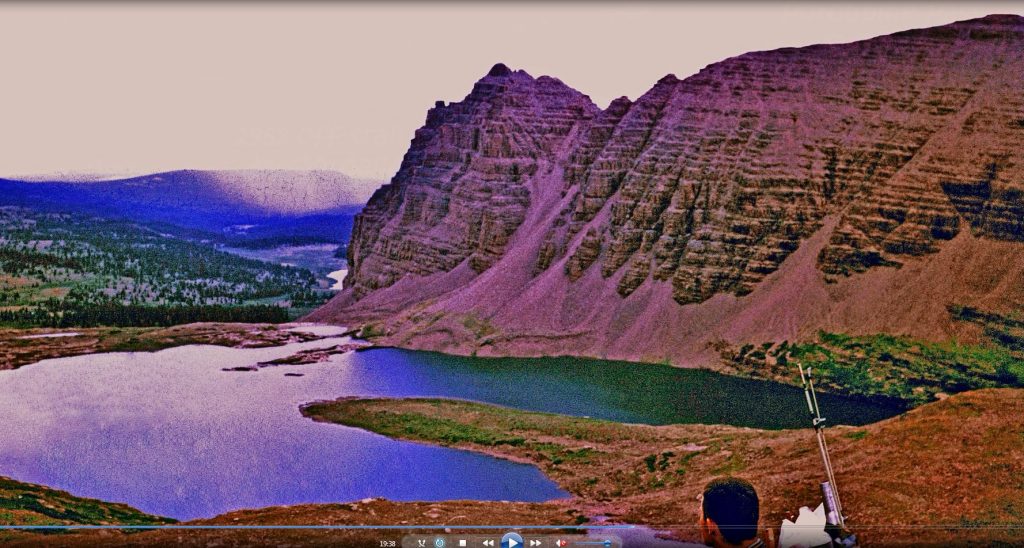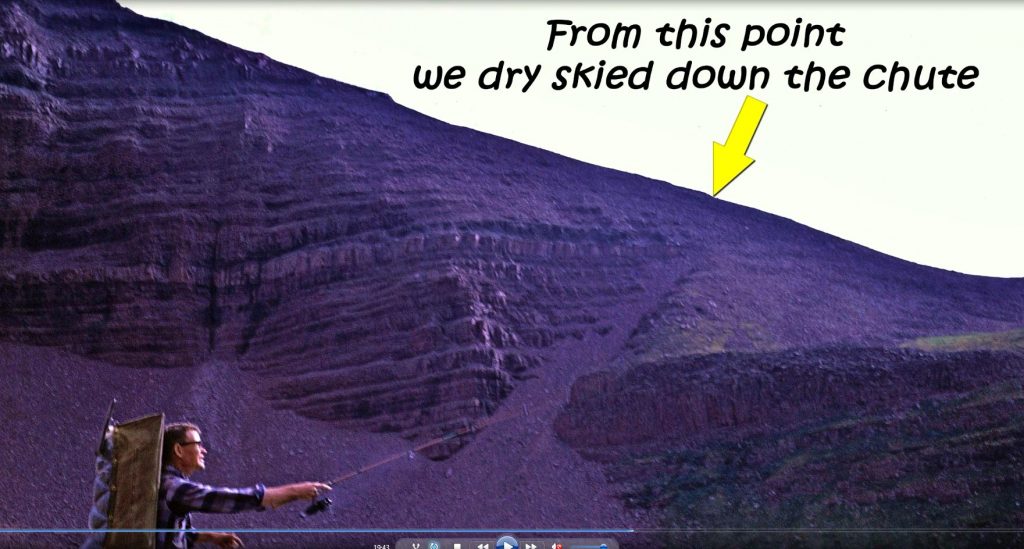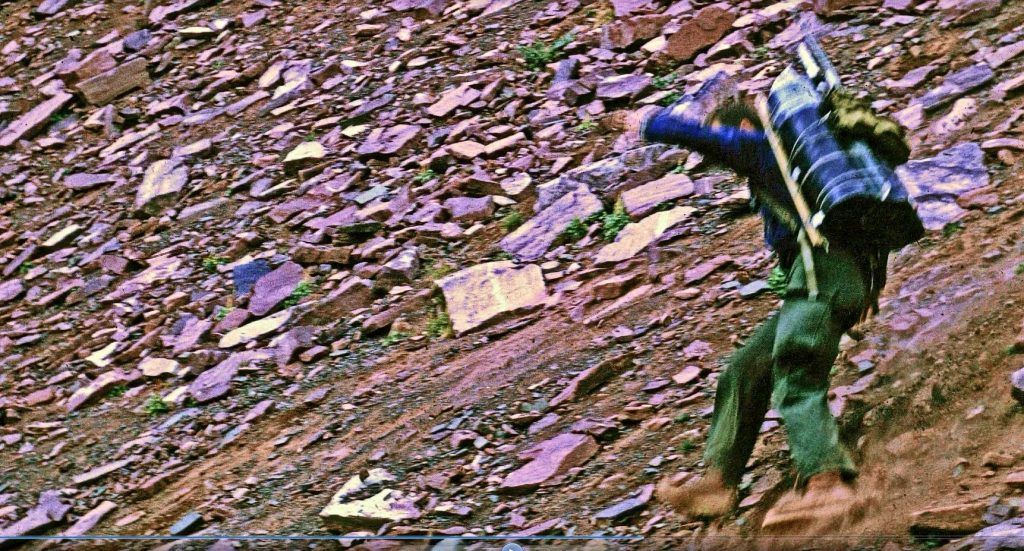 Here you see me dry skiing down the chute. You can also see an experimental backpack I made and fooled around with some.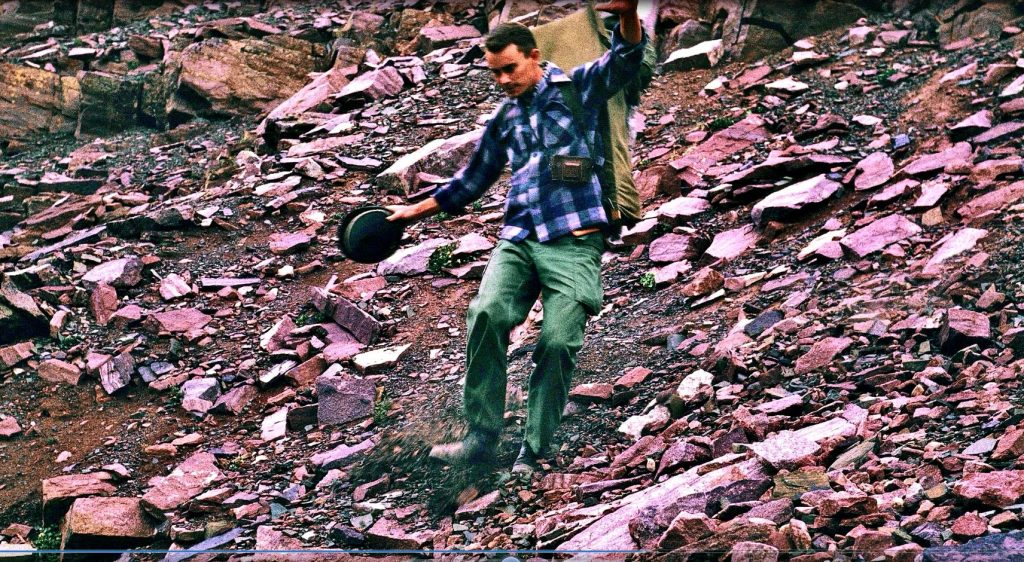 …..and here goes Ted (Packard) going down the chute to first get to Upper Red Castle Lake. From up high we noticed fish rising on the lake and so wet a line….and WHAM! We were into some of the greatest fishing we ever found in the High Uintas.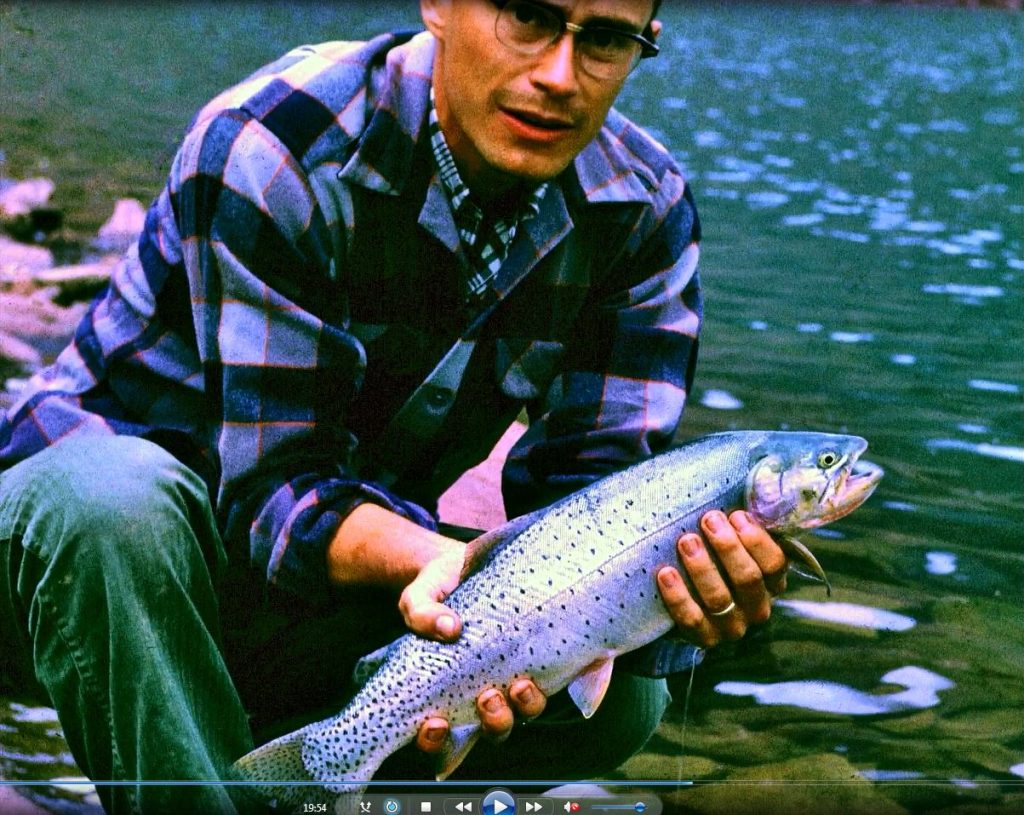 A day or so later from our camp on the cliffs on Red Castle Lake, we hiked back up to Upper Red Castle Lake, and in the clear water noticed a school of Native Cutthroat trout, with an even larger one trailing behind, sort of like an outcast, or maybe the Leader herding his harem around the lake.
We became a little frustrated casting ahead of them as they ignored our lures, but then the wind picked up messing up our clear image of the fish, and I took one more cast where they had been…….and WHAM–THE HIGH UINTA FISH OF MY LIFE WAS ON!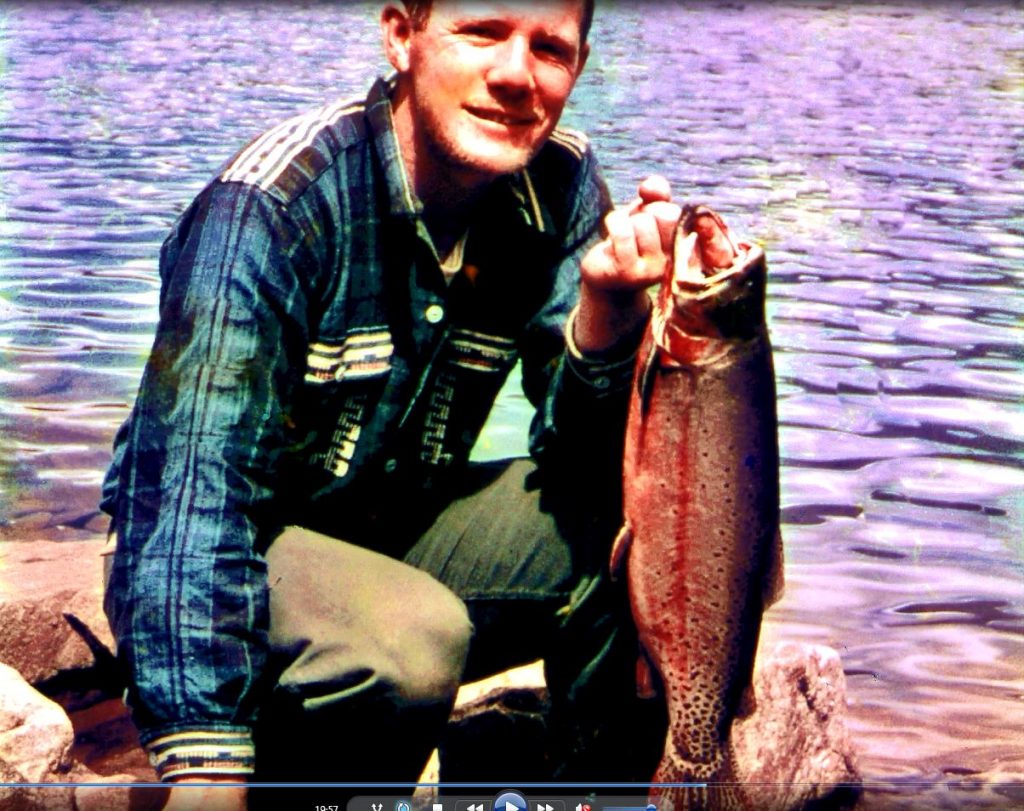 He was very heavy bodied, almost like a large-mouthed black bass. I wanted to take him (or her) back to civilization whole, uncleaned to get an accurate weight for the 21″ native, so buried it in a snow drift intending to come back and get it the next day when we would hike back to civilization.
The next day as we approached the snow drift, a marmot jumped down off the snow drift. Marmots are vegetarians, but we found most of my trophy had been eaten by some critter. Only the the tail half was left, with all the entrails gone too. I carefully wrapped the half and we headed out, going down past Lower Red Castle Lake and swung around on the trail going over Smiths Fork Pass, and down through the Garfield Basin to the Center Park Trailhead and the car. Back home that, what we logically believed was the LIGHTER HALF, weighed 3.5 lbs. So we calculated that the whole fish would have exceeded 8 lbs.
Here I am at PORCUPINE LAKE, inserted with a photo from my "Expedition" I used it as the opening photograph on my Facebook page seen below (https://www.facebook.com/cordell.andersen )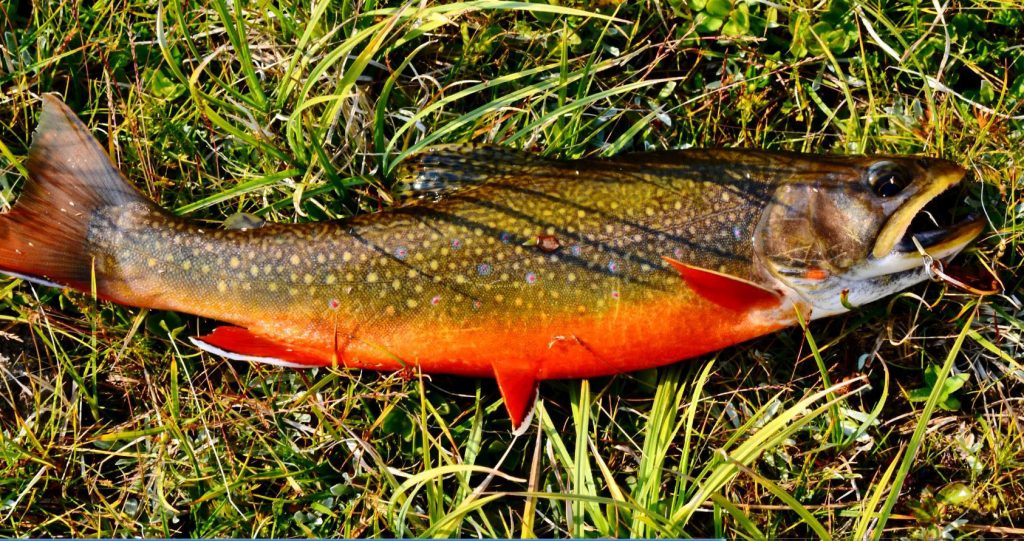 Porcupine Lake is full of the most colorful eastern brook trout I have seen in the Uintas, but the whole area is scheduled for elimination of brook trout and the restoring of native cutthroat trout, along with several other such areas in the Uintas.
After camping one night on Porcupine Lake I headed back over the pass always with my camera ready for a hopeful encounter.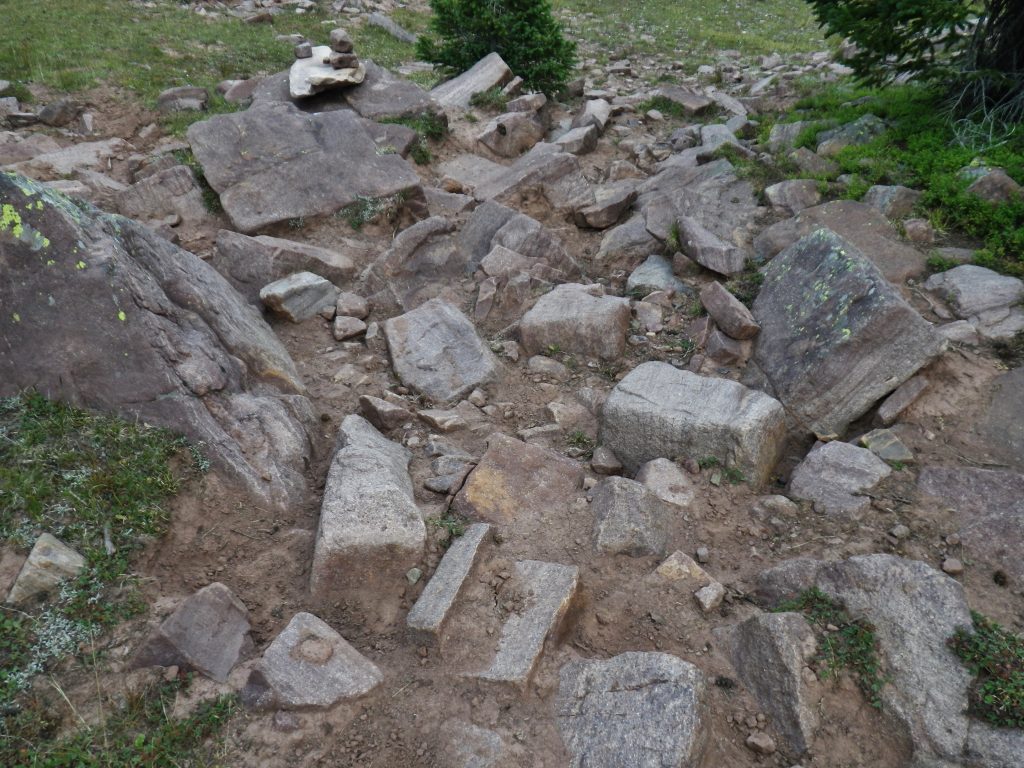 I was hiking down a rocky ravine, and I felt tired so sat down to rest.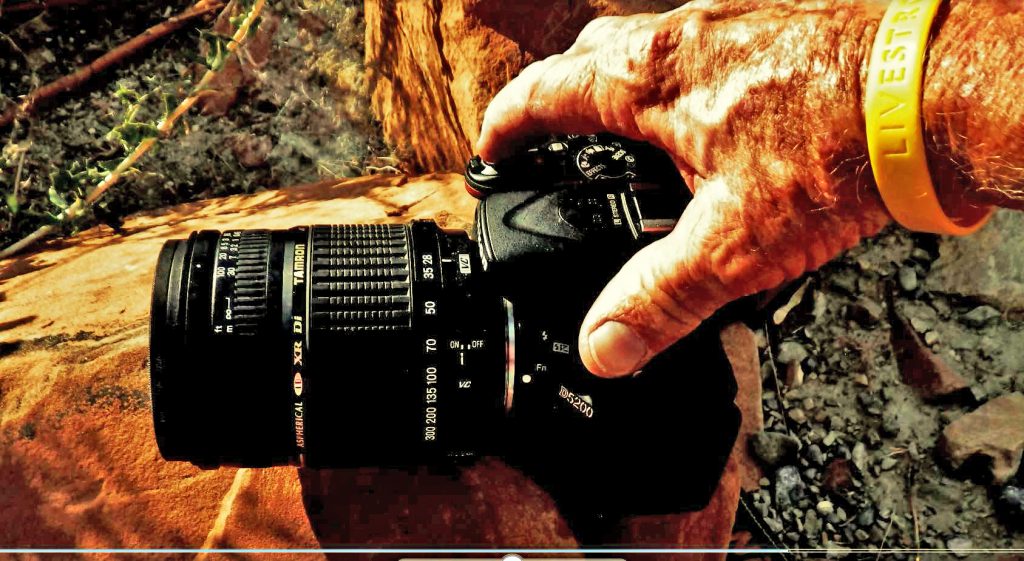 I set my camera down on a rock next to me–always having it ready to get that BIG FOOT portrait–hopefully a FAMILY PORTRAIT! I dozed off when all of a sudden BIG FOOT appeared and seemed friendly, so I tried to communicate, asking him using sign language about a wife and children, but he didn't understand, so then I tried asking what they ate? He made a movement like a prancing deer, then mimicked jumping on its back and made a wrenching movement like breaking its neck!
Then LITTLE FOOT appeared riding a horse, and I recalled that a sheep herder had reported missing a horse a couple of years ago in this area.
With this incredible scene I was very carefully–without frightening them–manipulating my camera next to me hoping to get the
"PHOTOS OF THE CENTURY!"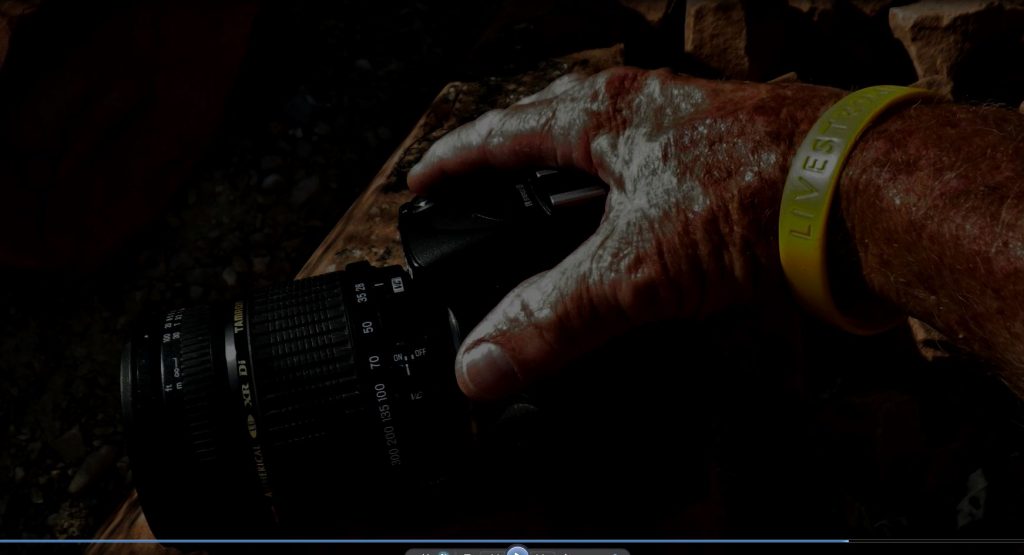 They communicated with each other, and pointing at my equipment were laughing, like saying, "These humans are so pathetic needing all this equipment to survive in the mountains. We get along just fine without any of that!" With that they turned and headed into the forest, me manipulating like crazy the camera with one hand, until almost out of sight, when I lunged for the camera to get a parting shot.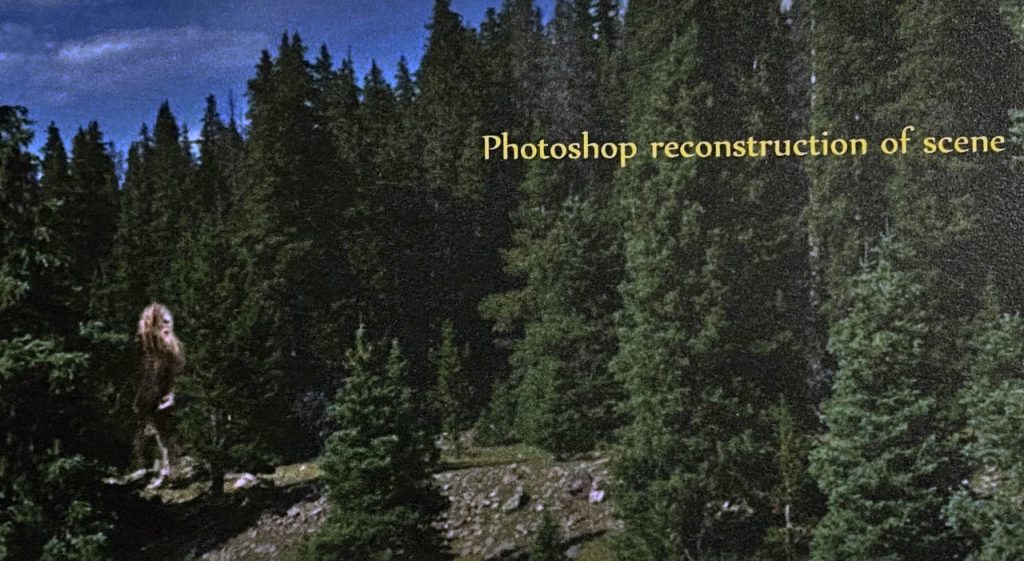 But, I didn't get a good grip on the camera and knocked it off the rock and it CLATTERED DOWN INTO THE ROCKS BELOW–WAKING ME UP FROM AN INCREDIBLE DREAM! Or, had it really happened, and maybe my camera was full of the definitive proof not only of BIG FOOT, but also LITTLE FOOT!
I hopefully picked up my camera…now with a cracked skylight filter, and checked to see if I had got any photographs…..but luck wasn't with me!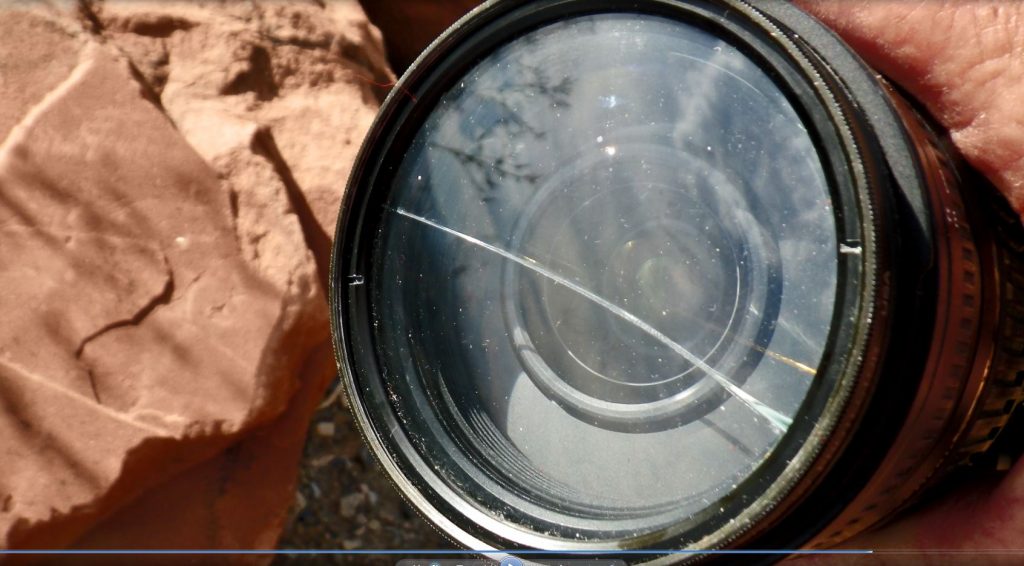 But, it was so real! I thought maybe it was like the prophets of old having a "VISION IN A DREAM" to get across to me that maybe there was something to the legend…SO I BEGAN MY HIKE DOWN THE TRAIL, MORE READY THAN EVER….WHEN ALL OF A SUDDEN I WAS SHAKEN BY WHAT SEEMED LIKE A GIANT FIGURE COMING THROUGH THE LARGE TREES!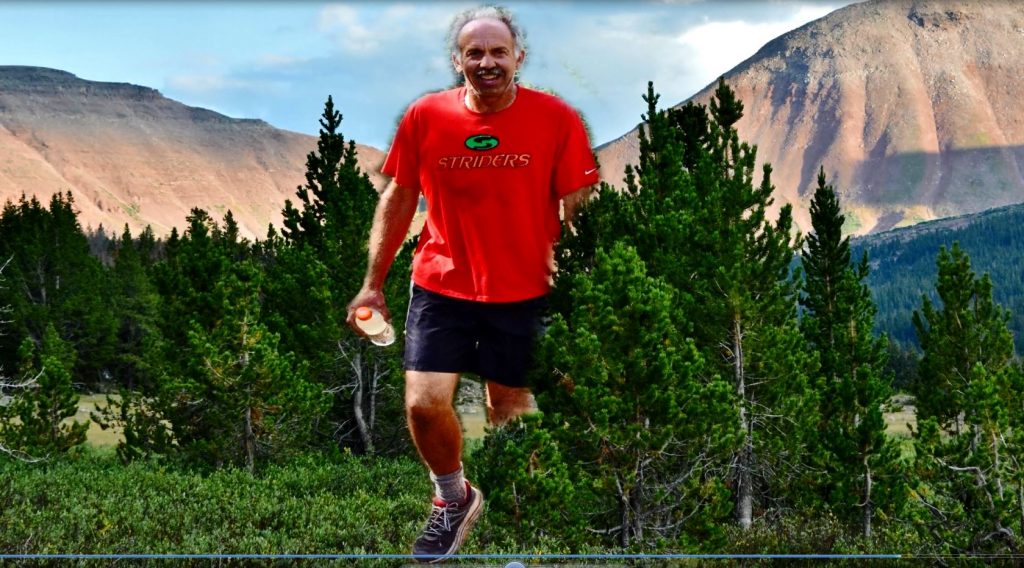 He was wearing a red "Striders" T-shirt and carrying a water bottle! And wearing running shoes on feet that were SMALL!……….not BIG FOOT!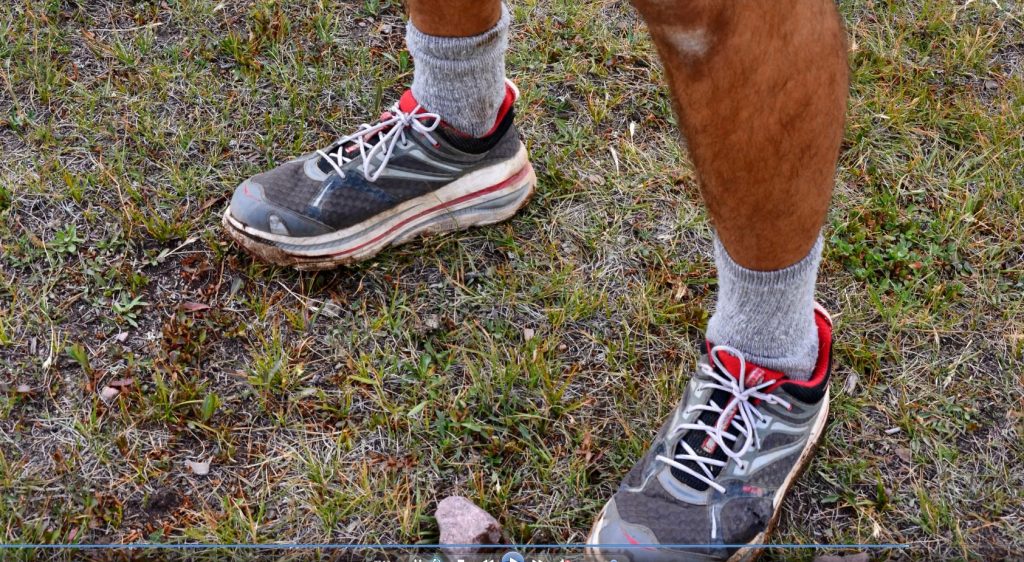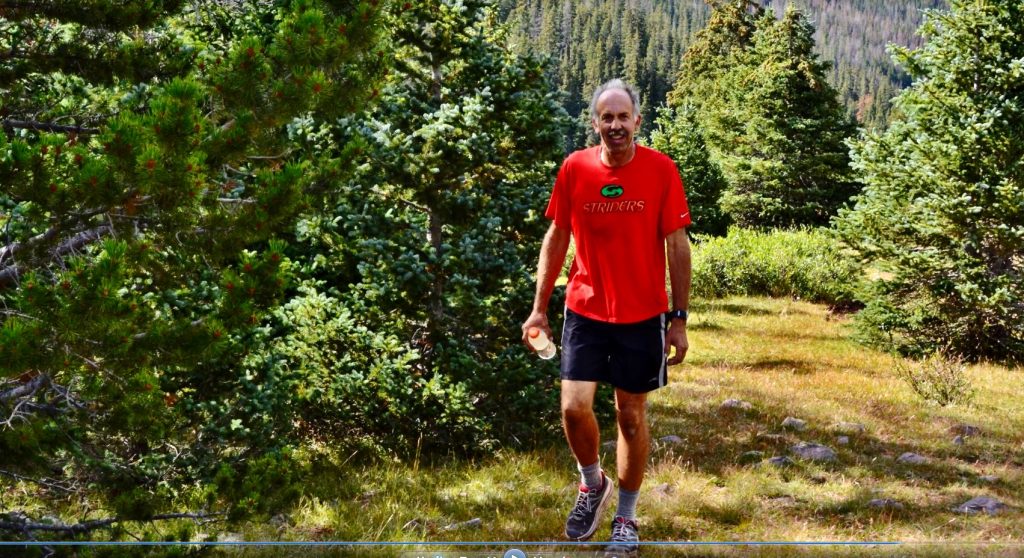 It was ROB WILCOX, mountain runner, with his family camped down below. He was running to and from Squaw Pass.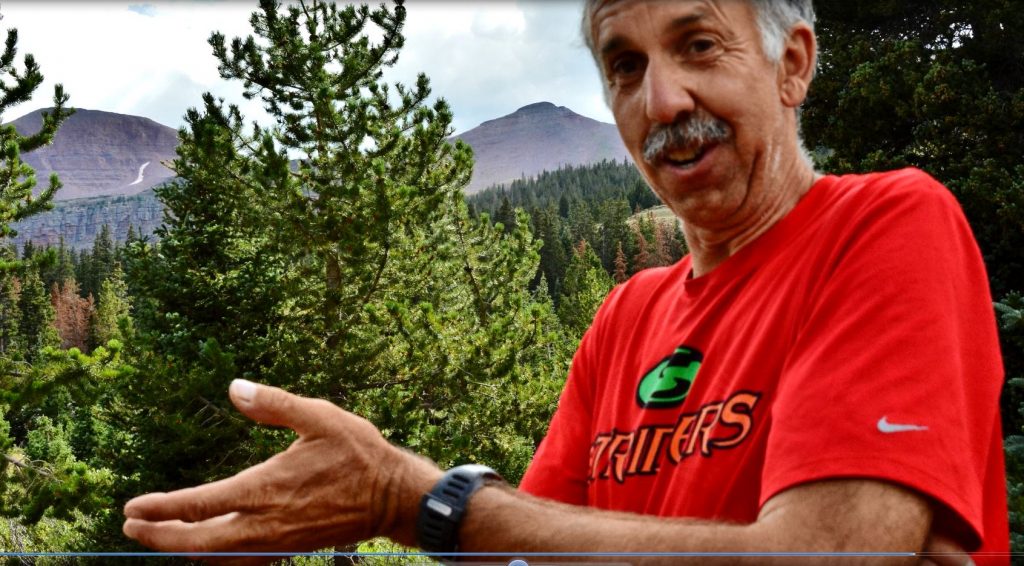 I told him about my mystic encounter with BIG & LITTLE FOOT, and he reacted,
"Who knows? Could be!"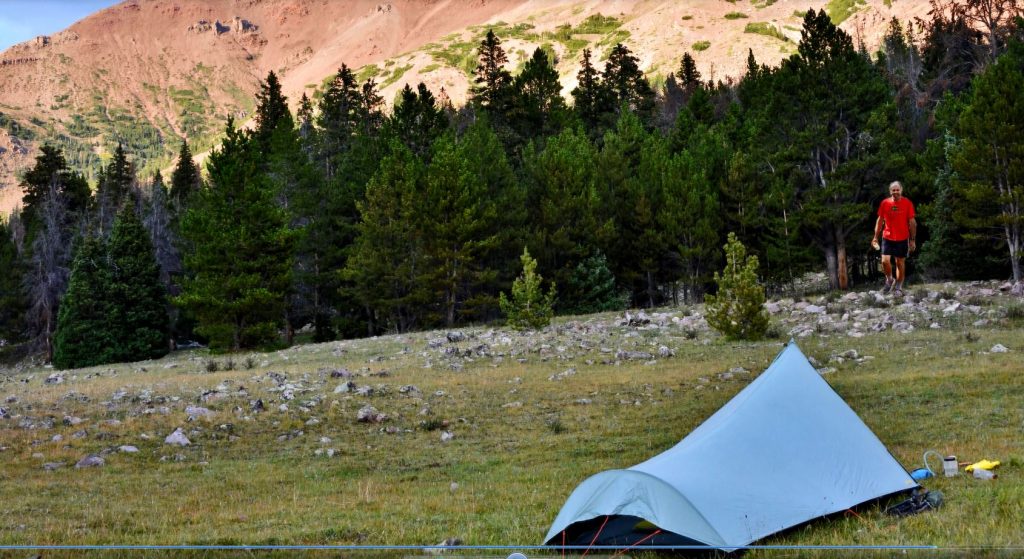 I camped a little ways down the canyon, and later Rob passed by on his way down from the pass to invite me for dinner. Sadly I had just had my dinner of dehydrated food, so had to SADLY pass on what I believe were CHICKEN DUMPLINGS!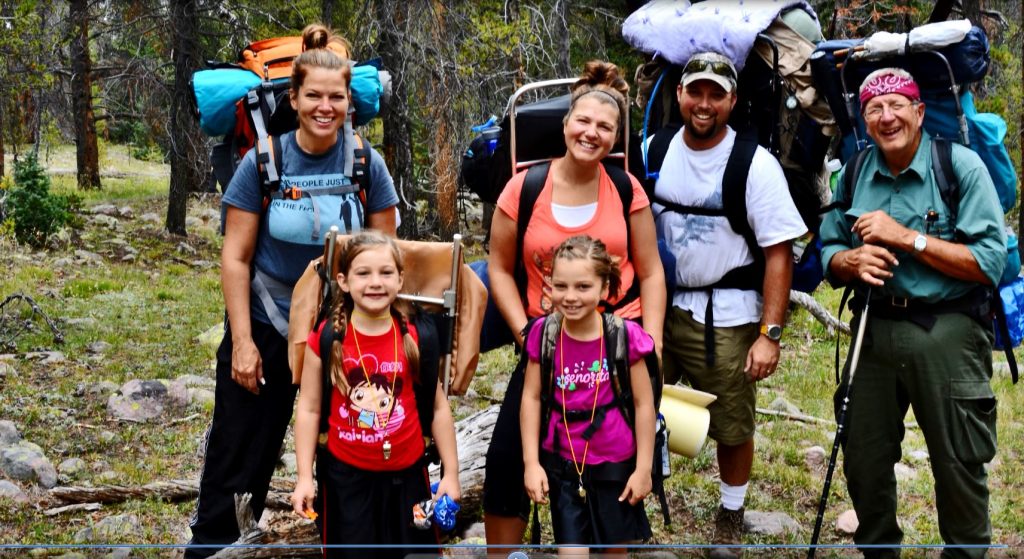 Down the trail I met a great family on a backpack. GRANDPA MIKE ATKINSON, all of a sudden looked at me, and said,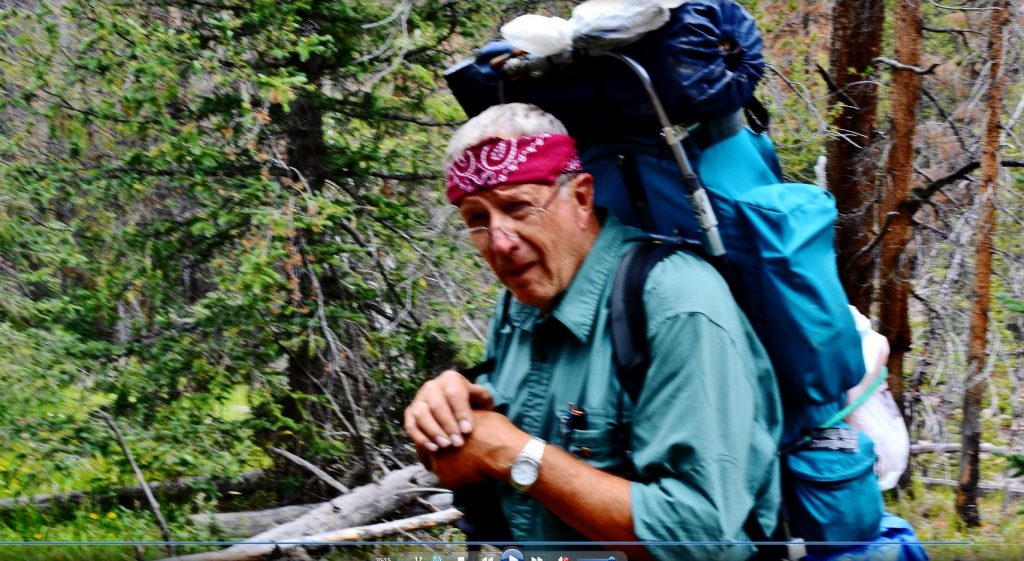 "YOU'RE CORDELL ANDERSEN!"
He continued, "My brother and I saw on your website the writing about the ANTI-AGING CHALLENGE, you describing the solution to arthritis using cod liver oil. Both of us carefully followed the system, and…..
…… IT WORKED MIRACLES FOR BOTH OF US!"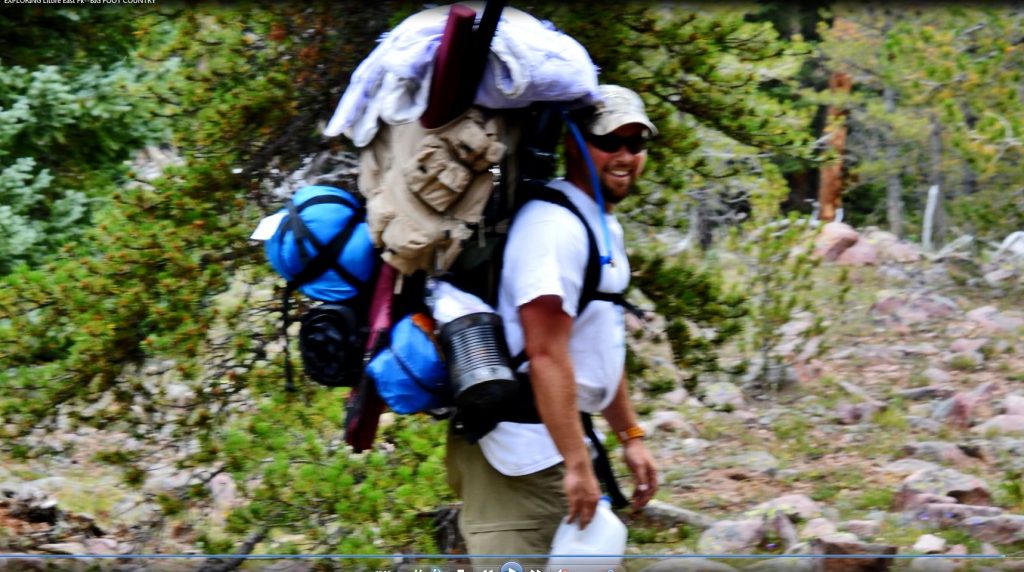 SORRY THIS PHOTO IS OUT OF FOCUS, BUT JUST HAD TO USE IT AS IT TELLS AN INCREDIBLE STORY……Here we are seeing the rewards of having a big family on a backpack–LUCKY HE WAS A 'TOUGH AS NAILS' EX-MARINE!"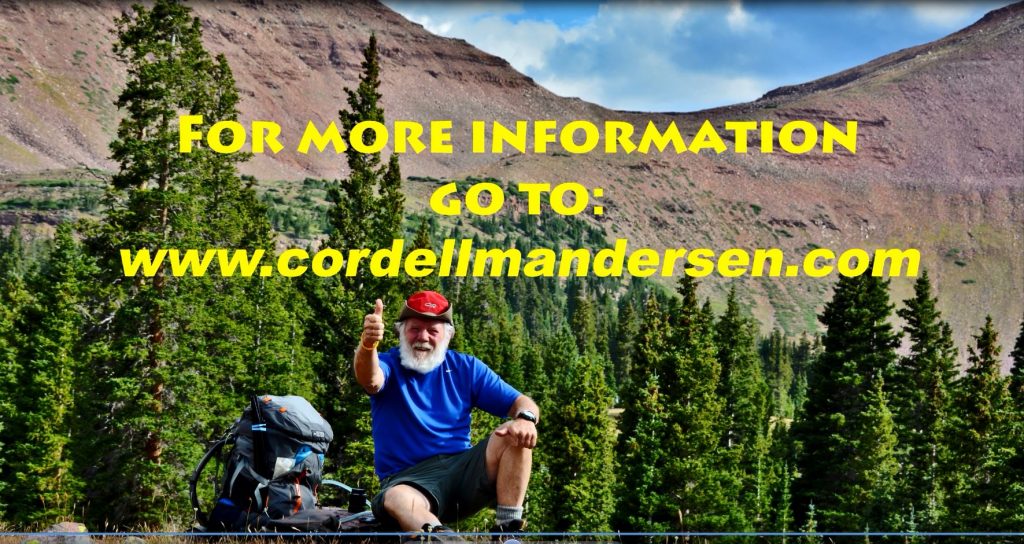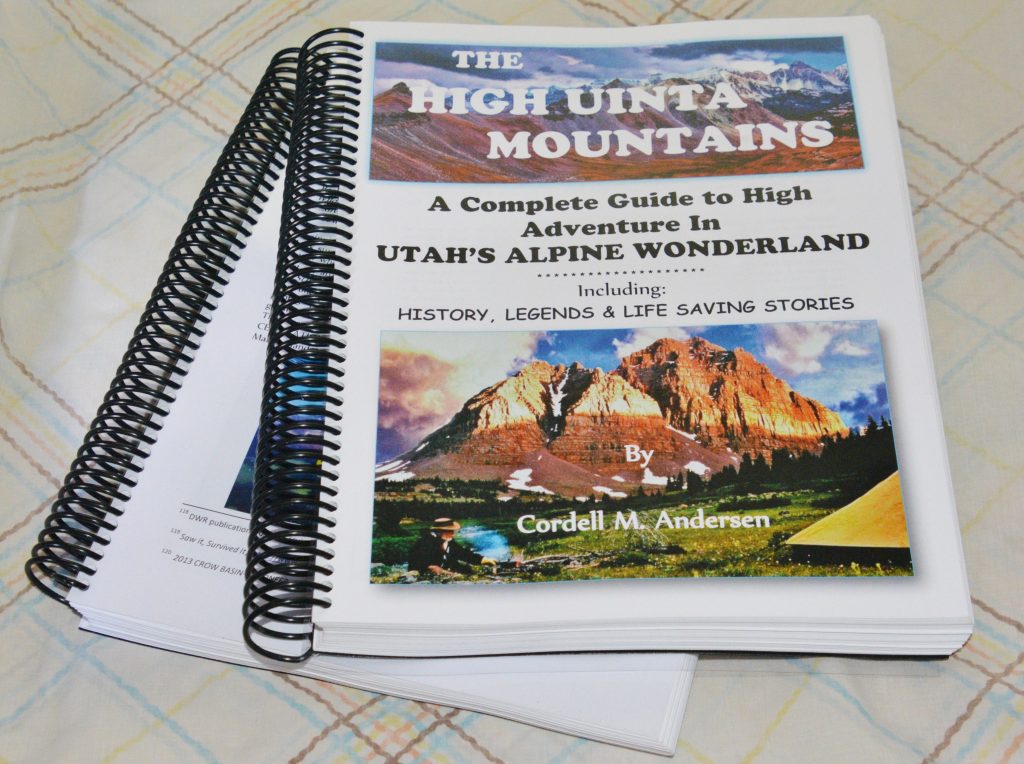 The 730 page digital book is a Guide for adventuring in the Uintas, but also with HISTORY, LEGENDS, the SURVIVAL STORIES OF THOSE WHO DIDN'T MAKE IT & WHY, plus my 8 SURVIVAL STORIES and WHY I'LL BACKPACK THIS SUMMER IN MY 87th YEAR, plus a detailed APPENDIX (among other things has the Anti-Aging Challenge writing), & 14 PAGE INDEX, AS WELL AS TOPOGRAPHICAL MAPS WITH ROUTES, DISTANCES & LABELS — get an online copy of this book, some have called THE ENCYCLOPEDIA OF THE UINTA MOUNTAINS, send me $20 (don't be afraid of sending a $20 bill as we aren't south of the border) along with your email address, and I will immediately email you the link to download the book with my permission to share once with a friend. Or, send $25 for a thumb drive that will have the book, plus The History of it's creation as detailed in a speech I gave at the Utah Valley Historical Society; plus my CHECKERED HISTORY & VISION QUEST–0-22 years. Send to:
Cordell Andersen, 444 Elm St., American Fork, Utah 84003
NOTE: You of course can take it on a thumb drive to your favorite printer and for around $190 have a printed copy as seen above in two volumes. My printer is COPYTEC in Pleasant Grove, Utah. They do a fantastic job.
**************************