******************
2 YEARS AGO AFTER A BOTCHED SPINE SURGERY MY RIGHT LEG DIED, and I couldn't walk with my legs soon loosing all their muscle , and as documented on this website you can see by scrolling way down, and down………I FORCED THAT LEG TO COME ALIVE WITH UNCEASING EFFORTS and soon WITH DIVINE HELP LEARNED TO WALK AGAIN LIKE A BABY, etc., etc.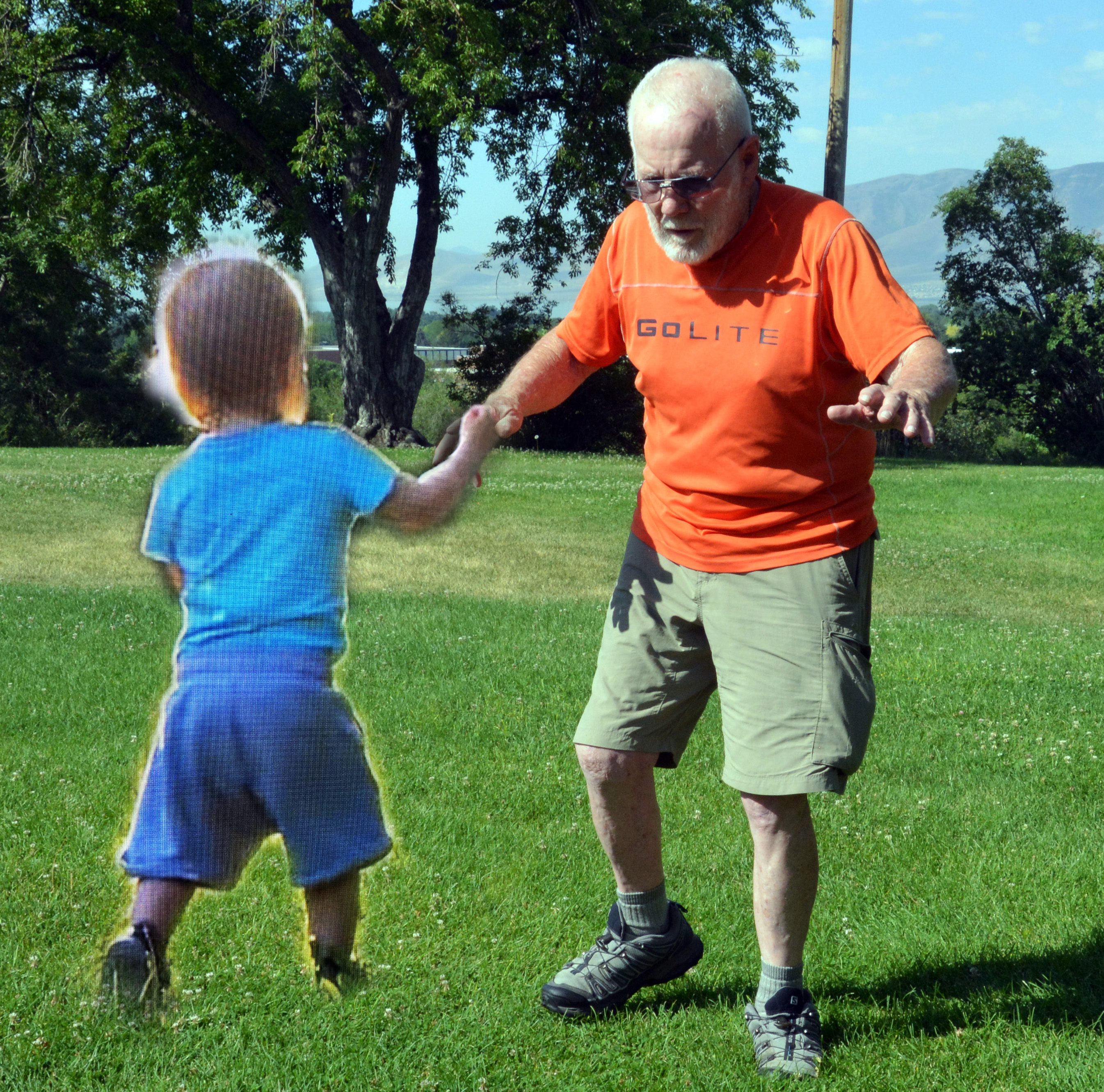 THEN A MONTH OR TWO AGO MY GOOD LEFT LEG STARTED DYING–but I learned what I had to do to KEEP IT AWAKE and ME MOVING….NOW AGAIN FOR THE WINTER ON THE STAIRS EVERY DAY below the American Fork Fitness Center, and very carefully now HAVE BOTH LEGS FEELING THE SAME and every day–gradually with great caution–INCREASING JUST A LITTLE EVERY WEEK and optomistic about how far the COMEBACK will take me.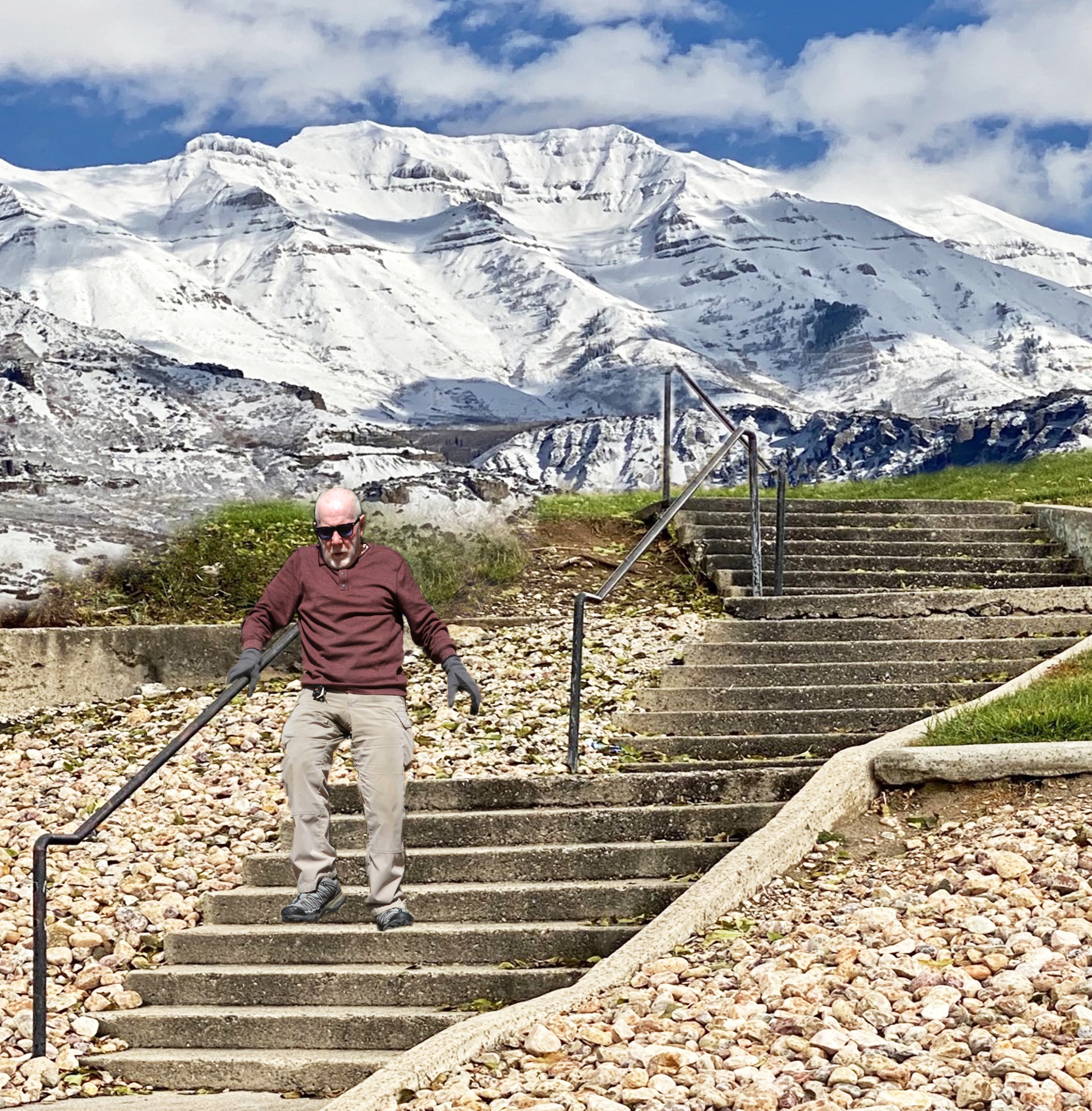 The STAIRS face south so any snow melts quickly–making possible doing enough laps every day to keep both legs from dying on me!!
I'M TRULY GRATEFUL FOR THE ENCOURAGEMENT FROM MY FAMILY & A FEW REALLY CHOICE FRIENDS like noted on my Facebook page, and quoted on the post BEFORE this one…… they likely never dreamed how important a nice word or two would be to encourage me in my "Impossible Dream" of the High Uintas Project as well as my "Dream…." to persist for half a century giving a helping hand to needy MAYANS…so thanks again to my many Friends!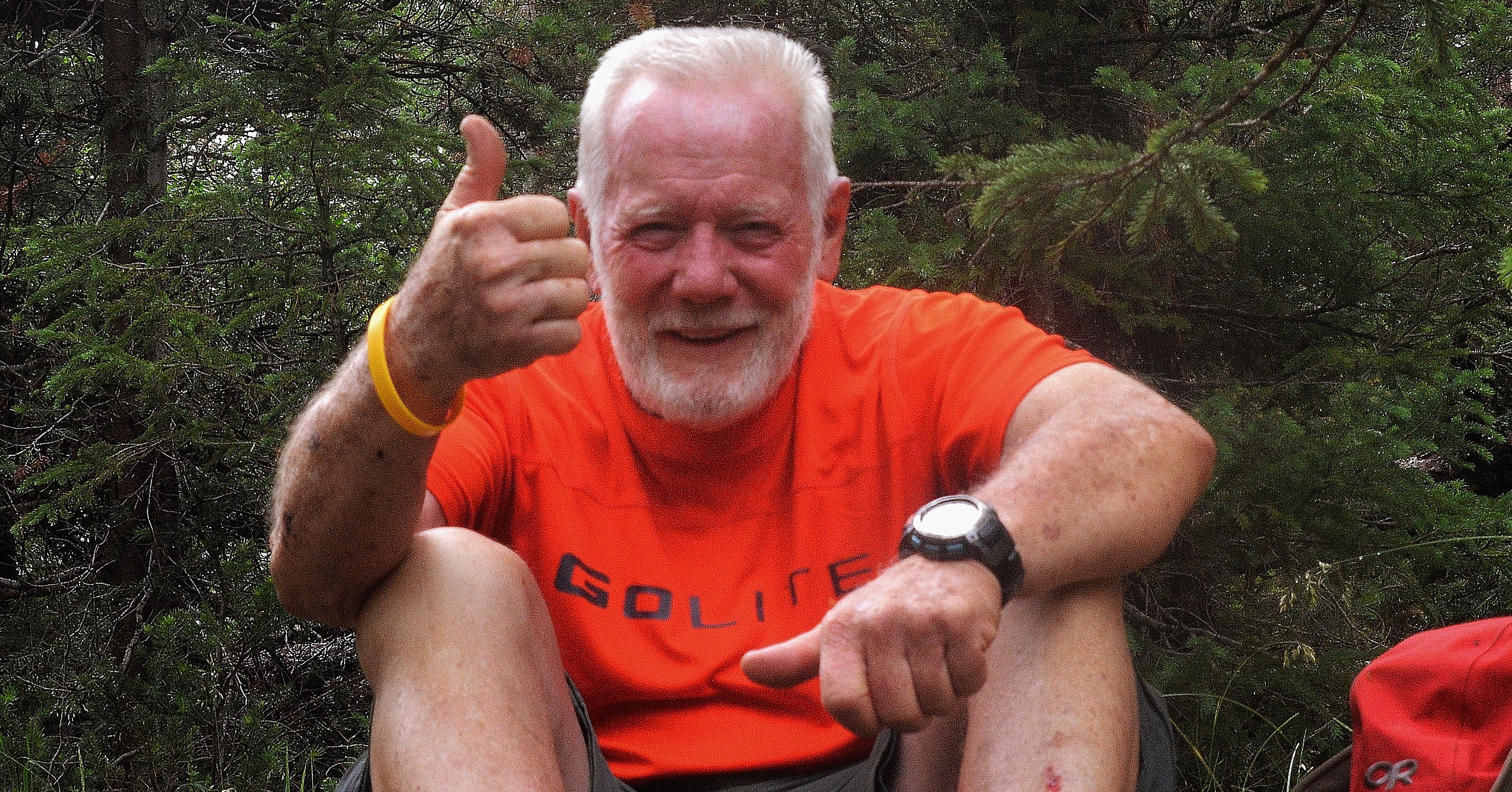 THE HIGH UINTA MOUNTAINS BOOK….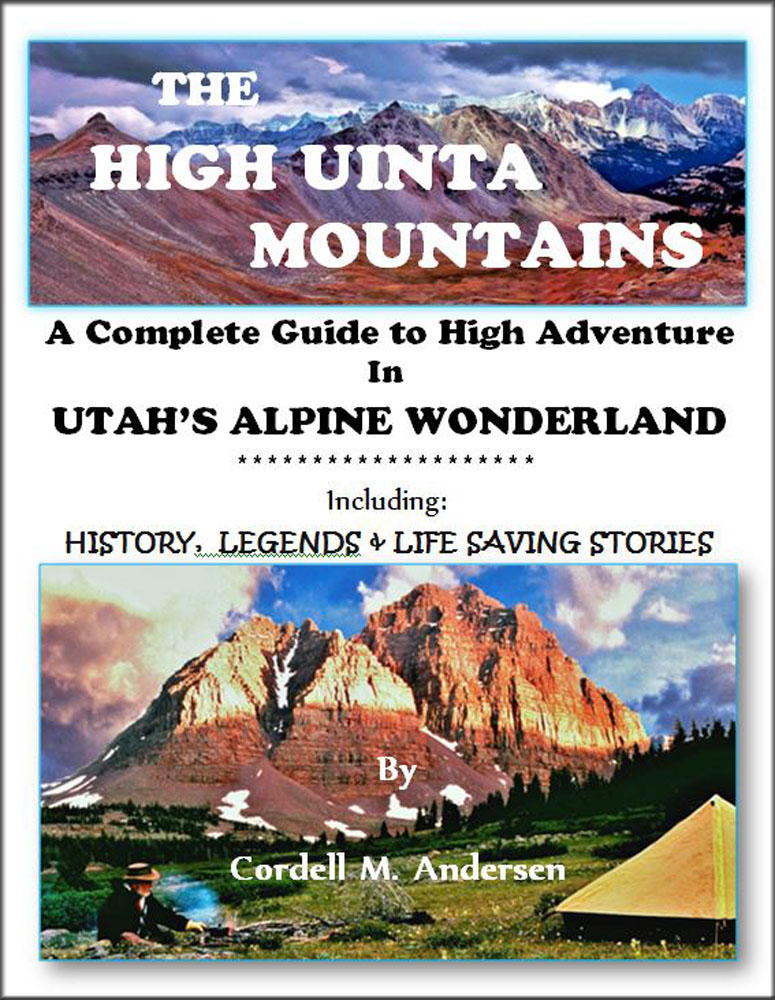 ….. is a Guide for adventuring in the Uintas, the 1st chapter is an 89 page guide to do an 856 MILE AUTO-LOOP TOUR OF THE UINTAS that shows them equal to or better than many National Parks.
Then follows 3 chapters that are GUIDES FOR HIKERS & BACKPACKERS–the ONLY BOOK WITH UPDATED INFO–including TOPOGRAPHICAL MAPS–of all the trailhead areas–WITH ROUTES, DISTANCES & LABELS —
All of the book is unique as it has springkled throughout the HISTORY, LEGENDS, the SURVIVAL STORIES OF THOSE WHO DIDN'T MAKE IT & WHY, plus my 8 SURVIVAL STORIES and WHY I'LL BACKPACK NEXT SUMMER IN MY 88th YEAR!
Plus a detailed……..APPENDIX , that among other things has the Anti-Aging Challenge writing that can GIVE YOU NEW LIFE & 14 page INDEX.
To get an online copy of this book, some have called THE ENCYCLOPEDIA OF THE UINTA MOUNTAINS, send me $20 (don't be afraid of sending a $20 bill as we aren't south of the border) along with your email address, and I will immediately email you the link to download the book with my permission to share once with a friend.
Send to: Cordell Andersen, 444 Elm St., American Fork, Utah 84003
TO AVOID PAYING ME FOR THE ONLINE UINTA BOOK, GET THE PRINTED BOOK OF YOUR CHOICE, BY GOING TO TO THE INFORMATION BELOW THE PICTURES: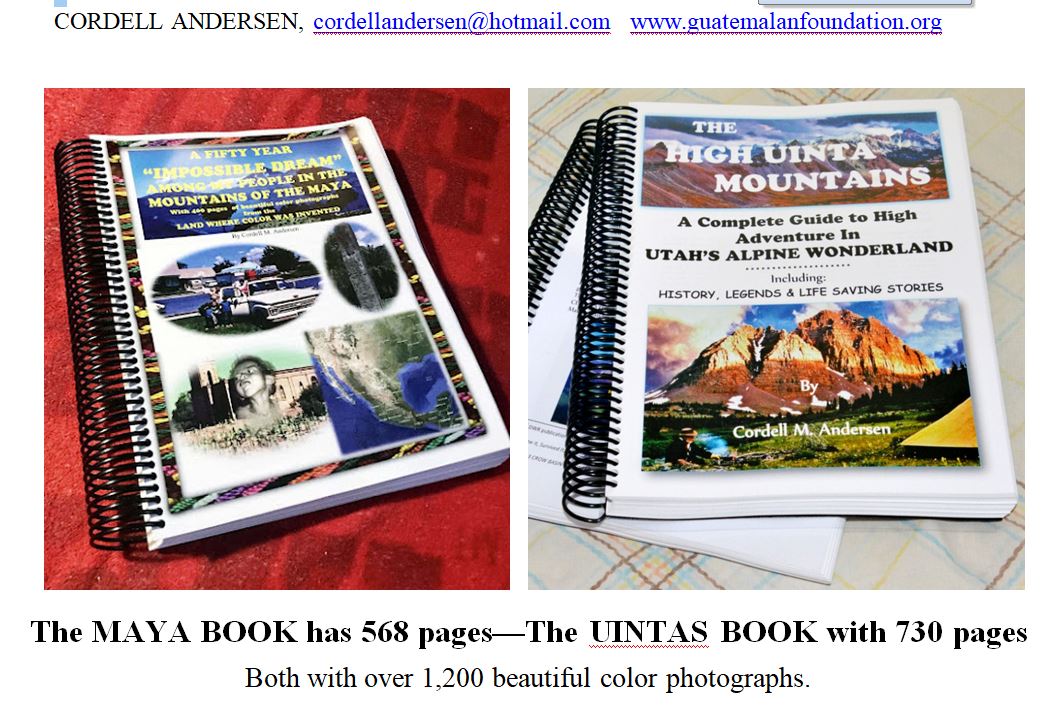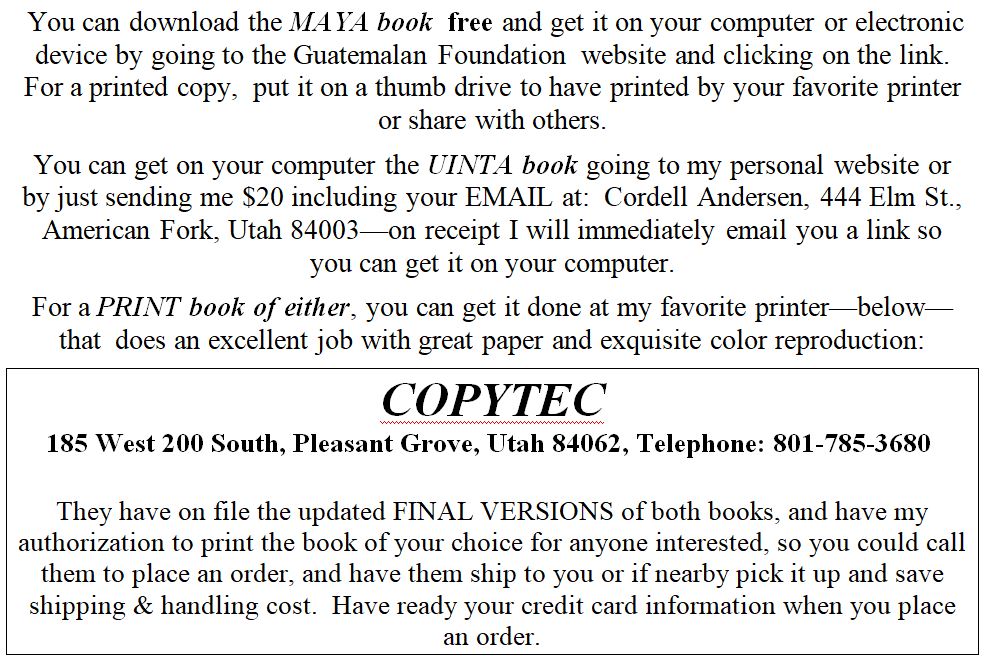 JUST THIS WEEK THE FINAL, UPDATED & ENHANCED VERSION of The MAYA BOOK WAS PRINTED FOR ME AT COPYTEC COSTING ME $153.37, so I can now hold it in my hands and read it to constantly remind me HOW THE LORD BLESSED ME with being an instrument in his hands to, as someone said,
"SAVED THOUSANDS & HELPED MANY TENS OF THOUSANDS OF MAYANS GET AN EDUCATION!"
To download the book to your computer CLICK ON:
A lot of very good information about the details of the book are included in a description of the MAYA BOOK on the Guatemalan Foundation website: https://www.guatemalanfoundation.org/ I heartily suggest you go there and read the entire introduction. Below are the first two pages from the website: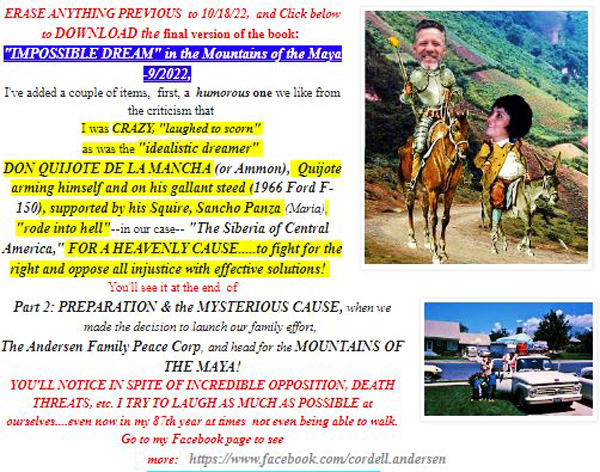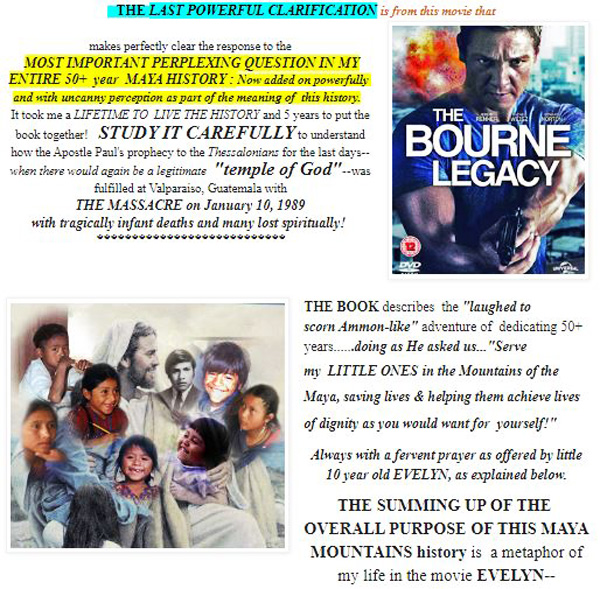 On the website: www.guatemalanfoundation.org there is more interesting information about this unique book.
***********************************************