I describe in detail in my Maya Book an ATROCITY in Guatemala because of important people believing an ABSURDITY, pages 442-456, and in a sense followed Clint Eastwood's advise from his movie,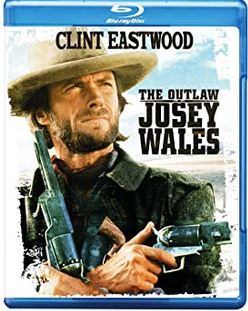 THE OUTLAW JOSIE WALES, on page 555, part of what he said was: "Remember, when it looks bad like you're not going to make it, then you have to get mean! I mean plumb mad dog mean! Because if you lose your head and give up, then you neither live nor win. You have to be a guerrilla fighter and take the fight to the enemy!" You'll have to read my book to see how I became very honest and frank in telling the history–which some important people are supposed to study carefully……the full 569 pages–with lots of beautiful photos…… go to: https://www.guatemalanfoundation.org/
Now we have to mention the Atrocity going on in:
UKRAINE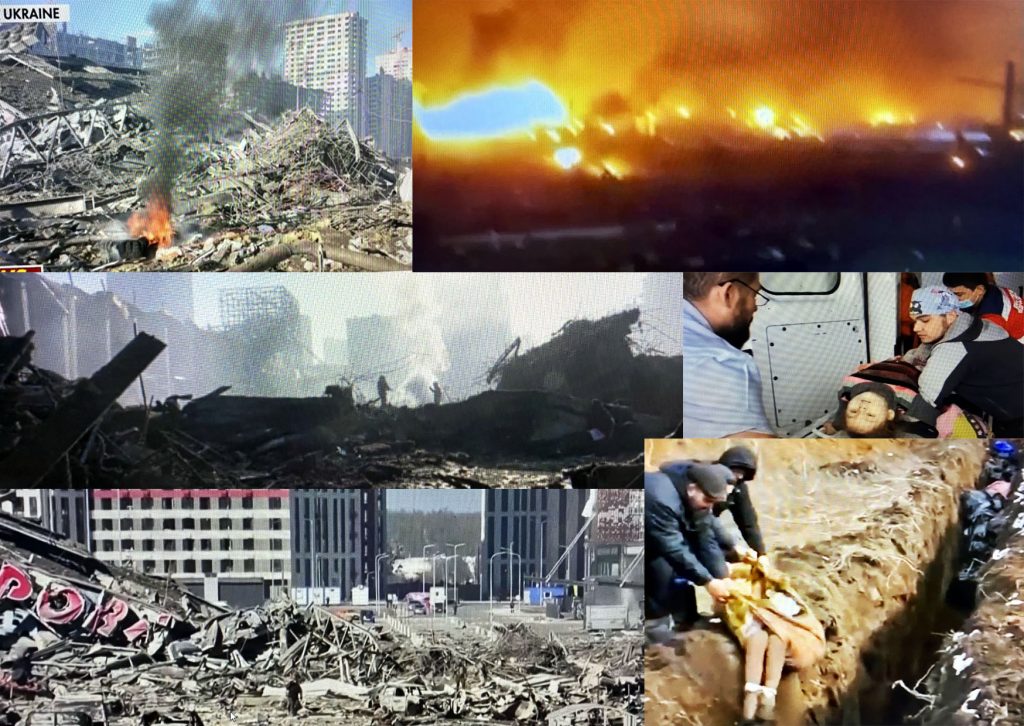 ….. in Provo, Utah (1952) there was fear of a Chinese invasion of the west coast & I remember vividly us guys from the neighborhood planning on heading into the mountains with our deer rifles and becoming guerrilla fighters–and we loaded up on extra ammo–cheap Army Surplus 30-06 cartridges– to be ready. Years later our dream happened in the movie RED DAWN!
TODAY THAT IS HAPPENING IN THE COURAGEOUS FIGHT BY THE PEOPLE OF UKRAINE…..THOUSANDS, INCLUDING GRANDMA, GETTING THEIR AK-47 & WILLING TO FIGHT and DIE RATHER THAN GIVE IN!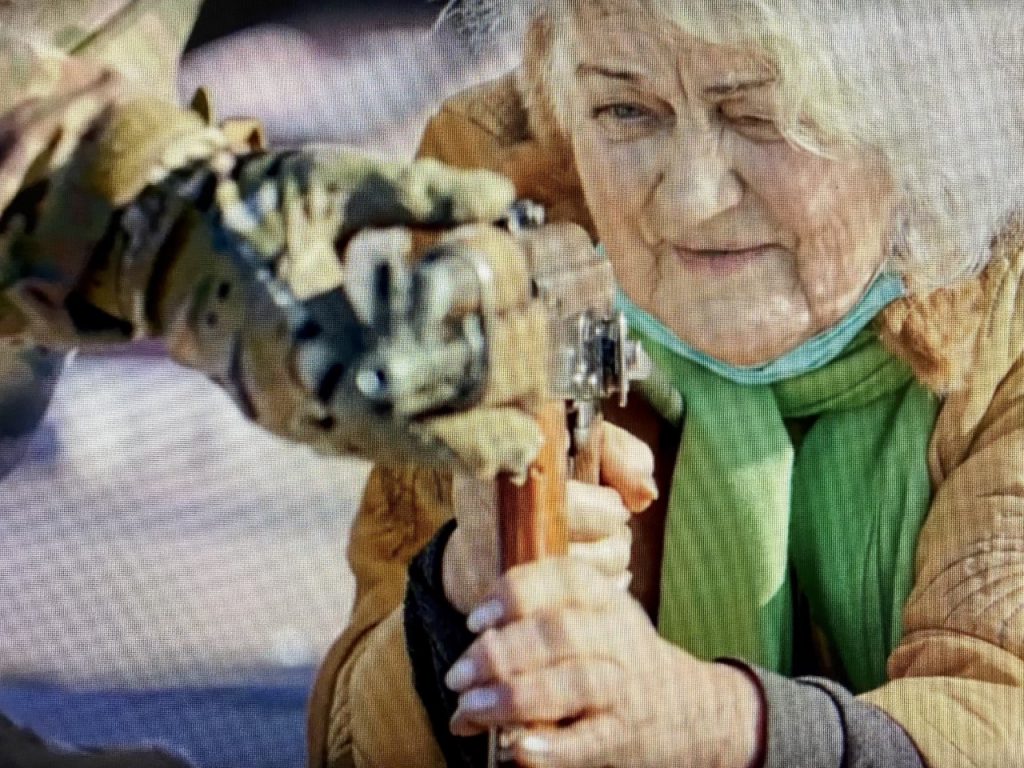 IN 1967 THAT WAS IN PART MY MOTIVATION TO GET OUT ON THE FRONT LINES IN GUATEMALA TO OPPOSE THE CUBAN/COMMUNIST EFFORT TO TURN THE COUNTRY INTO ANOTHER CUBA–YES, I ARMED MYSELF TOO, and OVER THE YEARS GOT BETTER WEAPONS, after having a DREAM, "seeing me fight off and win against the guerrillas with a Baby Browning .25 which kept jamming with me struggling each time to unjam, then to fight on to win–then the Army arrived to collect the bodies and an officer hearing about how I eliminated the attackers advised me to get rid of the Baby Browning and get larger caliber weapons of the "BEST BRANDS," which I did including with David's help, a sub-machine gun!"
BUT OUR MAIN EFFORT WAS TO WORK TO SOLVE THE PROBLEMS OF POVERTY & IGNORANCE THAT HAD OPENED THE DOOR TO THE "GUERRILLA WAR!"
THE "ATROCITY" in Uktraine, now with me a bit older–has at least MOVED ME TO DONATE TO THE RED CROSS TO HELP WHICH I RECOMMEND ALL OF YOU DOING TOO! AND ALSO–for me–WORK HARDER TO GET IN SHAPE–for the High Uintas, and keep alive long enough to finish my reports with thousands of pictures from Guatemala, and/or to be a guerrilla fighter sneaking down the face of Mt. Timpanogos to make devastating hits on the enemy–I can at least be a good snipper!

SO I PERSIST DAILY WITH MY STAIRS AT THE AMPHITHEATER/JOGGING BEHIND MY WALKER, & ONCE A WEEK UP TO THE FOOT OF MT. TIMPANOGOS & GROVE CANYON you see in this shot a couple of miles from my Cabin-A.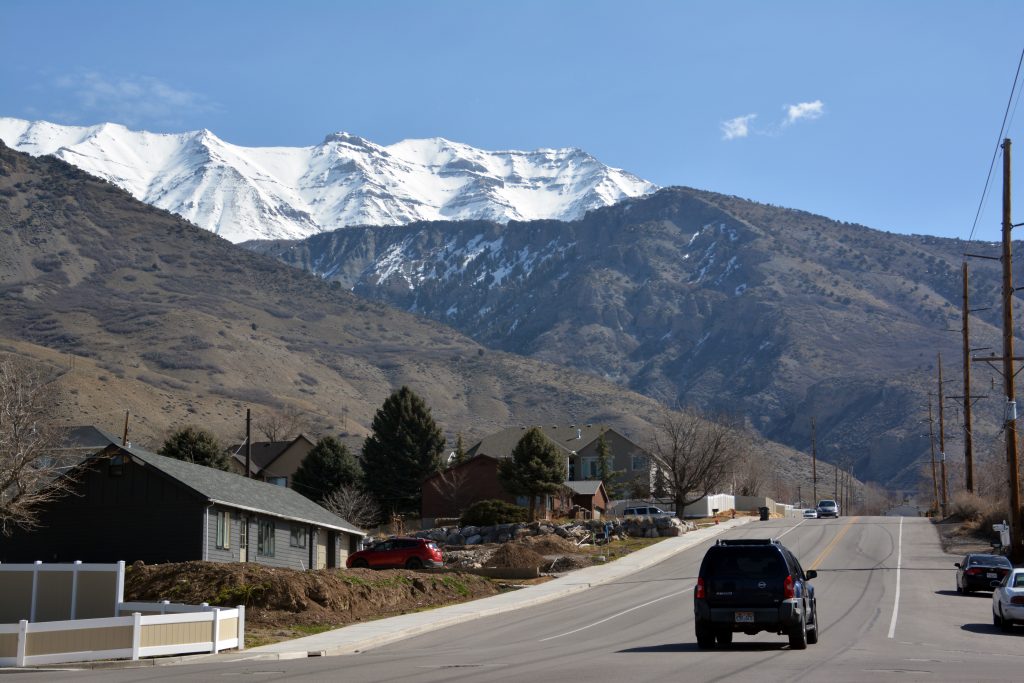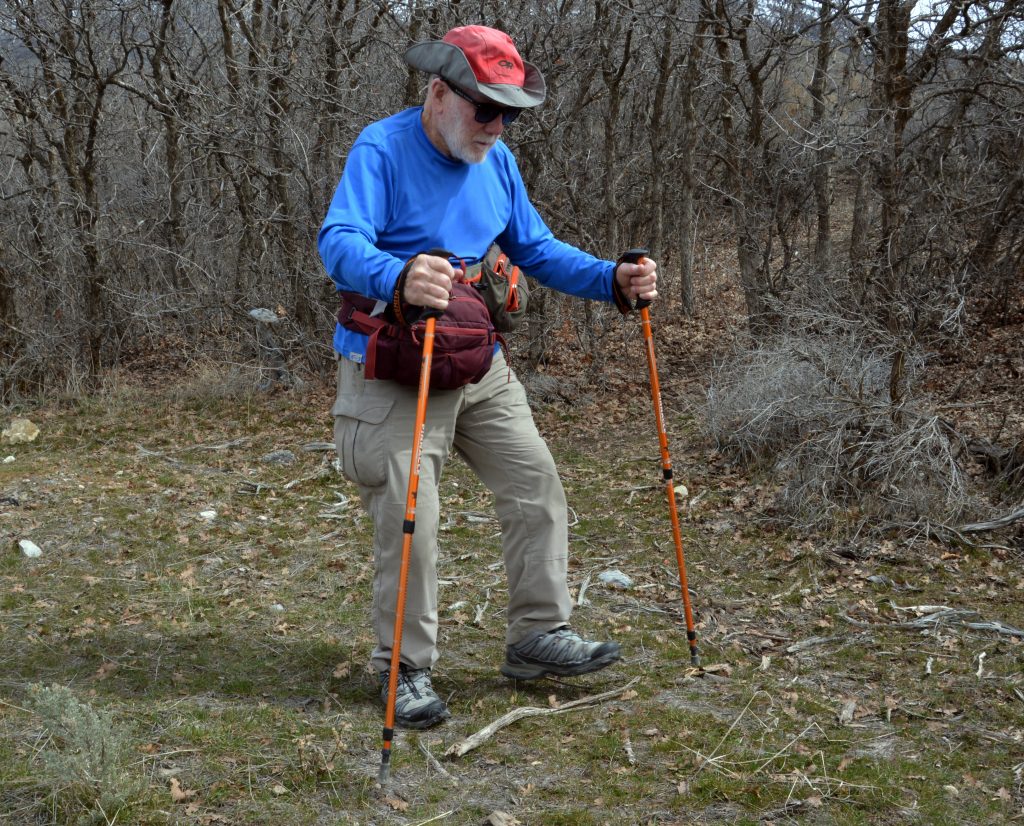 AND, AS YOU SEE BELOW I'M ALSO WORKING ON KEEPING FROM GAINING BACK THE 30+ LBS. I'VE LOST DURING MY BACK-ORDEAL–GETTING MAD AT MYSELF FOR BUYING COOKIES & OTHERS SUCH STUFF and ALONGSIDE OF MY CABIN–BURYING IT IN MY GARDENING PLOT ALONG WITH ANYTHING THAT WILL DECOMPOSE–to produce for me my Guatemalan "Miracle weed-MACUY"—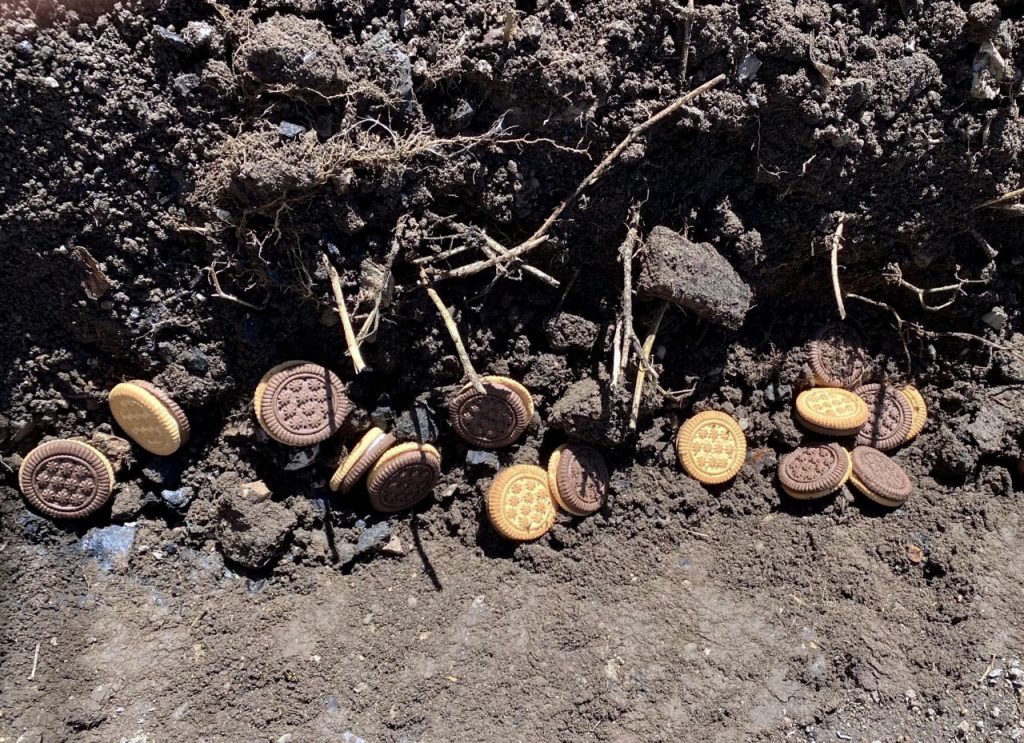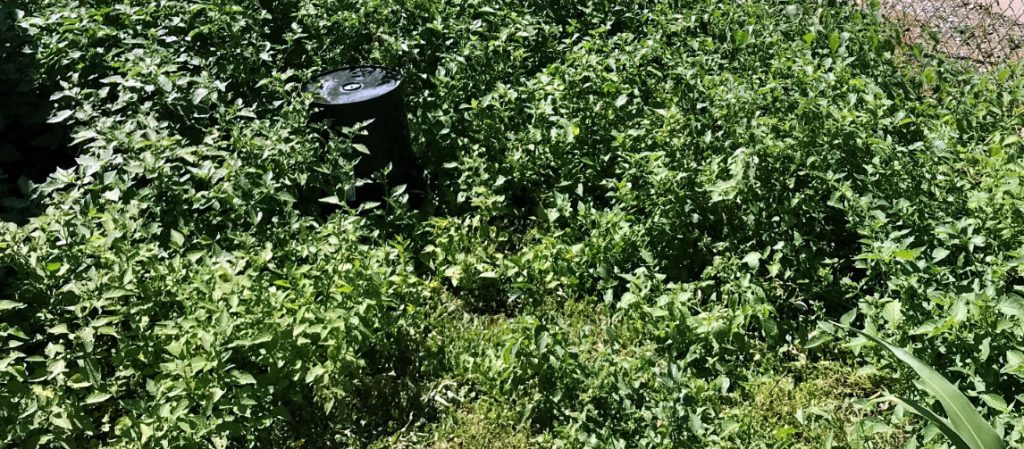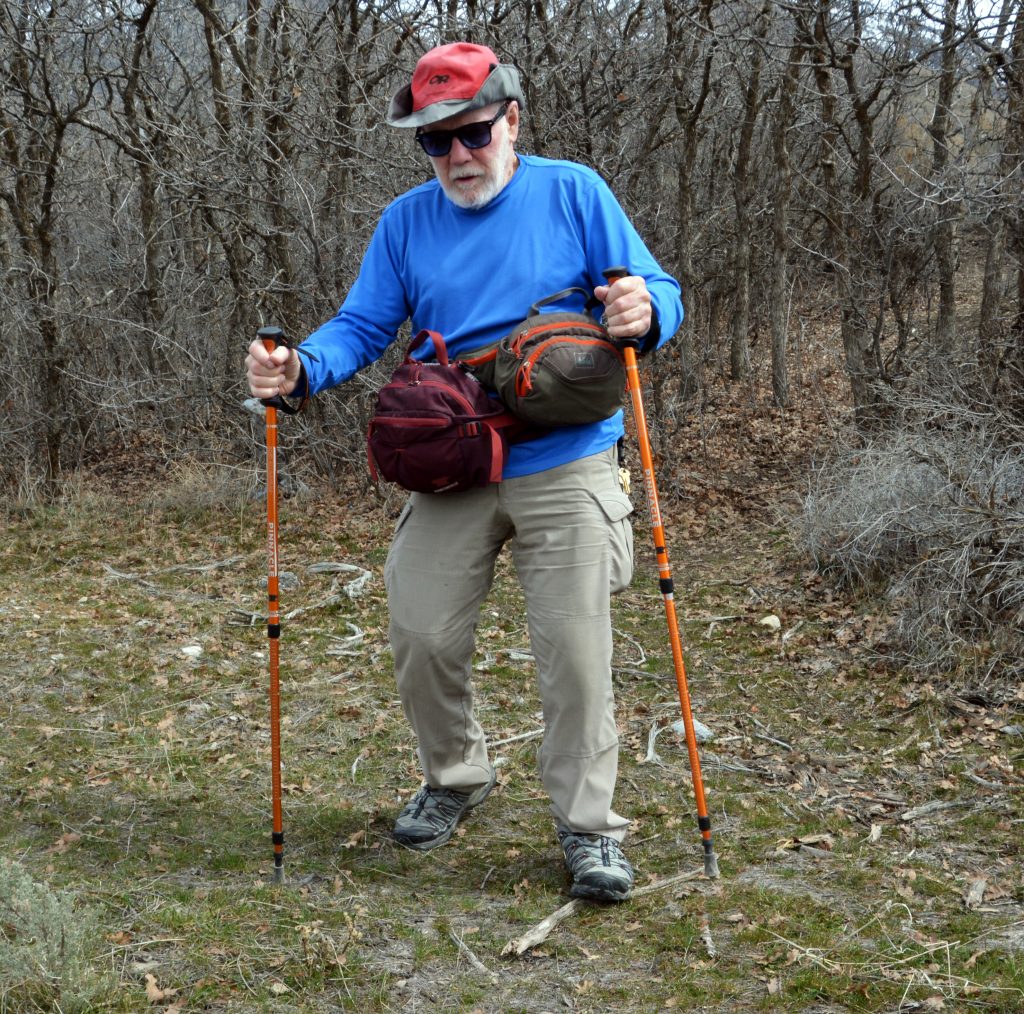 AND, YOU CAN SEE I'M TAKING MY GOALS SERIOUSLY–NOW, BY ADDING A LITTLE WEIGHT–NOT ON MY BACK THAT WOULD HURT ME, RATHER WITH WAIST PACKS loaded with my picnic lunch, water, emergency stuff I always take–even on these simple hikes–THE WEIGHT YESTERDAY COMING TO 8 LBS.–most of it my professional NIKON CAMERA AND ITS GREAT (but heavy) 18mm. to 400mm. ZOOM LENS, but has me thinking for the High Uintas I might have to sadly sacrifice that and just go with my smart phone–at least to begin with, but as I get stronger I'm sure I'll soon be lugging my Nikon again to get great photos of VISIONS OF NATURE to share with all of my friends.
ACTUALLY FOR BACKPACKING IN THE UINTAS I WILL HAVE MY 4.5 lb. SURVIVAL BACKPACK (shown on my tiny backpack last summer–scroll way down to see it), PLUS THESE COUPLE OF WAIST PACKS, PLUS A NEW LUMBAR/WAISTE PACK I'LL SHOW YOU LATER–THAT WILL MAKE POSSIBLE GOING FOR SEVERAL DAYS IN THE HIGH COUNTRY IN MY 87th YEAR.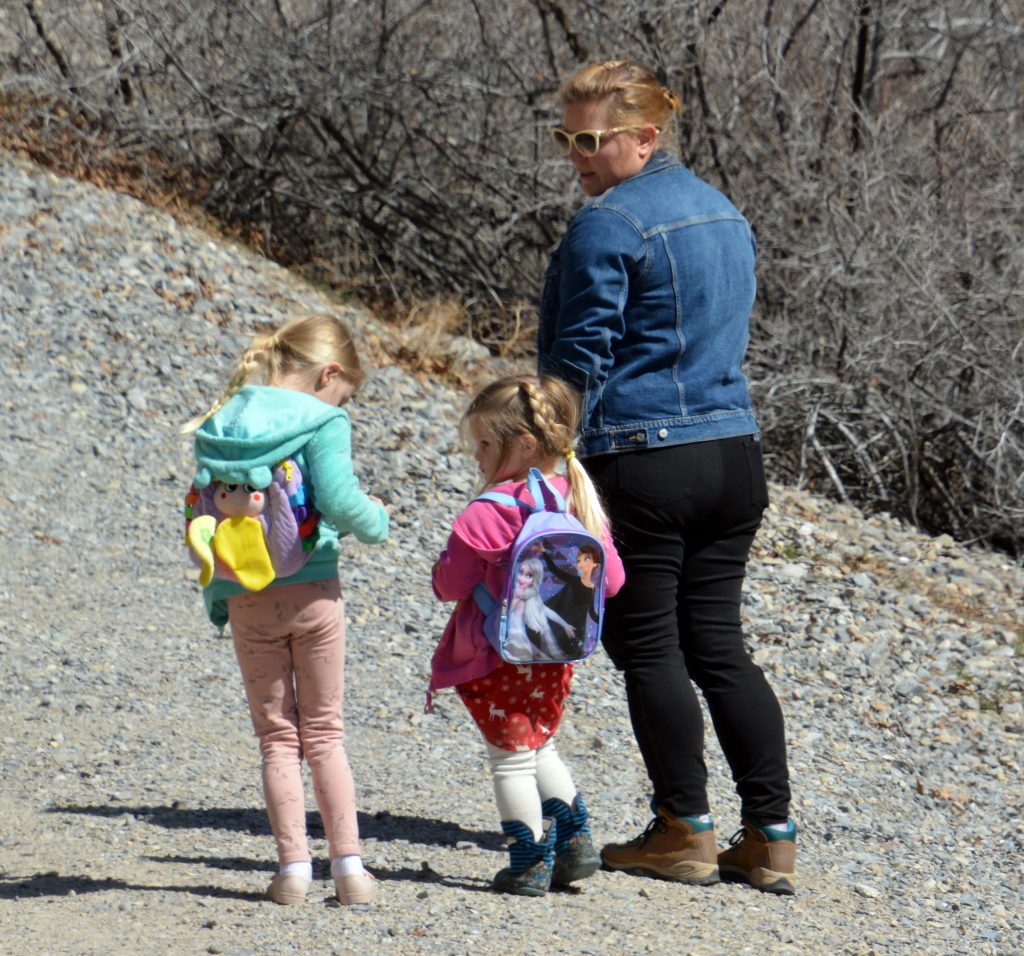 I'M GRADUALLY INCREASING THE DISTANCE TOO–YESTERDAY HIKING ABOUT A MILE UP THE CANYON--FOR A TOTAL OF 2 MILES round trip! I'LL ADMIT IT TIRED ME OUT, BUT IN A MONTH I'VE AT LEAST TRIPLED MY DISTANCE, & HELPING TO MAKE THE CONSTANT BACK PAIN ENJOYABLE WAS THE CONSTANT EYE OUT FOR MORE "VISIONS OF NATURE" YOU'LL SEE BELOW WITH A NEW FLOWER BLOSSOMING. IT'S NOT MUCH, BUT I'M MAKING PROGRESS as is THE SPRING!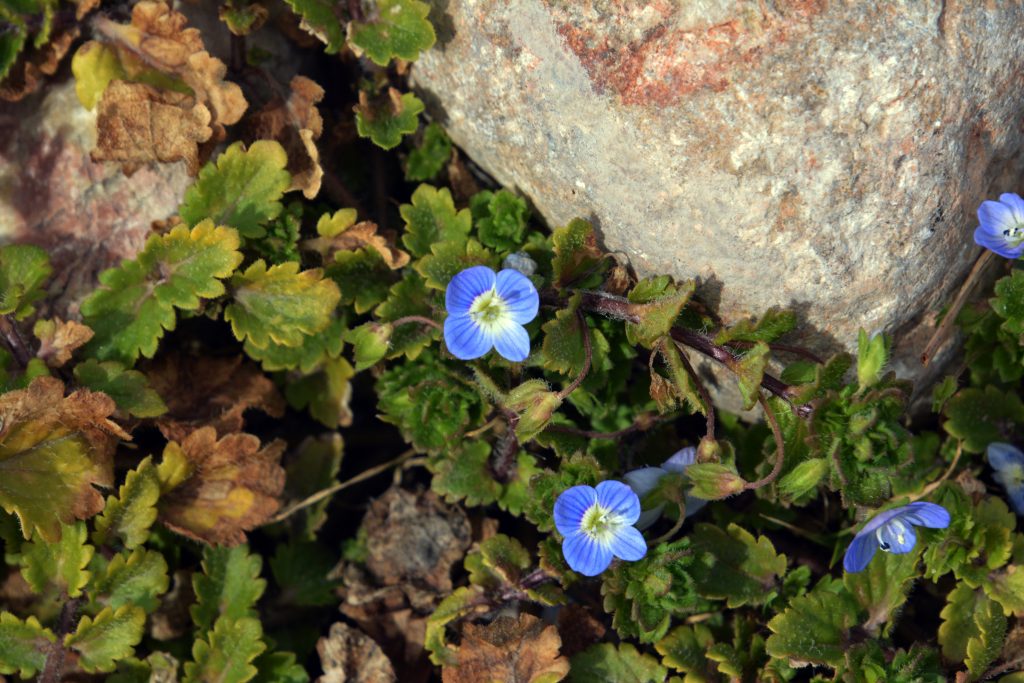 ANOTHER LITTLE TRICK, TO MAKE WHAT FOR ME IS PAINFUL PROGRESS, IS UNSELFISHLY WORKING ON HELPING TO KEEP OUR BEAUTIFUL OUTDOORS LITTER-FREE BY PICKING UP THE GARGAGE ALONG THE TRAIL, or along the STAIRWAYS!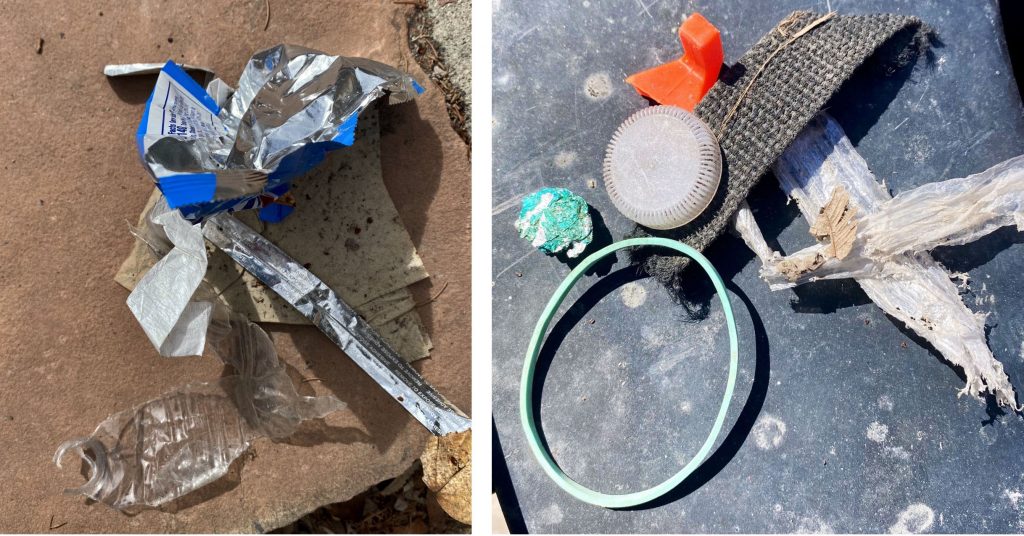 "LEAVE NO TRACE!"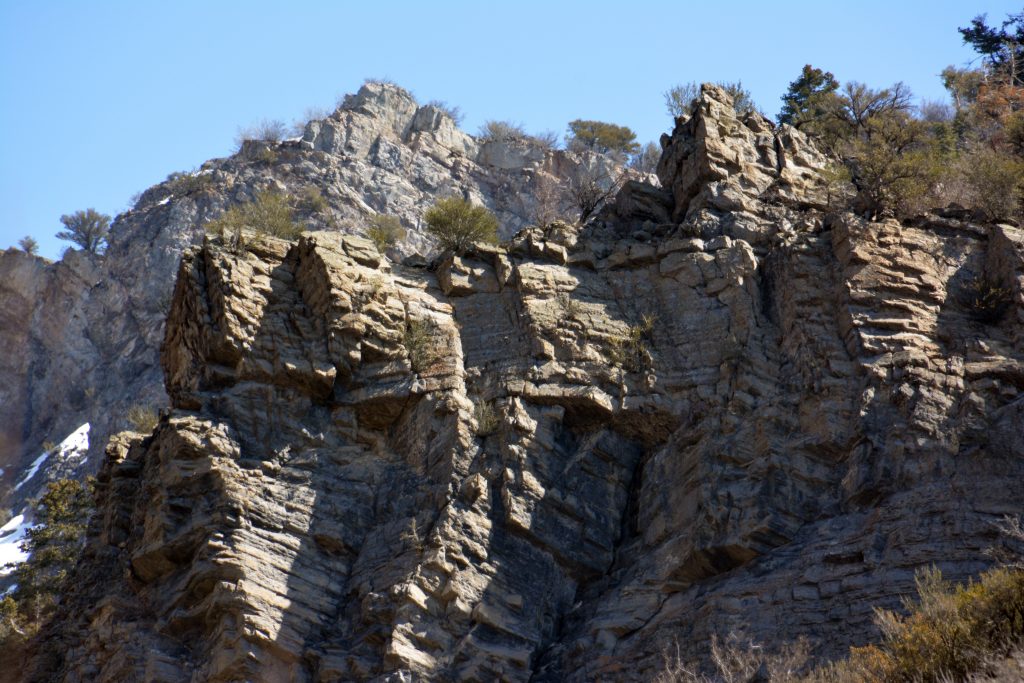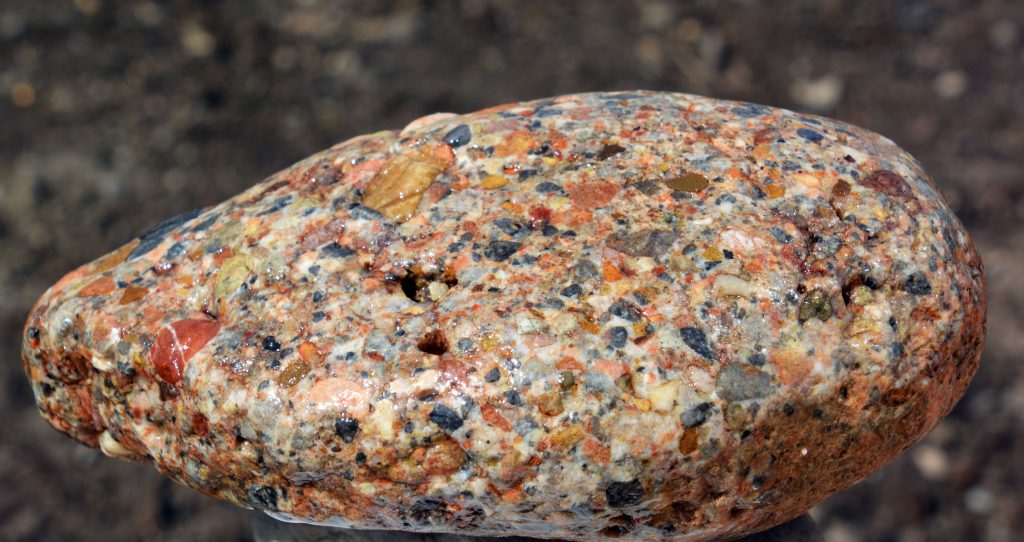 WOW! IS WHAT COMES TO MIND WITH THIS CONGLOMERATE BEAUTY–each of those different colored rocks was once a part of a layer created by the rivers washing different materials into the sea forming sedimentary layers, eventually uplifting them above the ocean, then turning each layer into stone, followed by another cataclysmic earth process breaking it all up into pieces and then the water in the bottom of creeks and rivers gradually wearing off their sharp edges turning them into rounded stones that then, in another earth creation process jumbled them together in yet another layer that turned it all into stone that was then broken up by more catastrophic earth movements followed by gigantic uplifts moving it all thousands of feet higher creating……for example the High Uinta Mountains, then with erosion processes–like glaciers, and rivers carving out canyons, and valleys, etc., etc. WOW!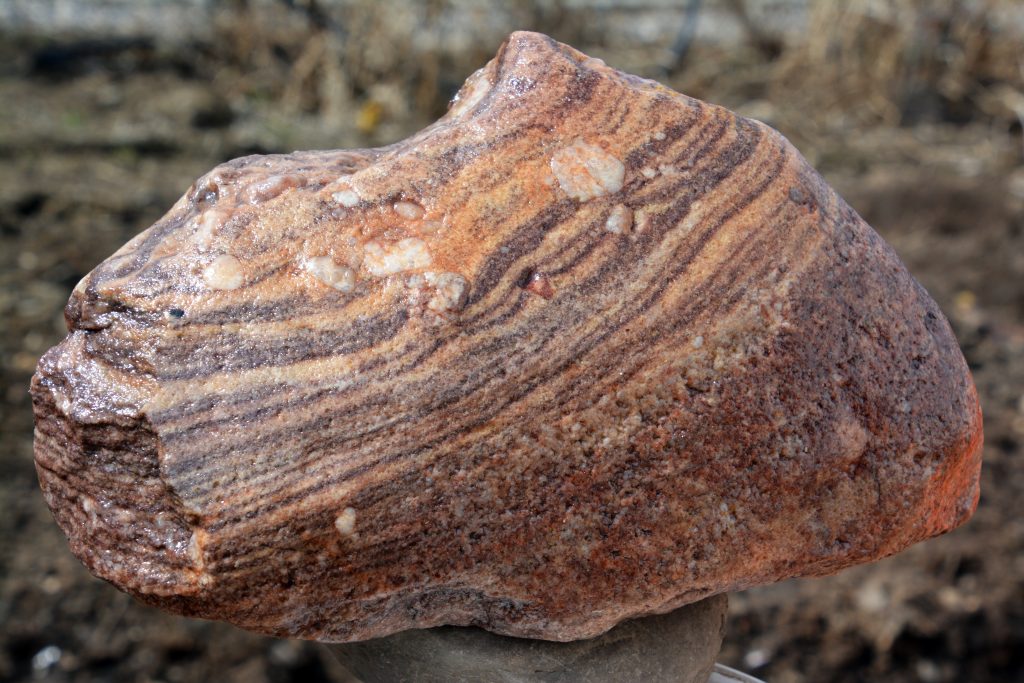 My fascination with rocks & minerals began in 1954 as a freshman at BYU when for a year I was a Geology major—along with Ted Packard and Charlie Peterson–my original two High Uinta buddies–I ending that year with a graduate class in GEOMORPHOLOGY, I being the lone freshman along with 15 graduate students–and Dr. Rigby graded using the curve– and how grateful I was to get a C!
Later my first commercial project as a freelance photographer in the 1960's was photographing all the rocks and minerals for Geology Professor, Dr. W. Kenneth Hamblin, who used them as the basis for his first book, now in its 9th edition–which photographs made him famous, and rich. Two of his books are available at Amazon and seen below: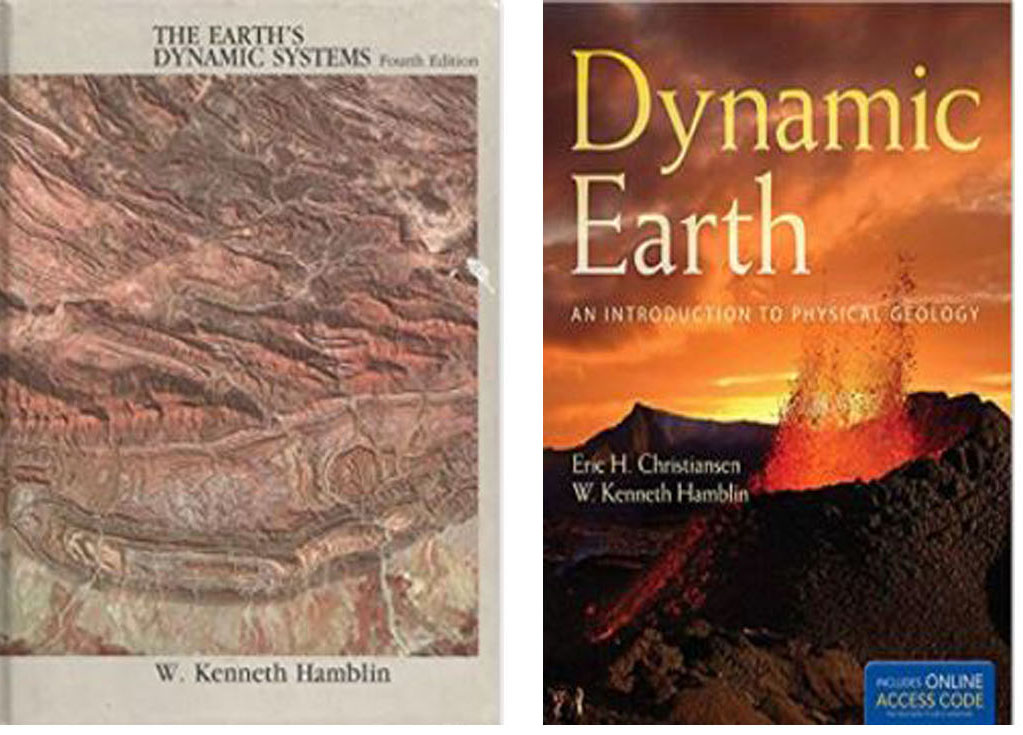 Go to AMAZON for interesting details, like, "The Ninth Edition continues to offer a stunning and sophisticated art program that is virtually unmatched by any other geology text." His textbooks for many years, originally and maybe still with my photographs, have been used by universities all over the globe.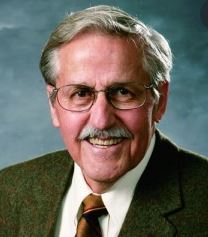 Dr. Hamblin passed on in 2009 at the age of 81.
I might add, when he would bring me a new collection to be photographed, we would talk and once I asked him if he fished or hunted. His reply,
"Hobbies are only for people who don't love their profession!"
MY SECOND–and last– SIGNIFICANT PROJECT AS A "FREELANCE PHOTOGRAPHER" was my 3rd exploratory trip to Guatemala in 1966, but first to the Izapa archaeological site in Southern Mexico with Garth Norman getting for him with night-photography the picture(s) he used to make himself famous–of the TREE OF LIFE STONE (see the MAYA MOUNTAINS BOOK). A few months later, with my entire Family, we made our 4th exploratory trip lasting 75 days, then gave away my 4″x5″ professional cameras, and prepared our move made the next year…..me becoming for the next 35 years what I have sometimes called, "A TROPICAL TRAMP," other labeling me as a "RODEO CLOWN" and others a "MODERN AMMON!"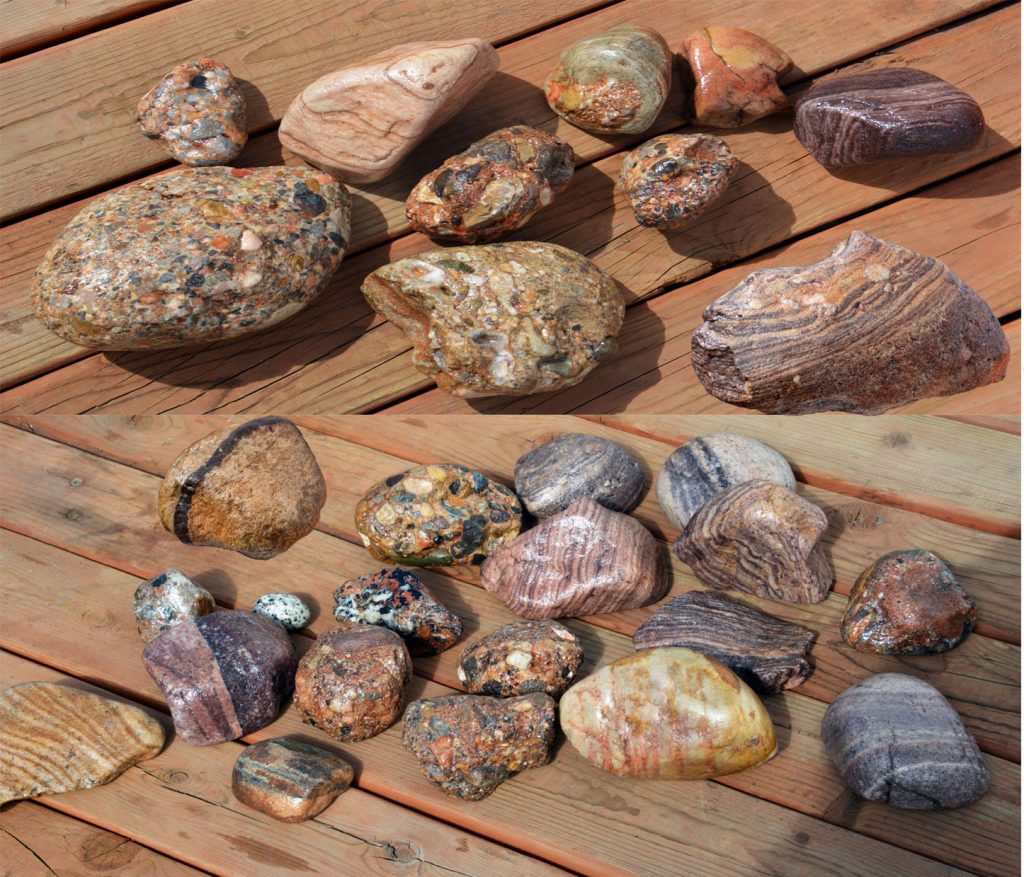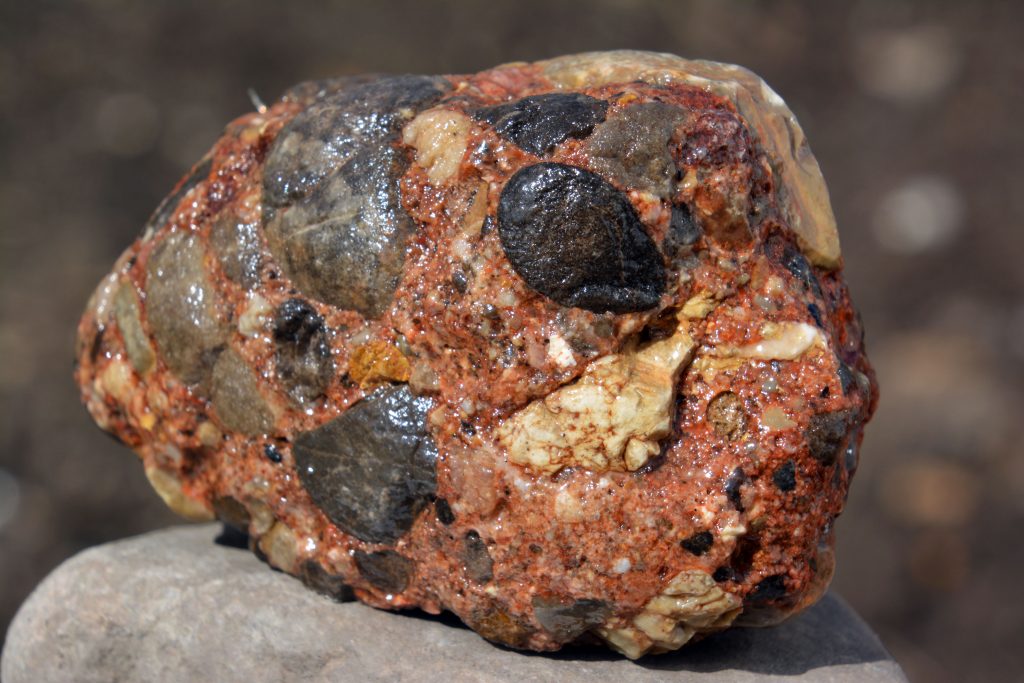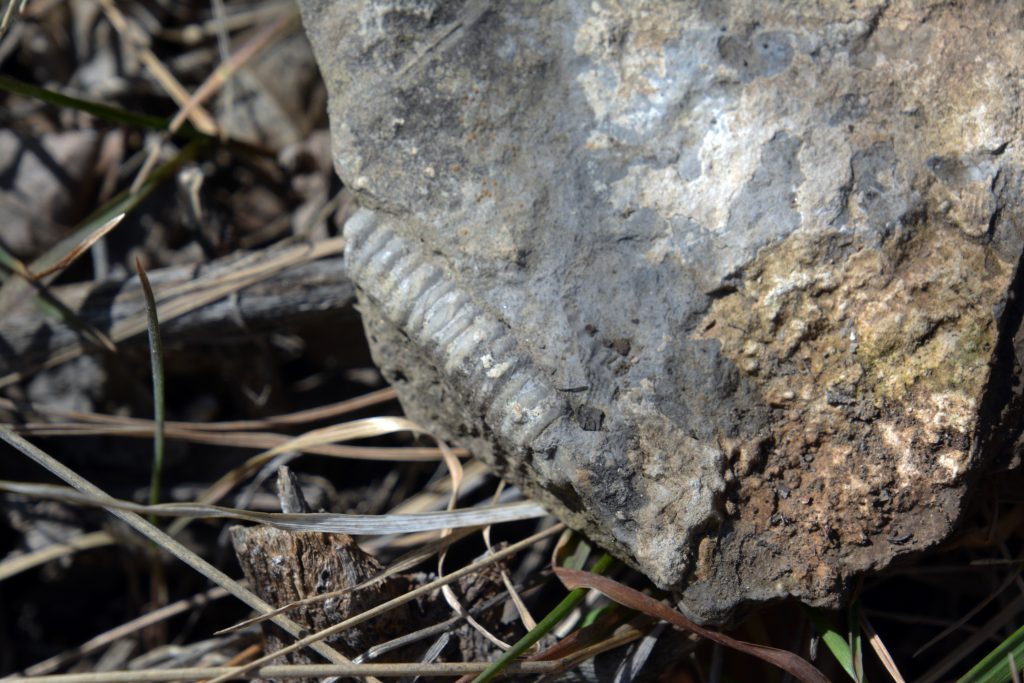 NOW TO THE HIGH UINTAS & MORE AREAS ACCESSIBLE FROM THE HIGHLINE TRAIL
OUR LAST AREA VISITED WAS ALLEN LAKE. From there you can go northwest to hit the trail or just bushwhack your way 1/2 mile north to get to the FOUR LAKES BASIN, first coming to Daynes Lake you see below but taken from half-way up to Cyclone Pass, with a lightning storm over distant Bald Mountain.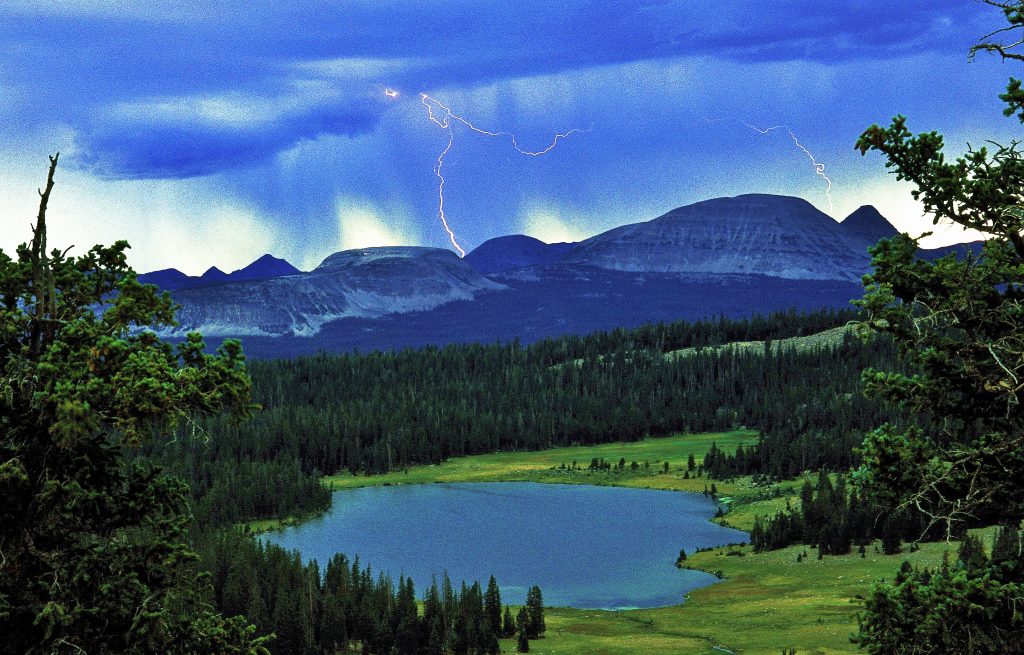 This hike to Bedground and Allen Lakes, then to the Four Lakes Basin and over Cyclone Pass, is all a side trip from the Highline Trail we will get back to in our next post, but first well climb Cyclone Pass (11,150 ft.) to pay a visit to two quite isolated lakes. First, from the pass we see Sea Lion Lake off to the southeast.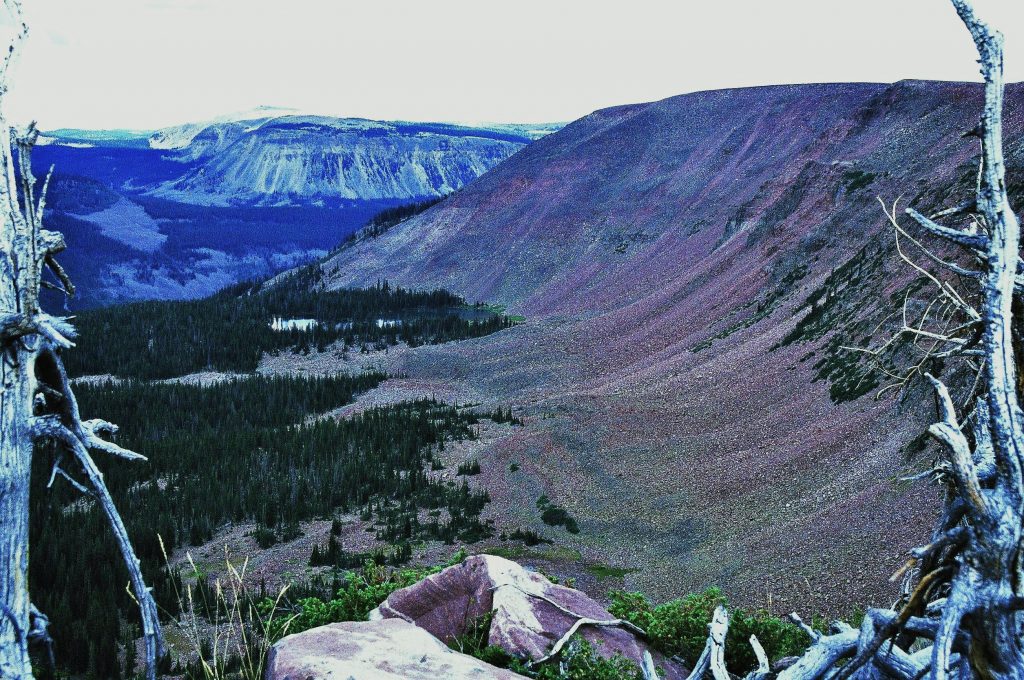 BELOW WE ZOOM IN ON SEA LION LAKE.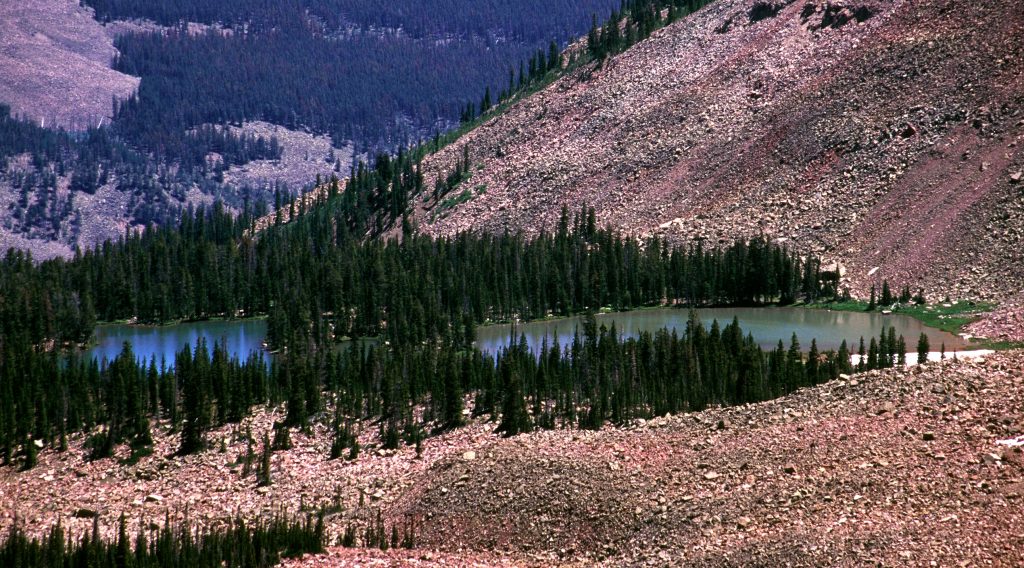 Remote THOMPSON LAKE, seen below, is our main objective, also entailing "boulder hopping" but I felt it worth the risk as there were some reports it could have "monarch" brook trout, which didn't work out that way in 2003, but MIGHT TODAY!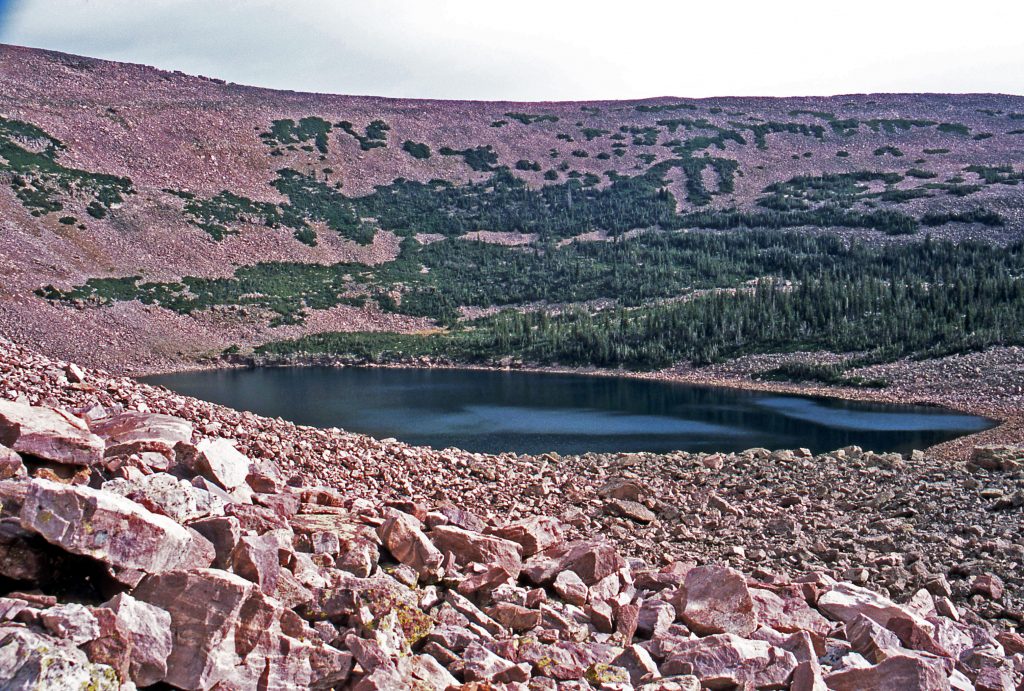 From CYCLONE PASS we descend into the FOUR LAKES BASIN. We've seen already Daynes Lake, and below we see DEAN LAKE.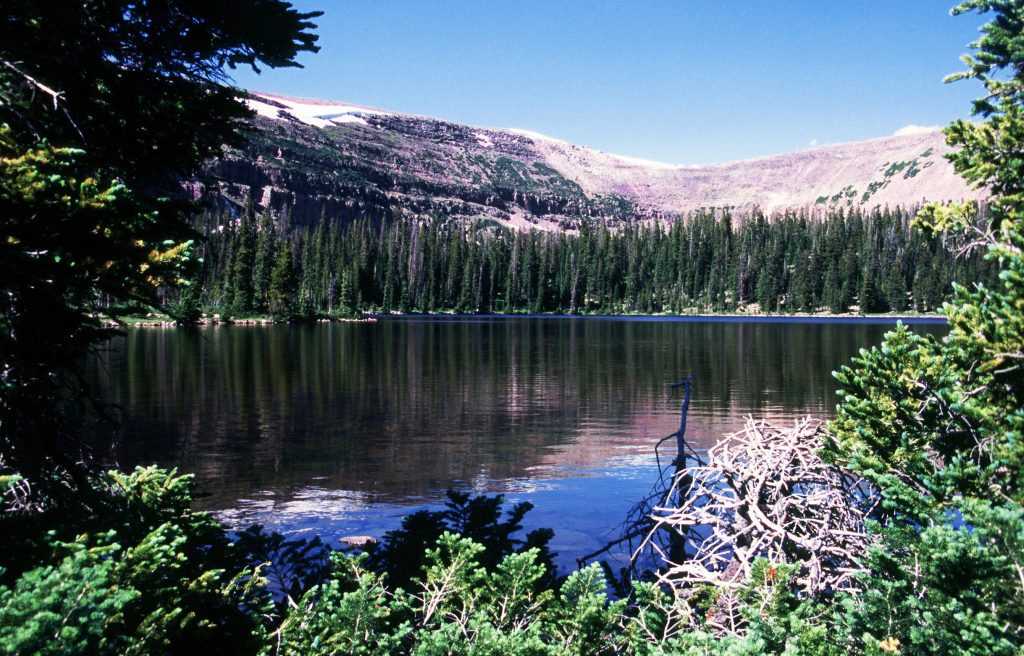 JEAN LAKE we see below is very near the trail from which this picture was taken. On the far right we see CYLONE PASS. On the far left we can see a sliver of DEAN LAKE, pictured above.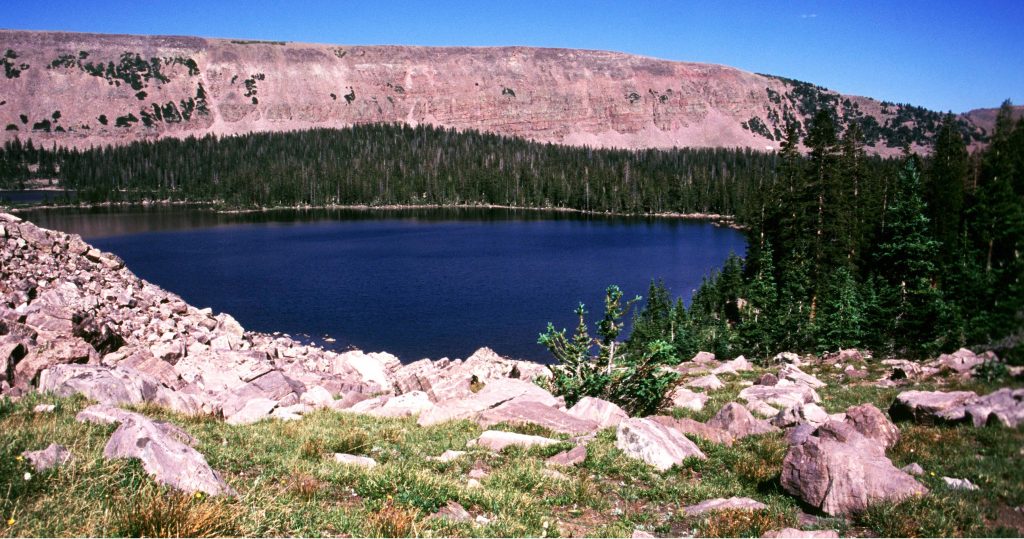 On the south side of Jean Lake we find the trail, and follow it around the point of the mountain and in 1.5 miles we come to the HIGHLINE TRAIL, and follow it northeast for 1/4 mile and come to Pigeon Milk Springs that produces ice cold, pure water, but with a glacial whitish hue–called, "glacial milk." Our next post will take us up and over the mountain to the east. Information on this area, including topographical maps, is found on pages 164-168 of my HIGH UINTA MOUNTAINS book.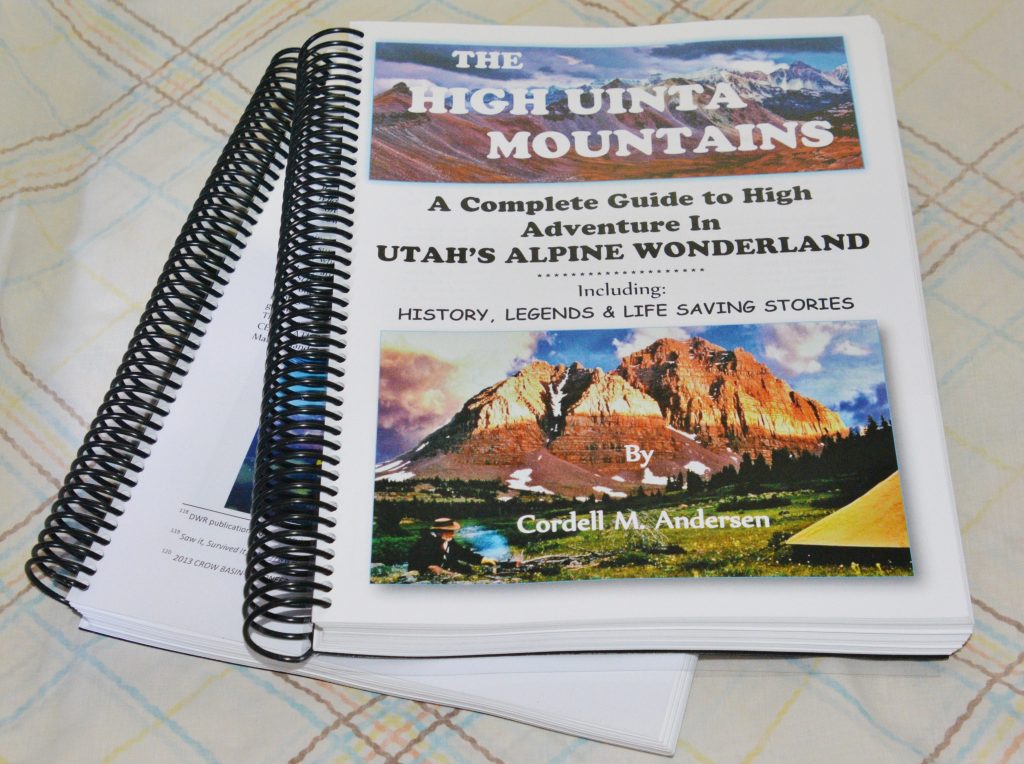 For the latest & to download the final version of my book,
A 50 YEAR "IMPOSSIBLE DREAM" AMONG MY PEOPLE IN THE MOUNTAINS OF THE MAYA,
go to: https://www.guatemalanfoundation.org/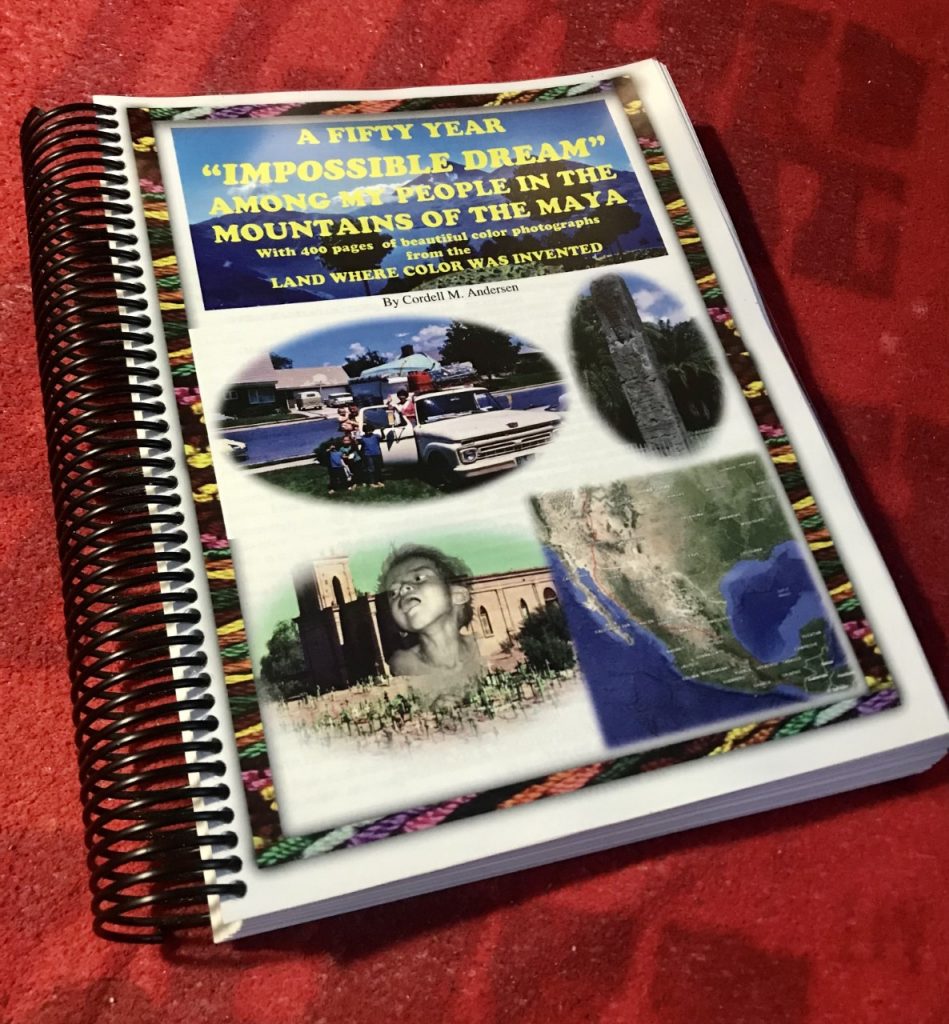 I'll see you again in a couple of days when we'll follow the HIGHLINE TRAIL to the Rock Creek Drainage, and then on Wednesday–y luego en miercoles ver el primer reportaje de mis 50 ANOS ENTRE LOS MAYAS, que mayormente seran fotos–muchas fotos.
IN THE MEANTIME HELP IN UKRAINE @: RED CROSS AID TO UKRAINE
**********************************8***************