TO UPDATE MY BOOK–click on the following to see
2019 DWR STOCKING OF HIGH UINTA LAKES
NOTE: I have taken the DWR listing of all stocking done during 2019, and separated out those lakes and reservoirs in the High Uinta area: Summit, Daggett, Uintah, and Duchesne Counties. They are listed in two pages you can download.
The one IMPORTANT NEW STOCKING is in CRATER LAKE, the Uinta's and Utah's deepest lake at 147′, originally the lake had brook trout, then tiger trout were added, and for 2019 SPLAKE–a brook trout/lake trout hybrid.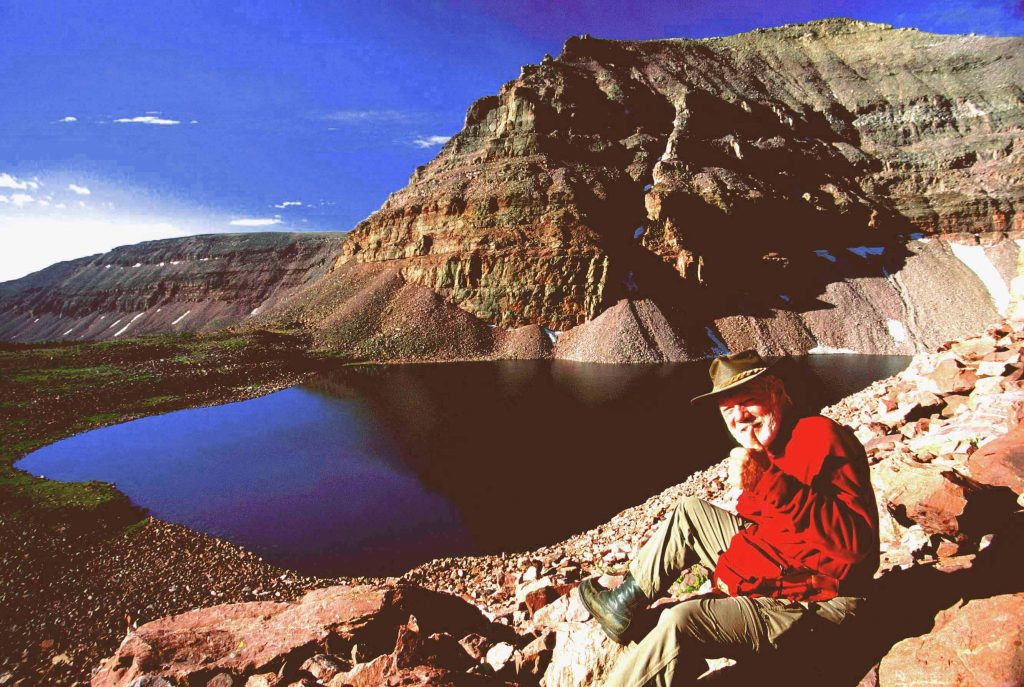 The possibilities are exciting! I just wish I could make it back there one more time–I'm now in my 85th year & hurting some.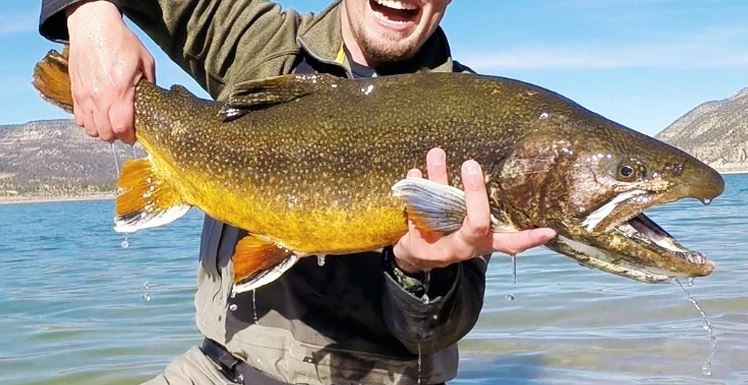 ******************************
SNOW DEPTHS:
Wolf Creek Pass =Apr. 8th– 60″ -24th–53″ – 30th–37″;
Bald Mt. Pass = Apr. 8th– 68″ – 24th–62.4″ – 30th–51″
So we'll now begin our daily log
SNOW DEPTHS ON PASSES
DATE — WOLF CREEK — BALD MOUNTAIN
May 1– 3 6.8 inches — 50.9 inches
May 2– 35 inches — 51.7 inches
May 3– 32 inches — 48 inches
May 4– 32 inches — 48 inches
May 5– 29.5 inch — 47 inches
May 6– 37 inches — 45.9 inches
May 7– 35 inches — 45 inches
May 8– 34 inches — 45 inches
May 9– 31.4 inches – 41.4 inches
May 10- 28.4 inches – 40 inches
May 11- OPEN – — – 38 inches
May 12- 21.3 inches- — 37 inches
May 13- 18 inches — — 37 inches
May 14- 13.8 inches– 37 inches
May 15- 11 inches– — 36 inches
May 16- 9 inches– — 35 inches
May 17- — — — — — 34 inches
May 18- — — — — —31.8 inches
May 19- — — — — — 30 inches
May 20- — — — — — 29 inches
May 21-
May 22- — — — — — 28 inches
May 25- — — — — –26 inches
May 26- — — — — 25 inches at Noon!
May 27- — — — — 21.5 inches
May 29- — — — —13 inches
May 30- — — — –-11 inches at 9AM
May 31- — — — — 5 inches at noon
BALD MT. PASS – The UDOT website still says it's CLOSED. Just called the Forest Service and it is true….they were saying "waiting until the snow melts" –which likely will happened soon. The highway is open to Teapot Lake on May 25th –mile post 26. GOT TO BE OPEN NOW so we can get prepared for hiking & backpacking
GET MY BOOK TO HELP YOU PREPARE SAFELY!
— A FEW PHOTOS FOLLOW on May 11: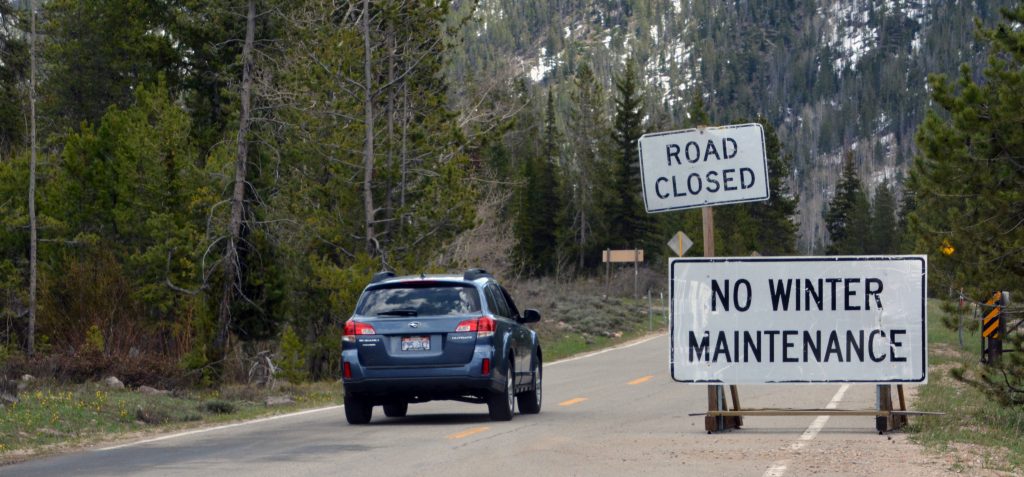 The GATE, 14 miles from Kamas is open. and road clear for about 7 miles
About 5 miles from the GATE there is snow on both sides of the highway and we get a view of Bald Mountain
Another two miles, or 7 miles from the GATE most of the highway has snow on it but melting quickly.
A few miles from Kamas, flowers are beginning to bloom.
in the meantime scroll down and check on what you need to begin making your summer plans–a printed book as seen below ideal but for digital version click on that—
TO PURCHASE THE DIGITAL BOOK: PAY PAL recommended
***************************************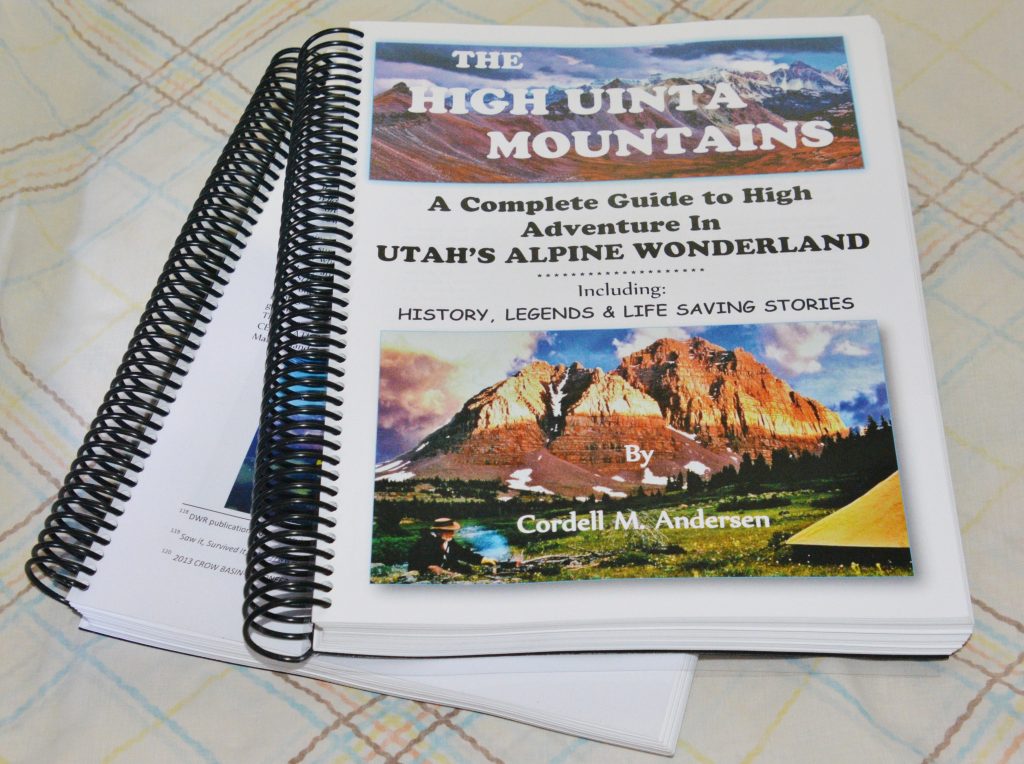 The first to get the book printed–was one of my Explorer-Scouts from 1962, Merrill Finlayson, who said:
"I have mine and am loving it! Nothing like holding a good book in your hands. Thanks Cordell!"
**********************
Scroll down for information on PRINTED VERSION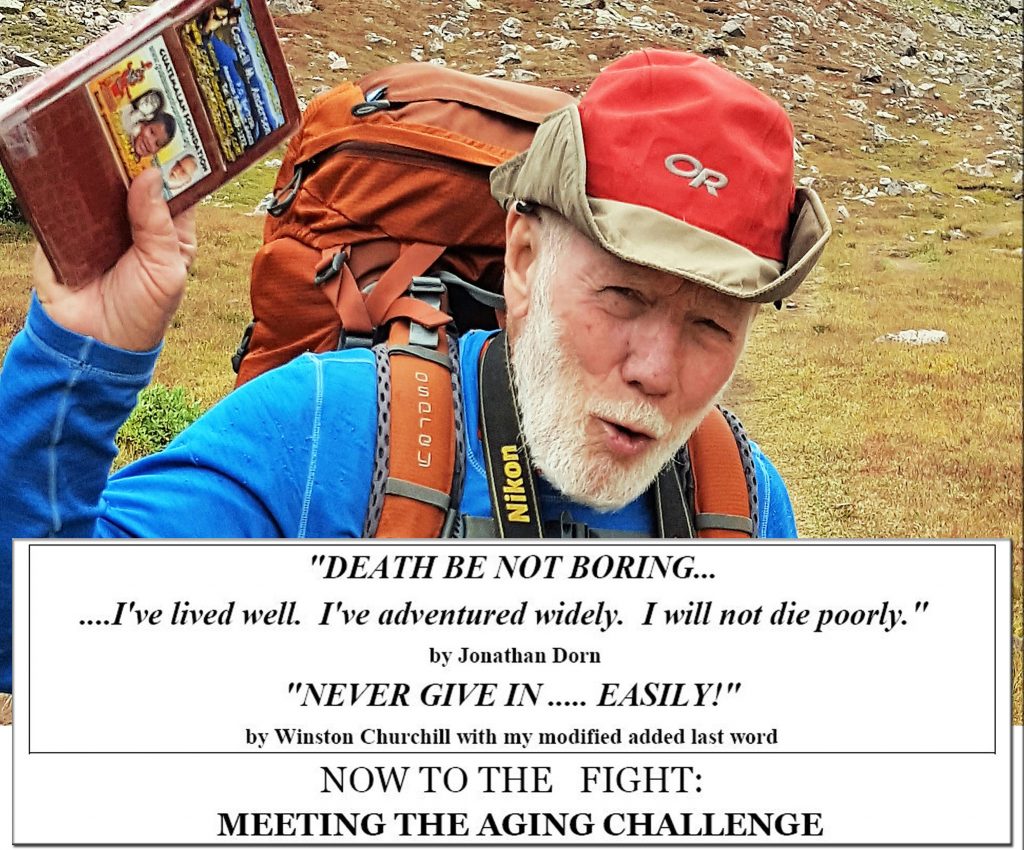 THE 2019 HIKING/BACKPACKING SEASON WAS AMAZING & A BLESSING ACHIEVING THE GOAL OF "NO DEATHS IN THE UINTAS."
I HAVE GRATEFULLY LEARNED THAT WHAT MY BOOK PROMOTES SAVED AT LEAST 4 LIVES WE KNOW ABOUT. LET'S DO IT AGAIN IN 2020!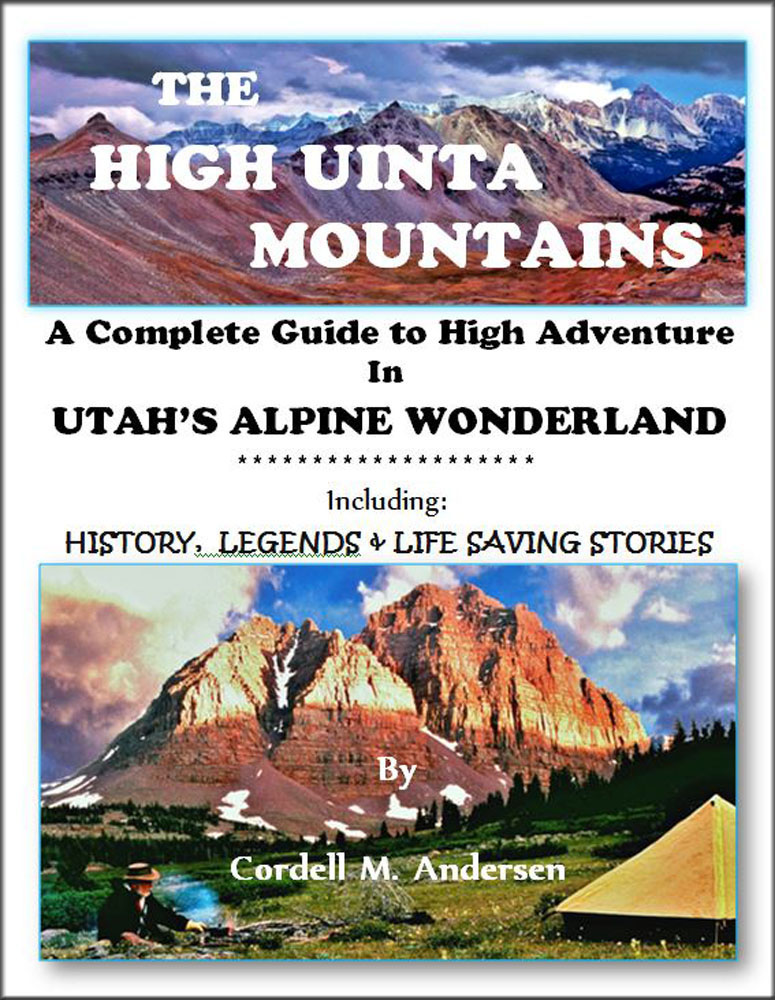 You can get the digital BOOK for $19.95. Just click on the link PURCHASE BOOK
Watch 9 min. YouTube video describing the book, click on that link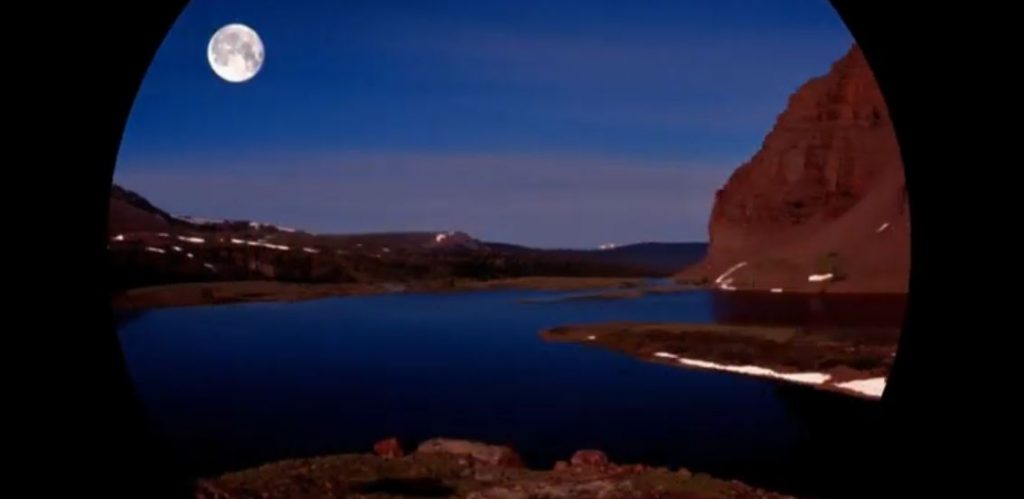 FREE 28 page BOOKLET
The history of the making of the book, along with a few of the stunningly beautiful scenes of innumerable such scenes available in these amazing mountains.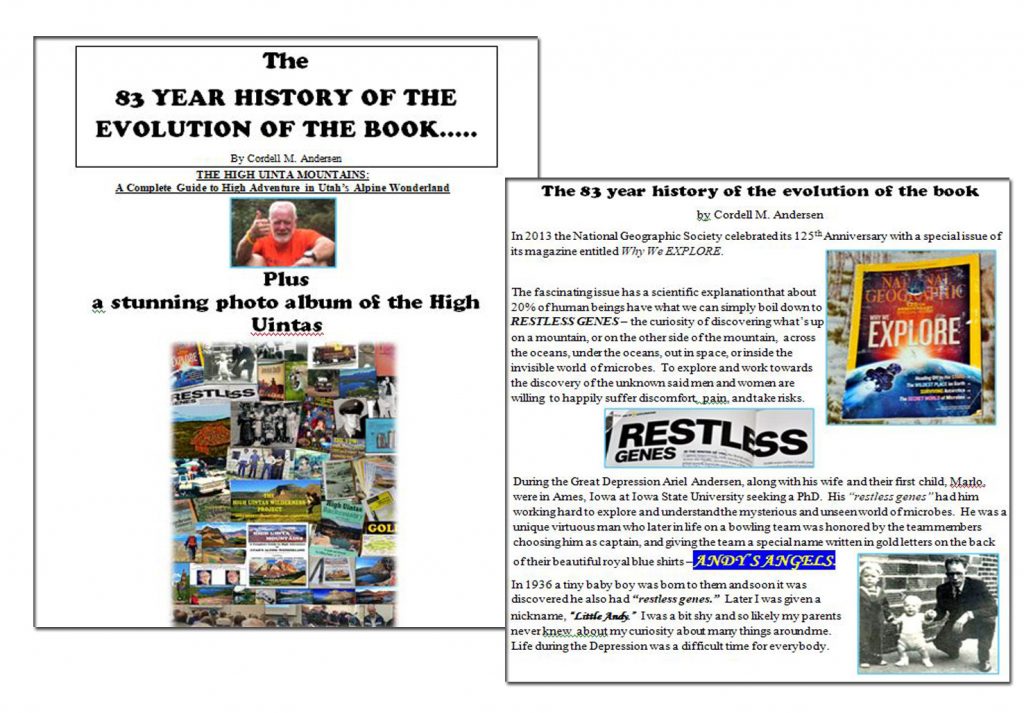 Click on the following link – 83 YEAR HISTORY – to see it & download it to your computer:
The booklet contains an edited-improved version of my presentation at the Utah Valley Historical Society meeting on December 10, 2019. NOTE: Those who have this on thumb drives, except those acquired after March 10th, will find it gone and have to get it here.
Plus, newly found– THE ORIGINAL 1923 BOOK THAT–in my youth, INTRODUCED ME TO JEDEDIAH STRONG SMITH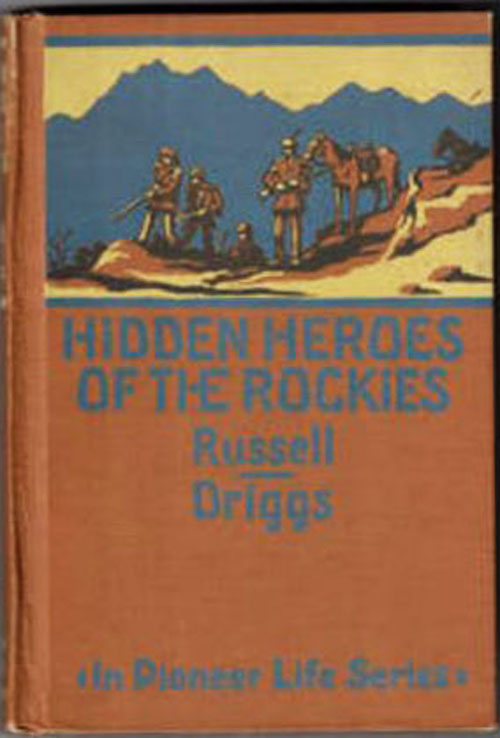 *************************************
A HARD-PRINTED VERSION
A recent order of 12 PRINTED BOOKS has been shipped that brings to 32 those who wanted and are grateful for the HARD COPY.
A new list of those wanting the printed book is now underway. Email me if you want to be on the list. cordellandersen@hotmail.com
*************************************
The HIGH UINTA MOUNTAINS book…….
……… is LARGE FORMAT with over 1,600 full-color photographs, 120 topographical & road maps, 730 pages printed on photographic paper of the highest quality and divided into two volumes as seen below–all of which is costly. I got one for myself at Office Depot that cost me $173.50, and was then surprised how many of my High Uinta Friends just had to have a hard copy too.
One of my Explorers from 1960, Merrill Finlayson–quoted in the beginning of this post, led to me talking to the printer and learning by ordering 10 or more at a time I would be given a discount allowing me to offer the book for $140 with sales tax and shipping included. So…….
….if your interest is having a PRINTED COPY OF THE BOOK with spiral binding as seen below, cost is $140. Prices include sales tax, and shipping. Email me at: cordellandersen@hotmail.com. When we have accumulated a list of 10 or more interested I will advise you so you can send me a check, and I will place the order with the printer — and in short order send your book via U.S. Postal Service.
FLASH! I'm forming a new list of those interested. Email me if interested (cordellandersen@hotmail.com ). You might have to wait a while on the new list to get to 10.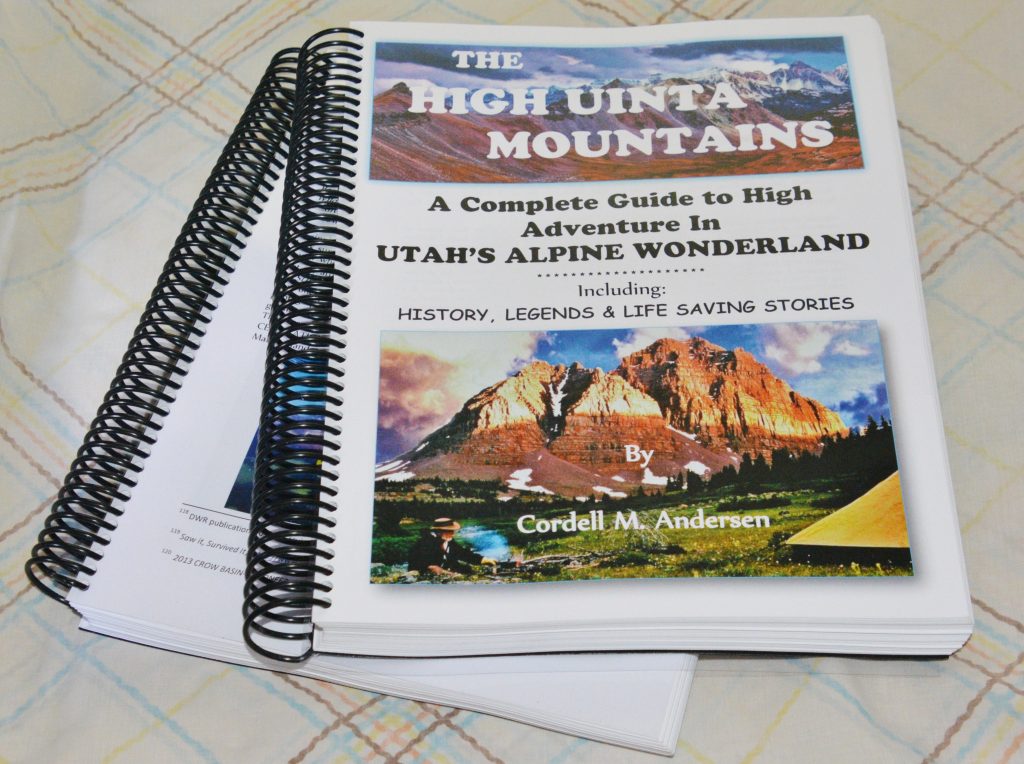 The SPIRAL BINDING is best for individuals as it will stay open to the page of your choice. The DIGITAL VERSION also facilitates printing the pages of your choice or the entire book.
Also available is a "library friendly" version so call numbers can be visibly added and make possible shelving–seen below.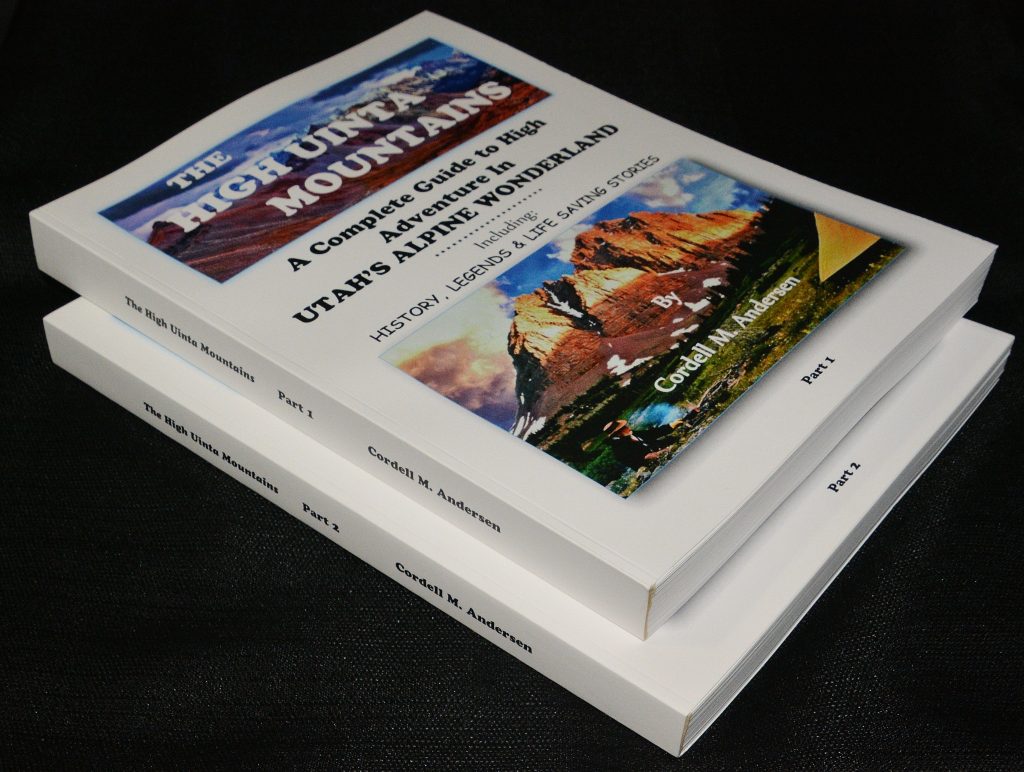 THE LIBRARY FRIENDLY VERSION WITH REGULAR BINDING–Seen above is available for $150 each. You should advise your Public Library and encourage them to order the book as otherwise they will have an information gap that only this book can fill. They have to first advise us via email of their sure interest–and then wait for the list to grow so we can make an order with the printer at which time they will be advised so their check can be forwarded.
A HIGH UINTA FRIEND WHO PURCHASED THE PRINT VERSION — emailed me the following:
**************************************************
"Hello, Cordell!
"It was such a pleasure to meet you this morning! I enjoyed our conversation. Thanks for your kindness, and thanks for the devotion getting your book put together! It is a treasure of information, and now that I have a paper copy, I am very impressed with the color and beauty of the pictures and maps you have created! The paper quality makes it even better! The online version looks great, but I am an old man and I just love paper. This copy is magnificent! I have been poring over it today for hours, and it is such a great amount of knowledge and practicality, wrapped into 700 pages! Thanks Again,
Lon W. Sorensen, RETIRED"
***********************************************************
GREAT FOR GIFTS! YOU DESERVE ONE FIRST, THEN AT ANYTIME THROUGHOUT THE YEAR FOR OTHERS, LIKE FOR BIRTHDAYS, or JUST BECAUSE!
THUMB DRIVES— with the book, as seen below, cost just $20 each at one of my presentations–or picked up at my place, or by sending me a check for $25 each: Cordell Andersen, 444 Elm St., American Fork, Utah 84003, sales tax, handling & shipping included.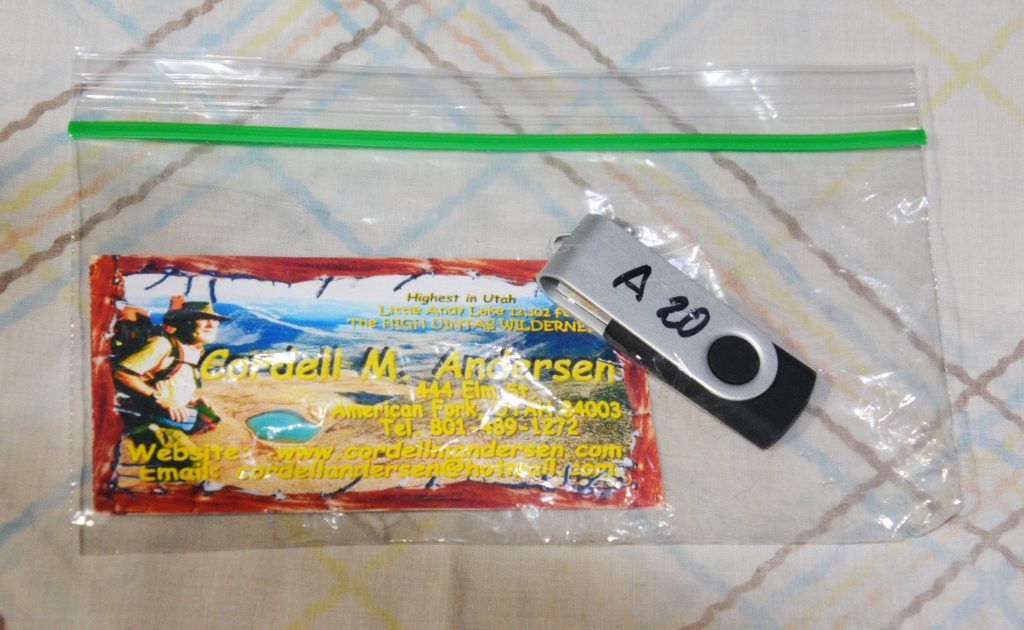 ADDED TO THE THUMB DRIVE FREE! —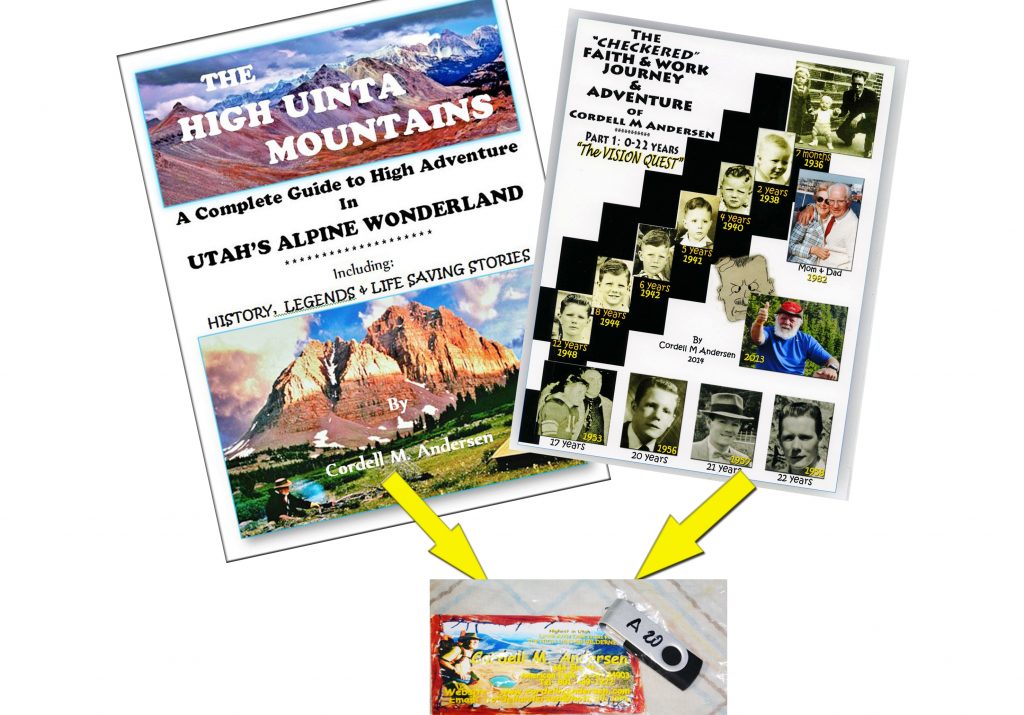 Part 1 of my "Checkered" autobiography–0 to 22 years old —( click on that link just for said Part 1)– that sets the stage for my whole life, including my 35-year long GUATEMALAN ADVENTURE AMONG THE MAYANS– It is 71 pages with many photos. (click on that just for the Guatemalan Foundation website) and for the HIGH UINTAS WILDERNESS PROJECT.
PLUS also FREE!
THE 28 PAGE BOOKLET DESCRIBED previously –added to each thumb drive with the BOOK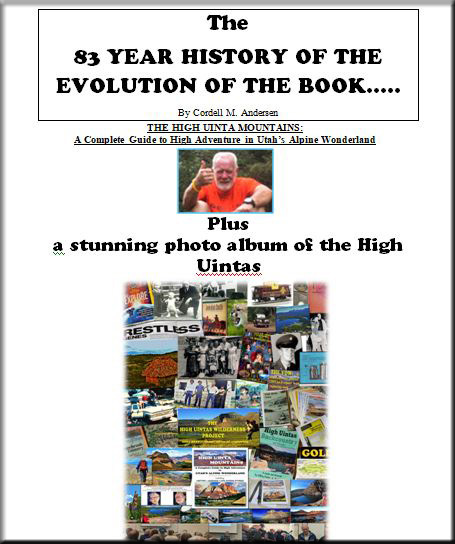 ***********************************************
TO PREPARE FOR THE 2020 BACKPACKING SEASON I SUGGEST YOU GET MY BOOK & BEGIN PLANNING FOR THE GREATEST OUTDOOR YEAR OF YOUR LIFE. For the digital book click on: PURCHASE BOOK For print versions or thumb drives, scroll up.
CRITICAL FOR YOUR ENJOYMENT & SAFETY:
In the book–for every nook & cranny of the Uintas, there is a large format topographical map with routes, distances & labels, plus details of getting to every lake in the Uintas. For your adventure just print the maps of your interest, like the examples I'll insert below.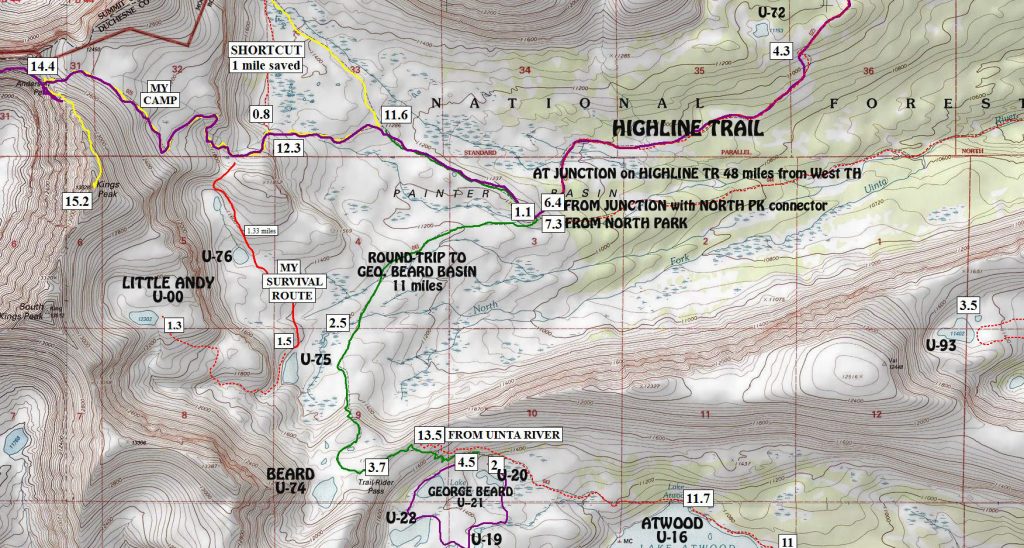 There are 106 topographical maps in the book that cover every Trailhead area, including many loop adventures from trailheads showing wonderful loop backpacks circling adventurous areas that will bring you back to your car. Other topographical maps are in the book that cover auto-loop areas such as the 138 mile North Slope Scenic Backway.
*******************************
INTERESTED IN SEEING THE ORIGINAL WEBSITE?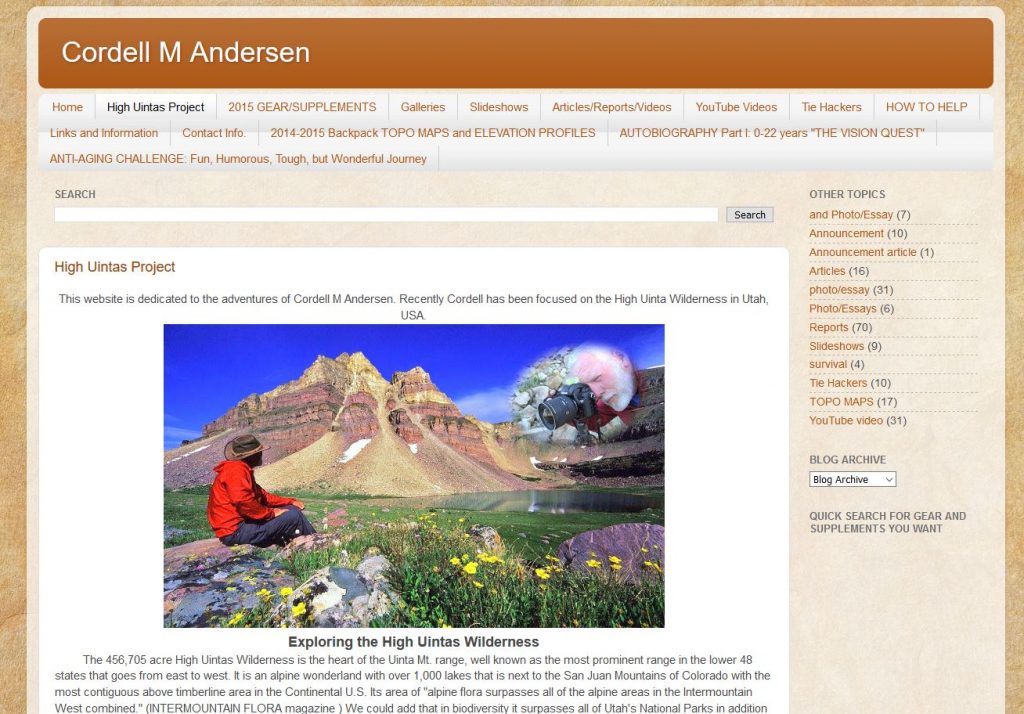 ORIGINAL WEBSITE click on that link to bring back some great old memories & see some things not accessed with the new site, like my "Checkered autobiography," and more.
******************************
HIGH UINTAS NEWSLETTERS – beginning 01/2020
****************************
REPORT: The WORLD PREMIER of the feature length movie HIGHLINE was shown first in Vernal on Jan. 24th and then in Salt Lake City, Utah on the 25th to a crowd of around 200 viewers.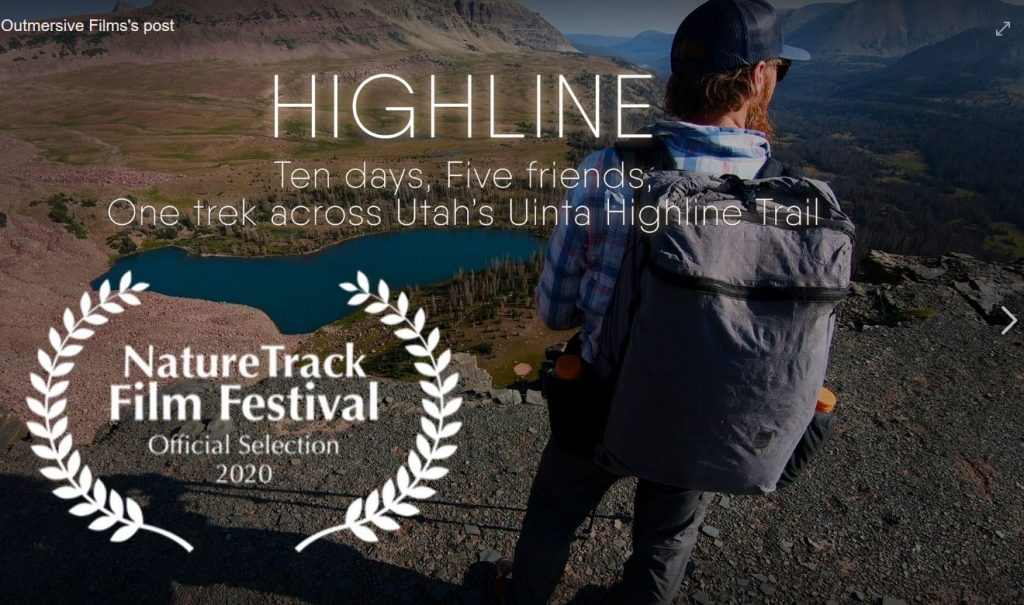 Click for the FACEBOOK PAGE:
DVD's & Blue Ray of HIGHLINE now available — information on their website below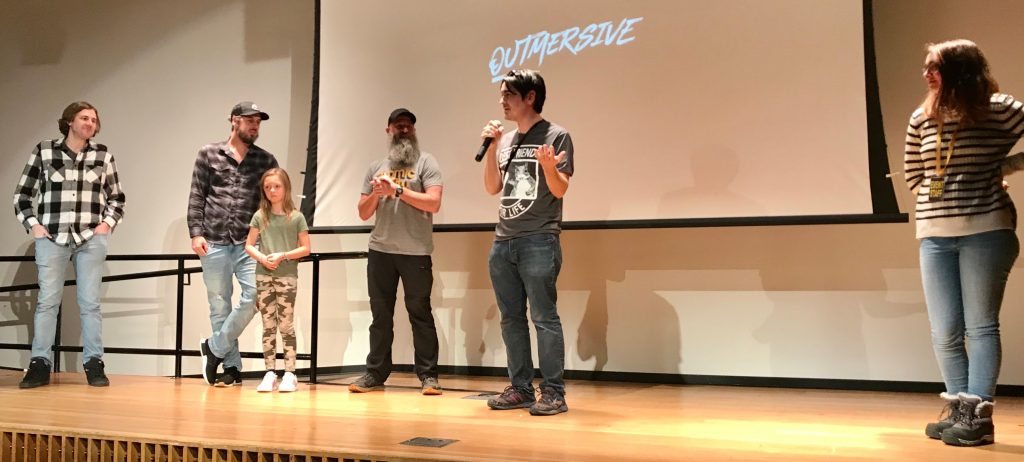 Film maker CHRIS SMEAD was the master of ceremonies for the very successful presentation.


For information go to: https://highlinefilm.com/
Comments by CORDELL M ANDERSEN:
I heartily send my thanks and congratulations to Chris Smead & the OUTMERSIVE organization for producing this wonderful movie and guide. This of course includes those who made the difficult backpack of the entire Highline Trail — from the eastern end of the trail near Flaming Gorge all the way — 104 miles– to the Mirror Lake Scenic Byway HIGHLINE TRAILHEAD at Hayden Pass.
In a month or so, and for sure several months before the 2020 backpacking season, I will publish & make available FREE here on my website a:
Guide to ENJOYABLY & SAFELY Do the HIGHLINE TRAIL.
There were problems encountered, shown in the movie, two of the original backpackers having to bail out unable to finish the hike: One with High Altitude Sickness problems, and another with blisters and feet problems. Both of these potential problems for hikers and backpackers are addressed in my book--with many related problems listed in the INDEX — the blisters and feet problems are found listed under GEAR, clothes & footgear.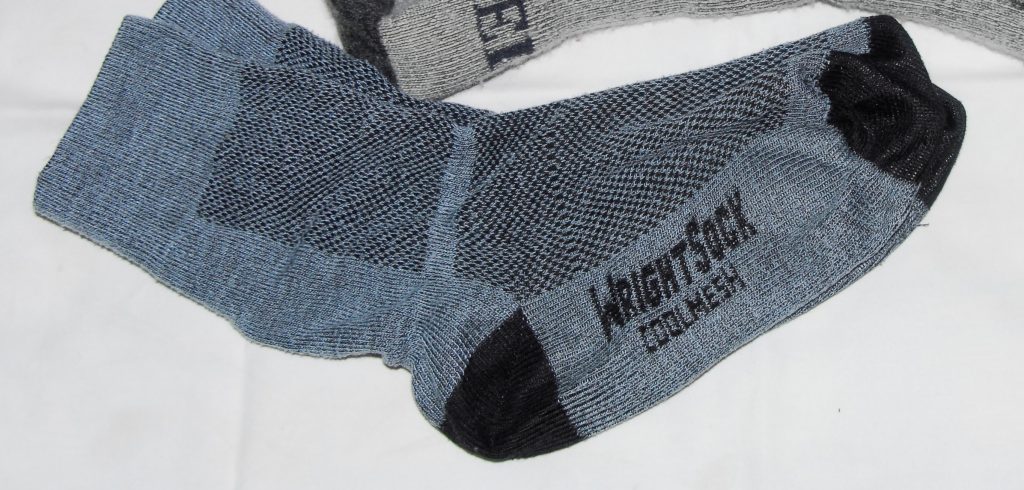 Another section of my GUIDE FOR THE HIGHLINE TRAIL, will be to list many points along the way from which with just short hikes or detours you can visit– AREAS CONSIDERED THE MOST BEAUTIFUL & AMAZING OUTDOOR SCENES IN UTAH, but never mentioned nor shown in the movie such as: The Red Castle area, and Triangle Mt. and Reconnaissance Lake seen below–& others.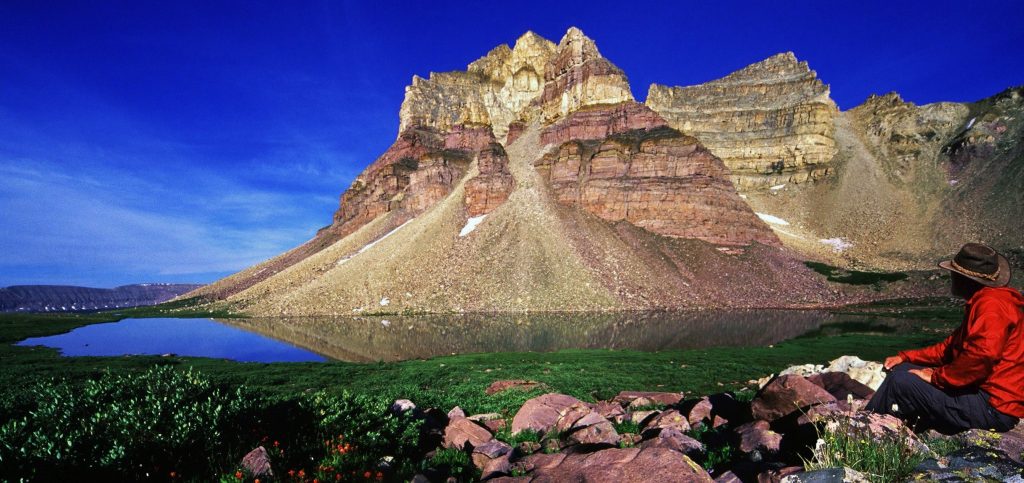 Another category of my GUIDE will be to point out the opportunities along the Highline Trail for WONDERFUL FISHING — including THOSE FISHING SPOTS WITH THE POTENTIAL OF PRODUCING UTAH RECORD BREAKING TROUT and GRAYLING. Fishing is never mentioned in the movie but my guide will reveal all the secrets, but all should be coupled with information and maps found in my book.

RECORD CUTTHROAT – ARCTIC GRAYLING -BROOKIES
************************************