The back surgeon, "SOMETHING HAS TO BE DONE….OR YOU'LL END UP IN A WHEELCHAIR!"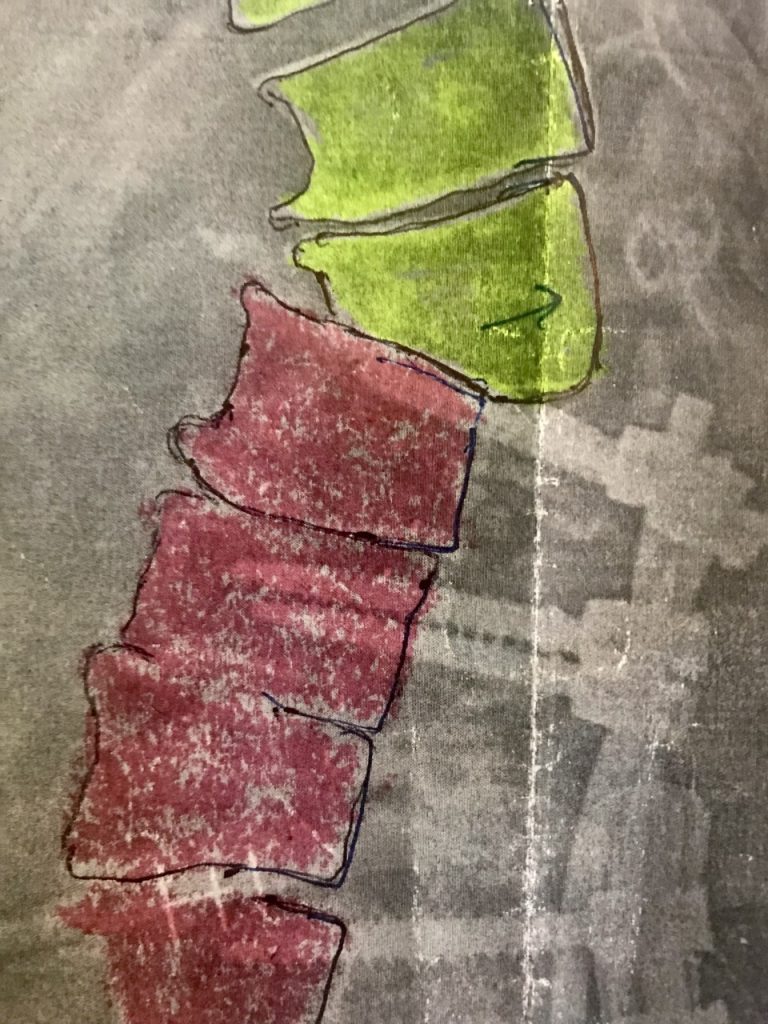 "The surgery could take 6 hours, followed by days in the Intensive Care Unit, and more in the hospital. I've never done it with an 86 year old person, and there could be complications. If you don't do it, you'll have to stop all your exaggerated COMEBACK efforts—stairs behind Fitness Center, higher stairs at the Amphitheater, long hikes with your walker, hikes up Grove Canyon — which for the first time in my life with a patient, has me wanting to hit you with a doubled up fist!" ––—showing me his HUGE DOUBLED UP FIST!
"But Doctor, without all my exercise program and goal of backpacking this summer, in just a couple of days I begin feeling awful!"
He then asked, "DO YOU WANT TO BE PARALYZED OR DEAD?"
I replied, "For me, best continue with my goal, and exercises and feel good….risking being DEAD!" He gave me a couple of days to let him know.
So I immediately called my HIGH UINTA FRIEND, a spine specialist who took his wife on their honeymoon backpacking to Red Castle, and last year using my HIGH UINTA BOOK as guide they did the 856 mile auto-loop tour of the Uinta Mountains, and HE RAVED ON, AND ON ABOUT THAT WONDERFUL EXPERIENCE! He gave me immediately an appointment, took X-rays, and we looked at my spine history giving me 3 copies of X-rays: Jan. 28, 2021=no misalignment so my falls weren't guilty;
Oct. 2021=the X-ray above showing the dangerous misalignment that happened gradually during my exaggerated hikes during the summer hovering over my walker for 2, 4, 6, 8, 10 miles and up to 13.2 miles, a half-marathon distance-–those hikes hovering over my walker for up to 6-7 hours apparently hurt my spine;
And the X-ray the day of my clinic visit—with spine misalignment looking the same, so my recent exercise program hasn't hurt me so I could continue with MY GOAL….MY CHALLENGE!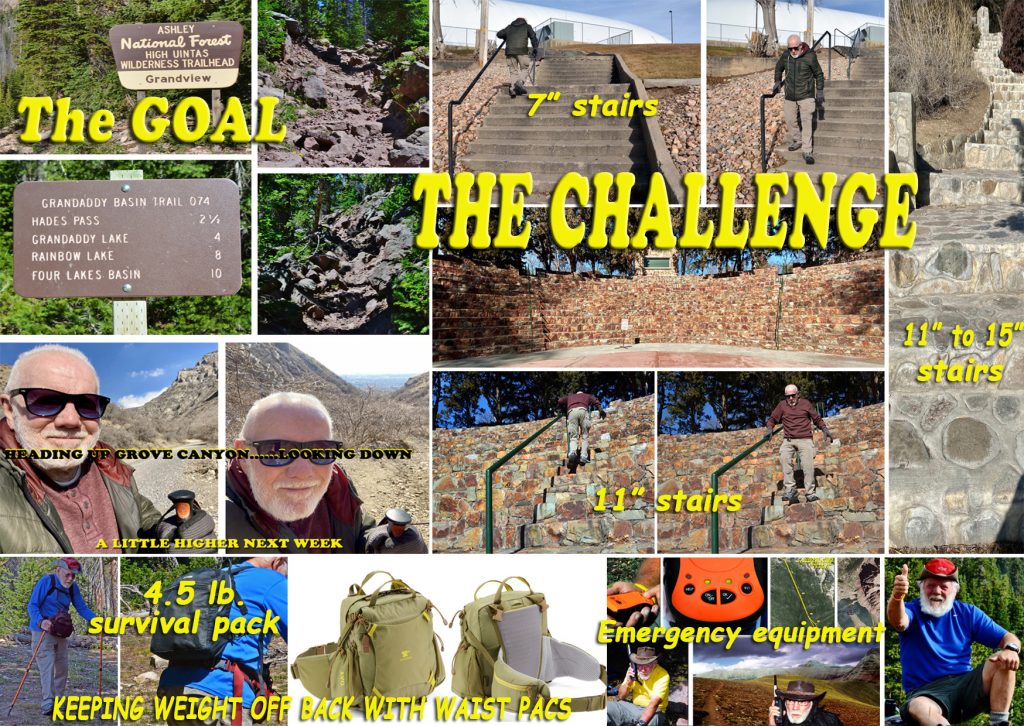 So we concluded that it was best to not do the surgery, but carefully keep up with my COMEBACK PROGRAM, gradually increasing the repetitions and get X-rays every 3 months to make sure all continues SAFELY. I WAS SO HAPPY I ACTUALLY SHOUTED! THEN FOR THE FIRST TIME IN 3 DAYS WENT & DID MY STAIRS & SOON WAS FEELING A LITTLE BETTER!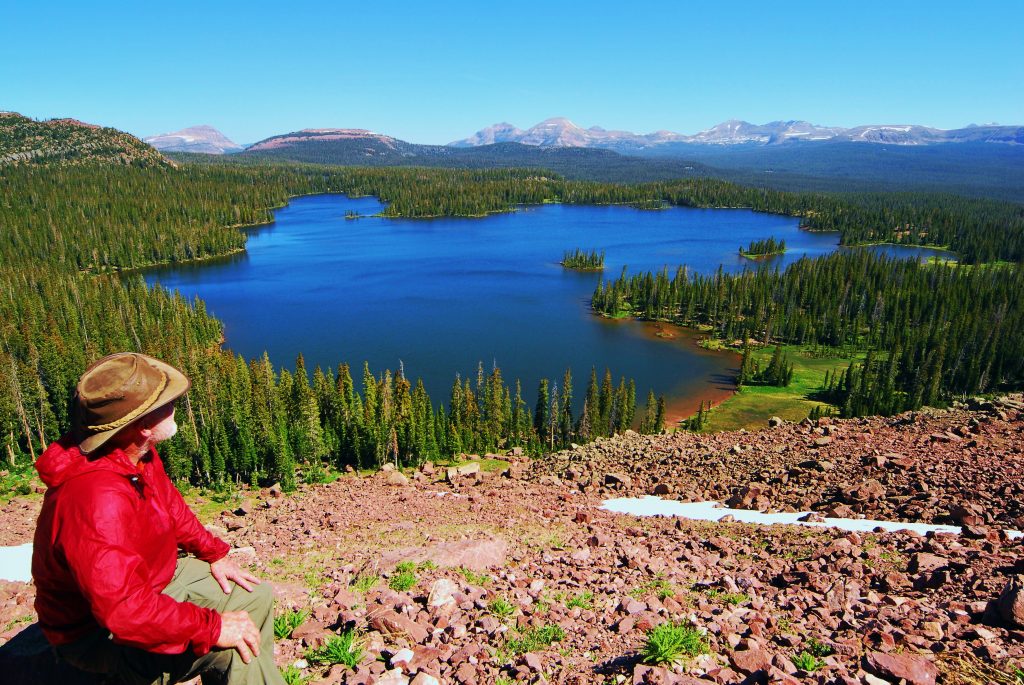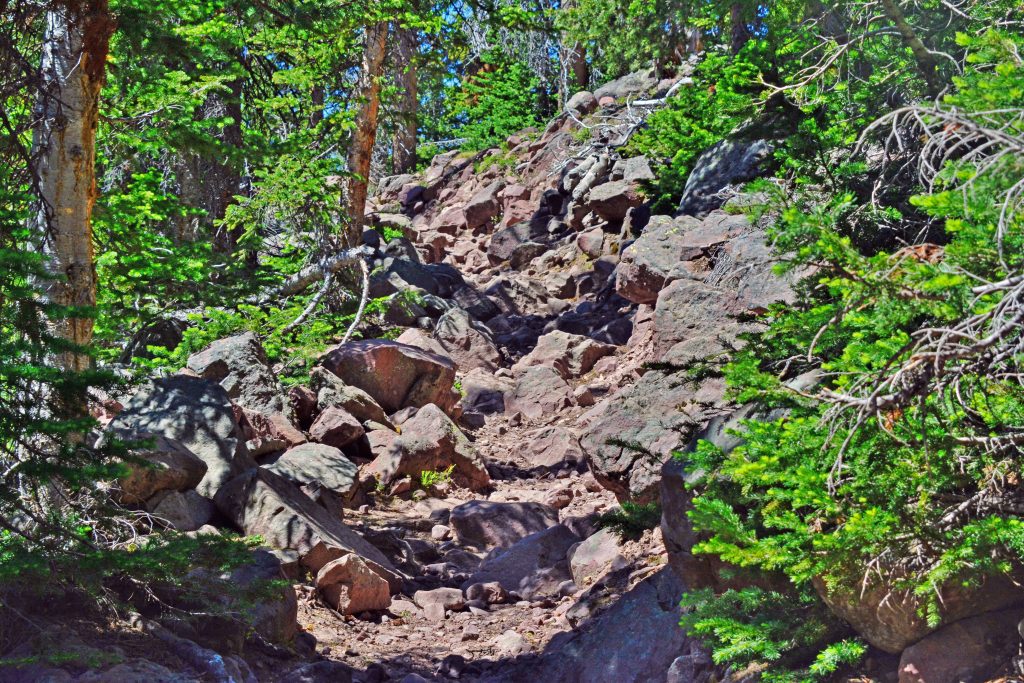 THE "GRANDADDY OF ALL HIGH UINTA TRAILS" —
THE HIGHLINE TRAIL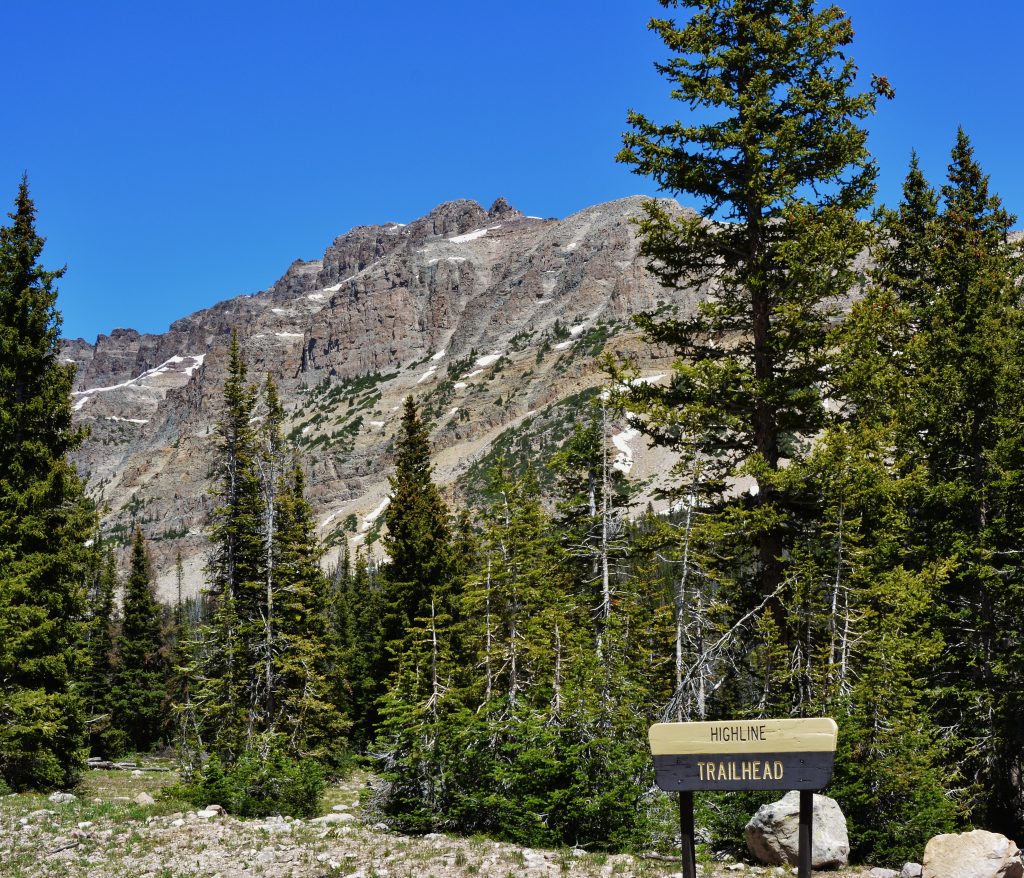 AFTER HEADING EAST ON THE HIGHLINE TRAIL — the first lake you pass by–the trail passes by above the lake–is Scudder Lake, seen below, but it does not have fish–at least it didn't have in 2014 when this wide-angle picture was taken.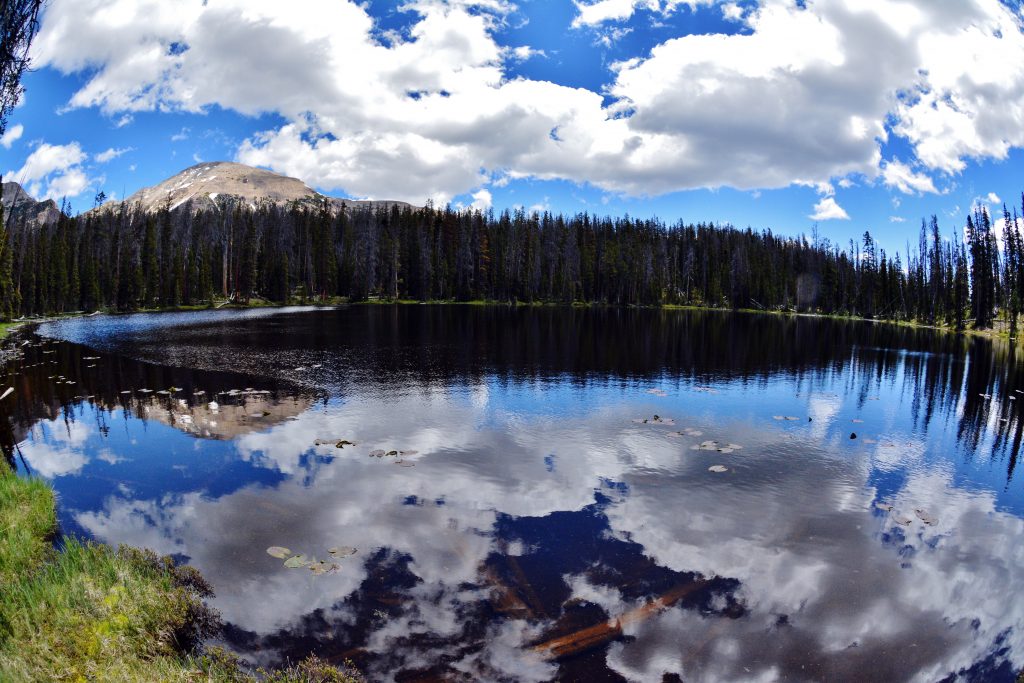 The closest lake from the Trailhead, with a population of trout, is WILDER LAKE – From the Highline Trailhead you hike 2.5 miles and come to a sign pointing south to Wilder, Wyman and Packard Lakes. Information on these lakes and the hike is found on pages 162-163 of my book.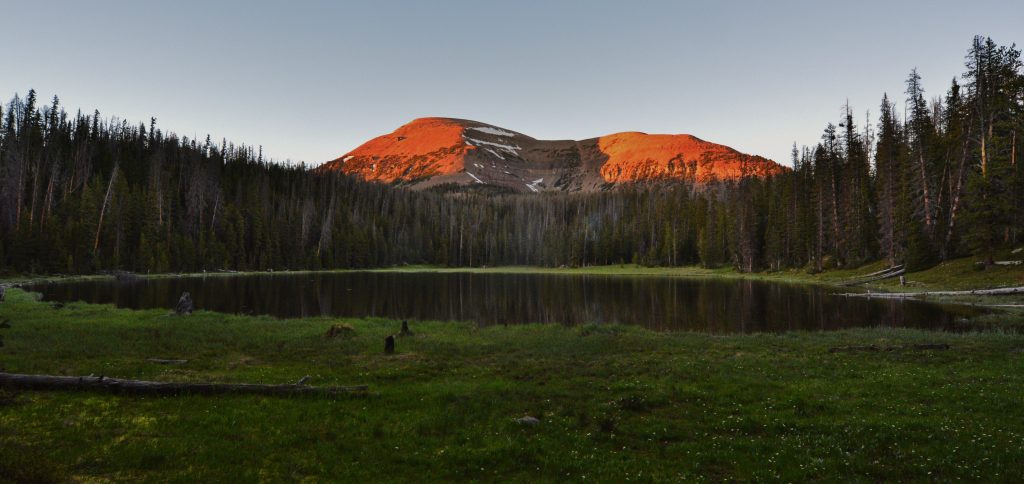 The next lake down this trail, a 1/4 to 1/2 mile, is WYMAN LAKE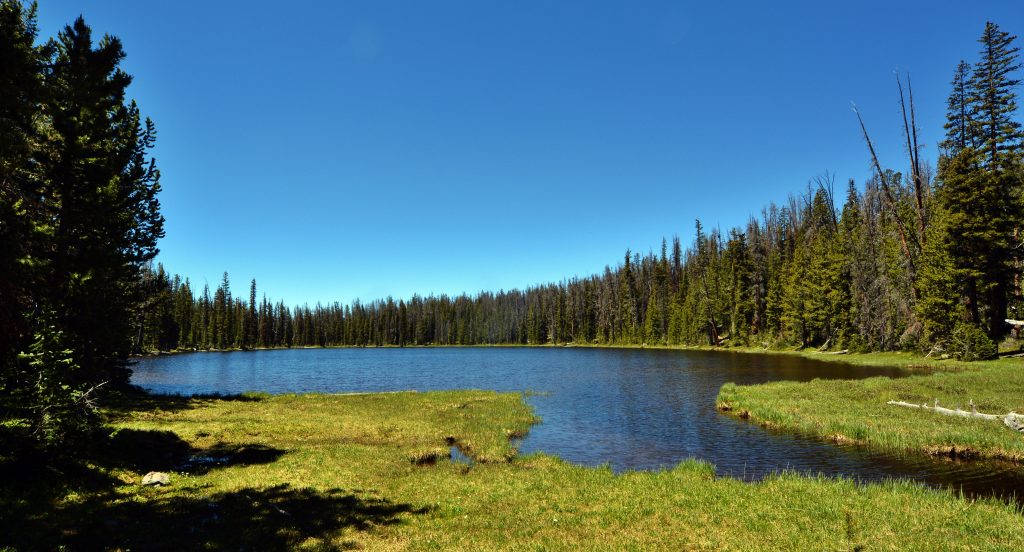 One quarter of a mile down the trail from Wyman Lake you come to the largest lake of the three that has a nice population of eastern brook trout that tend to be larger than in the other lakes. It is Mt. Agassiz that we are seeing in the background.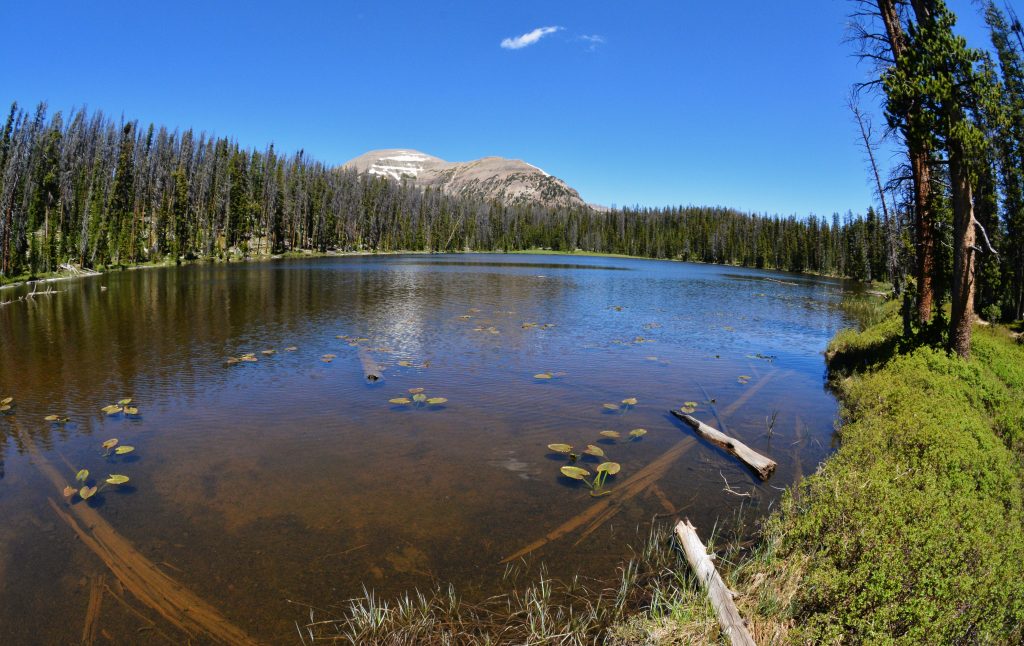 While at Packard Lake, don't fail to follow the outlet stream just 50 yards or so to view the Canyon of the Duchesne River I'll insert a couple of pictures of.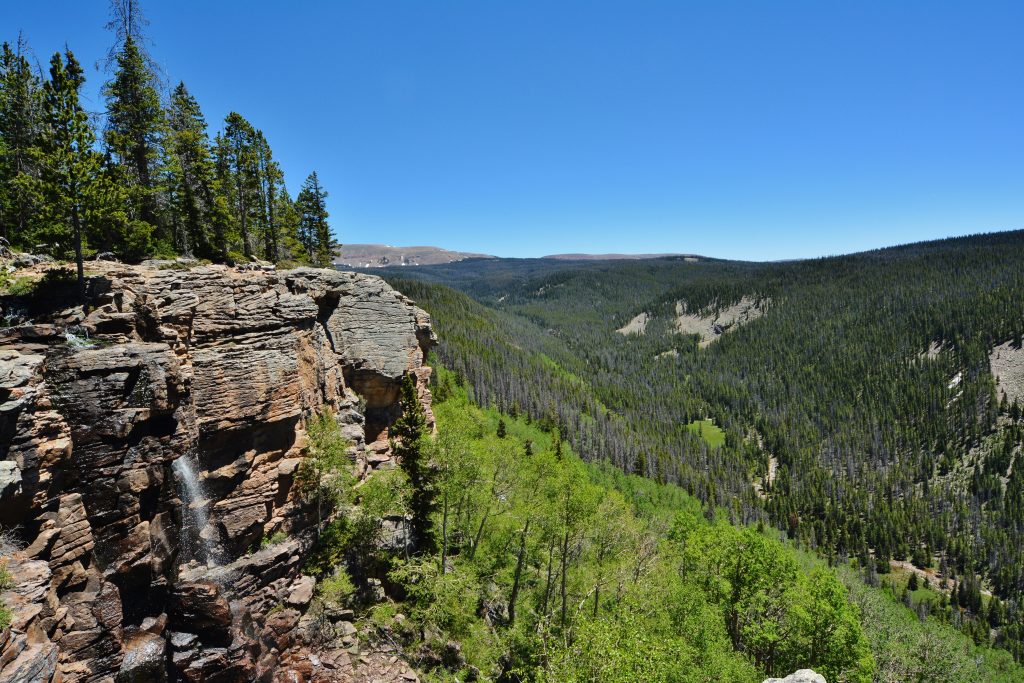 We are here looking northeast. We'll now swing around and look towards the south where downstream is found Defa's Dude Ranch, and the road up Hades Canyon to the Grandview Trailhead–THE GATWAY TO THE GRANDADDIES.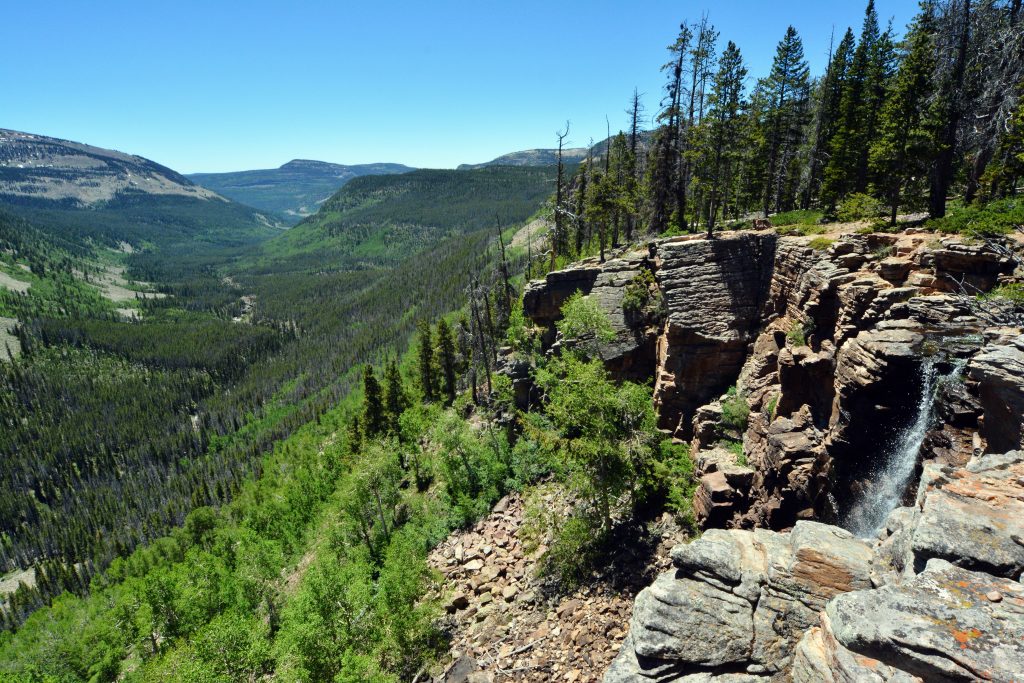 OUR NEXT POST WILL CONTINUE ALONG THE HIGHLINE TRAIL TO THE NEXT TRAIL THAT WILL TAKE OFF TO THE NORTH TO VISIT THE NATURALIST BASIN.
WILD FLOWERS TO TRIGGER SPRING
From her on, once a week or so, I'll begin inserting a WILD FLOWER of the over 317 varieties I have documented in my explorations — from the Foothills to KINGS PEAK.
This week, one of the first to blossom in the high country:
SPRING BEAUTY, Claytonia lanceolata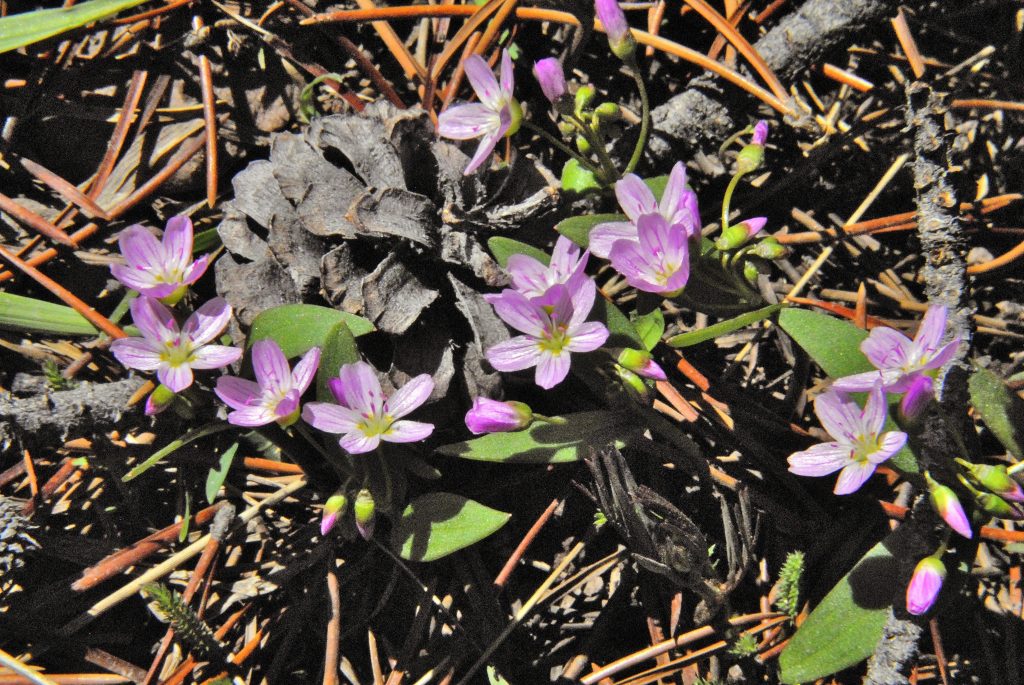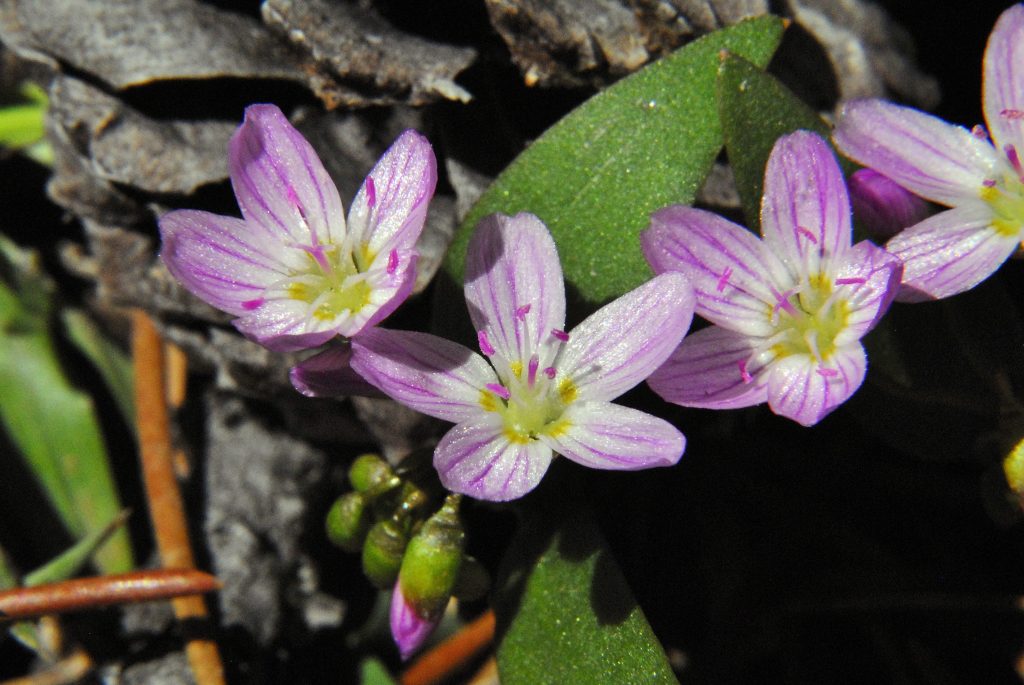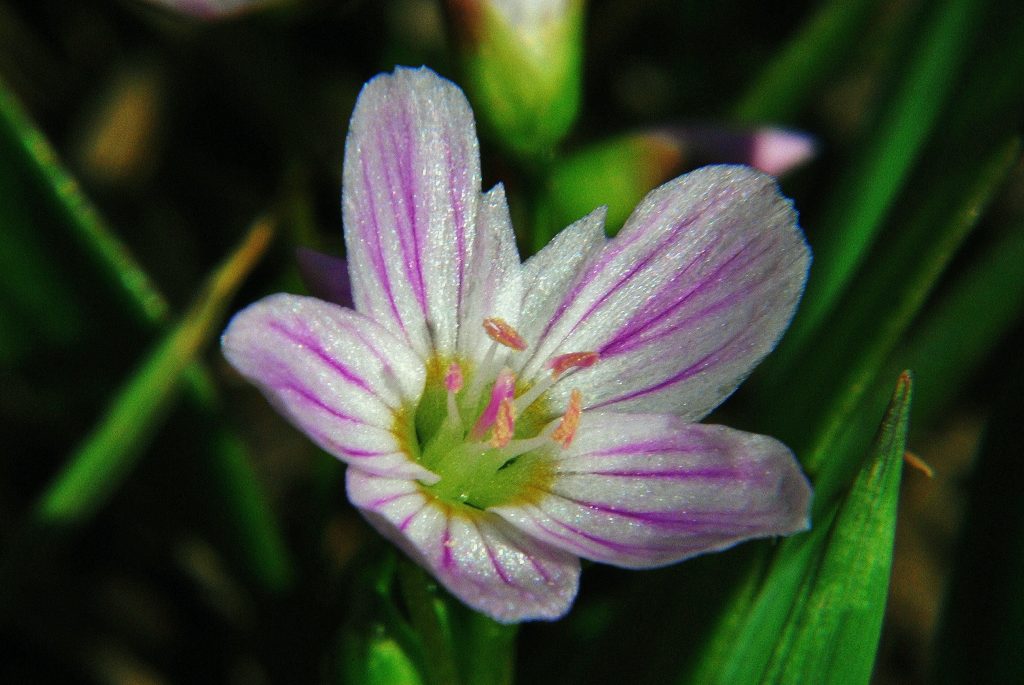 NOW JUST A WORD OR TWO ABOUT THE TWO BOOKS THAT TELL THE STORY OF MY LIFE–for which I'm most grateful, FIRST what some are calling
THE ENCYCLOPEDIA OF THE HIGH UINTA MOUNTAINS: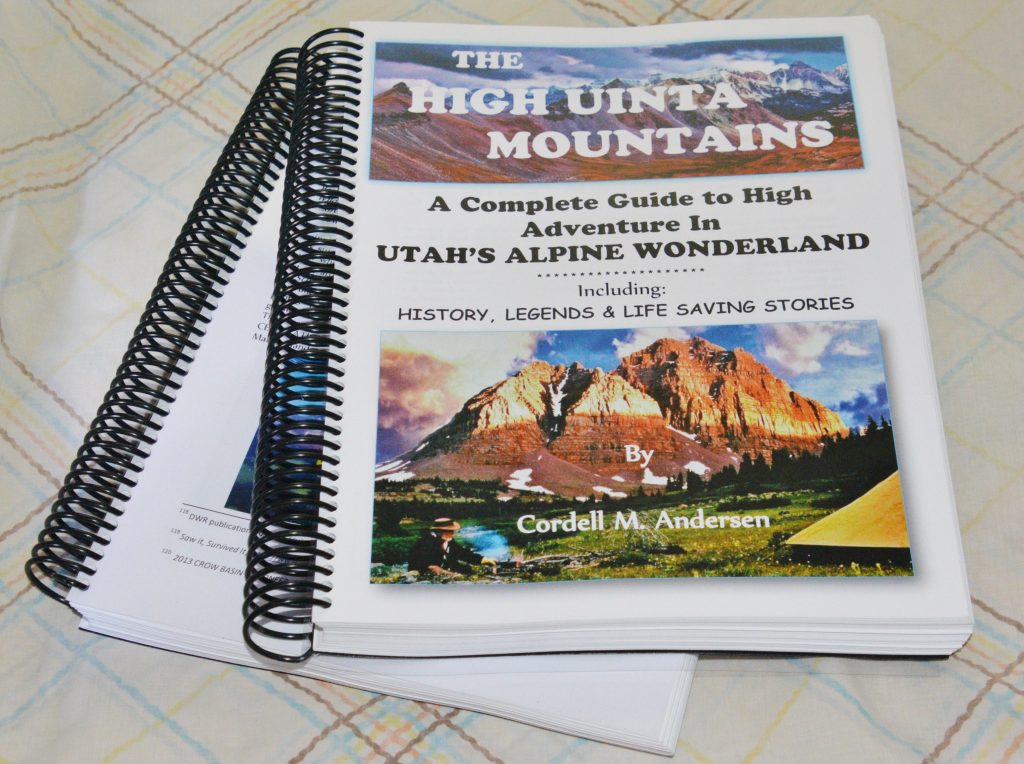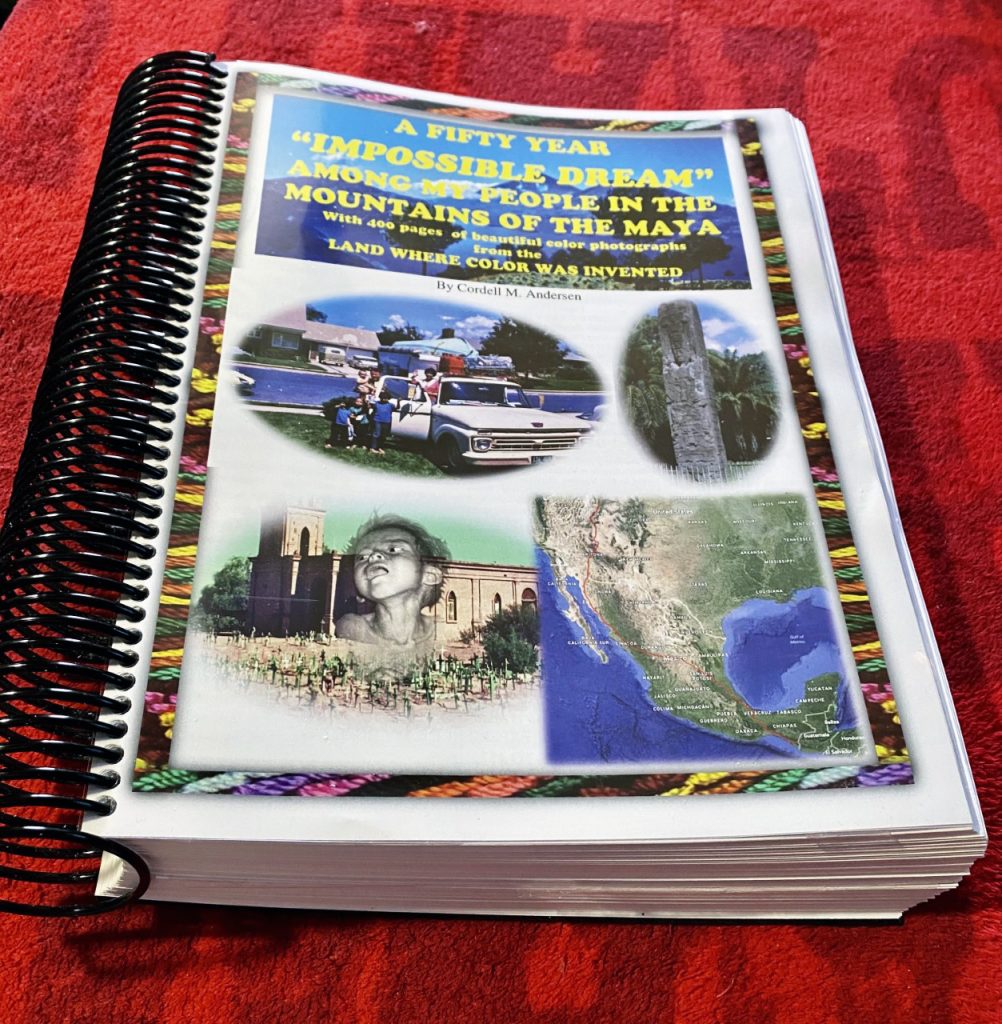 Click to read: A SHORT one page STORY to help all, understand my intentions in writing my HISTORY IN THE MOUNTAINS OF THE MAYA
THE BOOK, was recently updated with an enhanced
50 YEAR GROWTH SNAPSHOT OF THE CHURCH OF JESUS CHRIST OF LDS IN ALTA VERAPAZ p. 344.
However,   now reading slowly to enjoy it, I found myself making small, but crucial corrections and tiny but powerful additions, so there is now a new "FINISHED VERSION SET IN STONE!"   SO ERASE ANYTHING PREVIOUS AND DOWNLOAD THE ONE NOW AVAILABLE Click on this link to READ & SEE THE DETAILS OF THE MAYA STORY https://www.guatemalanfoundation.org/
CHECK OUT THE WEBSITE TO GET A QUICK IDEA ABOUT WHAT TO EXPECT IN THE BOOK —with a whole bunch of movies I used to help understand–ABOUT MY MORE THAN HALF A CENTURY IN THE MOUNTAINS OF THE MAYA. There were some great times, but also sometimes scary moments, with narrow escapes from the Guerrillas, with shootouts on my plantation between the Army and the bad guys— my delivery van used afterwards to carry dead and wounded to Coban, and then interestingly once a narrow escape from the opposite side of the political spectrum–a Right-wing Death Squad that murdered 9 of the directors–including their entire families, of a cooperative I helped with in Comalapa among the Cakchiquel Indians! They considered cooperatives "communistic!" Then there was my fight with Gangbangers in Guatemala City, written about in COMBAT HANDGUNS magazine, etc., etc. for 50 years!
The MAYA book is downloadable FREE.
Click on this link to READ & SEE THE DETAILS OF THE MAYA STORY https://www.guatemalanfoundation.org/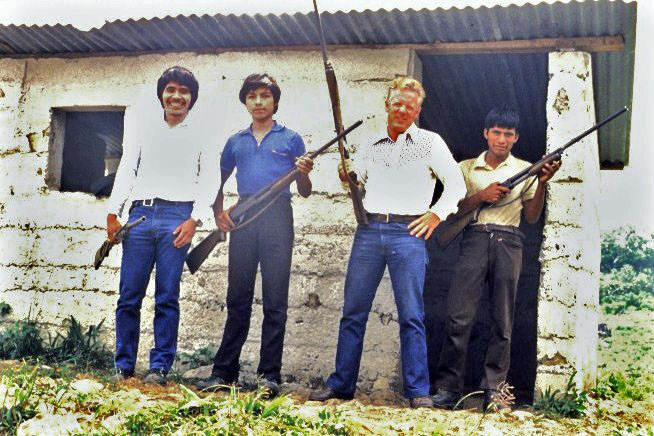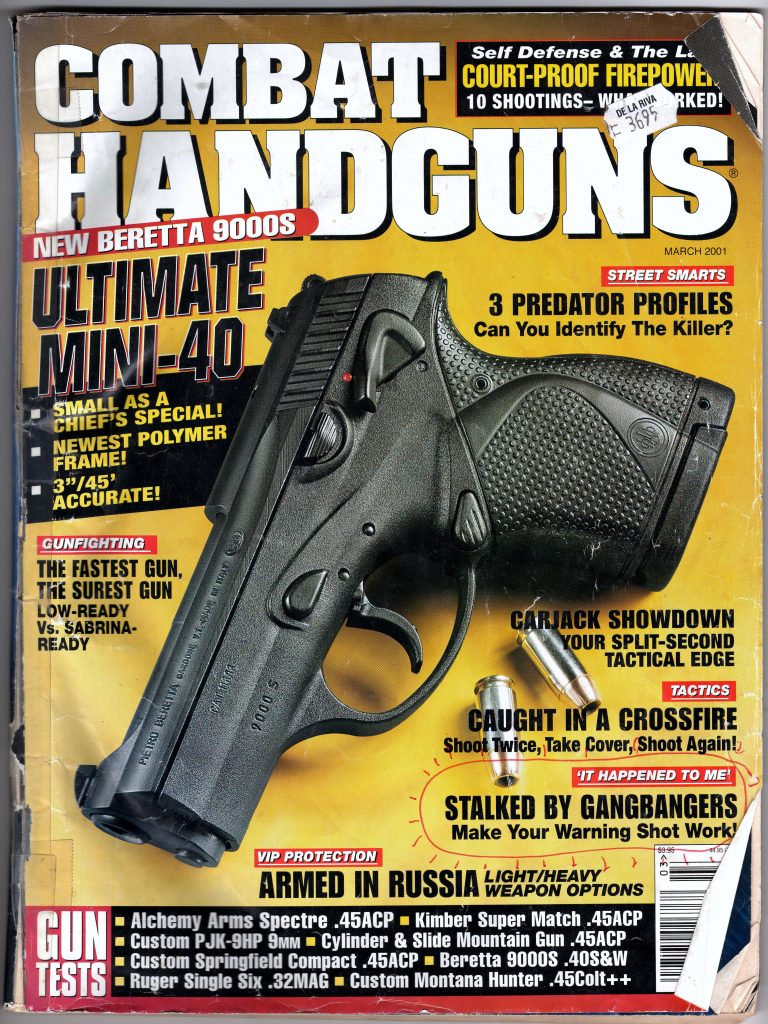 IT'S IMPORTANT TO SET GOALS…EVEN IF IN THE END YOU ONLY ACHIEVE 50-75% OF THEM. WITHOUT A GOAL TO WORK TOWARDS, LIKE "GETTING TO THE GRANDADDIES," I LIKELY WOULDN'T BE MOTIVATED TO WORK OUT EVERY DAY TO GET STRONGER, AND LIKELY NOT EVEN BOTHER DRIVING TO THE TRAILHEAD. WITH MY GOAL SET, FOLLOWED BY WORKING TO ACHIEVE IT, I WILL BE STRONGER & FOR SURE GET HALF-WAY…..OR MAYBE ALL THE WAY & GET NEW PHOTOS OF THE INSPIRING CUTTHROAT TROUT SPAWNING IN THE CREEKS THAT FEED GRANDADDY LAKE & MUCH MORE TO INSPIRE ME TO SET A NEW GOAL!
SEE YOU NEXT WEEK WHEN I'LL SHOW YOU GLIMPSES OF:
THE NATURALIST BASIN.
THE INSPIRING SIGHT AS YOU ENTER NATURALIST BASIN: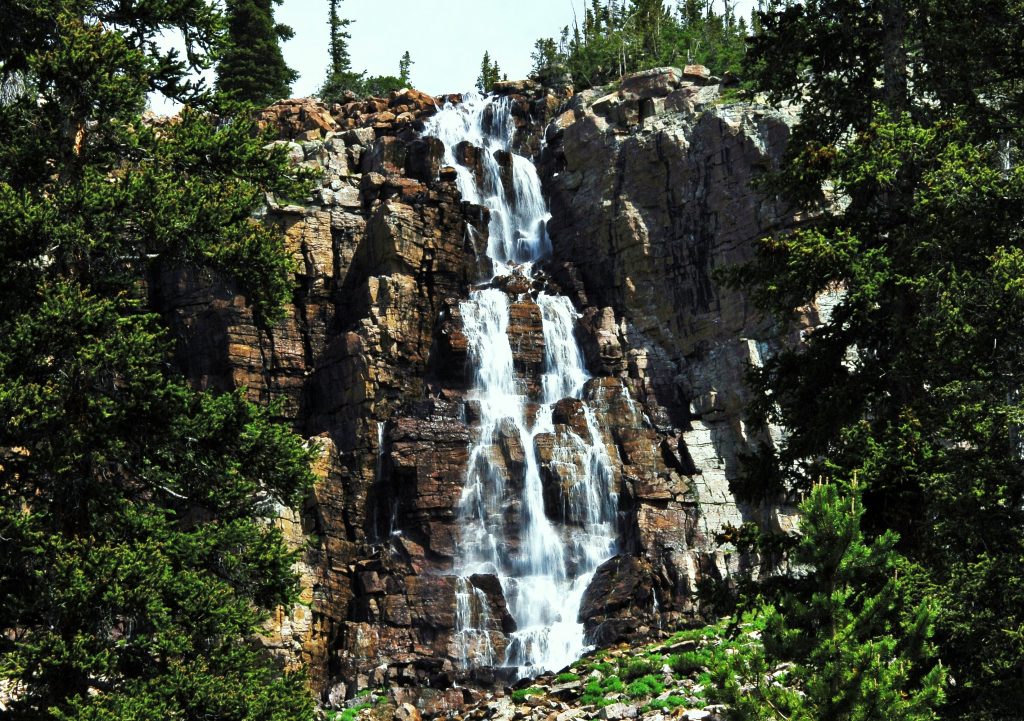 *********************************